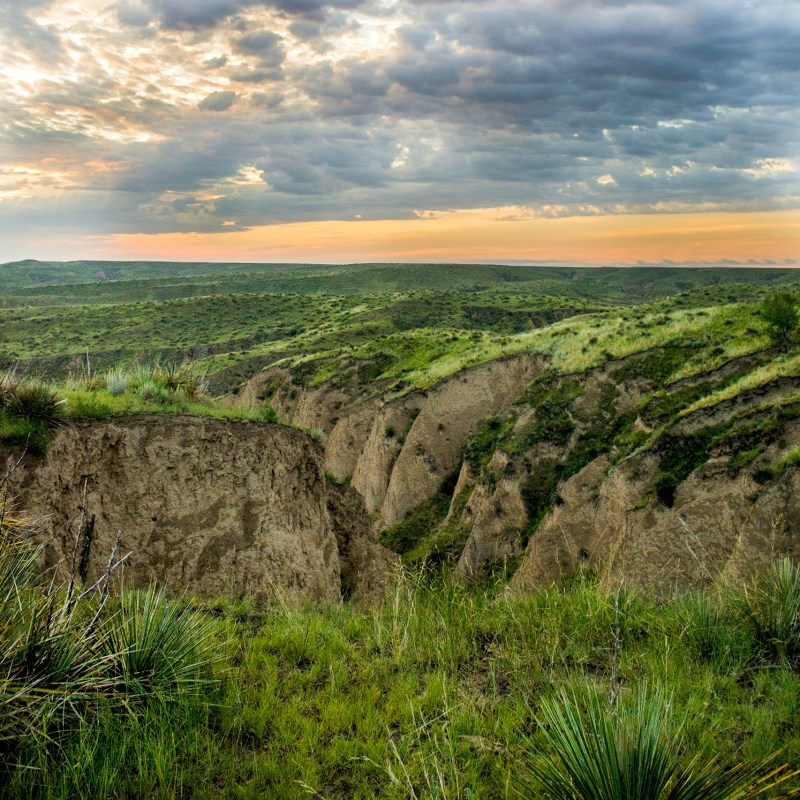 Kansas is filled with subtle beauty. After 30 years of driving in Kansas, these drives are our favorites. They take you through surprising landscapes filled with varied landforms, beautiful fields, and pastures. The heart of America welcomes you.
Pro Tip: Cell service is often spotty. Keep your gas tank filled. All hunting, fishing, and state parks require permits.
1. Prairie Trail Scenic Byway
Follow the Prairie Trail Scenic Byway in the beautiful Smoky Hills. Tree-lined winding roads open to fields and meadows.
Spanish explorer Francisco Vazquez de Coronado searched these hills for Quivira, a fabled land of gold. He found none. On his search, he may have possibly climbed Coronado Heights, but you can drive to the top.
The view overlooks Lindsborg, Little Sweden U.S.A. Enjoy the city's charm year-around, but especially during festivals. Downtown Lindsborg offers numerous specialty shopping opportunities.
In picturesque Marquette, visit the Kansas Motorcycle Museum. Enjoy ice cream at City Sundries.
Kanopolis Lake State Park features towering bluffs, caves, and wooded areas around the lake. Mushroom Rock State Park's strange rock formations are nearby. In Kanopolis, enjoy a drive-in movie theater.
Pro Tip: Follow the Smoky Hill River on Old Highway 40 west from Ellsworth to join Post Rock Scenic Byway at Wilson.
Where To Eat And Stay
In Lindsborg, try Blacksmith Coffee for breakfast, The Ol' Stuga (ool stew-GAH) for lunch, and Swedish Crown Restaurant for supper. Stay at Drom Sott Sweet Dreams Inn.
2. Post Rock Scenic Byway
From the haunted Midland Railroad Hotel to the Garden of Eden, where you can see artist S.P. Dinsmoor's decaying body, Post Rock is full of offbeat charm. At the Garden of Eden, Dinsmoor explained Populism in concrete. The byway receives its name from its ubiquitous limestone fence posts.
See Wilson's Czech pride at the 20-foot-tall Czech Egg. Buy a souvenir at Kansas Originals.
Enjoy fishing, camping, and scenery at Wilson State Park. Mountain bikers will love the Switchgrass Trail.
Czech heritage continues with heirloom sausage at Brant's Meat Market.
You've heard of the Bermuda Triangle. Now visit the Lucas Triangle: From the Grassroots Arts Center, tour Florence Deeble Rock Garden, Mri-Pilar's Garden of Isis, and Bowl Plaza. (Where else has an art installation for a public restroom?)
Where To Eat And Stay
Stay at the Midland. Try the restaurant's excellent chicken-fried steak.
Pro Tip: Behind the Garden of Eden, find Miller's Park. The park preserves Roy and Clara Miller's charming miniature buildings and "mountains."
3. The Chalk Hills Scenic Drive
From Lucas, continue west on Highway 18. Several creeks meander through the hills. Rock formations that look like giants' abandoned toys are scattered along the route.
Webster State Park is a prime fishing and birding site.
In Damar (DAH-mar), visit the splendid St. Joseph's Catholic Church. Enter the south door.
At Nicodemus National Historic Site, which "represents the involvement of African Americans in the westward expansion and settlement of the Great Plains," learn about the Exodusters. Fenton Pratt left Yorkshire, England, to raise sheep nearby at what is now Cottonwood Ranch State Historic Site. In Colby, visit the outstanding Prairie Museum of Art and History.
Where To Eat And Stay
Stay at the Stone Cottage Farm in Lucas. Ask to tour their quarry. Alternatively, camp at Lucas RV Park. Eat at Damar Cafe or The Elephant Bistro in Hoxie.
Pro Tip: Buy gas in Plainville.
4. Land And Sky Scenic Byway
Goodland is the center of Land and Sky Scenic Byway, the nation's first agriculture-themed byway. From mid-May to early July, enjoy ripening waves of wheat. In August, look for sunflower fields. In the fall, milo (sorghum) turns reddish-brown. Visit the Arikaree Breaks' canyons and climb Mount Sunflower, Kansas's highest point.
Stop at the 80-foot-tall Giant van Gogh Painting, the world's largest painting on an easel and one of our recommended scenic stops for a Kansas, Nebraska, and Colorado road trip. The Goodland Welcome Center and a dog park are east of the painting. The replica of America's first patented helicopter is a block away at High Plains Museum.
Schedule a tour of Olde Westport Spice, where delectable spice blends are created. Enjoy their restaurant, Westport on Main. Hang out at Terra Bona Hawaiian Shaved Ice next door. Eat burgers and steak at Crazy R's Bar and Grill while admiring the antique collection. Enjoy a movie at Sherman Theatre.
Stop at the Giant Grasshopper. Also visit a Medal of Honor winner's grave. In St. Francis, visit the St. Francis Motorcycle Museum. Their collection includes 30 motorcycles from before 1929. Eat at Fresh Seven Bar and Cafe.
The Arikaree Breaks are spectacular badlands of loess (LUSS) soil north of St. Francis. For the best experience, drive Highway 27 north of St. Francis to Road W. Follow the self-guided tour from that intersection.
Pro Tips: Print a map. Also note that the road to Horse Thief Cave is impassible when wet.
South of Goodland, experience an oasis, Soldiers Memorial County Park. Drive to the top of Mount Sunflower, the highest point in Kansas. (Print a map.) In Sharon Springs, eat at Towns End Tavern.
Where To Stay
Camp at Mid-America Camp Inn. Stay at the Holiday Inn Express or Kansas Prairie Lodge — an operating bison ranch.
Pro Tip: Goodland, Sharon Springs, and Wallace observe Mountain Time.
5. Western Vistas Historic Byway
Rock formations, remnants of a vanished ocean, jut from the land on Western Vistas. The byway features two state parks, a battlefield, and Western history.
At Fort Wallace Museum, learn the story of Fort Wallace and view a 40-foot long plesiosaur replica. At Oakley's Buffalo Bill Cultural Center, learn how William Cody earned the name Buffalo Bill. Explore fossil art at Fick Fossil and History Museum. At Keystone Gallery, shop for rock and fossil souvenirs. Make an appointment to go fossil hunting. Explore limestone badlands at Monument Rocks and Little Jerusalem Badlands State Park.
Visit remains of the northernmost pueblo and fish and hike at Historic Lake Scott State Park. Kansas's last battle occurred at nearby Battle Canyon. In Scott City, the El Quartelejo Museum and Jerry Thomas Gallery explain more.
Where To Eat And Stay
In Oakley, eat at The Bluff. In Scott City, dine at Tate's and the Majestic Theater. Stay at Scott City's Best Western El Quartelejo Inn or camp at High Plains Camping in Oakley.
6. Smoky Valley Scenic Byway
Sunken between hazy hills, Smoky Valley is known for its prairie grasses and seasonal wildflowers. During the holidays, enjoy WaKeeney, the Christmas City of the High Plains.
Start your journey at Ness City's imposing Skyscraper of the Plains. Head north toward WaKeeney, crossing the Smoky Hill River. In Threshing Machine Canyon, find pioneer names carved on the walls. Attacking warriors burned its namesake threshing machine. Its remains are in the Trego (TREE-go) County Historical Society Museum. The canyon is part of Cedar Bluff State Park, a prime fishing and watersports mecca. Near the park, Shiloh Vineyard produces premium wines from their own fruit. We particularly enjoy their pear and peach wines.
Pro Tip: Threshing Machine Canyon is closed during certain seasons to protect wildlife. Check before you go.
Where To Eat And Stay
In WaKeeney, eat at the Western Kansas Saloon. Stay at Best Western Plus WaKeeney or camp at WaKeeney KOA.
7. Gypsum Hills Scenic Byway
The Gypsum Hills, nicknamed the Gyp Hills, look like lopsided layer cakes. The hills feature red and light gray strata with steep valleys between buttes. Stop at two overlooks for the best views.
You'll understand the motivations behind the nation's Prohibition experiment at the Carry Nation House in Medicine Lodge. Nation, an activist, was notorious for attacking saloons with a hatchet.
Pro Tip: The Frontier Stockade Museum adjoins the Nation House. Enter through the Stockade.
Every three years, Medicine Lodge reenacts the Medicine Lodge Peace Treaty. The next event will be held in September 2021.
Live the cowboy life for a day by joining one of the Gyp Hills Trail Rides.
In tiny Wilmore, ride the free Wilmore Carousel. If you want to ride, honk. If anyone is available, they'll come out and turn on the machine.
Coldwater Lake is the only southwest Kansas lake to allow water-related sports.
At The Big Well in Greensburg, explore the world's largest hand-dug well and learn about the EF-5 tornado that nearly destroyed the city. M.T. Liggett displayed his political opinions with fascinating artworks in Mullinville.
Where To Eat And Stay
Eat at Don's Place in Protection, Buster's Saloon in Sun City, or the Crazy Mule or Kook's Meat and Deli in Greensburg. Stay in the Best Western Plus Night Watchman in Greensburg. Or camp at Coldwater Lake.
This list has only begun to scratch the surface of fantastic things to do in Kansas. Go exploring!