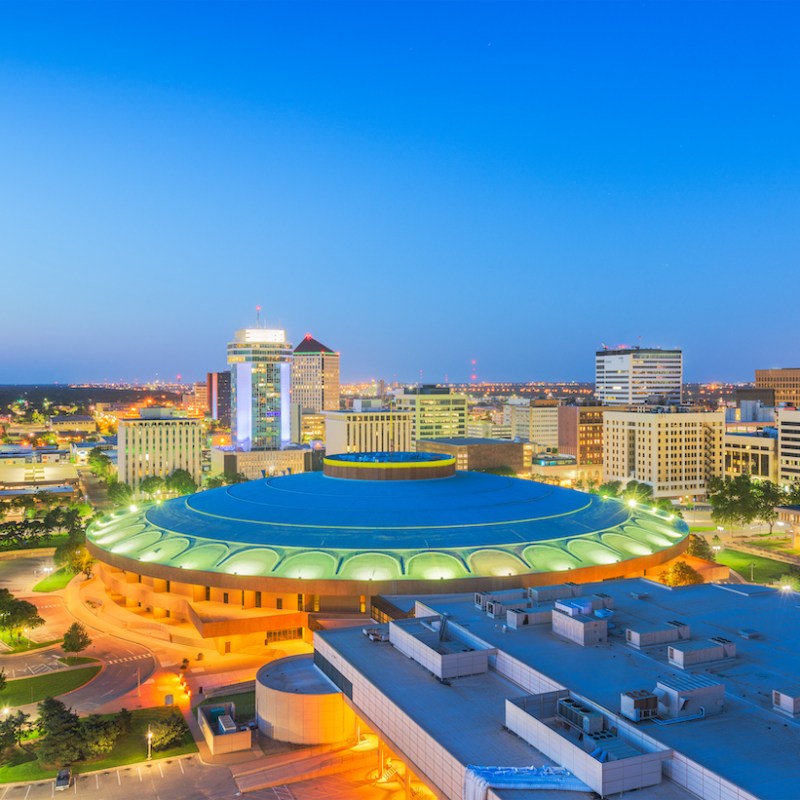 Wichita is a city just waiting to be explored. It would be easy to spend three or four days experiencing the sights, sounds, and tastes of the area.
From a wildlife park that offers up-close experiences with animals to riverfront attractions, there's something for everyone in Kansas's largest city. Here are just a few unique things to do in Wichita.
1. Explore The Museum Of World Treasures
An eclectic collection of exhibits awaits at the Museum of World Treasures, with everything from Edmontosaurus and Tyrannosaurus skeletons to Civil War uniforms and Western weapons. Other displays feature ancient Egyptian artifacts (including mummies), gems and other stones, and military items like weapons, flags, and uniforms. It'll take a few hours to take it all in.
2. Take A Step Back In Time At The Old Cowtown Museum
The Old Cowtown Museum offers a fascinating walk through Wichita's past. The living history museum takes visitors back to 1865 when Wichita was indeed a Cowtown at the end of the Chisholm Trail — a cattle drive on which cowboys herded longhorns from Texas.
Walk the dirt streets past the sheriff's office to the general store, or maybe stop in the saloon for some sarsaparilla and live entertainment. Don't hesitate to interact with the reenactors playing the local sheriff, fur traders, and saloon folk!
3. Appreciate The Street Art
Put on your walking shoes and explore the amazing murals along Douglas Avenue in the Douglas Design District, from murals featuring the city's unique Native American sun flag to designs highlighting history and pop culture. Try to find each of the more than 50 works of art along the 2.5-mile route.
If you can't get enough art, you can combine the Douglas Design District adventure with a tour of the sculptures along Douglas Avenue, which range from a depiction of Carrie Nation with her axe ready to tear down a local bar to a cute family of ducks near a street corner. And don't miss the Pop-Up Urban Park, which features a miniature version of The Keeper of the Plains and a sculpture depicting people of color staging a sit-in during the fight for civil rights.
4. Explore The Riverfront
From military memorials to museums to The Keeper of the Plains, the Arkansas Riverfront has plenty to keep visitors busy.
If you're traveling with the grandkids, consider a stop at Exploration Place. The young ones can investigate the interactive science exhibits as well as learn about Kansas with over a dozen displays.
The nearby Wichita Art Museum features classic art, including European oil paintings, as well as Western and contemporary artwork.
The Mid-America All-Indian Center traces the history of the Plains Native Americans, and contemporary exhibits feature new art and a look at racism. The center also hosts an annual powwow each summer. A must-see on the riverfront is The Keeper of the Plains, a 44-foot-tall statue of a Native American holding a pipe as tribute to regional tribes. The Keeper is illuminated nightly during a fire show.
5. Learn About Wichita's World War II History
Wichita churned out nearly 1,650 Boeing B-29 Superfortress bombers during World War II. Most of the workers who built the planes were women — including several young women fresh out of high school. Working around the clock, they constructed planes that played a major role in winning the war.
Today you can visit Doc, a restored B-29 housed at the B-29 Doc Hangar, Education & Visitors Center. You'll learn about the B-29 and the Wichita plant, as well as see sections of the plane. When the center is open to visitors on Tuesdays, Thursdays, and Saturdays, you might even get to meet an actual Rosie the Riveter — one of the Riveters volunteers as a docent.
6. Tiptoe Through The Tulips
Wichita's 17-acre botanical garden, Botanica, features walking trails with flowers, trees, and shrubs. It's a beautiful nature preserve in an urban setting. From the Woodland Walking Trail to the Chinese Friendship Garden, as well as gardens featuring wildflowers, roses, and perennials, Botanica is home to two dozen gardens and displays. You'll also want to visit the butterfly garden, where you can take in the seasonal visit of hundreds of Monarchs and other insects. The botanical garden hosts an annual light show and luminary walk each holiday season.
7. Talk To The Animals At The Sedgwick County Zoo
Home to more than 3,000 animals from around the world, the Sedgwick County Zoo offers animal encounters and even giraffe feedings. As you explore the zoo, you'll find exhibits separated by continent. Visit Penguin Cove, where you can see Humboldt penguins, and then check out the Highland cow from Scotland, with its long horns and shaggy coat. There are also African animals, including lions, black rhinos, and elephants (they're all ears).
If your feet need a break, take the riverboat ride, which offers a different sort of look at the zoo's creatures.
8. Walk Among Dinosaurs
With its more than 40 animatronic dinosaurs, Field Station: Dinosaurs might remind you of Jurassic Park, except that fortunately, the dinosaurs don't run amok. While it might seem like the park is geared toward young people, it's popular with dinosaur fans of all ages.
You'll see the classics — such as the Tyrannosaurus, Stegosaurus, and Brontosaurus — but Field Station: Dinosaurs also highlights newly discovered species, such as the Dracorex hogwartsia, which was found in 2004 and named by a Harry Potter fan, and the Anzu, a giant chicken-like dinosaur that was discovered in 2006 in South Dakota, Wyoming, and Montana. All of the dinosaurs move and make sounds. The park also offers shows in an amphitheater and classes on fossils and how dinosaurs lived.
9. Tour A Frank Lloyd Wright House
World-famous architect Frank Lloyd Wright designed a new house for newspaper publisher Henry Allen and his wife, Elsie. The Allen House was completed in 1918. Designed in the prairie style, the house features broad overhanging eaves, horizontal lines, and a sloped roof. Wright himself was known to keep an upstairs room, where he would stay when visiting the city. The house includes furniture and accessories from the era in which the Allens first occupied the house. A fountain and tea room are also located on the property.
10. Experience Animals Up Close
Wichita's Tanganyika Wildlife Park features more than 400 animals and 40 exhibits. At the 12-year-old zoo, you'll see lemurs, giraffes, monkeys, and penguins, among many other animals. Even better, the park offers up to nine animal encounters (for an extra fee) in which guests can feed lorikeets, lemurs, hippos, and penguins.
The zoo also participates in conservation programs and is a leader in breeding the okapi — an African animal that resembles a cross between a zebra and a giraffe.
11. Go Shopping
No matter what else you do in Wichita, you have to visit Nifty Nut House. At this candy and nut store decorated with squirrel murals, you're sure to find something sweet to take home. You'll find vintage candy-like waxed bottles and licorice whips, gummy and sour candies, and freshly roasted nuts. The store features shelves upon shelves of candy and nuts as well as gumball machines. Baskets and other goodies are available for purchase.
With more than 100 stores and boutiques calling Old Town Wichita home, it would be easy to spend a day in the retail district. Many businesses, such as the Old Town Antique Mall and Uniquities Home, are located in historic buildings. This area offers a shopping experience chock-full of character.
12. Kayak The Arkansas River
Rent a kayak, pedal boat, or standup paddleboard from Boats and Bikes at River Vista. The equipment rental company is managed by and supports the rowing team at Wichita State University. It also rents Trikkes (Y-shaped electric scooters), scooters, and bicycles by the hour if you'd rather wheel around the Downtown River Corridor.
Where To Eat In Wichita
From burgers and shakes to unique sandwiches and outstanding steaks, Wichita's culinary scene rivals that of other Midwestern cities.
Open since 1932, the Old Mill Tasty Shop is the quintessential old-fashioned soda fountain. The diner fare is fantastic (try the green chili), but the real treat is dessert. Try a thick malt, shake, or other ice cream treat made with hand-scooped ice cream.
Meddys is a local chain with five locations throughout Wichita; they serve up Mediterranean food in a casual environment, and the shawarma is a delight.
If you're looking for a special dinner, then look no further than the 6S Steakhouse. The upscale restaurant features hand-cut steaks and pasta, as well as an outstanding wine list.
Cap your visit off with a donut from The Donut Whole in the Douglas Design District. The unique donuts made from scratch are named for TV shows, movies, and musicians.
Where To Stay In Wichita
While Wichita is home to several national chain hotels, you might prefer a stay at a hotel that offers local flavor.
A boutique hotel — the 316 Hotel — offers a cozy stay in contemporary style. Start your day off with a complimentary breakfast.
Located in Old Town Wichita, the Hotel at Old Town also offers a boutique hotel experience. Built as a warehouse in 1906, the building has been transformed into a beautiful accommodation within walking distance of the Old Town and its shops and restaurants.
Related Reading: