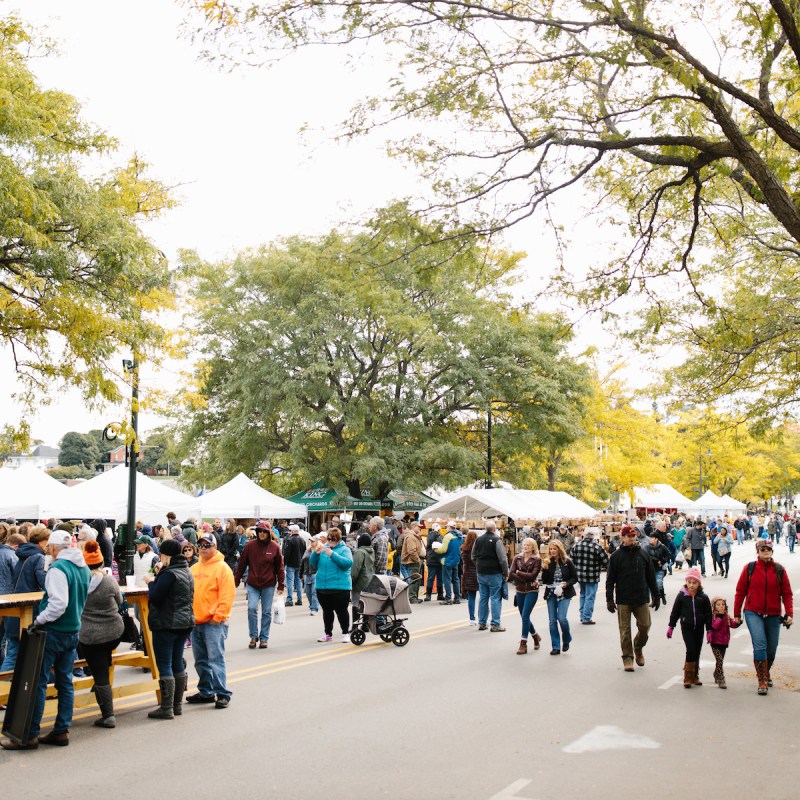 The Midwest is home to many wonderful apple festivals of all sizes. Although it's difficult to select just a few, from Amana Colonies in Iowa to Sparta in Michigan, plus small towns in between, here are some of the best.
1. Murphysboro Apple Festival
Murphysboro, Illinois
The Murphysboro Apple Festival has been a community tradition for more than 70 years! The Festival is Southern Illinois' oldest and largest alcohol-free festival, drawing more than 45,000 visitors each year in September. This four-day event packs downtown Murphysboro with family-friendly activities, including free entertainment, carnival rides, pageants, concessions, a car show, an arts and crafts fair, a fiddle and banjo contest, and a menu of apple-themed treats. Click here to see the entertainment schedule.
In 2022, the festival runs from Thursday, September 14, to Sunday, September 17. The Grand Parade will be held on Saturday, September 17, from 11 a.m. to 1 p.m. This is one of the longest parades in Illinois, with fire engines, marching bands, floats, visiting royalty, and horses.
A Taste of Murphysboro ($26) offers food and drinks from a variety of locally-owned restaurants. Ticket availability is very limited; this event usually sells out the first day. Ride tickets can be purchased in advance (10 tickets for $30).
Admission: Free for festival, some ticketed events
Parking: Any public parking lot downtown
Contact: (618) 684-3200, murphysboroapplefestival@gmail.com
2. Applefest At Living History Farms
Urbandale, Iowa
The family-friendly Applefest celebrates apple harvest season! Visitors to the historic sites see how past cooks prepared apple treats, such as apple butter, cake or pie, and cider. They can print an apple recipe in the print shop and purchase apple goodies and tasty treats from vendors.
In 2022, the Applefest at Living History Farms will be on Saturday, October 1 from 9 a.m. to 4 p.m. Ticketed (but free) events include the Medicine Show at 1 p.m. and 2 p.m. and Historic Baseball at 3 p.m. Advance tickets are recommended.
Admission: All activities included with general admission ($17 for adults), $10 for children (ages 2 to 12), free for children 1 and under, and $16 for seniors (ages 60 and older). Military discounts are available.
Parking: Free, on-site
Contact: lhf.org, (515) 278-5286
3. Apfelfest, Amana Colonies
Amana Colonies, Iowa
Experience the Amana Colonies Apfelfest when the leaves are turning and there is a slight crispness in the air. Visitors love the apple treats, gifts, and desserts, and they especially enjoy sampling treats along the Apfelfest Sampling Stroll. A local orchard sells fresh apples for those treats you want to make at home.
A culinary highlight of Apfelfest is the Amana Meat Shop's Apple Gouda Brats. You can purchase some to take home or head to the brewery where they'll be on the grill. They will taste great with a little Millstream beer or root beer.
Several restaurants at the Colonies feature apple dishes. The most popular apple item on the menu is the yummy German-style apple strudel.
In 2022, Apfelfest will be held Saturday and Sunday, September 17–18. Sunday, from 11 a.m. to 2 p.m., there is a nature walk to the Iowa River and back. This event is weather-dependent, so if it is raining, call ahead at (319) 622-7622.
4. Louisburg Ciderfest
Louisburg, Kansas
When there's a crispness in the air, Louisburg's Ciderfest comes to mind. Every year since 1977, Louisburg Cider Mill has offered family fun and yummy apple cider and donuts. Last year, the event drew more than 20,000 people each weekend.
Visitors can start their Ciderfest activities by watching how apples are freshly pressed into 100 percent pure apple cider — from initial washing to the actual press. They will enjoy a guided tour of the Mill, watching cider-making in action, and learning how the signature cider donuts are made.
Entertainment abounds at Ciderfest! Enjoy live country or bluegrass tunes on the stage, the aroma of smoked turkey legs, and, of course, apple cider donuts and apple cider! Also at Ciderfest, kids (and grown-ups!) can ride the hay wagon out to a huge pumpkin patch to pick their own pumpkins. They can experience this year's themed 10-acre corn maze, visit farm animals, enjoy the picnic areas, and take advantage of great photo opportunities.
In 2022, Louisburg Ciderfest will be held Saturday and Sunday, September 25 and 26.
Admission: Free
Parking: Free, on-site
Contact: (913) 837-5202, contact form
5. Michigan Apple Festival
Sparta, Michigan
The Michigan Apple Fest is a family-oriented event celebrating the harvest in Sparta, the heart of Apple country. More than 10,000 people attended this event last year! Family events include free inflatable bounce houses, games, balloon animals, fall decoration making, live music, local eats, Michigan beers and wines, a couch race, and much more!
On Friday and Saturday, September 23 and 24, enjoy artisan booths, food trucks, farm market vendors, hard apple ciders, "apple box" tractor rides, bounce houses, chainsaw carver, beer gardens, moonshot band, and an adult pedal tractor pull.
6. Four Flags Apple Festival
Niles, Michigan
The Four Flags Apple Festival from September 29 through October 2 offers visitors a parade, food booths, kids' activities, carnival rides (there is a charge, wristband needed), contests, and free entertainment on two stages! The 50th Annual Grande Parade starts at 1:30 p.m. on Saturday, in downtown Niles. The parade route is about 5 miles long.
In 2022, the Four Flags Apple Festival runs from Thursday, September 27, to Sunday, October 2. On both weekend days, there is a pancake breakfast from 8 a.m. to 11 a.m., sponsored by AMVETS. Arts and crafts vendors in more than 100 booths offer their wares. Visitors can enjoy the car show and puppet shows, and taste craft beer and wine. A full schedule of events is found here (PDF).
7. Charlevoix Apple Festival
Charlevoix, Michigan
Join the fun at the 43rd annual Charlevoix Apple Festival, where you'll find more than 30 varieties of apples, including "antique" varieties. The festival takes place October 14 and 15 from 10 a.m to 6 p.m. and on October 16 from 10 a.m. to 4 p.m.
This three-day event includes a craft show featuring 100 craftsmen, face painting, apple bobbing, a petting zoo, hand-led pony rides, and more. In addition, there is a local farmer's market offering pumpkins, mums, squash, jam, maple syrup, pies, bagels, mustard, crepes, cider, honey, meats, eggs, soups, and a variety of baked goods. Local non-profit organizations are on-site to tempt visitors with hot food items such as chili, hot dogs, apple flappens, soup, Irish apple cake, hot cocoa, and kielbasa.
Admission: Free
Parking: Public parking
Contact: (231) 547-2101
8. Afton Apple Orchards Festival
Hastings, Minnesota
The annual Afton Apple Orchards Festival offers a cornucopia of activities: pick your own apples and pumpkins, hayrides, cider pressing demos, a large playground, petting farm, straw mountain, retread hill, chainsaw carving demos, face painting, live music, balloonologist. Concessions offer apple cider, jam, jellies, maple syrup, honey, and many more apple favorites!
In 2022, Afton Apple Orchards Festival occupies the first three weekends in October. Hayrides will run from 10 a.m. to 6 p.m. and the huge Jump Pad and Cow Train will be open weather permitting. Each activity is $2 per person.
Admission: General orchard admission is $7 for ages 5 and older and $5 for ages 4 and younger. Some activities are $2 per person.
Parking: Free
Contact: Cindy at (651) 436-8385, info@aftonapple.com
9. Kimmswick Apple Butter Festival
Kimmswick, Missouri
The Apple Butter Festival is the largest in Jefferson County, Missouri, drawing over 100,000 visitors. Attendees enjoy the small town ambiance, strolling through streets lined with 500 to 600 food, drink, and craft vendors. There is lots of live entertainment throughout the town including bluegrass, country rock, and dulcimer music. For the children, there is a miniature train, petting zoo, and pony rides. Visitors can help stir the apple butter and enjoy the ambiance at the pavilion.
In 2022, catch it the last weekend in October, from the 29th to the 30th.
Admission: Free
Parking: Park at the Windsor School, and catch a shuttle bus into town. Limited parking off Highway K, a short walking distance into town.
Contact: Connie Schmitt at (636) 467-1436, getinfo@gokimmswick.com
10. Versailles Olde Tyme Apple Festival
Versailles, Missouri
The 38th Annual Olde Tyme Apple Festival offers three stages for local music and entertainment, a parade (10 a.m. on Saturday), the Vietnam Memorial Moving Wall, The Cinderella Apple Play at the Royal Theatre, an apple pie contest, a fiddlers' contest, and 50 food booths. Last year, 25,000 people attended the festival.
The festivities kick off with a pancake breakfast and continue with the grand parade, a tractor and engine display, a special Fun Zone for kids, and museum tours. The festival takes place October 1 and 2 from 9 a.m. to 4 p.m.
11. Weston Applefest
Main Street/Downtown Historic District, Weston, Missouri
Since 1988, visitors have enjoyed Weston's Applefest. The event kicks off with a hometown parade along Main Street that begins at 10 a.m. on Saturday. Additionally, there will be children's activities like face painting, a straw bale maze, pony rides, and interactive games. Vendors offer festival favorites to eat, including Weston's famous apple dumplings, apple pies, and cookies.
Visitors can attend the festival on October 1 from 10 a.m. to 6 p.m. and on October 2 from 11 a.m. to 5 p.m.
Admission: Free
Parking: Parking and shuttle service is $10 from the Weston Historic Orchard and Snow Creek.
Contact: (816) 640-2909, info@westonmo.com
12. Apple Butter Makin' Days
Mt. Vernon, Missouri
Everyone's invited to Stir the Pot and learn how apple butter is made on the historic Lawrence County Courthouse lawn. The festival features live, free entertainment all weekend. On Saturday, enjoy the parade starting at 9 a.m. and the amazing wiener dog races at 2 p.m. Featuring 450+ booths of handmade crafts and food, this event draws nearly 90,000 visitors each year.
This festival takes place on October 7–8 from 9 a.m. to 6 p.m. and on Sunday, October 9 from 10 a.m. to 4 p.m.
Admission: Free
Parking: Free and paid parking in designated lots lining the streets of the town.
Contact: (417) 466-7654
13. Applejack Festival
Nebraska City, Nebraska
Nebraska City's historic AppleJack Festival draws between 60,000 and 80,000 people each year. The festival has been named one of the "Top 10 Fall Harvest Festivals in America" by USA Today.
On the first weekend (September 16, 17, and 18), Festival-goers can enjoy apple pie, apple cider, apple cider donuts, candy apples, caramel apples, apple fritters, apple salad… pretty much anything apple. On Saturday, the festival begins with The AppleJack Pancake Feed from 7:30 a.m. to 10 a.m. The cost is $35 by August 31 and $45 starting September 1.
There will be a parade at 1 p.m. on Saturday, as well as the Extreme Bull Riding Tour, Water Barrel Fights, Vendor Fair, and Food Truck Street Fair. Food trucks will be on-site on Saturday from 11 a.m. to 4 p.m. The River City Carnival runs on Friday evening and all day Saturday (wristband fee). Sunday, September 18, is the River City Classics Car Club Show.
The second weekend of the festival (September 24 and 25) is all about food! The Third Annual Nebraska City Food Truck Street Fair will be held downtown on Saturday, and the Taste of AppleJack "All Things Apple" Contest will be held on Sunday at the Historic Barns at Arbor Day Farm.
Guests can attend the festival on September 16 – 18 and September 24 – 25. Event hours and locations vary.
Admission: General admission is free; fees for some events are posted here
Parking: Varies by event
Contact: (402) 873-6654, AmyA@nebraskacity.com
14. Gays Mills Apple Festival
Gays Mills, Wisconsin
The 63rd Annual Apple Festival in Gays Mills celebrates the apple harvest with parades, carnivals, arts and crafts, flea markets, music, dancing, and food. Friday events include a carnival at the fairgrounds (wristband night), Main Street vending, and music at Dante's.
On Saturday, enjoy the carnival, the Flea Market at the Fairgrounds, Main Street Vending, the Cornhole Tournament, and Arts and Crafts. Sunday's main event is the Apple Festival Parade at 1:30 p.m. The Parade runs from Main Street to Riverside Park.
The festival runs from Friday through Sunday, September 23, 24, and 25. Event hours vary.
15. Roscoe Village Apple Butter Stirrin' Festival 
Coshocton, Ohio
The 51st Annual Apple Butter Stirrin' Festival offers homemade apple butter, live music, free crafts for kids,100-plus craft and food vendors, History of the Canal Town, Spirit Tours, and more! The festival takes place from 10 a.m. to 6 p.m. on October 21-22 and 10 a.m. to 5 p.m. on October 23.
Roscoe Village is a charming restoration of a community that was once a thriving port on the Ohio and Erie Canal. Restored in 1969, the original 1800s buildings are the hallmark of this quaint, entertaining, and scenic village nestled in the rolling hills of beautiful Coshocton County. The village brings history to life through fascinating tours, adventures, and fun-filled festivals like the annual Apple Butter Stirrin', an event that averages 10,000 visitors annually over the 3-day weekend.
Admission: $8 at the gate; $5 online 
Parking:  Multiple free parking lots at both ends of the street 
Contact: (740) 622-7644, Cbrown@roscoevillage.com, Contact Form
16. Lebanon Country Applefest 
Lebanon, Ohio
The Lebanon Country Applefest features more than 300 arts, crafts, and food vendors as well as live entertainment each day. A large variety of great food will be available, including apple fritters, apple pies, caramel apples, fudge-covered apples, barbecue sandwiches, pork chops, kettle corn, ham sandwiches, brats, melts, hot dogs, and burgers. A new requirement that all booths offer something apple-related should make an exciting adventure for foodies!
Visitors can attend Lebanon Country Applefest on September 24 from 10 a.m. to 7 p.m. and on September 25 from 10 a.m. to 6 p.m.
Admission: $1, under 12 free
Parking: On-site, free; handicapped parking available
Contact: Contact Form
17. Jackson Apple Festival
Jackson, Ohio
The Jackson Apple Festival has been welcoming visitors for 81 years. National country artist Mark Chesnutt will perform on Saturday at 9 p.m. Visitors should be sure to experience the largest lighted parade in Ohio, including 20+ marching bands; the Columbus Zoo (Saturday); and "Big O Amusements" throughout the weekend. See all of this, plus apple-filled exhibits and great food vendors.
The festival runs from September 20 through 24. A full schedule is available on the festival's website.
Admission: Free
Parking: Downtown 
Contact: (740) 288-6714, Jafe.oh@gmail.com
For more on the Midwest, explore these articles: