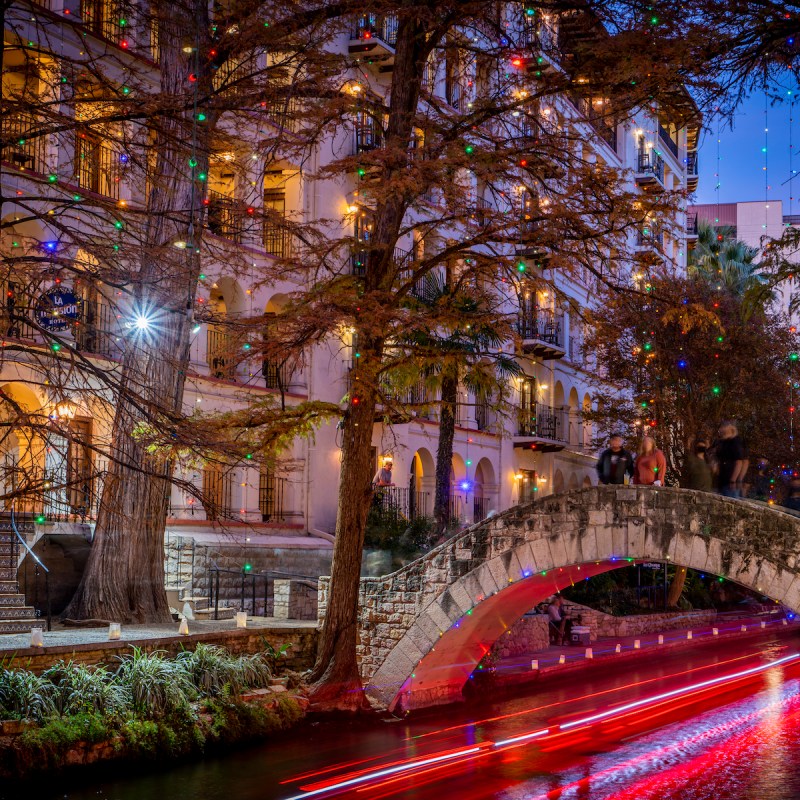 Everything is bigger in Texas, and that includes Texas Christmas celebrations! While there are amazing Christmas celebrations taking place throughout Texas, there is one Texas city that I visit year after year during the holiday season: San Antonio! I guess you could say that San Antonio is my favorite place to visit during Christmas.
My San Antonio holiday addiction began about 10 years ago, and I have made my way to San Antonio during the holiday season every year since. San Antonio glistens and comes alive during the holiday season, offering up many fun and joyous activities for couples and families to enjoy. You can walk amongst millions of twinkling lights, see a holiday riverboat parade, or enjoy a festive theme park when you Visit San Antonio at Christmas. This city truly has something for everyone!
So, without further ado, let's dive into all of the reasons that San Antonio is my favorite Texas city to visit during Christmas!
1. River Walk Christmas Lights
The San Antonio River Walk always shines bright with its glorious festive atmosphere and fabulous riverside restaurants, but during the holiday season, the River Walk shines even brighter thanks to the 100,000 lights on the bridges, trees, and buildings that line the river. The lighting ceremony takes place the Friday after Thanksgiving and the lights continue to shine bright through the New Year.
The lights reflect beautifully off of the river, and when combined with the holiday music that is piped in and the lighted boats, it truly makes for a magical scene. Take time to stroll the San Antonio River Walk at Christmas and enjoy this time-honored Texas holiday tradition.
2. Fiesta De Las Luminarias
San Antonio River Walk
One of my absolute favorite events in San Antonio during the holiday season is the Fiesta de Las Luminarias. During this event, luminarias — paper lantern bags with a candle inside — are lit along the San Antonio River Walk at dusk. The centuries-old tradition honors the Mexican heritage of San Antonio.
You can witness the 2,000 luminarias light up the River Walk on Fridays, Saturdays, and Sundays for three weekends in December. It is truly a breathtaking experience strolling on the River Walk as the Luminarias light the pathway and the twinkling holiday lights glisten overhead. I also enjoy having a nice meal and cocktail at one of the restaurants on the River Walk during this time. Ask to sit outside on their patio or balcony and enjoy the beautiful (and romantic) setting that surrounds you thanks to the luminarias and the holiday lights!
3. Six Flags Holiday In The Park
San Antonio's Six Flags Fiesta Texas theme park gets all decked out for the holidays beginning November 19, 2022, through December 23, 2022. The park is all aglow with millions of colorful lights, holiday-themed shows, loads of decorations, and special holiday food. They even offer up snow at this fun event!
A visit to Six Flags Fiesta Texas during the holiday season is the perfect family-friendly holiday event. The kids will love that the park has a snow hill and the adults will love indulging in a holiday hot chocolate while they watch a performance of the holiday show, Majesty of Christmas.
For complete details, please visit their website.
4. Christmas At The Caverns
Natural Bridge Caverns
One of the most unique holiday celebrations takes place at Natural Bridge Caverns in San Antonio. The caverns echo with beautiful holiday carols on select dates in December. Visitors can enjoy touring Texas' largest underground cavern and even enjoy a surprise visit from a spelunking Santa during the annual Christmas at the Caverns event.
After enjoying the underground festivities, the fun continues above ground as Natural Bridge Caverns invite visitors to enjoy even more holiday fun. Take photos in front of their 30-foot-tall Christmas tree, find your way through the outdoor maze, and stroll the third-of-a-mile trail that makes up the trail of lights. Finish off your holiday celebration by roasting some s'mores over the campfire while sipping on eggnog.
For details on this fun and festive Christmas event, please visit the cavern's website.
5. Santa's Railroad Wonderland
San Antonio Transportation Museum
Another family-friendly Christmas event in San Antonio is Santa's Railroad Wonderland at the San Antonio Transportation Museum. The museum completely shuts down during December except for this event, so you know you are in for a treat! The entire museum is decorated in its holiday best as it welcomes visitors to participate in Santa's Railroad Wonderland.
Visitors can stroll through the displays while sipping hot cocoa to see the historic depot, the trains, and several scale model trains. Of course, there is also a holiday-themed train ride that takes visitors through 40 acres of decorations.
Tickets are needed for this event, and it is only open on select days in the month of December. Check the museum's website for more details.
6. Christmas On The Ranch
Don Strange Ranch
For the ultimate light extravaganza in San Antonio, Texas, you have to visit Don Strange Ranch during the holiday season. Home to over 4 million lights and dozens of displays, this holiday event is definitely one of a kind. The ranch — which was founded over 150 years ago — is known to host fun events throughout the season, but it's their Christmas festivities that are a crowd favorite.
In addition to enjoying the mile-long drive-thru light experience, guests can also enjoy sipping hot cocoa and making s'mores before sitting down to tell Santa exactly what they want for Christmas. The ranch also offers hay rides, drive-in holiday movies, and an area for Christmas shopping.
Visit the Don Strange Ranch website for more details.
7. Lightscape
San Antonio Botanical Gardens
The San Antonio Botanical Gardens dazzles visitors during the holiday season with their annual event, Lightscape. Visitors are invited to walk the 1-mile trail that features over one million lights and light displays set to seasonal holiday music. With light installations like a field of bluebonnets and a winter cathedral, visitors are sure to have a unique experience.
One of my favorite things about the event is that you also have the opportunity to enjoy some holiday food and drink offerings, including roasting s'mores over an open fire.
It is important to note that Lightscape is known to sell out, so get your tickets well in advance if you plan on attending. You can find complete details, including ticket information here.
8. Ice Skating
Travis Park
Believe it or not, you can actually enjoy ice skating in Texas when you visit San Antonio during the holiday season. The Rotary Ice Rink is a great way to get in some fun exercise during your holiday visit to San Antonio. Located in Travis Park, the ice rink is a popular holiday activity and, therefore, does require advanced reservations.
9. Holiday Performances
San Antonio is brimming with a variety of holiday performances during the Christmas season, so it is always easy to find one that you and your family will love. If you are a ballet lover, then you will be happy to know that the holiday classic, The Nutcracker, can often be found being performed by several different ballet companies throughout the city. Other holiday performances often include holiday musicals, comedy shows, and more.
The Visit San Antonio website is a great resource to find listings for the holiday performances that are happening throughout the city.
10. San Antonio Christmas Showcase
Knock out all of your holiday shopping in one place when you visit the San Antonio Christmas Showcase. The showcase, which has been going strong for over 40 years, brings together over 300 vendors selling unique items perfect for holiday gifting. The showcase is the perfect place to find one-of-a-kind Christmas gifts for everyone on your list! In addition to the vendors, you can also find delicious holiday food and lots of wine being served!
11. Ford Holiday River Parade
San Antonio River Walk
The San Antonio Ford Holiday River Parade is an annual tradition that delights both locals and visitors to the city. Held the day after Thanksgiving, this 1-hour parade features illuminated floats carrying costumed people and characters down the San Antonio River.
The floats blast holiday music as they carry fun characters such as Santa Claus and the Grinch past the crowds of people that have lined the San Antonio River Walk to officially open the holiday season. The Ford Holiday River Parade route begins near Arneson Theatre and ends near the Biga on the Banks Restaurant.
If you want the best seats, be sure to purchase your tickets well in advance as this annual celebration is known to sell out. There are also free viewing areas along the bridges of the River Walk, but you have to get there really early to claim your spot!
Pro Tip: As you can see, San Antonio offers up numerous events during the Christmas season. I like to map out a calendar of events to ensure that my visit corresponds with exactly what I want to see and do!