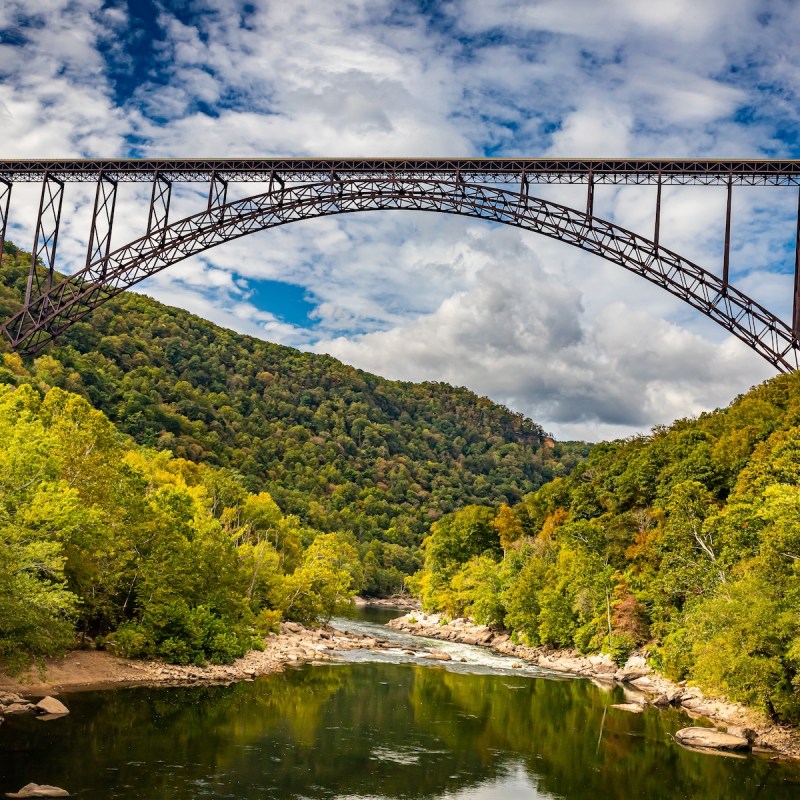 Located in the southernmost tip of the Appalachian Mountains, West Virginia is almost entirely mountainous. About one-third of the state is in the Appalachians' Allegheny Range, with a dense and diverse forest clambering up and down its foothills.
The New River Gorge within it is one of the many spectacular canyons formed by the intense New River. The river — one of the oldest in the world — flows north and has carved out gigantic limestone cliffs estimated to be 330 million years old. It flows fast and furiously down the area's slopes, creating one of the most scenic recreation sites in the U.S. It provides a venue for exhilarating raft and kayak trips or calm canoe rides, lots of fishing opportunities, and a forest that changes persona with every season. This natural treasure became our nation's 63rd national park in 2020.
Soon after New River Gorge National Park and Preserve was announced, I followed thousands of previous outdoor adventurers to learn why this gorge is worthy of protection. I also visited the Canyon Rim Visitor Center (which should be your first stop for maps and rangers' advice on how to best experience and navigate this hazy-bordered park). What I learned was that the New River Gorge has been a treasure since humans first saw it, and it has been lovingly protected ever since. As a result, in and just beyond the national park boundaries are some of the finest gems in our nation, cared for by West Virginians who adore their home.
Below, in no particular order, are must-stops when visiting New River Gorge National Park and Preserve.
1. Canyon Rim Boardwalk
Near the main entrance of the Canyon Rim Visitor Center is a boardwalk trail guiding visitors to a patio with amazing views of the famous New River Gorge Bridge. Spanning the river near Fayetteville, the bridge connects two mountains at 876 feet high — the third-highest bridge in the U.S. Designed to blend with nature, the bridge follows the horizon where mountains touch the sky.
After a week in this area, the patio at the Canyon Rim Boardwalk Trail turned out to have one of the most photogenic views of this iconic bridge, and sadly, many visitors pass right by it. Keep walking further down, and the boardwalk will eventually take you to the river, providing more amazing views.
2. Endless Wall Trail
Over 100 miles of maintained trails are scattered through an unbroken mesophotic forest within the New River Gorge area. A favorite of most visitors is the Endless Wall Trail, winding through an emerald forest scattered with wild pink rhododendrons and snow-white mountain laurels. When I was on the trail in May, the dogwood trees were in full bloom, sparkling inside the dark forest. The trail ends on high above the canyon, surrounded by sheer dropoffs, with views of an endless wall of rugged limestone cascading down to the pristine river.
3. Sandstone Falls State Park
In Sandstone Falls State Park, the largest waterfall on the New River drops almost 25 feet around a series of boulders and islands. A short trail on an accessible boardwalk takes the visitor to various beach accesses for fishing or just hanging out with family.
Stop at the Sandstone Visitor Center on I-64 to learn about a daring man in the early 1800s who built his river raft out of simple logs. The exhibits are designed especially for youngsters to learn more about rivers. The beautifully tiled floor, designed as a map of the river and park, is mesmerizing.
4. Babcock State Park
Located in the hub of the national park near the town of Clifton, Babcock State Park is best known for the photogenic Glade Creek Grist Mill, a fully functioning replica of the former Cooper's Mill, once nearby. The park's 4,127 acres of serene yet rugged forest also houses a beautiful campground with four accessible sites and a central bathhouse. An unspoiled stream flows through the park.
5. Grandview
A peaceful place to unwind is Grandview, an unincorporated community in Raleigh County now part of the national park. It offers many foot and bicycle trails. My favorite spot is the Turkey Spur Overlook at 1,400 feet above the river, offering panoramic views of an active railway and the quaint town of Quinnimont. Many of the old country roads throughout the area are narrow, with white-knuckle switchbacks.
6. Bluestone State Park
Located near Hinton where the New River splits, creating the Bluestone National Scenic River, sits the beautiful Bluestone State Park. This natural phenomenon makes this one of the most scenic campgrounds in the area, with a few campsites only accessible by boat. I spied hearty waterproof-pants-clad people lining the shores fishing for smallmouth bass, rock bass, and bluegill in this casting paradise.
7. Pipestem Resort State Park
I have been to many state parks during my 30 years of traveling across the U.S. but have never been to a state park resort! This 4,000+ acre park on the southern tip of the New River Gorge area is complete with a striking log-strewn lodge as well as restaurants, two golf courses, a mini golf course, a splash park, a lake, a zip line, horse stables, cabins, hiking and biking trails, and wooded campgrounds. Did I forget to mention the tram that takes visitors to a restaurant on the valley floor? My lunch at the cafe inside the lodge overlooking the valley was delicious.
8. Hinton
A bustling town famous for its large railroad roundhouse and bridge over the New River, Hinton is considered the gateway to the New River Gorge area. The scenery is stunning, with restored historic homes turned into lodges with views of a pristine river. I took a very interesting walking tour guided by volunteers from the Summers County Historical Society.
9. Tamarack Marketplace
Located in the Beckley Travel Plaza off Interstate 64 is Tamarack Marketplace, the perfect place for Appalachian handcrafted goods. The unique circular building houses a juried collection of over 20,000 items handcrafted by West Virginia artists. Much of the art is inspired by the beauty of New River Gorge, and it is portrayed differently by each artist, from quilts to wood carvings to delicate hand-blown glass. Hands-on classes in culinary arts, glass blowing, and mixed media are offered. I can vouch for the glass-blowing class as a perfect afternoon activity.
10. The Greenbrier
Drawing people in with its rich autumn colors every fall season, The Greenbrier is an amazing place for a leaf-peeping break. The hotel is east of the national park in the Greenbrier Valley, a side road trip worth taking.
Sometimes called the Old White, the historic hotel and mineral spring spa resort was built when John Quincy Adams was president. It is frequented by rich diplomats from Washington, D.C, a 2-hour train ride away.
Resembling the White House, the majestic lodge held a secret until discovered in 1992 — an underground Cold War bunker designed to be an emergency relocation center for members of Congress. No longer in use, tours of the bunker are available.
11. Monroe County Scenic Backways
I spent one day birdwatching, hiring a local bird guide to take me to the right places. We headed into Monroe County south of the national park, a feast for eyes and a utopia for 170 species of birds. We cruised on so many amazing scenic roads that I later found a brochure to keep them straight in my head.
It's hard to pick a favorite, but if vintage farms are of interest, don't miss Wolf Creek Road, a 25-mile route through the Pickaway Rural Historic District. With permission from a farmer, we ended the amazing day creeping up a meadow to watch bobolinks zoom upward from nests hidden by prairie grass to catch insects, then gracefully circle our heads before dropping to feed their young.
Lodging In New River Gorge
Lodging possibilities are endless in New River Gorge National Park and Preserve and beyond. I stayed in and highly recommend the Adventures On The Gorge resort. As a travel professional, they allowed me to review different styles of cabins, which tastefully combined rustic with luxury, and eat delicious meals in both onsite restaurants (I have such a tough job). I would have participated in their river rafting activities but was busy exploring the surrounding area.
For more information concerning nearby charming towns and sites, contact the West Virginia tourism department and surf our West Virginia category.