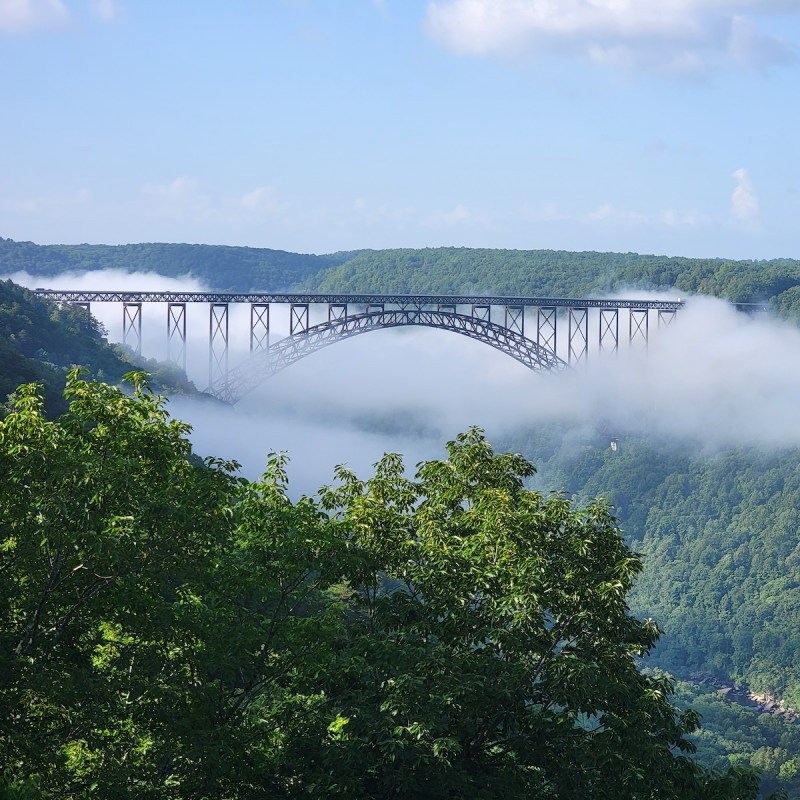 Travel is back and multigenerational family vacations are hot right now, especially trips that are heavy on outdoor time. Many of us have spent the past two years away from extended family, or at least not spending as much time with kids and grandkids as we would have liked to, and we're eager to make up for it.
Some travelers remain concerned, in varying degrees, about large indoor events and crowds. Many vacationers are looking to national parks and activities to enjoy in the open air. The National Parks Service's newest national park, New River Gorge National Park and Preserve in southern West Virginia, just might be the vacation spot that checks all the boxes for a family vacation.
I was the guest of Adventures on the Gorge, an adventure resort in Fayetteville West Virginia. Adventures on the Gorge provided my meals, lodging, and activities. I'm originally from West Virginia and this is one of the most beautiful parts of my home state. All opinions are my own.
1. Easy Access For Travelers Coming From The East Coast Or The Southeast U.S.
New River Gorge National Park and Preserve is located in Fayetville West Virginia, which is 60 miles from Charleston. Visitors can get a flight from most places in the U.S. It's a small airport so a connecting flight may be necessary. Fayetteville has Amtrak service from Washington DC. if you're coming from the East Coast or Southeast. New River Gorge is within what most travelers would consider a manageable one-day drive.
2. It's A Choose-Your-Own Adventure
While many of the activities described below may be geared toward people with minimal mobility restrictions and a strong sense of adventure, this park can still be enjoyed by visitors who don't want to scramble up rocks and zipline through the treetops. There are lots of places in and around the national park to find solitude and ponder the beauty of the region or sit and enjoy visiting with loved ones. The sunsets are particularly beautiful. Adventures on the Gorge had a viewing area with Adirondak-style theater seating. Mother Nature puts on quite a show.
The park and surrounding areas inspire you to choose your own adventure. Groups can choose to do activities together or split up for the day and gather for dinner or end the day around a campfire. Charleston and Greenbriar Valley are about an hour's drive (each way) away. So, if the adventure activities aren't your cup of tea, there are other activities such as golfing, shopping, drinking craft beer in taprooms, and more to enjoy. You can also take a quick trip into the small city of Fayetteville, which has a handful of shopping and dining options.
3. Whitewater Rafting
Whitewater rafting is the most popular activity choice at New River Gorge National Park and Preserve. The New and Gauley Rivers run through the park and white water rafting season (May through September) is much anticipated by fans of fast water. If white water rafting doesn't sound like your thing, don't worry. There are lots of other things to do.
The Upper New River has Class I through Class III rapids, so rafters and kayakers can expect a gentler run, although some people may not think it is gentle. I did this run with my husband and two tweens in June and the second-to-last set of rapids (aptly named Surprise Falls) was pretty intense. Our guide called it "a doozy." That was an understatement.
We booked our rafting tour with Adventures on the Gorge. They also offer tours of the Lower New River and the Gauley River, which are a little wilder — Class IV and up rapids. Safety equipment (helmets and flotation devices) are provided so non-swimmers can participate in this activity, but you'll need enough mobility to get in and out of the water, paddle, and take direction from the river guides. If you have physical limitations or mobility restrictions, I recommend talking to the guides before booking the trip to see what's possible.
4. Hiking Around The Park
There are over 100 miles of hiking trails in New River Gorge National Park, ranging from flat, smooth walking trails to steep, challenging terrain. The trails range from 0.25 mile to 7 miles. Some trails can be connected for a longer hike. If you're not sure what trail is right for your group, talk to a ranger at one of the visitor centers. Paper maps are available but I find it easiest to use a hiking app like All Trails for navigation. Make sure to download the map so you can access it without a cell signal.
If you're up for hitting the trails but want a guide, Adventures on the Gorge offers two and three-hour guided hikes. If you're hesitant about exploring on your own or just want someone who knows the lay of the land to show you the best scenic overlooks and picture spots, this could be an option for you.
There's some private property inside the national park, so make sure you heed any warnings on posted signs.
5. Canyon Rim Visitor's Center
The Canyon Rim Visitor's Center is a great spot to learn about the history of the park and this part of West Virginia in general. You'll find an interpretive center with photographs and artifacts, a scale model of the entire park and preserve, and a theater. The theater shows an 11-minute movie played on a loop that tells the park's story.
The gift shop is well-stocked with typical national park souvenirs and has a great selection of books. You can also get your national parks passports stamped here. The outside porch is a great place to get a look at the river. I took lots of pictures from this vantage point and not one of them did the actual view justice, so I recommend seeing it in person.
There's an accessible boardwalk viewing area as well as a staircase that goes down to a second overlook. The 150 steps down treat visitors to a unique view of the New River Bridge from below.
6. New River Gorge Bridge Walk
A lot of the activities I've described fall into the "active vacation" box. Other than being able to walk 2 miles, The New River Gorge Bridgewalk isn't a particularly strenuous excursion. That said, nothing, including flipping my kayak in Surprise Falls, got my heart racing quite like my walk across this bridge.
Completed in 1977, the New River Bridge is 876 feet tall and ranks third on the roster of America's tallest bridges. There's a 24-inch wide catwalk directly underneath the bridge. For $72, you can be harnessed in and take a guided tour across the bridge. There's a railing you can hold on to if you're nervous (that was me!) and your safety equipment is clipped to an overhead cable. That said, I was terrified the entire time I was up there. My kids and most of my other companions described the experience as "thrilling" and "exhilarating" so the takeaway definitely varies from person to person. I will admit the views from up high are spectacular, but I think this is a one-and-done for me.
The tours are guided by someone who knows the history of the bridge. You must be on a tour to participate. The trek across the bridge is one-way. A bus will drop you off at one end and pick you up on the other side. Kids must be at least eight years old to walk the bridge. If you have physical limitations, wear a prosthesis, or use a wheelchair or cane, you may be able to participate. Call for details.
Bridge Day is celebrated every October to commemorate the completion of the bridge. The bridge is closed to vehicular traffic and visitors can enjoy watching BASE jumpers and rappellers in addition to the regular bridge walk tours.
7. Flat Water Activities
Lake Summersville, one of the largest lakes in West Virginia, is located about 20 miles from New River Gorge National Park. If you enjoy the water but don't want the thrill of the rapids, lake life is an option during summer.
This reservoir was created when the Gauley River was dammed in the 1960s. The lake is released six weekends during the fall for Gauley River Rafting. Summer visitors can swim, rent a pontoon, paddleboard, or just enjoy the views of the water. Adventures on the Gorge has some options for lake adventures you can book during spring, summer, and fall.
8. Amenities At Adventures On The Gorge
In addition to the tours I've already mentioned, Adventures on the Gorge offers ziplining, laser tag, horseback riding, rock climbing, team-building exercises, and more. Guests can be as active — or as sedentary — as they want. All activities must be booked separately, although there are some combo packages available.
There's a pool, a children's playground, patios with spectacular views, and several scenic overlooks. There are two onsite restaurants plus a coffee shop serving light breakfast options. Most of the bookable activities require guests to be at least eight, with the exception being the Timbertrek Adventure Park, which is open to kids as young as four. The Timbertrek Adventure Park and the half-day rock climbing are easy "spectator sports" for parents or grandparents who want to see their kids participate without signing up for the activity.
There's a variety of lodging available, from luxury cabins that sleep up to 14 to campsites. We stayed in a bunkhouse-style cabin that sleeps ten people. We found it comfortable, but a bit rustic. It worked because we were very active during our trip to New River Gorge, only returning to the cabin to fall into bed at the end of the day. If you envision more family time in and around your lodging and amenities are important to you, you may want to look at other options.
Ace Adventure Resort and Glade Springs offer similar types of accommodations, although I don't have firsthand experience with either property. Airbnb and Vrbo also have lots of options for vacation homes to rent.
Although our unit had bed space for 12, it only had one bathroom, which might not have worked well for a larger group.
9. Explore Nearby Greenbrier Valley
The beauty of the area and location is a big part of why I think New River Gorge is such a great spot for a multi-gen trip where you've got a group of people with varying interests and abilities. Guests who are lower on the adrenaline junkie spectrum might enjoy a side trip to nearby Greenbrier Valley, which is less than 50 miles from the park — about a 90-minute scenic drive, each way.
Greenbriar Valley has five golf courses, two covered bridges, a llama farm, and more dining and shopping choices. Sometimes the challenge of putting together a successful multigenerational trip is finding options that everyone is happy with and this community offers some choices that might check that box.