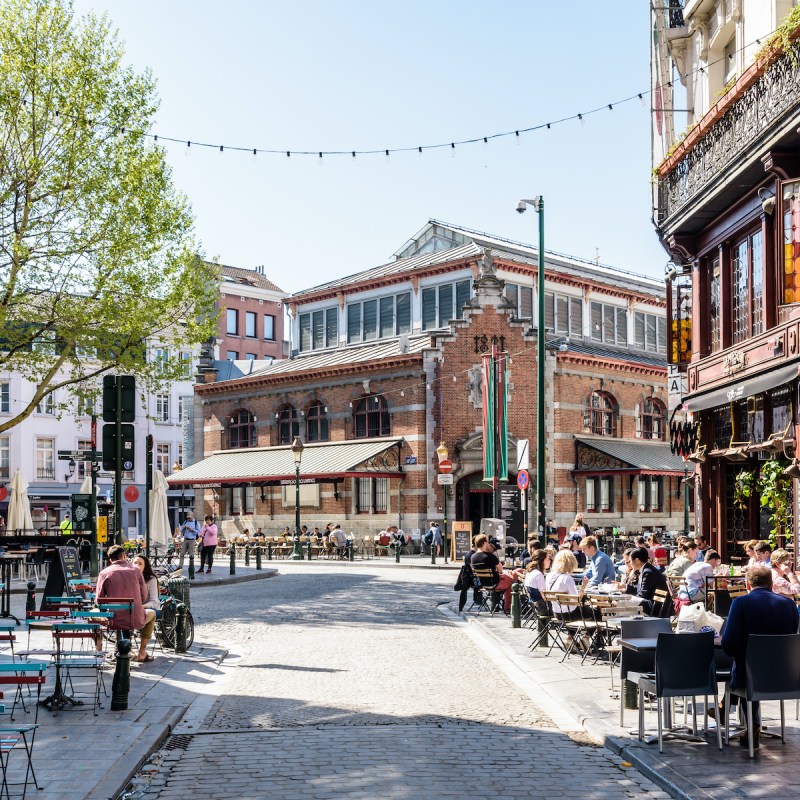 Brussels is one of the most underrated European capitals, welcoming a meager 2.5 million international visitors per year, compared to an impressive 9.5 million for its neighboring capital of the Netherlands, Amsterdam. While Brussels is the smaller capital in size, it is larger in population than its neighbor, but with just as much history.
The only reason that I can think of as to why Brussels is so often overlooked by international visitors is that it is a city more suited to living there rather than visiting — but then, how would you know unless you've been?
Yes, the Central Market area, the old town with the grand place and the many, many bars and restaurants, is always busy, but step away from the city center, and you don't find many tourists. Instead, you find lovely neighborhoods with gorgeous buildings, markets, hidden cafes, and places where to sit with that Belgian beer and a portion of fries in hand and watch the world go by.
Maybe Belgium focuses more on its quaint canal cities such as Bruges and Ghent, and the architecturally impressive Antwerp when it comes to tourism campaigns, but the fact remains: Brussels should be explored at a slow pace, preferably on foot to be able to peek into the small and hidden corners. You might just be surprised at just how lovely Brussels is.
Here are some of my favorite corners and neighborhoods in Brussels, some more residential, others more sight-seeing oriented, and others just good fun.
1. Central Brussels
This is the first place, and often the only place, visitors see of Brussels. Central Brussels is undoubtedly the must-see area to visit if you are time-poor and want to see the most famous sights. There is Grand Place, which is surrounded by mind-blowingly stunning and historic architecture. Every second August, it's covered in a vast flower carpet, with the next event taking place in 2024.
Central Brussels is where you find pub next to pub, bars next to restaurants and snack kiosks, and a lot of stag parties coming from across Europe for a weekend of serious partying. Here you also find little Manneken Pis, the tiny boy statue peeing into a fountain, forever dressed in a new outfit, and souvenir shops galore. It's very touristy, but also very picturesque. This neighborhood must be seen, but it should not be your only impression of Brussels.
Pro Tip: For some peace and quiet and more upmarket shopping than the endless souvenir shops, head to the beautiful Galeries Royal Saint Hubert, a network of old covered passages filled with gorgeous boutiques and a lot of old-world glamor.
2. Saint-Gery
Steps away from the tourist whirl of Central Brussels, you'll find Saint-Gery, a more residential area, but also very good for enjoying the food and drink of Belgium. Around the Halles de Saint-Gery, the former covered market turned exhibition center and bar, you can spend the evening bar hopping and selecting a restaurant from a vast range of international eateries which reflect the city's cosmopolitan population.
Here you also find the second of the trio of peeing statues: Het Zinneke, a peeing dog, lifting its leg on a street corner. (The third is Jeanneke Pis, in an alleyway behind the Grand Place.)
Pro Tip: For an interesting setting, hopping atmosphere, and great traditional food (and large portions), head to 9 et Voisins, between Saint-Gery and Central Brussels for dinner.
3. Sablon
Sablon is probably the second most-visited area of Brussels, as it is home to many museums. With the Palais de Justice at one end and the Parc de Bruxelles at the other, this area encompasses the grand avenues of Rue de la Régence and Boulevard de Regent — you already get the royal feeling here from just the names.
The Royal Palace is located between the two streets, and there are the Museum of Fine Art, the Magritte Museum, the Church of our Lady of Victories at the Sablon, and other grand buildings packed in tightly.
A must-see is the Museum of Musical Instruments, whether you are interested in musical instruments or not. Trust me. The building is picture-perfect Art Nouveau, simply stunning, and the displays are truly interesting — and I don't even play an instrument.
Pro Tip: Every weekend, the lovely Sablon Antiques Market takes place on Place de Grand Sablon, and you will be hard-pushed not to find a worthwhile trinket to bring home.
4. Ixelles
From Sablon, you can walk along the Boulevard du Regent and down along Avenue Louise, to scratch any shopping itch you might have. Here you will find local as well as international stores, from Apple to Zara, and luxury labels such as Louis Vuitton and Hermès, plus, the further south you go, more individual boutiques of local designers.
You'll end up in Ixelles, a higher-end residential neighborhood with plenty of young, hip, and arty vibes. The neighborhood is set around two lakes, where a picnic on the grass is a must. The surrounding buildings will allow you to dream about some truly lovely real estate, and you'll see just why Brussels is such a liveable city.
Ixelles is filled with gorgeous Art Nouveau buildings, many accredited to Victor Horta, one of Belgium's most famed Art Nouveau architects. There is also a museum dedicated to his work.
Pro Tip: You cannot come to Ixelles and not visit Café Belga; its reputation precedes it even across borders. Serving Belgian favorites, it can get very busy, so you might want to book ahead.
5. Les Marolles
Le Marolles is one of those neighborhoods called "authentic." The former working-class quarter has since been gentrified, but not to an extent that it has lost its identity. The architecture is a mix of Brussels' so typical Art Nouveau, but also some not quite so pretty buildings. There is plenty of urban art, ranging from building-sized, street-enhancing murals, often depicting famous Belgian cartoon characters, to large old street advertising. The atmosphere is relaxed, urban, young, and arty.
There are plenty of cafes and bars, antique shops, and what is probably the Marolles largest draw for visitors: the enormous flea market on Place du Jeu-de-Balle taking place every day, morning to early afternoon. Always absolutely hopping, the 300-odd stalls sell everything from vintage clothing to arts and crafts, literally stuff from someone's attic to true gems. Turn up early for a chance to find something really special.
Pro Tip: To get the most out of this quirky neighborhood, go on a walking tour taking in the best of the street art.
6. Saint-Gilles
Snuggled next to both Les Marolles and Ixelles, Saint-Gilles is a mix of both neighborhoods, with some working-class vibes as well as some grand Art Nouveau buildings. This is a diverse quarter of art galleries and cultural events, filled with vintage and concession stores, and, because of its multi-cultural population, the quarter has an amazing array of international restaurants.
Just like Les Marolles, the hugely popular market in Saint-Gilles, the Midi Market by the Brussels South Railway Station can yield some great finds and is a colorful place to be on a Sunday, with its many stalls run by the locals, many of which are offering Mediterranean and African goods.
Pro Tip: Don't miss a visit to the incredible Aegidium, an abandoned former Moorish theater hall, waiting to be reinvented. You can visit it on a tour.
7. Sainte-Catherine
I am not sure whether this qualifies as an entire neighborhood, but I love the streets around the metro station of St. Catherine. There is the beautiful church of Sainte-Catherine of Brussels, the sturdy little Tour Noir, or "black tower," left over from Brussels' former city wall, the Brussels Fish Market, and numerous harbor basins which invite you to sit and people-watch. At night, there is always some street music, and you can search out and find little restaurants and bars in the tiny alleyways.
Running parallel to the harbor basins, the cobbled Rue de Flandre is bustling with small shops, cafes, and restaurants. When I was last there, it had umbrellas hanging over it, making it pretty at night. And, before you come over, see if there is a concert at the cultural center La Bellone, on Rue de Flandre. This is an architecturally interesting building, which also has a café, giving you a good excuse to go in for a snoop around should there not be an event on.
Pro Tip: If you find yourself in Brussels around Christmas time, Sainte-Catherine is the place to go for decorations and market stalls. The entire quarter is taken over by a market.
Navigating Language In Brussels
Please note that here I have used the French language and names for sites in Brussels, but as it is a bi-lingual city, where Flemish is just as often used, you might well find that names are different, such as Ixelles being called Elsene, but navigation is still easy as usually both languages are used where necessary — and, if you are truly lost, everybody speaks English.