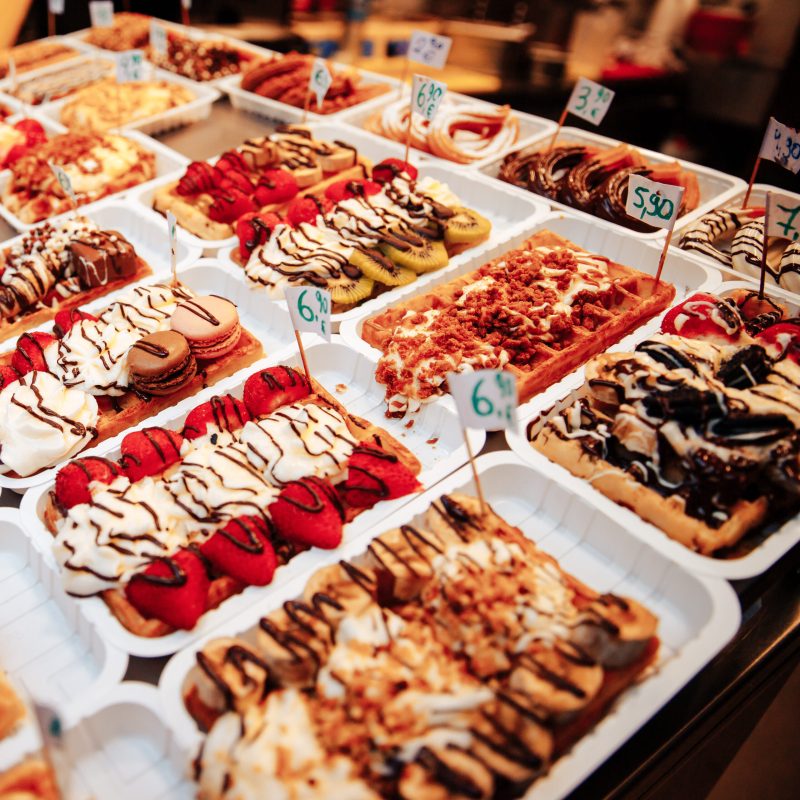 The concept of the Belgian waffle — a big, pillowy treat with loads of whipped cream and maple syrup — actually originated in the United States, but that's not to say that waffles aren't a national food in Belgium.
Belgians know our "Belgian waffle" as the Brussels waffle, which (shocker) is commonly found in Brussels. It's light, fluffy, and typically eaten without a fork or knife. Many bakeries also serve Liege waffles, dense treats made with a brioche-like dough; they're eaten by hand, and they're rarely served with toppings. Neither waffle is ever served with syrup.
A third variety, stroopwafel, is popular in Belgium, but Danish in origin. Literally "syrup waffles," these dense treats store well, so they're great for taking on your plane ride home.
Now that you've got a basic understanding of Belgium's waffle culture (and that's not a sentence we thought we'd write today), you need to know where to find them. Here are a few of Belgium's best bakeries, tea rooms, and cafes for satisfying your sweet tooth.
Be Waffle, Brussels
No trip to Brussels would be complete without a turn around the city's historic Grand Place. There's so much to see at this UNESCO World Heritage site, though, that you're liable to get awfully hungry before you head back to your hotel. Luckily, Be Waffle on Rue de l'Etuve is just off the square.
Stop in for a plump, square waffle or a rounded, street-style Liege waffle, and then go crazy with the toppings. Load up your dough with chocolate, whipped cream, fruit, or anything your sweet tooth desires. That should fortify you for the rest of your exploration of Grand Place.
Maison Dandoy, Brussels
Maison Dandoy is a tea room and boutique with 10 locations across Belgium, so chances are you'll spend some time near one of them. The shops serve both Liege and Brussels waffles every day, and the company's website makes an impassioned plea to travelers to respect both varieties. That's a culinary position that we can get behind.
You'll also find a variety of cakes, cookies, and speculoos (spiced, crunchy Christmas biscuits), all of which are well worth a try. Speculoos, in particular, make great souvenirs.
Chez Albert, Bruges
Waffles are ultimately a street food, and while Chez Albert won't win any awards for restaurant design, it sells some of the best Brussels-style waffles in Bruges. You'll order takeaway from the small storefront, choosing from a variety of toppings and sauces.
Try to keep your first order fairly simple, since the sweet, light flavor of the batter is wonderful on its own. That said, if you can't resist the urge to pile on strawberries, chocolate, and whipped cream, we won't blame you.
Wafelhuis Van Hecke, Antwerp
People in Belgium tend to eat their waffles while they're strolling down the street, but if you're looking to sit down for a hearty brunch, head to Wafelhuis Van Hecke.
According to the chef, the waffles follow a recipe handed down for generations, and the toppings certainly don't hurt — you can dress your waffle up with ice cream, shaved chocolate, whipped cream, and fruit, all of which are meticulously prepared for a gourmet experience.
Eight And Three, Brussels
Eight and Three is a sit-down restaurant, though as reviewers note, it's often crowded, and the food is served on disposable plates. In other words, if you're lucky enough to find a spot to sit, you'll probably feel like moving on fairly quickly.
The waffles here are slightly thinner than those you'd get at other restaurants, but that's not a negative; they're delightfully crisp and perfectly sweet, ideal for topping with the various sweets that make up most of the menu.
The Smallest Waffle Shop In The World, Antwerp
Looking for a quick taste of an authentic Belgian waffle while you're strolling the streets of Antwerp? As its name implies, The Smallest Waffle Shop in the World is a tiny single-countertop bakery in the Meir neighborhood.
The restaurant might be miniscule, but the waffles pack plenty of sweetness into each sumptuous bite. You'll find Liege waffles and Brussels waffles covered in chocolate and other toppings, and while you'll have to eat your breakfast on the go, you'll certainly leave satisfied.
Eugene Glutenvrije Bakkerij, Antwerp
The only gluten-free bakery on this list, Eugene Glutenvrije Bakkerij offers an incredible array of delightful goodies, including (you guessed it) waffles. The baker has celiac disease, which Eugene's website describes as a "big advantage."
Given the bakery's long list of five-star reviews, we'd say that they've got a fair point.