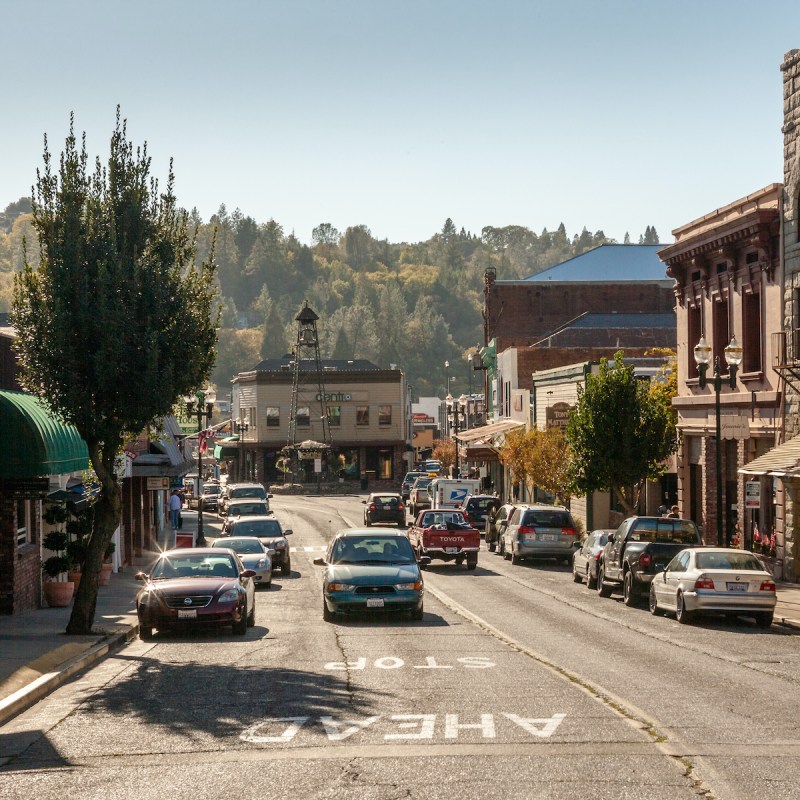 Beautiful scenery, wineries and orchards, historical attractions, and lovely people are just a few reasons why a visit to Auburn and Placerville in California Gold Country was an unexpected, delightful experience. I learned so much about gold mining and the many reasons why this area is becoming a popular tourist destination.
My adventure began with Auburn, literally one turn off Highway 80 at the foothills of the Sierra Mountains. I have driven by the road sign to the town hundreds of times on my way to Donner Lake. Only this time, I was stopping and delving into its history.
Visit Gold Country helped me to discover some of these locations and helped support my trip. All opinions are my own.
1. The First Stop: Placer County Museum
Less than a half-mile off Highway 80, the county courthouse's majestic edifice sits on a hill overlooking the town. The first floor is devoted to the Placer County Museum, while the upper levels continue serving as the city's hall of justice.
Unlike most museums, which display history chronologically, the curator decided to tell Auburn's story by displaying information about a particular event and how it impacted the area. For example, two rooms are devoted entirely to the gold rush.
Two things fascinated me about the exhibit. One of them was the carefully guarded display of gold and how it looked as the miners discovered it. Think gold-leaf sheets, triple in thickness with swiss cheese holes and ragged edges. I also learned that only a few larger land stakeholders became wealthy during the gold rush. The vast majority of the prospectors turned to ways to help feed and house the rush of people that kept coming to the West in search of their fortunes.
Pro Tip: There is no admission fee, though donations are welcome.
2. Downtown Auburn Post Office
Located on a triangular piece of property in the middle of downtown is the Auburn Post Office. Its Georgian Revival architectural style survived two fires because it was initially built of brick. Thus, it proudly displays a plaque that reads, "Built in 1853 and is the longest operating post office west of the Mississippi."
3. Retail Stores Offering A Variety Of Unusual Gift Ideas
Even though it is such a cliché, this town only can be described as charming. Remember I mentioned the city is located at the foothills of the Sierras? Well, be prepared with good walking shoes as the red-brick stores wind their way up a hillside.
One of my favorite stops was the Auburn Old Town Gallery. This cooperative gallery has approximately 50 local and internationally known artists who take turns running the gallery. Thus, it is an excellent opportunity to talk to an artist and learn about their colleagues and why they decided to make this area their home.
Another favorite was The Silver Store. Okay, I'll admit I got sidetracked at the enormous trays of silver rings. Yes, I now own one. However, equally interesting is the number of original local artists' creations beckoning you to take them home.
4. Surprising Dining Opportunities
It was time to meet colleagues at Josephine's for dinner downtown. This long-deep restaurant entrance is complimented by a beautiful wooden bar, with many people rallying for after-work drinks. As I walked toward the back, I felt like I was being transported to France.
It turns out the owners developed the concept for their restaurant as a nod to their French heritage. A fun factoid: Their daughter's name is Josephine, and the logo is the owner's mother's handwriting of their daughter's name. Yes, all the menu items had some French twist, making it a special event to stretch my palate.
Then there was The Pour Choice, high up on the hill. In the morning, it is a coffee shop helping tourists and many locals wake up with their craft coffee and pastry. Then in the evening, it becomes a place where there are 28 craft beers on tap. Talk about the creative genius idea to keep a food facility relevant all day long. It is the only place of its kind in the entire state of California.
5. Ample Accommodations
My home away from home was the Springhill Suites by Marriott. This relatively new hotel is adjacent to Highway 80 but far enough from the road not to hear the traffic. My room was spacious, overlooked the pool, and beyond it was a stunning view of a valley stretching for miles. If looking for a place to stay, I think you will be surprised that chains such as Rodeway Inn, Holiday Inn, Best Western, and Red Lion Inn have hotels in Auburn.
With time slipping away, it was time for me to head south to Placerville. I wasn't prepared for the winding 28-mile drive between the two towns. However, the rhythm of the twists and turns became second nature. The scenery was spectacular as I drove through the heavy wooden tree-lined mountain roads.
6. Myka Estates, A Beautiful Place For Lunch
The first stop was Myka Estates tasting room hidden in the forest. With the car parked, I walked by a beautiful garden-like area with tables scattered throughout the space. A patio reminiscent of a southern porch adorned the front of the tasting room building. I was delighted to learn I could sit on the patio at a barista's high-top table for a wine-tasting while having a delicious lunch.
Their actual vineyards are scattered throughout the area, producing a variety of grapes at varying elevations. When the owner started the company, he decided he wanted to use different grape varieties and blend them to make craft wines; thus, each blend is produced in small quantities.
7. Historical Winery In El Dorado County
Now the Boeger Winery, this landmark estate was built by the Fossafi-Lombardo family in 1849. Recognizing an opportunity to help support the gold rush arrivals, the family surrounded the home with grapes grown from the cutting of the local mission. With the addition of nut orchards, their vineyard flourished for years until Prohibition, when the estate closed its operations.
In 1972, Greg Boeger, remembering his grandfather's success in the Napa Valley area, decided to follow in his footsteps. He discovered the once thriving estate, purchased it with his wife, revitalized the vineyards, and added more acreage. Today, he has a modern scientific lab where he delights in experimenting with different blends and works continuously to create new craft wines that continue to delight and surprise visitors in the tasting room. Today, Boeger Winery is the longest-running, post-Prohibition winery in El Dorado County, and locals and visitors flock to their outdoor concerts on the beautiful garden-lined grounds.
8. Artists Capture The Beauty Of The Area
It is a visual delight to walk into the Placerville Art Gallery and an art lover's dream. This airy, well-lit white space with several rooms and dividers provide backdrops for the local artists' work. The creations go from beautifully woven scarves to whimsical creatures that cannot help but make you smile and everything in between. Any art media you can think of is displayed in this magnificent gallery.
Pro Tip: Placerville was the hometown of Thomas Kinkade, so you will want to make sure to stop at his gallery. It won't take long to realize that many of the scenes in his paintings are of Placerville and the surrounding area.
9. Dining At A Stagecoach Stop
When driving to the Smith Flat House, I thought it was odd that the restaurant was so far out of downtown Placerville. However, I soon learned this restaurant with farm-to-table food was once a stagecoach stop. The cuisine exceeded my expectations, and the outdoor patio with musicians playing in the background and a beautiful breeze blowing provided a memorable experience.
After dining, be sure to explore the restaurant's indoor restaurant and go down into the cellar. This space is beautiful, with walls made of rocks from the surrounding area, thus transforming its surface into beautiful shades of light tan to medium-colored brown walls. This is a magnificent place to have a special dinner or hold an important meeting meant to impress.
10. Miners Cabin In The Country Home For The Night
As I drove out into the countryside, my expectations were not high, but, hey, I am on an adventure. Google Maps guided me to the driveway. Sitting there was an adorable small white house surrounded by an expansive manicured yard. As I got out of the car, the sparkling white deck, complete with rocking chairs and even a firepit, caught my attention.
The Apple Hill White House Cabin has been transformed into a two-room bungalow that oozes romance. It has a fully-appointed kitchen and separate bedroom with a queen-sized bed adorned with a lovely bedspread and decorative pillows. One bedroom wall is sliding glass doors that open to the deck and provide a view of the beautiful yard and forest beyond.
Yes, this visit to Gold Country was not only beautiful; it opened my mind so I could physically see and learn about this chapter of United States history in the mid-1800s. I had no idea that this area provides us with so much of our produce and is becoming a renowned wine destination.
Consider a northern California getaway: