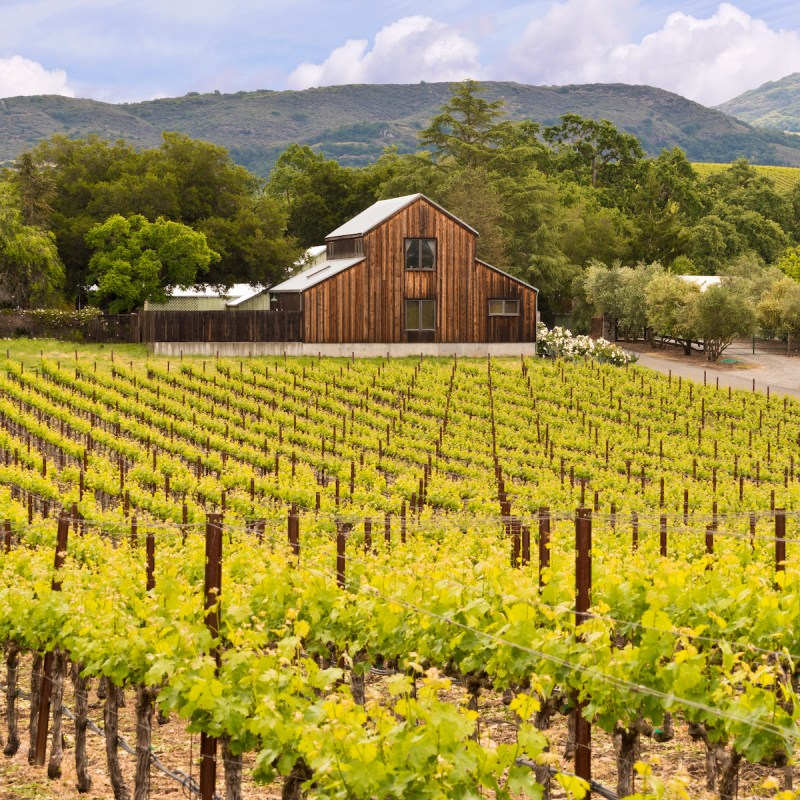 Napa Valley is a wine lover's utopia. In this beautiful and productive area, you can experience some of the world's best libations, food, and scenery. Nearly four million visitors go to California's most renowned wine-producing region each year; it's a popular place.
But Napa Valley isn't the only wine country in California. Within 90 minutes of San Francisco, four wine-producing regions are making award-winning wines in laidback environs that invite you to take a sip of California and watch the sunset.
For Napa Valley alternatives, explore these four regions. A short drive from San Francisco, each region has a different vibe, from buzzy urban to laid-back agrarian.
Thank you, Visit Tri-Valley, for a tour of these wineries, eateries, and museums and for lodging at The Rose Hotel. It was wonderful, and all opinions in this article are my own.
1. Anderson Valley
Mendocino County
Ninety minutes north of the Golden Gate Bridge, turn northwest into Mendocino County's Anderson Valley. Two-lane Hwy 128 turns and curls through a long coastal valley. The valley is a collage of vineyards, farms, ranches, and micro-towns. Best of all, it's wine country — some of the oldest in California.
Make your wine country tour through Anderson Valley a bit random. Learn the art of the U-turn. You'll inevitably pass a tasting room, farm stand, café, or creamery that speaks to you, so turn around and go back.
Can't decide where to stop? Try Maple Creek Winery for wine and a gallery (the winemaker is a celebrated artist). Husch is Anderson Valley's oldest winery. Penny Royal Farm serves and sells its wine and fabulous goat cheese. There's also Disco Ranch Wine Bar and Specialty Market for wine tasting, tapas, and picnic supplies.
The Madrones in Philo is where you can run away to wine country and never leave the grounds. Lodging, restaurant, tasting rooms, and a hidden garden are bordered by vineyards.
Anderson Valley is uncrowded, casual, and perfect for slowing down and unplugging. Learn more at Visit Anderson Valley.
Pro Tips: Take the unforgettable Hwy 128 to the northwest through a tunnel of redwood trees to Navaro River Redwoods State Park. Once there, make a driftwood sculpture. A 30-minute drive northwest of Anderson Valley, you'll reach the Pacific Ocean. A crescent-shaped sand beach sits at the mouth of the Navaro River. It's a driftwood beach popular with beachgoers for building driftwood sculptures and shelters. Your structure may return to the sea with the next high tide, so be sure to take some photos.
2. Santa Rosa
Sonoma County
Santa Rosa, in Sonoma County, is where the big boys play side-by-side with small-batch, handmade wines. The small city is one hour north of the Golden Gate Bridge.
The region hosts 495 wineries and more than 25 breweries. Unfortunately, many vineyards and wineries were decimated by wildfires in 2017 and 2020. Still, with the determination of a phoenix, the county's vineyards, homes, and businesses have been restored.
Some of the world's most famous labels call Santa Rosa home — Korbel, Kendall Jackson, and Francis Ford Coppola all have spectacular tasting rooms, restaurants, and experiences beyond drinking wine.
For a laidback day in the countryside, you'll find regional wineries like St. Francis and Martin Ray. Bring along a picnic, buy a bottle, and spend some time watching the clouds change shape.
Luxury Glamp at Safari West and take The Rhinos and Winos Tour for an al fresco Sonoma County wine and cheese tasting. It's an unforgettable tour through an African wildlife preserve with a tasting overlooking the valley.
If glamping and wildlife aren't your style of lodging, I suggest The Art House in downtown Santa Rosa. Art House is a brand new hotel sporting Urban Chic and no-drive ease. Two blocks from the downtown square, you'll be spoiled for choice for things to do, eateries, wine tasting, and urban walks.
Food and wine pairings are superior at Francis Ford Coppola and St. Francis. Coppola's eatery at the winery, Rustic, is fine Italian food, Coppola's wine, and sublime inside or patio dining. Don't miss it.
There are countless wineries and tasting rooms to try in Santa Rosa. Learn more about this wine region here. In addition, you'll find breweries listed on the same page.
Pro Tip: The man and his beloved cartoon characters are honored in many places in Santa Rosa, and no trip to the area would be complete without visiting the Charles M. Schulz Museum.
The museum is entertaining for Peanuts fans of every age. Jump into the life and times of the man and see how the characters developed over time. Your admission includes the theater showing Peanuts films from TV and theater. In addition, there is an art room where you can learn to be a cartoonist. You'll have more smiles here than in any other museum you may visit.
3. Tri-Valley
Thirty-five miles east of San Francisco, you'll discover Tri-Valley. The region comprises Danville, Pleasanton, Livermore, and Dublin. These valleys are known as the birthplace of California chardonnay.
After prohibition ended, this region had mature vineyards of chardonnay grapes from France. Most vineyards were pulled up and wineries destroyed. However, some Tri-Valley vineyards were exempted and allowed to make sacramental wine.
When prohibition ended, those wineries had a head start on others. Cuttings were shared, and chardonnay became one of the first California wines available after prohibition. Try some at Wente, Charles R, Concannon, and Omega Road.
When visiting Livermore, tuck in at Range Life, a farm-to-table, California-casual restaurant. The bright and open bar and eatery are modern and rustic at the same time. In Pleasanton, Sabio On Main are masters of food and wine pairing.
The Pleasanton Farmers Market is the place to sample the diverse array of fruit, veg, and meat produced in the region.
In Pleasanton, The Rose Hotel has my highest recommendation. This luxurious, elegant, timeless, and casual hotel was built by Coach John Madden for his visiting friends and family. It's a Tri-Valley treasure.
Pro Tips: When you are in Tri-Valley, don't miss the Black Hawk Museum in Danville. The Blackhawk began life in 1988 as The Behring Auto Museum. In 1991, an expansion added the Art, Science, Culture, and History Building. Beautifully displayed vintage autos are just one floor of this extraordinary museum. Find out more about Tri-Valley at Visit Tri-Valley.
4. San Mateo County
Best known as Silicon Valley, this region grew grapes and made wine long before technology ruled the day.
In San Carlos, just steps from the Caltrain Station, wineries have made a community known as the Mid-Peninsula Wine Trail. All wineries are within walking distance.
The collection of family-run, artisanal wineries is winning awards and making fans for their traditional and innovative wines. There aren't any vineyards out back in the heart of the city; however, grapes sourced from around the county are brought to these boutique wineries and made into small-batch delights.
My favorites in the group are Flying Suitcase Wines, Russian Ridge Winery, Old Country Cellars, and Cuvee Wine Cellars. All are inviting and passionate about their creations.
Some wineries on the trail serve food. Eateries and food trucks also occupy the district. This is the place to get an immersive taste of San Mateo County libations and eats.
Donato Enoteca in Redwood City is an Italian eatery using local ingredients to make four-star traditional Italian. Seafood is exquisite here. The wine list includes local, California, and Italian wines.
Farm House in Belmont is a neighborhood secret, showcasing locally made wines, produce, seafood, and meat. It's house-made everything.
Residence Inn Redwood City/San Carlos is the place to stay when visiting this region of California Wine Country. It's brand new, jam-packed with every amenity, and designed with guest comfort and experience in mind. I want to live there.
Pro Tip: Take a day trip to Half Moon Bay to eat some seafood, wander the docks, kayak the harbor, and walk the paved coastal trail. This fishing village provides fresh seafood for local and San Francisco restaurants daily.
Getting There
I've highlighted four wine regions that are a comfortable drive from San Francisco International Airport (SFO). All major airlines, rental car companies, and shuttle services are available at SFO. Alternative airports are Oakland, San Jose, and Santa Rosa. You'll want a car and GPS to get around in these four wine regions.
Pro Tip: If you choose to stay in San Francisco, you won't need a car in the city. Driving is challenging. Parking fees are astronomical — about $60 per day at hotels. Public transit is efficient, frequent, and budget-friendly. Look into a 1-, 3-, or 7-day Visitor Pass for very low-cost unlimited rides on Street Cars, MUNI, and Cable Cars. If you want to take a day trip to wine country, rent one for the day.
These four wine-producing regions of California are some of the oldest in the state. Each has its own story and a different personality. Explore, get lost, find your way back. Follow your inner compass. When you need a suggestion, the recommendations I've made are places I've experienced. I lingered over the wine, celebrated the food, and hugged the pillows. This is my home turf.
For more libation inspiration, peruse all our wine region content here.