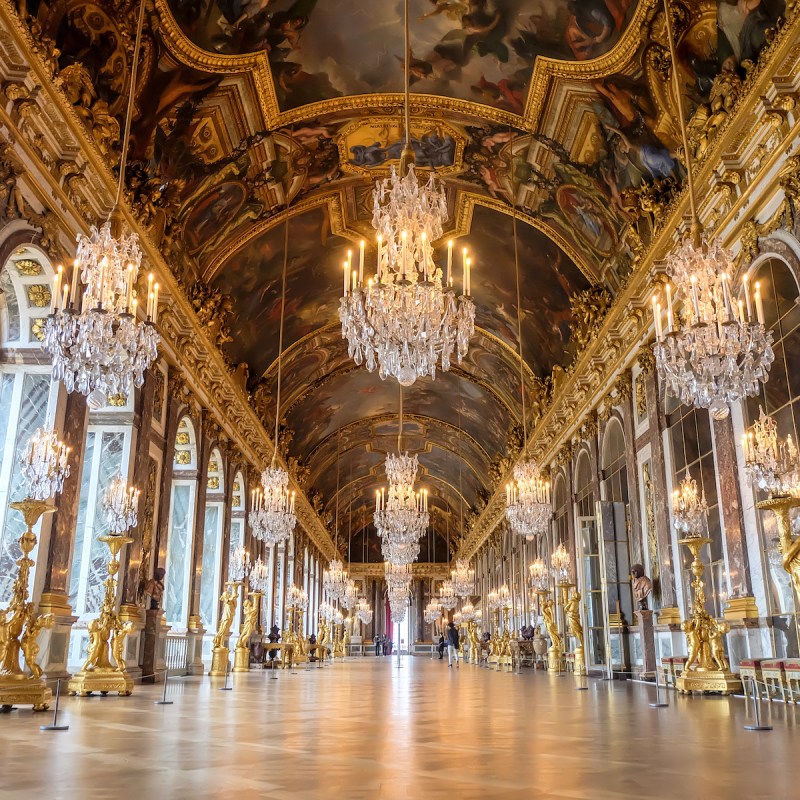 Traveling to a foreign country provides an incredible experience for young adults. This includes being exposed to a different culture, viewing great art in person, and having to improvise. Versailles, France, offered all of this and more to my daughter, who had just graduated high school and is looking forward to heading off to college in the fall. She and I enjoyed a wonderful and eventful day exploring the chateaus and gardens.
She learned new skills and reinforced what she had been learning through her years of school. Here are some of the lessons from that day together.
1. Visiting Historic Sites Reinforces Learning
Although I kept veto power and made suggestions, my daughter decided that we would visit Paris and also chose our activities. One site she didn't want to miss was Versailles, just outside the city. Through many years of studying the French language, she'd learned French history as well. One of the most exciting times is the era of King Louis XIV, who built the estate at Versailles, and Louis XVI, who had to leave it during the French Revolution.
As we strolled the opulent rooms, she explained to me the history and how each character was involved in the story. We tried to imagine what it would have been like to live there and stroll through the gardens. More than once, we whispered to each other, "And this is why they had their heads cut off." We remarked on how the walls, carpets, draperies, and upholstery of each bedroom each fit a color theme. We imagined the overwhelming effect the Hall of Mirrors had over 17th-century visitors as we snapped the requisite photos of each other.
Visiting the Dauphine Apartment, Petit Trianon, and Grand Trianon showed the relationships of royalty. These homes of many queens and princes, including Marie Antoinette, were smaller and not as excessive as the main chateau. However, these places demonstrated the benefits of being close to royalty and the isolation from most of the French people.
2. Travel Sharpens Leadership And Map Reading Skills
We exited the chateau to find a gorgeous sunny day and set out to see all of the fountains. The gardens cover over 170 acres and include 75 fountains and 16 groves of trees. A few of the fountains are modern and automatic, but many others are powered by the original plumbing.
My daughter quickly commandeered the map after several minutes of watching me trying to figure out where to go. She set us on a path that would lead us past all of the fountains. As certain fountains were only running during specific times, she charted out a plan of attack. I quickly became lost and relied on her to lead us through the winding trails. While we easily found the main fountains, such as Latona Fountain and Apollo Fountain, we had to wind through tall trees to find most of the others. After admiring the fountains in Apollo's Baths Grove and Colonnade Grove, I could just say "What's next?" and my daughter would take the lead.
3. Being Spontaneous And Adventurous Can Pay Off
My daughter intended to see the entire Versailles estate, but we worried we wouldn't be able to fit in the Grand Trianon and Petit Trianon. While certainly less extensive than the main chateau and gardens, these smaller estates encompass just as much grandeur, and the gardens embody a regal intimacy.
As we reached the edge of the formal gardens and pondered the almost 1-mile trek to the Trianons, we noticed bicycles for rent. My daughter has not owned a bike since she was 10, but she eagerly jumped on, and we pedaled down the tree-lined lanes. A warm breeze accompanied us beneath a blue cloudless sky as we rode joyfully. We locked up the bikes at each chateau and explored the rooms and gardens leisurely. We even grabbed fresh-squeezed orange juice from a cart in the Grand Trianon parking lot to keep up our energy.
4. Practice Your Language Skills At Every Opportunity
I cannot speak French. I tried several years ago, and it did not go well. My daughter, however, has been studying the language since her earliest days of homeschooling. A trip to Paris was a wonderful opportunity for her to converse in French outside the classroom. Even though she was nervous, she had to speak for both of us, and she became more comfortable throughout our stay.
When we stopped for lunch at La Flottille, near the Grand Canal of Versailles, the waiter only spoke French. My daughter stepped up and handled all interactions with him, including paying the bill. Even simple phrases and greetings improved her comfort level and courage to speak more.
5. Be Willing To Go Off-Menu
When in a foreign country and approaching a server, I tend to want to order something familiar and easy. My daughter and I, however, had seen crepes with ice cream at La Flottille and had our hearts set. The snack stand did not list this as an option, and my daughter explained our order to the best of her ability. It took the cashier, the ice cream server, and the manager a few minutes to discuss and finally conclude what we wanted.
The warm Nutella crepe topped with melting vanilla ice cream tasted divine as we sat on the grass along the Grand Canal. This is one snack that neither of us will forget when we look back on this day. It was definitely worth the extra effort.
6. Inclement Conditions Lead To Resilience And A Good Story
As my daughter and I walked from the train station, a gentle rain started. Luckily, by the time we finished our tour of the Chateau, the sky had completely cleared, and it was a beautiful, sunny day. In the afternoon, as the clouds gathered again, we figured we would be watching the last fountain show in the rain. We opened our umbrellas and continued to stroll around the gardens.
As we headed to the main fountains, lightning and dark clouds moved closer. We decided to abandon the last show and headed toward the train. The more we walked, the stronger the rain drove. All we had left to do was cross the street when the hail poured down. We sprinted into the train station packed with soaked travelers crowding the ticket machines. We hadn't thought to buy our return ticket home, so we queued with the rest.
I wouldn't have wanted the day to end this way, but one of the joys of travel is the unexpected experience. My daughter and I had the chance to chat with fellow train riders as we all figured out if we were on the correct train. We have a great story to tell, and we know now that it is worth braving the weather to have such a fun day together.
Pro Tip: When heading to Versailles by train, buy your return trip home at the beginning of your day. If you leave after the final fountain show or due to inclement weather, there will likely be a crowd at the station.
7. Riding The Train In A Foreign Country Builds Problem-Solving Skills
Scottsdale, where we live, does not offer many options for public transportation. However, my daughter and I have traveled to many American and European cities in which we relied on the local subway and buses. As my daughter grew up, she graduated from enjoying looking at the complexity of a subway map to figuring out and leading our route. On occasion, a route is not running or a station is closed and an alternate must be found. She learned which route to take, which direction to go, and how to find the correct track.
Coming up out of the subway then presents a whole new problem of figuring out exactly where you are on the street. Our trip to Versailles entailed solving a new system outside of the Paris Metro, which we quickly mastered.
Pro Tip: Most map apps on smartphones have a public transportation option to show you possible routes. Be alert, though, for notices on delays and closures.
Life Lesson For Mom: Allow Your Daughter To Take The Lead, And You'll See The Fruits Of All Your Labors
My daughter has traveled with me throughout the United States and some European countries. We would usually prepare by learning about the place we were going, including the history and art. I encouraged her to use the maps in subway stations and museums to help plan our route. During our visit to Versailles, she took the lead in explaining the history and in plotting our course to see all of the fountains. I allowed her to set the pace and enjoyed witnessing her comfort in a foreign place. I know that she will take these skills into her future travels and in all aspects of her life.
Versailles presents a wonderful place to explore for visitors of all ages. As a young adult, my daughter delighted in exploring a place from history while discovering her ability to manage her travels.
Related Reading: