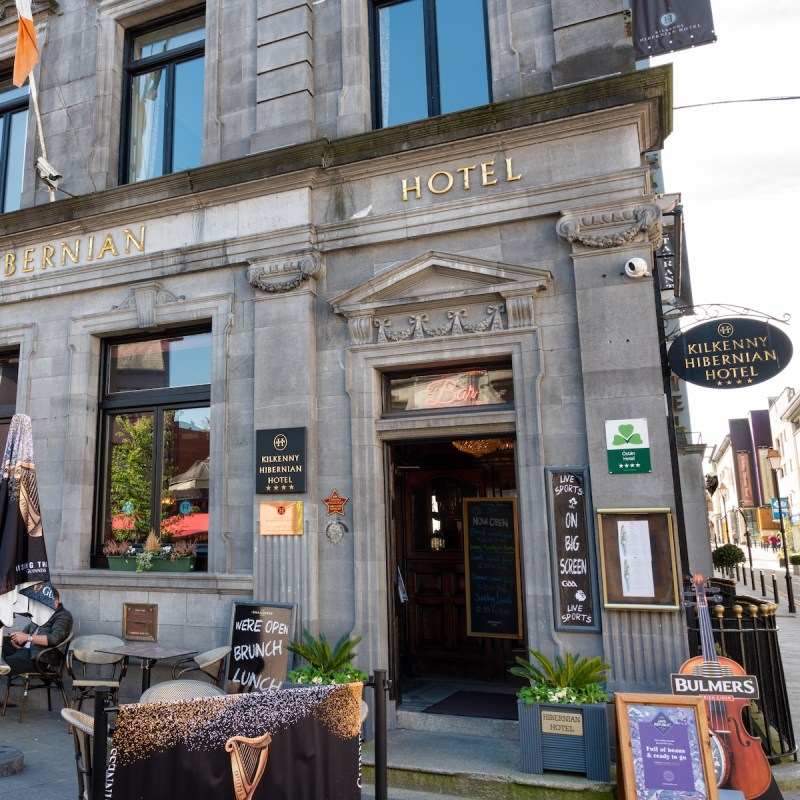 The most important thing I experienced staying in Irish lodging is exceptional hospitality. It's a hallmark of Irish culture. Travelers are welcomed in hotels, inns, lodges, B&Bs, and resorts for every style and budget.
During a five-week trip to Ireland, I was fortunate to experience Irish hospitality many times. As a result, I experienced a wide variety of accommodations. From a large tourist hotel on one of Dublin's busiest streets to a castle in remote Donegal, hotels, B&Bs, guest houses, and vacation rentals spoiled us with Irish hospitality.
As I moved from lodging to lodging, I noticed some differences between Irish and American hotels. While none are deal-breakers, some are good to know, so you adapt a bit faster.
When You Arrive
1. Reception, Not A Front Desk
Reception is where you check in to your lodging. In the U.S., we call it the front desk. At reception, you register and get your key.
2. Receptionist, Not Desk Clerk
The receptionist will greet you, check you into your room, and give you a key.
3. Booking, Not Reservation
You have a booking, not a reservation. The same is true in restaurants. When exploring a hotel's website, you may see a menu item such as "Book Today" or "Book Now." When you arrive at reception, you may be asked if you have a booking number or a booking voucher.
4. Lounge, Not Lobby
Even small B&Bs will have a public space where guests can relax, converse, or meet others. This space is often called the lounge. The term lobby seems to be set aside for the grandiose entry halls of huge hotels.
5. Keys May Be Big
While most hotels have installed electronic keycards, smaller and some historic hotels may still offer you an old-school room key. Don't be surprised if it's attached to a substantial key fob. I had one so large I couldn't put it in my bag. When I asked for something smaller, I learned they wanted me to leave the key at the desk when I was out.
6. Escorts
Don't be surprised if you are escorted to your room. While this custom disappeared years ago in most U.S. hotels, it's still practiced in Ireland. I was glad to have it in a few places where finding the room was challenging.
Pro Tip: Take advantage of the escort and ask about plumbing and electrical controls. Most are obvious, but a tutorial can't hurt. You might also ask where their favorite restaurant is or what pub they like best.
About The Electricity
7. Keeping The Power On
You flip a lamp switch and nothing. Try another, but no luck. The power seems to be off; look on either side of your entry door for a place to insert your room keycard. In these energy-efficient lodgings, electricity doesn't flow to some outlets in the room unless your keycard is in the electric control slot. Then, when you leave, you take the key with you, and the power is off to most lighting.
Don't worry; essential things like the mini-fridge or air conditioning remain on even when your card is removed. In addition, an overhead light can be illuminated at any time at the same control panel where you insert your keycard.
8. Electrical Current Requires Different Plugs
In Ireland, the standard electrical voltage is 230 volts. In the U.S., it is lower at 120 volts. That means you need an adaptor to use your US electric appliances. Luckily they are readily available and inexpensive. I've had my yellow ones for years. Amazon has a wide selection of the most commonly used Type G adapters. If you forget to bring adaptors, ask your host; they can probably lend you a couple.
Pro Tips: Bring one adaptor for each electrical appliance you pack. Kevin and I found that one each was not enough most of the time. With two laptops, two phones, and two digital cameras, there is always something that needs charging.
9. Electric Plugs Have On/Off Switches
While it took some getting used to, I love the on/off switches that control the electrical current flow in wall plugs. It's a safety feature. I wish we had these in the U.S. So, if you plug in your adaptor and appliance but it doesn't work, check the plug's switch located above or beside each outlet. It may be turned off.
About The Bath
10. Light Switches Outside
Don't be surprised to find the light switch on the outside instead of the inside of the bathroom.
11. Hair Styling Will Be Different
You can't use your hairdryer or curling iron in the bathroom. There won't be any power outlets. In numerous lodgings, I found no power outlets in the bathroom other than the type used for European electric shavers with a special plug. That meant finding a plug near a mirror outside the bathroom. Sometimes it was challenging.
Pro Tip: Consider a cordless hair dryer or curling iron.
12. Washcloths Are Rare
If you like using a washcloth, pack a couple. While I always had lovely terry bath and hand towels, only once were the small squares of terrycloth I call a washcloth available.
13. Faucets May Be Confusing
More than once, I encountered water flow and temperature controls in showers that baffled me. Once I was shown how the ingenious "one knob" models worked, it opened up a new world of showering. It was all about the push button cleverly hidden at the end of the device. You rotate the cylindrical device to establish water pressure, then push the button at the end to set the temperature.
14. Runaway Trash Can
They are everywhere! Every bathroom in every lodging has a small chrome flip-top waste receptacle. Ok, I admit it, I don't like these ubiquitous little trash cans or bins, as the Irish call them. What's not to like about a bin, you may ask? They are lightweight. So light that when you step on the pedal to open the lid, the little bugger slides away from you.
Pro Tip: When you find one of these little cans in your bathroom, move it to a corner where it can't escape.
About The Bed
15. Linens Are Different
Top sheets aren't part of the bed linens. Most beds I slept in had a fitted sheet on the mattress. The next layer was a duvet and comforter, not another sheet we may be accustomed to in the U.S.
Food And Beverage
16. Tea Trays Are Lovely
A tea tray will be part of your Irish lodging. Customarily, you'll find an electric kettle, tea, coffee, creamer, sweetener, cups, and a cookie (biscuit) or two. Kevin and I made great use of our tea tray in the afternoon when we often returned to our lodging for a break. We got into the afternoon tea habit quickly.
17. Breakfast Is Usually Included
The "full Irish breakfast." It's exactly what we needed for a day of exploring on foot. Most hotels, inns, and B&Bs include breakfast with your room. Breakfast might be continental-style — cereals, fruit, toast, pastries, juice, and tea. The full Irish is very common. It comprises a fried egg, toast, beans, black pudding, potatoes, sausage, bacon, and a grilled mushroom. Delicious and hearty.
18. Tipping
It's a myth that it isn't customary to leave a gratuity for lodging staff, especially with all the additional work being done by cleaners. Consider a €5 per day minimum. If you eat in your room or create extra trash or work, up that a bit.
19. Reviews
Reviews can make or break any business; Irish hotels are no different. When you've had a good experience, let the world know about it on your favorite review site or social media outlets. When you do not have a good experience, let someone know at the time it happens. Give them a chance to make it right.
Finding Irish Hospitality
Irish hospitality is simple; it's everywhere. I'd suggest starting with the Irish Trip Planner Accommodation Guide. Once you find a place that interests you, go to that hotel's website and do some research, including rates for your dates and special package deals. Don't make the reservation until you go to your favorite hotel booking site and check the rates offered for the same room and dates. Go with the best deal. I usually find the best price at the hotel's site, especially when booking far in advance. The hotel frequently has a package that gives some added value, such as a bottle of wine and dinner.
No matter where you find your hotel, or what differences you experience from your home country, you'll be a welcome guest in Ireland.
For more information on traveling to Ireland, check out these articles: