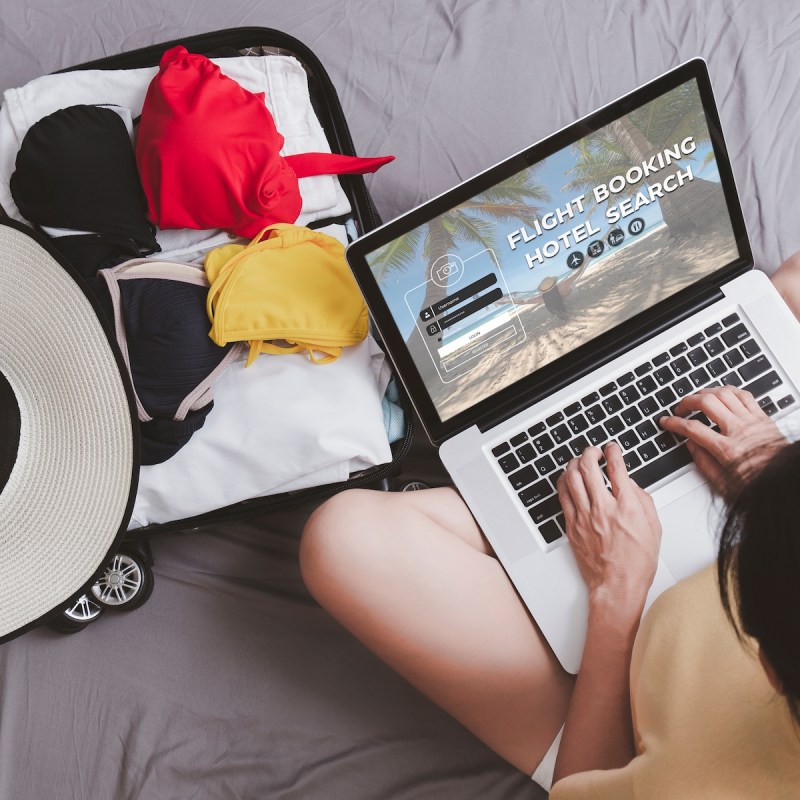 Let's say your destination is Palm Springs, California. With over 72 Palm Springs preferred small hotels, under 50 rooms within Palm Springs, and eight other cities to consider in Coachella Valley, choosing your accommodations can get overwhelming. Perhaps, your first thought is to check third-party booking sites prevalent online today.
After you have researched online and found the hotel that best fits your ideal vacation plans, what if you take an extra step? Pick up the phone and call the hotel directly.
Researching the advantages of booking directly with the hotels reveals some factoids you may not have considered when you started planning your dream vacation and chose to use only third-party sites. Let me share what I discovered and why booking directly with a hotel makes more sense.
1. Accountability If Something Goes Wrong
The news is filled with stories about how airline passengers wait hours working on getting a hold of someone who will help them and straighten out schedules for missed flights, compensation for canceled flights, etc. The same thing can happen if you have booked your hotel through a third party. It may be corny, but seriously, where does the buck stop?
Since you booked the hotel with the desk clerk, imagine how much easier it will be to make one phone call and immediately start to straighten out what the issue is at the moment. Metaphorically, the buck stops at the hotel.
2. Room Choices Are Abundant
Few people understand that most of the time, hotels give blocks of less desirable rooms to third-party vendors that they probably wouldn't want to book anyway. You have no choice other than the size of the beds or if you want a suite. Choices like the first floor, away from the elevator, or a view other than the hotel trash bins are not available options.
Call the hotel directly, and you may find they may have different configurations of hotel rooms. Plus, you can decide if you want to be near the pool or away from it so you have quieter days and evenings.
3. Flexibility If Your Plans Change
Let's use this scenario. You were looking forward to a trip with your teenage girls and planned the trip months ago. One of them announced she would rather stay home and attend the Alicia Keyes concert scheduled for your city. You purposely reserved two rooms so they could have their privacy.
A call to the hotel reveals they have a suite that may work well for three people. A quick check with the family and your accommodations are adjusted. Keep in mind that third vendor sites cannot adapt your hotel room size after you have made your reservation.
4. Pricing Can Vary Considerably
Understandably, the prices on third-vendor websites look very appealing since the hotel's website shows higher rates. However, what if you could get the hotel price the vendor is offering or even lower by calling the hotel directly?
Long ago, my father taught me, "It doesn't hurt to ask." A suggestion, before you click the reserve button, call the hotel directly and explain to them the situation. The rate on a third vendor site is lower, but you would rather book now with them.
Robert Hunt, general manager of Alcazar Hotel Palm Springs, told me, "We would rather pass on the 18 percent third-party vendor costs to our customers." When you call them, they may not only be able to adjust the cost but also discuss a perfect room for your needs with you.
5. The Proximity To Downtown
One time I made a reservation online for a hotel room in Oceanside, California. It is one of my go-to-beaches. So, this trip I was heading out on my own. I had a car to drive to the beach whenever the mood struck me.
The day had come for me to make the two-hour drive from Palm Springs, with thoughts of ocean walks along the shore and the moon glistening on the waves. There was only one problem. My accommodation was seven miles from the ocean. I had no idea the City of Oceanside was that wide. The hotel's address was correct, but seriously, a long winding country road at night was not what I had anticipated. If I had booked directly, I could have asked how close it was to the ocean.
6. Packages And Deals Are Available
When you talk to the desk manager working with you to make your reservation, ask if there are any packages they would recommend for your stay. For example, in Palm Springs, a must-visit for first-time visitors to Coachella Valley is the Palm Springs Ariel Tramway, up the side of the mountain to the 10,000 foot level. The hotels may have discounts for it and even some for fine local restaurants.
Most people don't know you can take a tour of the windmills sprinkled throughout our valley floor. The hotel more than likely will have a contact for you and possibly access to discount coupons. The point is to ask what they would recommend seeing and if they have any packages or discounts on our many attractions.
What do you have to lose by taking this extra step of picking up the phone to call the hotel directly? From my research and interviews with general managers, it has become apparent that there is no downside.
The scenarios provided above are not just for Palm Springs's small hotels. Large hotels are just as likely to work with you to find an appropriate selection for your vacation plans. As one manager told me, "We are in the hospitality business, not the booking business."
I trust I helped you to understand why picking up the phone and booking directly with a hotel can provide you with many advantages. How about giving it a try for your hotel stay?
For more information on hotels and resorts, check out these articles: