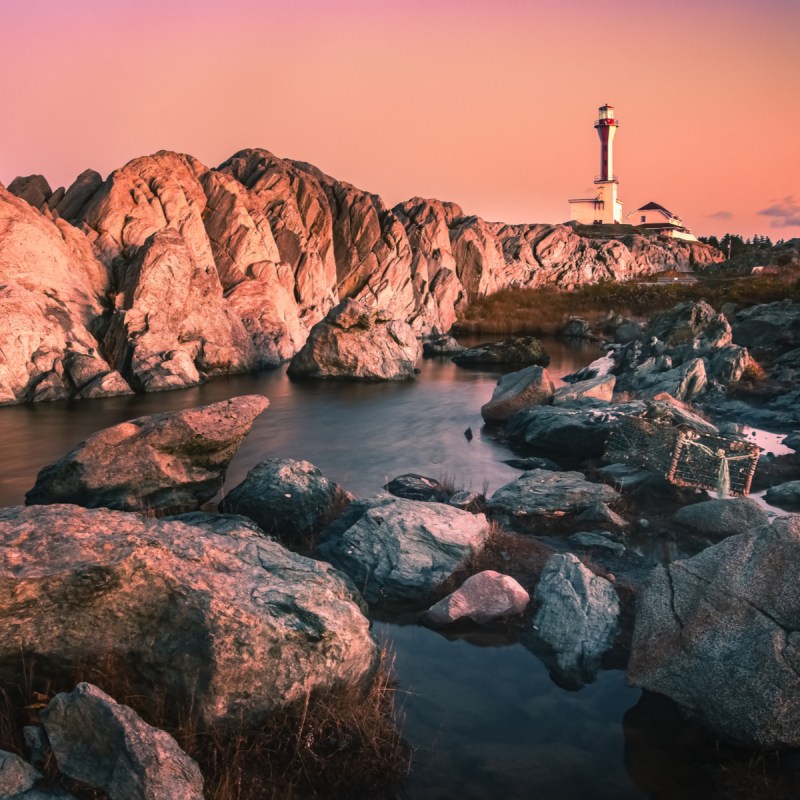 Maud Lewis was born Maud Dowley in 1903 in the southern Nova Scotia community of Yarmouth. By the time of her death in 1970, she was recognized as a leading Canadian folk artist. Yet the woman who would become Nova Scotia's treasure spent her life undervalued.
Her adulthood was a story of poverty, crippling and terrifying, and far from the romanticized austerity that sometimes creeps into her present-day narrative. Living with what we now recognize as degenerative juvenile rheumatoid arthritis, Maud bore constant pain. Married life in Digby brought a meager house and a worse husband. Only a small group of neighbors offered comfort in the form of hot meals, hot baths, and furtive visits.
And in these most barren of circumstances, Maud created art — spectacular art. With one of the most impressive yields of any artist, she painted shutters, baking pans, and scallop shells, along with nearly every surface of her diminutive house. She sold thousands of paintings depicting rural life, including oxen teams with gilded yokes and fluffy farm cats with wary eyes, often for just a dollar or two from her perch by the side of the road, a ploy devised by her husband to exploit sympathies and coax sales.
With her petite stature and shy smile, Maud is often remembered as childlike. But she was a gritty survivor, canny enough to turn her talents into a livelihood, carving a space for herself in an inhospitable world.
I grew up in Nova Scotia and I can't remember a time when Maud Lewis's work wasn't a part of my life. As such, I've come to love these tourist attractions dedicated to her. Visiting them should be on any art fan's travel list.
1. Art Gallery Of Nova Scotia, Halifax
The Maud Lewis Painted House is the crown jewel of the Art Gallery of Nova Scotia, housed in its own gallery and surrounded by dozens of Maud's paintings. However, its journey to the gallery almost never happened.
The house deteriorated after Maud, and later her husband Everett, passed away and was soon in danger of being irrevocably damaged. The Maud Lewis Painted House Society was formed to rescue the structure, which was eventually sold to the gallery in 1984. It took a further 10 years for restoration work to begin.
At approximately 13.45 feet by 12.46 feet, the house that Maud and Everett shared in the hamlet of Marshalltown, just outside Digby, was small even by modern "tiny house" standards. However, the Lilliputian dwelling was home to thousands of brushstrokes, as Maud covered nearly every surface with her artwork. The colorful building was soon a well-known landmark in the region. My colleague Sandra Phinney has written of how her mother would bring her and neighborhood children to skate in Digby, stopping each time at the fanciful little house on the way home to buy a $2 painting (and slip an extra $2 in Maud's apron, defying the churlish Everett).
I spoke with curator Shannon Parker about what life would have been like for Maud in this house without plumbing or electricity. Poverty was crushing and creature comforts were few. As she so astutely said, "It's not romantic to live without water." However, Parker also pointed out that, in this pint-sized dwelling, domestic tasks were limited and Everett did most chores. Maud had a freedom from domestic responsibilities that many women did not. Yet, under Everett's grudging eyes, she was often denied many of the freedoms that other women enjoyed. The house was both canvas and confinement and its flowered walls contained a complex world.
2. Community Of Yarmouth
Maud's Yarmouth childhood was flush with artistic influence. Her father was a respected harness maker and her mother was a talented artist. We know through the richly detailed work of biographer Lance Woolaver that a young Maud worked with her mother to create hand-painted Christmas cards.
The Yarmouth County Museum is a good place to start to learn more about the town that Maud once called home. They occasionally host groups and events related to Lewis's life (like the Rugg Bees, a rug hooking collective that counts Lewis among its influences). You can catch a glimpse of Maud's family roots at the Yarmouth Mountain Cemetery, where her parents are buried. Additionally, Yarmouth is the only location outside Halifax to have a branch of the Art Gallery of Nova Scotia. The community is a must-see spot for any Maud Lewis admirer.
Pro Tip: While the Hollywood biopic Maudie contains gorgeous scenery, you're not seeing Yarmouth or any other Nova Scotia vista on the big screen. Filming took place in the province of Newfoundland.
3. The Rossignol Cultural Centre, Liverpool
A collection of small museums and outright oddities, the Rossignol Cultural Centre has two particular attractions that will be of interest to Maud Lewis fans. Its outdoor "cultural village" contains a replica of Maud's tiny Digby home. Additionally, its Folkart Museum exhibits pieces by Lewis as well as other Nova Scotian artists. If you're in the town of Liverpool, it's worth checking out.
4. Assorted Contemporary Galleries (Across Nova Scotia)
You'll see Maud references everywhere in Nova Scotia, including at many contemporary galleries where artists sometimes bring a critical eye to Maud's story. Rug hooking artist Laura Kenney is one such creator who has produced a number of pieces that put an exacting lens on how Lewis's life is portrayed. You can see pieces of Kenney's work at the Secord Gallery in Halifax and the Harvest Gallery in Wolfville. I love a piece called Digby County's Banksy, which imagines a "Maud-ified" lighthouse.
5. North Range Cemetery, Digby County
Maud's final resting spot is about 10 minutes from her former homestead. She is one of four people commemorated on the Lewis headstone, along with her in-laws and her husband Everett. She is listed last, under the word "wife." At the time of her death, Maud was gaining international recognition, but Everett had to get the last word.
Everett Lewis is a character who evokes both tremendous compassion and deserved revulsion. A survivor of gripping childhood poverty who lost members of his family in the poor house, he was also a serial sexual harasser, clawing at women and girls with impunity. Often described as a "miser," in actuality he was a financial abuser, scurrying away the entirety of Maud's earnings and pilfering the batteries of her radio to prevent her from draining them. He was not the kind of man to commemorate his wife. He was, however, the kind to sell the sympathy cards he received after her death just to receive a dollar. Illiterate, Everett never knew that condolences from President Richard Nixon were among them.
Pro Tip: Finding Maud's grave is easy enough, as signposts featuring her famous oxen paintings mark both the driveway and the grave itself. Plus, in 2017, a QR program was introduced to help visitors easily find directions from the Maud Lewis Memorial Site to the North Range Cemetery.
6. The Murray Ross Replica, Digby County
If you're unable to visit the original Maud Lewis Painted House at the Art Gallery of Nova Scotia, the Murray Ross Replica near Digby will give you a sense of what once stood nearby. Local resident Murray Ross grew up not far from where Maud and Everett lived. As an adult, he built a replica of their tiny painted house next to his own home, a real labor-of-love project filled with copies of Maud's paintings; there's even a replica of Everett's woodshop.
7. Maud Lewis Memorial Park, Marshalltown
There is no surer path to controversy than to ask a Digby resident what they think about the Maud Lewis Memorial Park. Standing in the footprint of her former home and surrounded by beautiful gardens, a steel replica of her tiny house swaps wood shingles and colorful paint for stark metal planks. It's like someone envisioned the original structure and stripped it down to a shell. Its harshest critics say that it looks like a jail cell and at times that's exactly what the house was for Lewis.
But I loved it. The plainness of the memorial reminds me of the limitless potential of the proverbial blank slate. There's also something haunting about it. In certain lights, the burnished metal looks a bit like old cedar boards, turned silvery in the sun, worn to a sheen by coastal winds, and polished by the salt air. The memorial has a ghostly nothingness to it and I wonder if architect Brian MacKay-Lyons wanted to remind us that a house is just a house until someone makes it a home. And that someone was Maud.