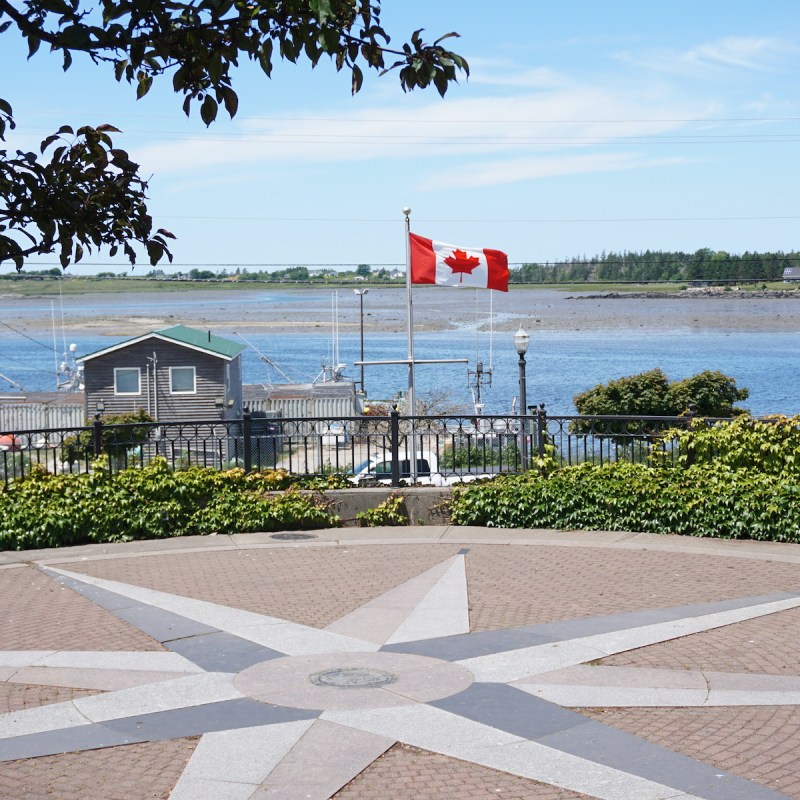 With a gorgeous harbor and tons of history, art, and architecture, the small southern Nova Scotia town of Yarmouth (population 6,800) has ample appeal for any visitor, but there's a special reason why people in Maine love it as a weekend getaway. Bar Harbor and Yarmouth share a unique transportation link!
Yarmouth is connected with Bar Harbor via The CAT ferry. "CAT" is short for "catamaran," reflecting the boat's design. It's a transportation option both communities greatly value. Tourist-focused passenger boats have connected Yarmouth and Maine for decades. However, there have been some stormy seas and disrupted service in recent years. Controversies include what levels of government should subsidize the ferry's operation and to what degree.
But happily, the service now seems here to stay, providing a vital transportation link between Canada and the United States — and offering access to the perfect weekend getaway for people in Maine. As someone who has done this route several times in the past, I can say firsthand that it's a memorable and extremely convenient way to travel.
I visited Yarmouth for the third time this summer as part of a conference and I couldn't help but reflect that there was enough in the area to keep me busy for a month! Here are some of Yarmouth's top attractions to enjoy during your visit.
1. There's A Pretty Park Filled With History
Just a short walk from The CAT ferry terminal is Frost Park. This pretty spot is perfect for a picnic (maybe with some takeout from the nearby Rudder's Seafood Restaurant and Brew Pub), but there's a lot of history to unpack here as well.
The land is actually an old burial ground, and you'll see a few gravestones and markers scattered about. I'm told that ghosts often make an appearance in photographs of the park; in particular, a man in a heavy overcoat is a recurring visitor. Alas, my images revealed no spooks or spirits!
Adding to the somber tone is a nearby memorial. At the bottom of the park, on Water Street, there is a moving monument to those killed at sea. Sadly, memorials of this kind are common in southern Nova Scotia as fishing is a major industry in the region, but most monuments are tiny compared to the large volume of names represented in Yarmouth.
Even with all this serious history, Frost Park is still a lovely place to visit and relax, with a nice fountain, gazebo, and well-maintained gardens. Just how pretty is it? An oft-repeated story is that the park's charm was the inspiration behind the old-fashioned hit "It's Beginning To Look A Lot Like Christmas."
2. You Can Admire Awe-Inspiring Architecture
Yarmouth is home to some of the most striking examples of Victorian architecture in eastern Canada. The area's sea captains and captains of industry certainly knew how to make a public statement about their wealth, power, and prestige, and you'll often see nautical touches in the elaborate designs.
One of the most fanciful buildings of all is the Lovitt House at 10 Parade Street. Named for its original owner, John Lovitt, a ship owner and businessman who later turned to politics, the building is also sometimes called the Tower House. This imposing green building combines Victorian, Neo-Classical, Italianate, and local building styles and is notable for its three-story central tower made mostly out of glass. It's an absolute showstopper, yet it's just one of many similarly striking buildings in the area.
If you'd like to see more of the Lovitt House, that may just be possible in the near future. I got the scoop from Candice Phibbs, who runs the Introduction To Yarmouth walking tour, that the house recently sold, is undergoing renovations, and there are plans for it to open as a bed and breakfast. Her tour is an excellent way to see the town's most notable buildings.
3. There Are Mysteries At The Yarmouth County Museum And Archives
There's an artifact at the Yarmouth County Museum and Archives that you won't find anywhere else. A 400-pound quartzite stone, featuring 13 inscribed characters, was found in the region in 1812 and has been a source of controversy ever since.
Known as the Runic Stone, there are endless theories about exactly what the characters mean (or if they even mean anything — there's a theory that they're just an accident of nature). One of the most commonly proposed points of view is that they're ancient Norse runes, hence the object's name.
If these are indeed Norse runes, the stone could be evidence that Vikings were in Nova Scotia as early as 1000 AD. But those are some pretty powerful "ifs" and "coulds"! Others argue that the symbols on the stone are Hungarian, Welsh, Mayan, Japanese, Basque, or early Greek. Museum staff like to take a neutral approach to the matter and will happily discuss the many theories with visitors.
While at the museum, take a look up at the ceiling to see a sign for a ship called the Samson. It too represents an inscrutable mystery! It is long rumored to be the mysterious "third ship" in the waters near the Titanic, one which could have rescued passengers if only it acted in time. The story goes that the Samson was engaged in illegal seal hunting, which is why they didn't want to interact with other vessels. But for every piece of evidence that says the Samson was nearby, there's contradictory material that suggests this was impossible. Yet another mystery that's up to you to decide!
4. You Can Explore The Life Of Artist Maud Lewis
Maud Lewis, Canada's most famous folk artist, was born in Yarmouth in 1901 (though it's often erroneously reported that she was born in the nearby rural community of South Ohio in 1903). Sadly, there's little in the town that directly showcases its connection to the now-famous artist, but intrepid art fans will want to check out a few small connections to her life and explore some interesting corners of town at the same time.
There's a fun selfie station near Frost Park where visitors can take snapshots of themselves posing with a reproduction of Lewis' Bluenose (which shows Nova Scotia's most famous fishing schooner). Yarmouth boasts a branch of the Art Gallery of Nova Scotia (the only town to have one outside Halifax), and there are occasionally exhibits and events which relate to Lewis' life.
At the Yarmouth Mountain Cemetery, tours are often available and they include the graves of Lewis' parents. Finally, the Yarmouth County Museum and Archives has a nice little gift shop, which includes Lewis prints and gifts.
5. There's Paddling With Plenty Of Perks
The Song Of The Paddle operates kayaking tours, and their Yarmouth Harbour excursion is perfect for beginners. I did it and loved it — and I am far from an experienced kayaker! Some of the highlights I enjoyed included paddling underneath a wharf. It felt like we were exploring a hidden world.
I also loved paddling next to The CAT. Admittedly, The CAT was docked at the time, and I'm sure we weren't nearly as close as I remember it after the fact. But in my mind, I was giving that mighty vessel a run for its money! Given how important fishing and seafaring as been to the region's development, this tour is a unique way to explore the heart and soul of Yarmouth.
Lunch is included and The Song Of The Paddle has partnered with The Red Shed food truck to have lunch delivered: A bucket containing the food is actually lowered down from the wharf so you don't even have to leave your boat!
6. You Can Climb An Epic Lighthouse
Exploring Cape Forchu Lighthouse, just a short drive away from downtown Yarmouth, is a memorable excursion. This "apple core" shaped building is a rare example of a lighthouse you can actually climb in Nova Scotia. And climb it you should, as the views from the top are nothing short of spectacular! Plus, many of the staff members who provide the tours of the lighthouse are descended from former light keepers and their passion for local history really shines through.
While at Cape Forchu, take some time to walk along the many paths around the lighthouse. In addition to the lovely sea views, there are huge patches of wild roses and the air smells wonderful! The little takeout counter next to the gift shop serves up excellent lobster rolls.
Pro Tip: Yarmouth Is Home To A Unique Festival
In mid-August, Yarmouth celebrates the Shark Scramble. Since 1998, this annual event features a competitive shark hunt, live music, and other festive activities. As you can imagine, a festival centered around hunting sharks is not without controversy. However, locals are quick to point out that scientists attend to conduct educational research and that the Shark Scramble raises money for a number of local charities. Shark On Line by local journalist Carla Allen is an excellent read for those curious about this event.