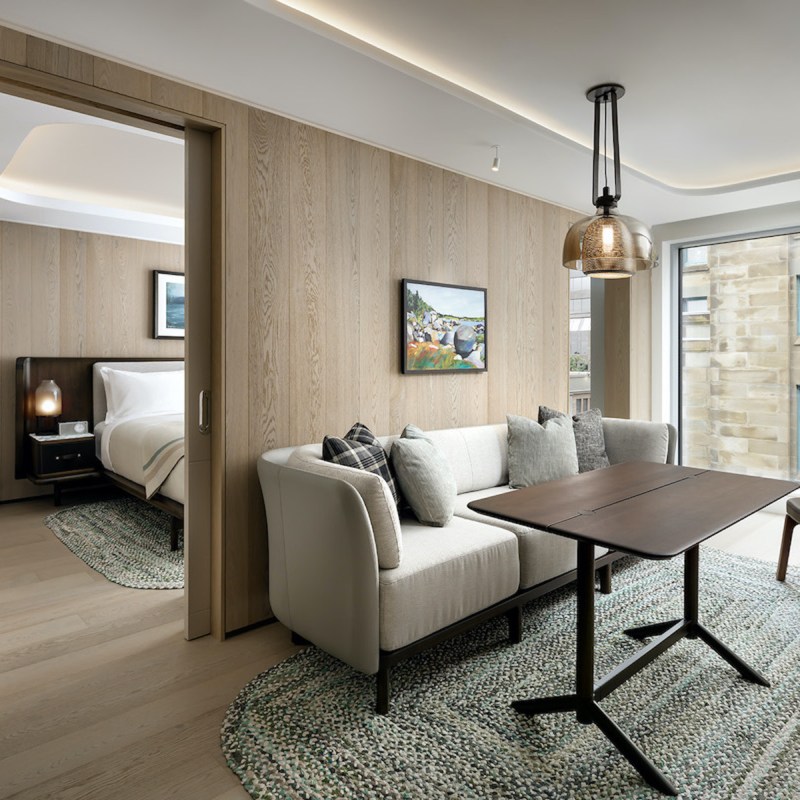 In my family's lore, there's a story that makes us laugh no matter how many times it's told. An elderly aunt was visiting Halifax and, come lunchtime, she heard the thunderous roar of a cannon – a daily noon-time occurrence thanks to Halifax Citadel National Historic Site. She was so shocked that some very non-maternal expletives shot out of her mouth as if she too were a piece of artillery! Ever since, this story has encompassed everything Halifax means to me. It's a fun, boisterous spot with plenty of historic charm and unexpected moments. And you'll probably come away with a bit of new family lore of your own! But romantic? I never thought of Halifax as romantic. A new hotel is changing that.
I received a media preview of the Muir Hotel just as construction was drawing to a close this summer. Set on the waterfront in the Queen's Marque district, "muir" means "the sea" in Scottish Gaelic, and the property's motto is "born of this place." After seeing it firsthand, I can say that it really does take guests on a sentimental journey that captures the essence of Nova Scotia. Here's why you'll want to visit.
It's Ultra Quiet
You can bet that my aunt's exploits with Halifax's noon-time cannon were on my mind when I asked about soundproofing in Muir's rooms. I was also curious what it would be like to overnight next to what is fast becoming the most dynamic part of the city. Thankfully, triple-paned glass and exceptional soundproofing took care of my concerns. I was able to test the ambient noise in the rooms for myself and could barely hear a muffle from the construction below.
My persnicketiness over noise is a concern shared by Scott Armour McCrea, owner and operator of Queen's Marque, who confided in me that it was one of his top priorities as well. If you're looking for a restful retreat, this is the place to be.
You Can Cuddle Down With Coziness
Muir may be the most sophisticated hotel in Halifax, but it was a decidedly homey touch that set my heart a-flutter. The floors are covered in old-fashioned braided rugs, much like the kind you might have found in your great-grandmother's home. There's a great passage in that Maritime classic, the Anne of Green Gables book series, in which Marilla and Mrs. Lynde are preparing Anne's wedding trousseau and the household linens needed for her to set up house. Braided rugs are on the list! Anything deemed worthy of Anne and Gilbert is pretty dreamy to me.
However, these time-honored rugs aren't the only cozy touch. Rooms also come with an elegant tartan blanket in a custom-designed print made exclusively for the Muir. Tartan is a powerful form of identity throughout Nova Scotia, even among those who don't claim direct Scottish ancestry, and having a hotel join in this tradition is significant. Personally, I find that the muted shades of pink and sand remind me of seashells, which seems especially apt considering the hotel's waterside location. As nearly all of the 109 rooms have an ocean view, curling up in the blanket feels especially poetic.
The Bathtubs Are The Last Word In Luxury
I absolutely adore a good bathtub, and the broad, bottomless tubs at Muir are the best of the best. The granite-lined marble tubs look like they're made for Hollywood royalty and come complete with a container of luxury bath soaks infused with spruce and honey (the creation of Leigh McFarlane of The Soap Company of Nova Scotia). If you love a deep soaking tub as I do, be sure to specifically request it when you reserve, as they aren't in every room.
You'll Be Spoiled With Libations And Bouquets
That honeymoon feeling of entering a room and seeing it set with flowers and perhaps a tipple or two is the everyday experience at Muir. Gorgeous bouquets of hand-dried flowers are created by Sarah and Kenny Macalpine, who grow more than 100 varieties of flowers and plants (seriously, you might just fall in love when you look at their website). Even the ceramic vases are local, the creation of potter Sheri White of Urn Song Pottery.
Additionally, you'll find local and international wines at the bar, as well as spirits and everything you need for cocktail mixing. Tea drinkers, take note. The rooms are stocked with products from TEALEAVES, a Vancouver company renowned for its custom blends. Tea is a VERY big deal in Nova Scotia, so it's very fitting to see high quality brews in Muir.
It's Filled With Exceptional Art
The Muir was designed by Nova Scotia's celebrated architect Brian MacKay-Lyons. If you're thinking that name sounds familiar, it's because he also designed the Maud Lewis Memorial Site to commemorate the acclaimed Nova Scotia folk artist. You can see the original home of Maud Lewis which inspired MacKay-Lyons' memorial at the Art Gallery of Nova Scotia, just a 2-minute walk from the Muir.
While a visit to the Art Gallery of Nova Scotia is a must-do for any Halifax visitor, you don't have to leave the Muir to enjoy fine art. The hotel has its own art gallery, complete with a seven million dollar curated collection. Plus, each guest room features a landscape painting by an Atlantic Canadian artist.
The Food Is As Luscious As The Rooms
The old saying goes that the path to someone's heart is through their stomach, and I wonder if head chef Anthony Walsh might just be a romantic soul, based on the menu he developed for Muir's restaurant, Drift. We had the chance to chat over email and I took the opportunity to quiz him on his inspirations, what Nova Scotia cuisine meant to him, and if he felt any pressure to present a menu that's in line with what many visitors have long come to expect of the province (which was my polite way of asking if he would succumb and serve up heaping platters of lobster dinners – they're delicious but perhaps rather expected).
Chef Walsh told me: "At Drift, one of our tactics is to tap into ingredients (like lobster, for example) in fresh and sometimes unexpected ways. Yes, the dining experience at Drift will have elements of luxury, but we also want to deliver a degree of comfort and familiarity, from our lobster BLT to our lobster pot pie. At the end of the day, we want everything to be delicious, while also honouring and showcasing the beauty of what NS has to offer, its culinary heritage, and the Maritimes' natural bounty."
I also asked him how color influenced the menu he developed. As someone who grew up in Nova Scotia, when I think of local cuisine, vibrant colors immediately come to mind. As Muir is so passionate about art and design, what can patrons expect on their plates? Chef Walsh said in response: "You definitely eat with your eyes first, and we will plate dishes with that in mind. We will also plan to cook with the seasons and aim to highlight ingredients at their peak. So with those aspects in mind, we will always do our best to first respect the ingredients through careful preparation, and second, show off its beauty on the plate." That sounds like delectable dining to me!
Pro Tip
Amos Pewter is just 6 minutes south of the Muir, and this pretty gift shop offers Nova Scotia pewter jewelry, a perfect romantic gift that's also travel-friendly. They have delicate earrings modeled after starfish, sea urchins, and sand dollars. As you walk between the Muir and Amos Pewter, you'll also pass the Maps & More Travel Store. This little shop is truly astonishing. Need a map of Turkmenistan? The latest Lonely Planet Sweden guidebook? Maybe a history of Oak Island's treasure or coverage of all Cape Breton's waterfalls? You'll find it here.