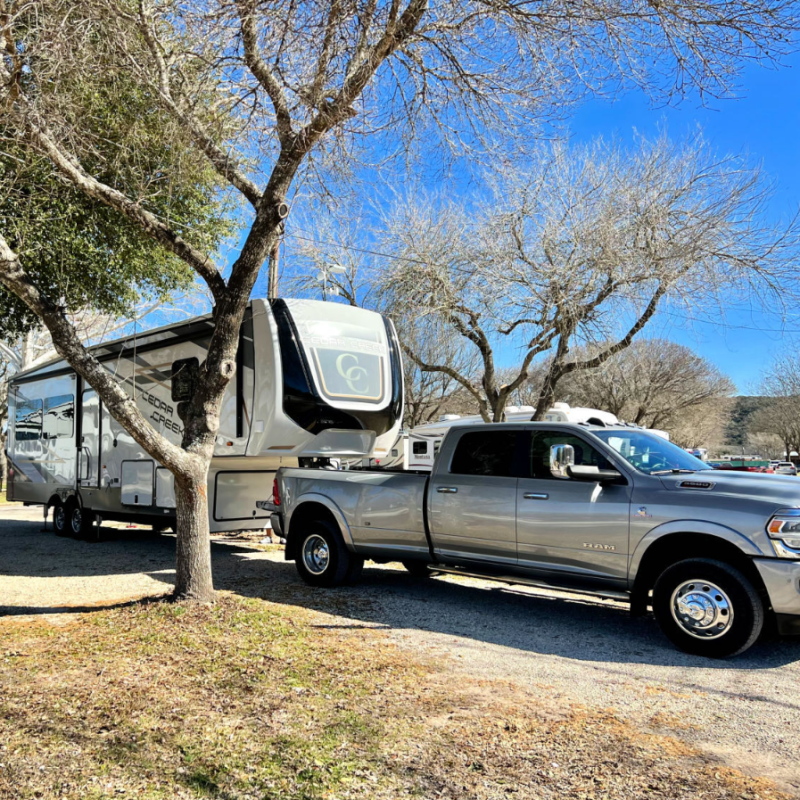 Nearly a year ago, my husband and I decided, after a 30-minute conversation weighing the pros and cons, to sell our Vero Beach home and hit the road in an RV. Within a month, we made all the plans — house sold, contents sold, donated, or stored in pods, fifth-wheel purchased, truck to tow the fifth-wheel bought, and no idea what we were getting ourselves into. This is the beauty of RV life — you can do it in the spur of the moment and in small doses.
While we only learned a few steps for RVing, there are many basics I wish I had known beforehand. Here are seven things I wish I knew before RVing full-time and some things you may want to consider if you think about this nomadic or semi-nomadic lifestyle.
1. Less Is More
When my husband and I sold our home, we moved many things into a storage pod. We also stuffed our fifth wheel's many cabinets to the hilt and quickly filled up the storage space underneath the RV.
Fast forward, over 10 months later, we have donated an older suitcase and bags of clothing and books to women's shelters and local facilities. I don't know what I thought when I packed so many placemats, entertaining pieces, casserole dishes, and beach towels, but they were just taking up space. In all honesty, we wash dishes right after using them and only use multiple dishes for holiday celebration cooking (we have full-size kitchen appliances), so there isn't a need for four or six place settings unless you are hosting.
It's also safe to say that we will never read as many hardback/paperback books as we brought, or use as many dish towels and cleaning supplies. And we don't use more than one pair of sheets as they get put back immediately after washing. Less is more in the RV lifestyle.
2. Know The Different Types Of Campgrounds
When we first embarked on a full-time RV lifestyle, we didn't know what kind of campground to choose or what we would like. We tried private campgrounds; mom-and-pop, Kampgrounds of America (KOA), Thousand Trails, state parks, city parks, and others. My husband had grand ideas of boondocking (camping without water, sewage, or electricity), but that never panned out for us. Here's why:
We were quick to learn that we preferred staying at private campgrounds. While the amenities change a bit from park to park, we know that by staying at a KOA, the world's largest network of privately-owned campgrounds, we will get the things we deem necessary. I referred to them in a previous article as the "Marriott and Holiday Inn" brand identity of the 1970s and '80s. You know you will get a clean, well-maintained, comfortable campground with various site options, dozens of amenities, a small store for incidentals, and a helpful staff. That kind of security matters a lot to us and is the reason we choose many of the places we do.
While we have stayed at several non-KOA properties that we loved — Jellystone for instance — we prefer a pull-through site on concrete, if possible, and full hook-ups.
Pro Tip: Join the KOA Rewards camping loyalty program to save 10 percent on your stays and earn exclusive discounts.
3. Limit Your Wardrobe
We are fortunate to have a washer and dryer in our RV. That was something I negotiated in the final sale and one thing we would not do without for this lifestyle. We wash something every day because you have to do tiny loads. Since there are hardly any dirty clothes, it was pointless for us to bring 20–30 T-shirts, 15 pairs of socks, 15 pairs of shorts — you get the picture.
While we do need multi-season clothing (I am a travel writer and go all over the world, so I must be prepared), we haven't used even half of what we brought. After a few months, we figured out this system.
It got donated if the clothing item was already 10 or more years old. I keep out about 5 days of clothing, reuse it, and switch those pieces out for 5 days, or other clothing after a few weeks. We have storage in the RV, a full-size closet (though you can't put too much weight on it or the bar will collapse), and we keep the rest in our suitcases underneath the RV. We each have a tote or two of seasonal clothing we keep in the underneath storage that we only need every 5 or 6 months, including a winter coat, gloves, etc. We've also bought many new T-shirts from the cool places we've visited, and must get rid of one to add another.
4. Learn How To Flip On The Inverter Switch
Our Cedar Creek 291RW fifth-wheel is perfect for us. If we even wanted to entertain the idea of boondocking, we had to know where the inverter switch was for the refrigerator to use the battery and solar backup. For weeks after buying our RV, I watched hundreds of videos about Forest River products to no avail. I consulted the manual, Youtube, and other resources, but none of them told us where to find said inverter switch.
During our annual RV check-up, necessary for maintaining the warranty, we asked the RV specialist (not Forest River, mind you) to help us find it. It took him about 30 minutes to find it underneath the RV, behind a fake wall, and way back to where you have to lean half your body in to find it. He agreed it was the dumbest design he'd seen after 20 years in the RV business, but at least we now know how to "flip the switch." This will also come in handy for keeping the refrigerated goods cold when we stop for sightseeing between campsites.
Pro Tip: We bought our RV during the pandemic and shortages. We were quoted $10,000 for an Onan (by Cummins) generator (the only kind our RV can use). It had to be pre-paid and would arrive no sooner than 9 months from ordering. We would also have to pay to ship it at ground rates to where we were currently RVing. It was easy to say no, seeing that we don't anticipate paying that much for civilized campgrounds in a year.
5. Make A Checklist (And Check It Twice!)
Believe me when I say that we googled or YouTubed everything we needed for hauling our RV, setting it up, and breaking it down. With the help of a friend and his wife, we managed to hook up our RV and hit the road. Our first campsite was 20 minutes from our home, the second was an hour away.
The best thing we did, at first, was to have a note on our smartphone with a checklist for setting up and breaking down. We carefully went through the steps, assigning duties to work as a team, and within about 2 months, we finally didn't need to look at the checklist. Lists are magical; they can save you time and help you get tasks done in order, assuring you don't miss a thing.
6. Don't Plan Too Far In Advance
As I mentioned, we just jumped right into RV life. Many people I've met have planned their adventures to the nth degree, and something happens to disturb that schedule, us included. With the recent incredible gas hike, I'm guessing most people are rethinking their plans for summer travel and changing horses in the middle of the race. Allow time to stay longer in places you like, or even time to go on road trips in your vehicle, leaving your RV behind so you can experience hotel stays. We do that a lot.
As for us, our well-planned summer itinerary through western states will change because pulling a fifth-wheel on mountains at nearly $7 a gallon for diesel and getting 7 miles to the gallon due to the inclines is not in our best interest. We won't be paying $1 a mile to go that far.
7. Abide By The 2-2-2 Rule
My husband and I had an ambitious plan to see a different state each month, which was way too aggressive. We extended our stay at three of the first four campgrounds we visited. We loved the area and campsite and wanted to enjoy it longer. That's one of the joys of RVing; you get to decide what works for you.
A friend told me about her 2-2-2 rule, and to this day, we try our best to follow it. We don't like to drive more than 2 hours between campgrounds; we must be at the campground by 2 p.m. and try not to exceed more than 200 miles. With this simple rule, we are not tired when we travel, have not used up too much of the day to enjoy the next town (or RV park) in some fashion, and have an idea of what time we must leave to meet our goal.
Be sure to catch up on all of our RV content, including: