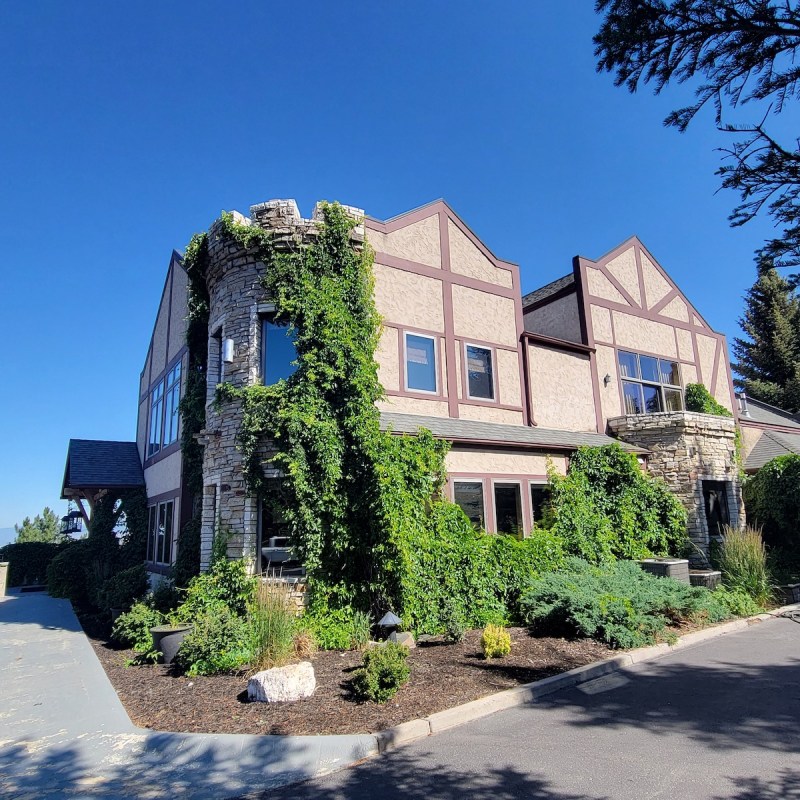 One of my favorite activities in my hometown of Missoula is dining out at our multitude of fantastic restaurants. From steak at fine-dining establishments to local craft beer and tacos in a laid-back setting, the restaurants of Missoula satisfy everyone's tastes. I love to try all the restaurants in town, but here are a handful, in no particular order, that I keep returning to for great food, and great service.
1. Second Set Bistro
Second Set Bistro is located in the lobby of one of Missoula's most iconic buildings, the historic Florence Hotel. The Florence Hotel hasn't operated for many years, but its lobby has maintained stunning art deco décor. The simple seasonal menu at Second Set consists of snacks, salads, main dishes, and desserts. Items under each category rotate throughout the year to keep things interesting.
What To Order At Second Set Bistro
I recently enjoyed the charred street corn starter and spaghetti lightly coated in garlic, herbs, olive oil, and topped with a farm-fresh egg yolk for my main course. On other visits, I paired the apple and honeycomb salad using local honeycomb with perfectly-cooked steak frites topped with horseradish herb butter.
2. The Trough
The Trough is housed in The Olde Dairy, a small neighborhood market that has been in operation in some form for decades. Look for the 15-foot Holstein cow marking the entrance. The restaurant is open seven days a week for lunch and dinner, but it's the weekend breakfast menu that brings me in.
What To Order At The Trough
I go for the Southern skillet when I want something savory. Two flaky biscuits are smothered in sausage gravy with a side of eggs and sausage links. When I want something on the sweeter side, it's the airy flapjacks and a side of crispy bacon.
Pro Tip: Missoula's westside is woefully devoid of restaurant options, except for The Trough. This means the neighborhood crowd fills it up quickly on weekend mornings. Reservations are not accepted, so get there early.
3. The Keep
The Keep is another of Missoula's restaurants that combine great food with a historical setting. Perched high in the southern hills of town, The Keep is located in what was once The Mansion Restaurant, which burned down in 1992 after serving diners for more than a century. The Keep is only open for dinner and features starters, salads, and entrées of succulent meats and fresh seafood.
What To Order At The Keep
I almost always order the grilled salmon, crispy on the outside with a slightly pink center. The salmon is topped with a tomato confit and gremolata and accompanied by fingerling potatoes. My husband never misses an opportunity to order the rack of lamb served with rosemary butter. The bartender also makes a mean martini that pairs well with your substantial meal.
4. Iron Griz American Bistro
Students studying for careers in the hospitality industry at the nearby University of Montana are the backbone of Iron Griz. As part of UM Campus Dining, the restaurant employs students as servers, managers, and chefs. What is also unique is that much of the produce comes from the Iron Griz's garden just steps away from the restaurant. The menu was created by Chef Hailey Palmer who introduced the dishes from her southern roots to the mountains of Montana.
What To Order At Iron Griz American Bistro
I never resist starting my meal with an order of hushpuppies served with pimento cheese for dipping. It's hard to choose from one of the many great entrees, but I usually steer toward the crawfish po' boy or the gumbo with chicken and local Redneck andouille sausage. The shrimp and grits are a local favorite.
5. Top Hat Restaurant And Bar
Once a bar and concert venue hosting musicians from around the world on its small stage, Top Hat has recently become a very popular restaurant and bar hosting only the occasional show or event. The menu changes with the season so you can visit many times and have a good chance of trying something new each time.
What To Order At Top Hat Restaurant And Bar
There are some staples that I always go to, like the Wisconsin cheddar burger featuring locally raised beef and white cheddar cheese sauce. Sometimes I enjoy simply combining a few side items, like the sautéed brussels sprouts with an order of their house-made crunchy tater tots.
6. Bridge Pizza
Being a college town, Missoula has an abundance of pizza joints from national chains to locally owned favorites. Bridge Pizza falls in the latter category. Bridge Pizza has two locations. The original location is a lively place just south of downtown frequented by students from the university and nearby Hellgate High School. The second location across from the mall is a little more spacious and laid-back. Bridge Pizza offers appetizers, salads, pasta dishes, sandwiches, and of course, pizza.
What To Order At Bridge Pizza
You can create your own pizza with staples like pepperoni, mushrooms, and pineapple. You can also choose one of their house creations. I lean toward the Rialto topped with house-made sausage, caramelized onions, and goat cheese drizzled with local Wustner Brother's honey.
Pro Tip: Bridge offers a great happy hour special. Every day from 3:00 to 5:00 p.m., you can get a free 10-ounce draft beer with a slice of pizza. Two slices get you a free pint.
7. Pangea Bar & Restaurant
Pangea Bar & Restaurant is located in the heart of downtown along bustling Higgins Avenue. Inside, diners will find an open and airy space with several booths and tables accommodating both couples and large groups, as well as a long and well-stocked bar. The menu features both dishes highlighting local cuisine and international flavors.
What To Order At Pangea Bar And Grill
When I'm looking for something warm on a cold night, I go for the Laos Curry. For a lighter meal, I like the Greek-inspired Zakynthos Salad with kalamata olives and cucumbers topped with a hefty slice of spanakopita, layers of crispy phyllo stuffed with spinach and feta cheese. Pangea's cocktail menu is top-notch using fresh ingredients. My favorites are the Mumbai Chai Manhattan and the Dragon Fruit Mojito.
8. Blue Canyon Kitchen And Tavern
Blue Canyon Kitchen & Tavern is attached to the Hilton Garden Inn, but you don't have to be a guest of the hotel to enjoy this western-themed steakhouse. The smell of fresh-cut cedar wafts through the air as you pull open the heavy doors and enter the restaurant. Choose to dine in the intimate separate bar area or the spacious restaurant. The menu is divided into steaks, water, and land categories featuring, you guessed it, steaks, seafood, chicken, and pork.
What To Order At Blue Canyon Kitchen And Tavern
My go-to meal starts with a crisp Caesar salad then the perfectly-cooked petite filet topped with creamy tomato-basil butter, a mountain of whipped potatoes, and sauteed vegetables. I rarely order desserts, but I treat myself at Blue Canyon. Desserts often rotate, but you can count on a version of creamy crème brûlée and a decadent chocolate concoction.
9. Gild Brewing
Missoula is fortunate to have many fantastic craft breweries, but only a handful have a regular food menu. Gild Brewing is one of the exceptions. Gild is located on Missoula's beloved Hip Strip, a stretch of eclectic boutiques and local restaurants just south of downtown. At first glance, the menu consisting mainly of street tacos seems a little paltry, but once you try one, you understand Gild's appeal.
What To Order At Gild Brewing
Each taco is served on two small stone ground tortillas made in-house. The choice of fillings changes often, but regularly consists of grilled meats and at least one vegetarian option. I look for roasted sweet potato and black bean tacos with cotija cheese. My husband likes the Al Pastor, spit-roasted adobo pork with grilled pineapple salsa. A glass of Survey Says Mexican Lager pairs well with any taco.
Pro Tip: It's not widely advertised, but Gild has an arcade in the basement where you can relive your youth and enjoy the perks of adulthood as you play pinball with a cold glass of beer in hand.
10. Doc's Sandwich Shop
If you're looking for a quick meal while shopping downtown, grab a sandwich at Doc's Sandwich Shop. As the name suggests, all the sandwiches are named after famous doctors, both real and fictional. Doc's menu has both hot sandwich selections, like Dr. Hawkeye Pierce's roast beef and grilled onions, and cold, like Dr. Ruth's egg salad. Soups and salads are also available.
What To Order At Doc's Sandwich Shop
I'm mad about the Dr. Doolittle: chicken salad on a buttery croissant. They also have great combo meals consisting of half of any sandwich and a cup of soup. I balance out the Dr. Freud with cream cheese, cucumbers, and sprouts on toasted wheat. Then, I get a cup of the local favorite, Hangover Stew, corn, carrots, and potatoes in a cheesy broth.
For more information on traveling to Missoula, Montana, check out these articles: