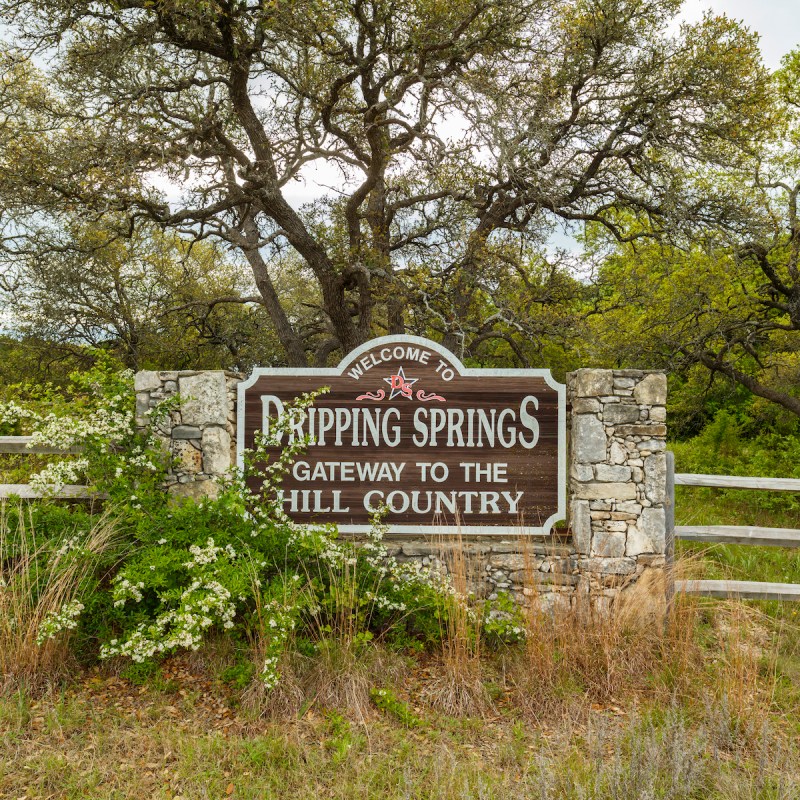 Less than a 25-minute car ride from downtown Austin, Dripping Springs, Texas, is a nice escape from the hustle and bustle of the busy city that seems to never end. This small hill country town draws visitors in mainly for its serene location, outdoor attractions, wineries, and weddings — yes, weddings. Given the title of "Official Wedding Captial Of Texas" in 2015, there's been new growth in every direction, so you can bet that the food scene is rich and plentiful in Dripping Springs.
Restaurants in Dripping Springs range from farm-to-table places using locally sourced ingredients to fine dining, cafes, bistros, coffee shops, and everything else. What I love the most about the food scene is many locally-owned restaurants are there to serve you, and the owners are right there cooking the food. So, whether you're looking for a hearty breakfast to start your day, a nice leisurely lunch in a field of olives, an elegant dinner with wine, or a good cup of coffee any time of the day, you'll find it here at one of my favorite Dripping Springs restaurants! These restaurants are in no particular order.
And, with over 35+ wineries, distilleries, and breweries, some that serve food, some that don't, this area of the hill country is thriving with visitors every day.
I was hosted by Destination Dripping Springs. All opinions are my own.
1. Tillie's Restaurant And Bar
Camp Lucy Resort
Tillie's is an upscale fine dining restaurant located at the beautiful 289-acre Camp Lucy Resort. The restaurant sits in the middle of past luxury accommodations and heritage buildings. Its gorgeous venues throughout the grounds are impeccable, and the resort is a prominent wedding venue. Camp Lucy is where I stayed for 2 days and got the royal treatment.
We dined at Tillie's the first evening I was there. We had drinks at the bar while waiting on our dinner reservations. It's a small area, but it's a full bar. When we were seated, we ordered an appetizer of two cannolis. The menu must change, because I do not see them on the current menu.
Tillie's is where you'll want to get dressed up and take your significant other for a romantic dinner or to just experience it all. There is a full bar inside the restaurant, and it is open to the public. Reservations are highly required. Dinner is available Wednesday through Sunday from 5 to 9 p.m.
The scenic drive to Tillie's is remarkable. You'll travel on several one-way bridges over a river and through the hills.
2. Oak Creek Cafe
Highway 290
Make your way to Oak Creek Cafe for all-American Southern comfort food, good ole bacon and eggs, hamburgers, fried fish, po' boys, and such. I'm not much of a breakfast eater these days, but I'm glad I gave that up for this place. My order looks bland, but that's how I like it — and as you can see, it's as plentiful as all their dishes are. They suit your taste in any way you like. No reservations are necessary. They are open for breakfast and lunch and close at 2 p.m.
Pro Tip: Before you leave, take your photo in front of the Dripping Springs mural inside the cafe.
3. Texas Hill Country Olive Company
6 Miles From Town
Family-owned by a father and daughter duo, Dripping Springs, in my opinion, is lucky to have such a wonderful company that cares about preserving the area's natural beauty. They produce the highest quality olive oil in the U.S. and have been awarded many times. Texas Hill Country Olive Co. is one of Dripping Springs' highlights, and if you get the chance to visit, do — I think you'll love it. I met the owner there, and she gets her hands dirty in the bistro and orchard like all the workers. Everyone was so friendly, and it's more just having lunch there — it's an experience.
I highly suggest trying an olive oil tasting if you've never experienced it. This was my first. It's far from a wine tasting, but they will go over it with you. You can order an olive oil flight or take it further and arrange a guided olive oil tasting.
Several reasons why people visit:
Enjoy lunch at the Bistro.
Take a tour of the orchard or just walk around at your leisure.
Shop at the gift store.
Be sure to peruse the gift shop for every type of olive oil you can imagine, plus nicely wrapped gift boxes with olive oils. I bought my husband a Father's Day gift when I was there. Inside the gift were three olive oils and one balsamic vinegar. I also tossed a dipping spoon into the gift box before she shut it and tied that big white bow!
Pro Tip: The bistro is open from 10 a.m. to 3:30 p.m. daily.
4. Mazama Coffee Company + Roastery
Mercer Street Historic District
Located in the heart of downtown, Mazama Coffee Co. is a relaxed coffee shop with ample seating inside and plenty of seating outside in the courtyard with shade. Though a coffee drinker, I had all the coffee I needed for that day by the time we visited, so I ordered a mango smoothie and enjoyed it outside in the courtyard while waiting for my friend to arrive. Dogs are allowed in the courtyard. They also offer breakfast, lunch, and baked goods.
Pro Tip: There is always a line.
5. Epicure Market
In Town
Epicure Market is a modern-day wine bar with a warm vibe and outdoor seating, plus cheese plates and bistro dishes. It's a small place to dine as one wall is covered with wines from all over the world, a wine bar in the back, and a few tables. It's definitely a place you want to make reservations.
I ordered the asparagus prosciutto with balsamic vinegar and dried figs and a glass of cabernet sauvignon that the wine sommelier and co-owner recommended, then topped my evening with a raspberry creme brulee dessert. I could have eaten that first and then another afterward — it was that good!
6. The Salt Lick BBQ
Border Of Dripping Springs & Driftwood
Where Dripping Springs meets Driftwood (Driftwood is not a town but part of Dripping Springs), Salt Lick BBQ is where everyone goes when visiting the area. It's a very popular restaurant with indoor/outdoor seating and live music outside, and the ambiance is like a party but also family-friendly. They still have the original restaurant on site where you can also eat and rent out for parties. This place is so big that several areas are rentable for special occasions.
There are four locations in Texas: Driftwood, Round Rock, Austin, and Dallas. I've only been to the one in Driftwood.
Pro Tip: Go early so you don't have to wait in line too long.
7. Krispy Krunchy Chicken
Mercer Street Historic District
Have you ever had gas station fried chicken? They say gas stations served the meanest food. I experienced this once in another town, but a friend and the CEO of Dripping Springs said this place had the best fried chicken, so I'm adding it to my list here. Krispy Krunchy Chicken is located on US-290, directly behind The Barber Shop (an old barber shop turned bar). The bar does not sell food but will let you bring food in so you can enjoy eating while sipping your favorite beer.
Bonus
There are two restaurants I didn't get to visit but were on my itinerary. I think both are worth mentioning here. The first is Rolling In Thyme And Dough, a wonderful place to enjoy coffee & breakfast. It was started in 2005 by a professional European baker, and she's still there whipping up her recipes. It's made many lists on Google, and I've been told the bread and baked goods are "out of this world" delish! The other one I want to mention is Get Along Grill. It's locally owned and offers made-from-scratch American comfort food. It opens at 3 p.m. during the week and at 11 a.m. on Friday and Saturday. They are both located on Highway 290.
Pro Tip: Whether you drive in from Austin or stay the weekend, there are plenty of things to do in town, and the friendly locals will always lend a hand. Dripping Springs has several annual events worth checking out before you go. Be sure to swing by the Visitors Bureau on Mercer Street to pick up a brochure or two.