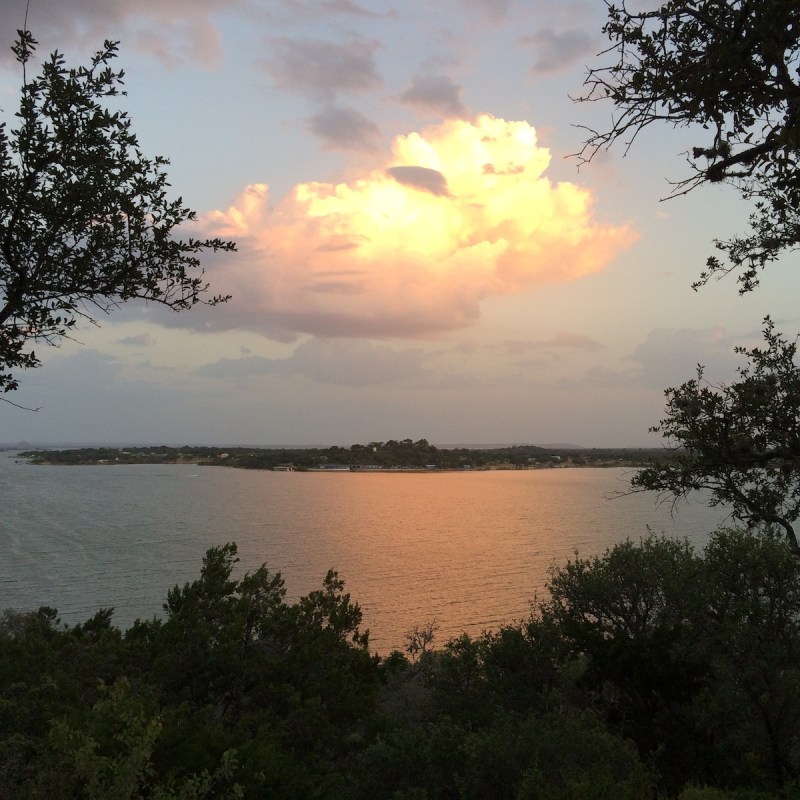 Texas Hill Country is a vast expanse of undulating landscape in south-central Texas, renowned for picturesque towns, scenic grandeur, sun-drenched skies, and glorious springtime wildflowers.
My favorite part, the Highland Lakes region, has all that to offer and much more — namely water. The Highland Lakes is a chain of seven freshwater lakes formed by damming Texas's Colorado River between the late 1930s and 1960 to manage floods and produce hydroelectric power. The chain traverses a twisty 100 or so miles northwest, from Lady Bird Lake in Austin to Lake Buchanan in Burnet, where it adjoins the river.
In addition to performing the civic tasks for which they were designed, the lakes give rise to cooling breezes, wildlife habitats, and leisurely and active aquatic recreation.
My several visits to Texas Hill Country and the Highland Lakes region were sponsored, but I am reporting on the sites and activities I found most thrilling, informative, and delicious. They are focused on Burnet County at the northern end of the lakes. (That's BURN-it, like DURN-it.)
Things To Do In The Highland Lakes
1. Canyon Of The Eagles
I anchored my visits at Canyon of the Eagles, a 940-acre nature lodge and resort perched high above Lake Buchanan. Named for the American bald eagles that nest nearby each year, it is located about an hour northwest of Austin and 90 minutes northwest of San Antonio.
The resort's 61 guest rooms are scattered through 16 low-slung cabins, each appointed in rustic decor and deluxe comforts. Campsites are also available. Fill your time with 16 miles of groomed hiking and biking trails, a swimming pool, a boat dock, top-flight dining, and a retinue of rocking chairs.
The daily activities agenda will have you feeling like you're at summer camp: guided hikes, birding tours, an educational snake program with real snakes that you can touch, outdoor movies, s'mores around a fire pit, and live music. After dark, the resident astronomer guides you through the heavens at the on-site observatory with research-quality telescopes and high-tech computers.
You can spend your entire vacay at Canyon Of The Eagles and find plenty of fascinations, but I had more to see and do.
2. Container City At Spider Mountain
One of the newest lodging options is Container City at Spider Mountain, an enclave of six short-term rentals constructed entirely from shipping containers. The cabins, each one differently configured and smartly decorated, are appointed with modern amenities including full kitchens and baths, living rooms, televisions, internet, central air conditioning and heat, patios, picnic areas, and parking for two vehicles. Depending on which one you choose, they can accommodate as many as 5–10 guests. A couple of sleeping nooks are a mite cozy, sized specially for kids.
On the premises is the outdoor Templeton's Tavern, another shipping container creation, which serves wine, beer, spirits, and non-alcoholic beverages beneath a covered patio — or under the stars, if you prefer. Also on the menu are wood-fired pizzas and grab-and-go grub. Local entertainers take the stage to perform live music, or you can share your own talents on open mic nights.
3. Longhorn Cavern State Park
Formed eons ago by the rushing waters of an ancient river, Longhorn Cavern is a natural underground landmark of geologic wonders. Chamber after chamber reveals striated walls, curvaceous rock formations, growing stalactites and stalagmites, gleaming crystals, and a few tiny bats.
To explore the cavern, you must sign up for a guided tour, given daily except on Christmas Day. The 1.1-mile trek descends 130 feet below the earth's surface and lasts 90 minutes. Your tour begins atop a dramatic stone staircase leading to the cavern entrance, actually a giant sinkhole. From there, your guide points out the cavern's unique features while relaying fun facts and colorful legends. I was most dazzled by Crystal City, an area adorned with wall-to-wall calcite crystals created by pools of calcium-laden water.
The passageway is mostly smooth but not wheelchair accessible. In a couple of areas, the ceiling is lower than 5 feet, so you have to duck to get through.
If you dare, which I didn't, take the Wild Cave Tour. It's a primitive caving adventure that takes you wriggling, climbing, and crawling through the narrow passageways of the raw lower level. The tour lasts 2–3 hours, during which you will get dirty and wet.
The park was developed in the late 1930s by the Civilian Conservation Corps. While you're on-site, take in the historic architecture of the original buildings, hike along the nature trail system, and photograph the panoramic views from the observation tower.
4. Vanishing Texas River Cruises
For a leisurely cruise of Lake Buchanan, hop aboard the Texas Eagle II with Vanishing Texas River Cruises. The 70-foot, 150-passenger, double-decker excursion vessel meanders through calm waters while a congenial deckhand narrates the voyage.
During the 2-hour cruise, you're sure to spot an abundance of regional and visiting birds such as osprey, herons, and egrets as well as native Texas wildlife including wild hogs and white-tail deer. You might even catch glimpses of migrating bald eagles or cliff-dwelling Spanish goats. The scenery is spectacular and varied, from tree-lined shores to steep travertine cliffs. A highlight is Fall Creek Waterfall, which spills and sprays 50 feet into the lake and is only accessible by boat.
5. Spider Mountain Bike Park Chairlift
Whether you're a biker or not, the chairlift at Spider Mountain Bike Park is an enthralling ride. (I am not a biker, and it was.) The Texas Eagle, as the lift is named, gently glides 350 vertical feet to the top, where views of Lake Buchanan and beyond are impressive. Bikers can hook their bikes on the back of the chair.
Ride the lift down, or take one of the nine trails designated for hiking or biking. Bike trails are ranked according to difficulty, from "Itsy Bitsy" to "Stinger," just like ski slopes. The park claims to be Texas's first and only lift-served mountain bike park, and the only lift-served, year-round mountain bike park in the country.
Exceptional Wines And Brews
You may have heard about the surge in Texas wineries, and the Highland Lakes region boasts some of the finest. What impresses me — in addition to the delectable tastes — is how each one has a different ambiance and a different story. All of the following are award winners.
6. Torr Na Lochs Vineyard & Winery
Torr Na Lochs Vineyard and Winery (which translates to "Hill Over Lakes" in Gaelic), sits high above the Colorado River and overlooks both Inks and Buchanan Lakes. As you approach the tasting room from the parking lot, the resident longhorns are curious to make your acquaintance.
7. Spicewoods Vineyards
One of the oldest wineries in the state, Spicewood Vineyards emphasizes Spanish and Portuguese styles among others. Enjoy your sip on the gracious covered patio flanked by willowing oak trees.
8. Perissos Vineyard & Winery
Perissos Vineyard and Winery, founded by an Austin couple who first experimented with wine-making in their garage, features estate blends and Rhône varietals.
9. Fiesta Winery
Fiesta Winery uncorks fab tastings in four colorful Texas Hill Country locations. With names like Rhinestone Cowgirl and Back Porch Sittin', the party is just beginning. I could partake in the Mustang Sally, a complex white blend, all afternoon.
10. Save The World Brewing
If your thirst is for beer, Save The World Brewing is a philanthropic enterprise that specializes in Belgian-style ales. One hundred percent of net profits are donated to humanitarian charities.
Best Restaurants In The Highland Lakes
The dining scene, driven primarily by independents, is chock full of Texas flavors and southern hospitality. Menus are heavy on meat and fish, so vegans might be disappointed.
11. Overlook Restaurant
The Overlook Restaurant at Canyon of the Eagles presents fine dining in a relaxed hilltop setting with outstanding lake views. Select from signature and seasonal fare, and a full bar menu. The sunsets are amazing.
12. Blue Bonnet Cafe
Blue Bonnet Cafe has been a neighborhood mainstay since 1929. The diner serves classic comfort food as well as all-day breakfast. More than a dozen varieties of fruit and cream pies are baked daily. I'll take the coconut cream, please.
13. River City Grille
River City Grille offers an extensive menu of country favorites and a stunning location on Lake Marble Falls. The famous homemade carrot cake is huge, so ask for two or three forks.
Create your own combo plate from eight different meats and seven sides at Wingman Brothers Smoke House. Hill Country meats cooked low and slow star at this casual eatery with a quirky vibe.
Pro Tip: Texas Hill Country In Bloom
In the springtime, the wildflowers of Texas Hill Country put on a dramatic show in woods and meadows, and along roadsides. The best times for viewing bluebonnets, Indian paintbrushes, winecups, and more are March, April, and May.
There is much to do and see in the Texas Hill Country: