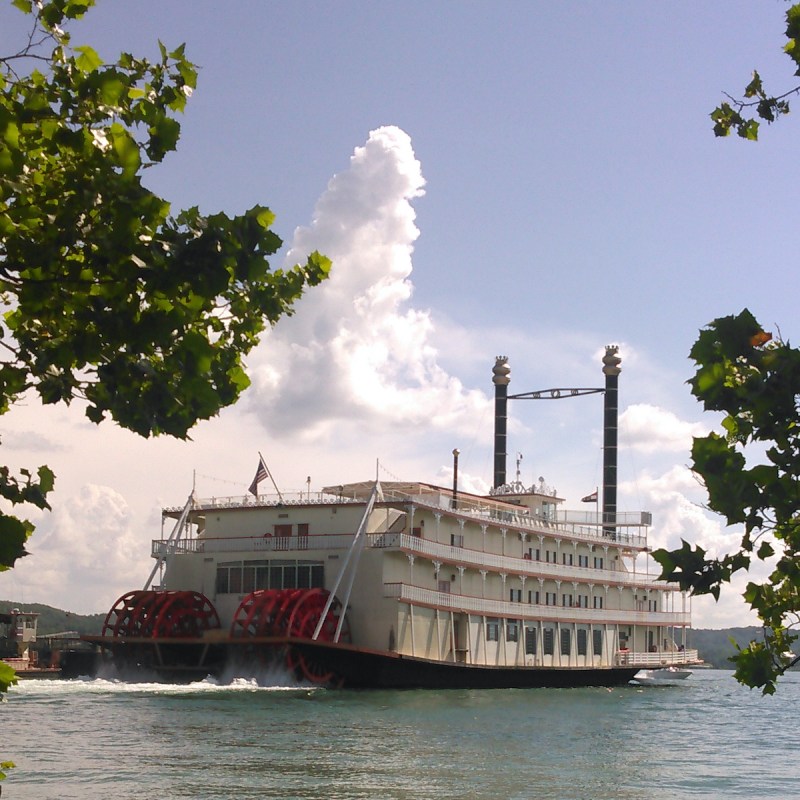 For several years and for plenty of good reasons, Branson, Missouri, was at the top of the list for every bus tour company catering to senior adults. Branson offered a beautiful geographic setting, plenty of comedy and music shows, affordable lodging, and bountiful buffets. Along the way, Branson began to broaden its appeal to families with attractions such as Fritz's Adventure, Butterfly Palace, Dinosaur Museum, and Promised Land Zoo — and it worked. Families discovered that this town, somewhat off the beaten path of convenient interstate highways, was indeed worth finding.
My husband and I wanted to take two of our older grandchildren on a trip (a skip-gen vacation, as it's called). These two, who are cousins rather than siblings, are ages 17 and 15, and absolutely love watching live shows and performing on stage themselves. From all we knew about Branson, we had a hunch they would enjoy it but kept our fingers crossed knowing teens can be rather fickle. We didn't want to be dealing with the dreaded "I'm bored" or "This is so lame" attitudes. I'm not sure what their preconceived notions were about going to Branson with their grandparents, but the city delivered an experience they thoroughly enjoyed and will no doubt be talking about for years to come. Here are the activities and suggestions that worked best for the time we had with our teenagers.
Note: This trip was hosted, but all opinions are my own, and not once did I hear the words "I'm bored" from the teenagers.
1. Rent A Condo At Pointe Royale Resort
These teenage cousins, one male and one female, love each other but are not accustomed to spending extended time together. We knew they would want a little peace, quiet, and space at some point in each day, and by giving them their own room, they were guaranteed some time to "chill."
Pointe Royale Resort offers a variety of accommodations and is in a central location for all of Branson's major attractions. It features an indoor and an outdoor pool, pickleball courts, and a security guard at the entrance. We had a very good experience on this property. You can book directly through the website or by going to Airbnb or Vrbo.
2. Choose Non-Chain Restaurants
With teenagers, generous portions can be very important. Also, by this age, they know what they like and do not like. Two eateries that received their hearty approval were Fall Creek Steak & Catfish House for dinner and Grandma's Café for breakfast. Fall Creek Steak & Catfish House is also known as "Home of the Tossed Rolls," and our grandchildren had a great time catching (and eating) those large, fluffy, yeasty delights. Grandma's Café served gigantic cinnamon rolls and pancakes. Bring on the carbs!
3. Explore Silver Dollar City
Hit The Rides
Silver Dollar City is an amusement park with an 1880s theme known for its roller coasters, and my husband bravely joined the teens on one of the most ambitious ones, Time Traveler. I held out for the Mystic River Falls water ride, naively thinking I wouldn't get very wet. Lucky me. I was in the seat that ended up getting absolutely drenched. Thank goodness for the lockers we used before the ride to protect our phones, wallets, and purses, and for the huge human driers available afterward to begin the process of wringing out my clothes. Five dollars provides blowers from all directions while you stand and absorb the warmth.
Other coasters getting teen approval were Thunderation, Wildfire, Outlaw Run, and PowerKeg.
Eat, Watch Shows, Observe Craftspeople, And Shop
Silver Dollar City is designed to entertain and meet the desires of all ages of visitors. Scattered throughout the nine main sections of the park are rides, restaurants, craftsmen demonstrating their skills, shops, theaters, and event venues. We enjoyed our lunch at Rivertown Smokehouse (a huge shoutout for the mac and cheese) and our treats at Hannah's Ice Cream Parlor and Clara Belle's Cinnamon Bread. At Hannah's, you'll find two signature flavors named for a couple of rollercoasters, and at Clara Belle's, you're likely to consume an entire loaf on the spot. The smells are incredible!
Pro Tip: Clara Belle's Cinnamon Bread makes an apple caramel variety that is out of this world. Take a loaf or two back to your condo to enjoy for breakfast the next day.
Twenty-six different shows are scheduled throughout the week but not all on the same day. Showdown at the Silver Dollar has been running the longest. It lasts about 30 minutes and is colorful, corny, and fun.
Take some time to watch the blacksmiths, candlemakers, bread bakers, leather crafters, potters, candy makers, glass blowers, and more. Park personnel are in period costumes, which adds to the atmosphere.
4. Treat Yourself To A Dinner Cruise On The Showboat Branson Belle
Our teenage grandchildren absolutely loved the evening we spent aboard the Showboat Branson Belle. For one price, you get a three-course meal, time to walk the decks to see the sights along Table Rock Lake, and 2.5 hours of first-class entertainment by singers, dancers, and a magician. If you choose to upgrade to Captain's Club tickets, you are allowed to board early, you have spacious seating in the balcony, and you are given a menu from which to choose your three-course meal.
Cruises are scheduled from the middle of March to the end of December. In November and December, the theme is Christmas.
Pro Tip: Cruises leave from the dock promptly at the stated times. I suggest arriving early and spending a few minutes browsing the shops at the dock.
5. Delve Into The Tragic History At The TITANIC Museum Attraction
Visitors of all ages will make their way through the exhibits of the TITANIC Museum Attraction, reliving the events from when the RMS Titanic hit an iceberg shortly before midnight on April 14, 1912, to 2:20 a.m. on April 15 when she sank into the icy Atlantic. Your entry ticket describes a real passenger, and by the end of the tour, you will know the fate of that passenger. Many items on display were retrieved from the sunken ship many years after it went down.
Tours are self-guided with the use of headsets, so you can wander through at your own pace. Our teens were especially struck by the cold temperatures of the water demonstrated in one area.
6. Have Lunch And Take A Campus Tour At College Of The Ozarks
The dining room at the Keeter Center on the campus of College of the Ozarks, a short drive from Branson, serves a meal prepared by students under expert culinary supervision and using many products grown on the campus grounds. There is also ice cream and other delectable desserts. The college's nickname of Hard Work U is visible when you drive around and observe the students involved in keeping the grounds immaculate and producing appealing items for sale, such as candles, stained glass creations, baskets, and more. Greenhouses produce plants that are eagerly purchased by area residents.
This form of entertainment may well serve the dual purpose of igniting an interest in a teen grandchild who might eventually apply to be a student here.
Pro Tip: Order the charcuterie board as an appetizer at the Keeter Center, and be sure to save room for some of the creamiest ice cream you'll ever taste.
7. Marvel At A Production At Sight & Sound Theater
The theater itself is grand, but the performances on stage will take your breath away. The productions are more elaborate than any you will find on Broadway in New York City. The sets and costumes are stunning, and well-trained live animals are even part of the staging. Sight & Sound Theater focuses on bringing Bible stories to life. Jesus is the big production for 2022 until the Christmas show begins. Then in 2023, the story of Queen Esther will be performed. Our teenage grandchildren were spellbound, and so were we.
Pro Tip: There are probably no bad seats inside Sight & Sound Theater, but I found near the back of Section 102 to be just about perfect.
8. Work Off Some Energy At The Track Family Fun Parks
Ride the Branson Ferris Wheel, take a few spins around the track in a go-kart, or try your luck on one of a dozen or more arcade games at Track 4 of The Track Family Fun Parks. There are several different tracks scattered throughout Branson, but my teen grandkids and I spent time at Track 4. The Ferris wheel is tall but moves slowly enough to step on and off without stopping. Arcade games for all skill levels are ready to award prizes to the winners.
If you get hungry while you're playing, Fuel Fresh American Grill offers burgers, barbecue, salads, wings, and more. That place was a huge hit.
Activities For Next Time
If we had only had more days in Branson, we would certainly have checked out Branson Scenic Railway, Hollywood Wax Museum, the Branson Coaster, and many more wonderful restaurants. Maybe next time.