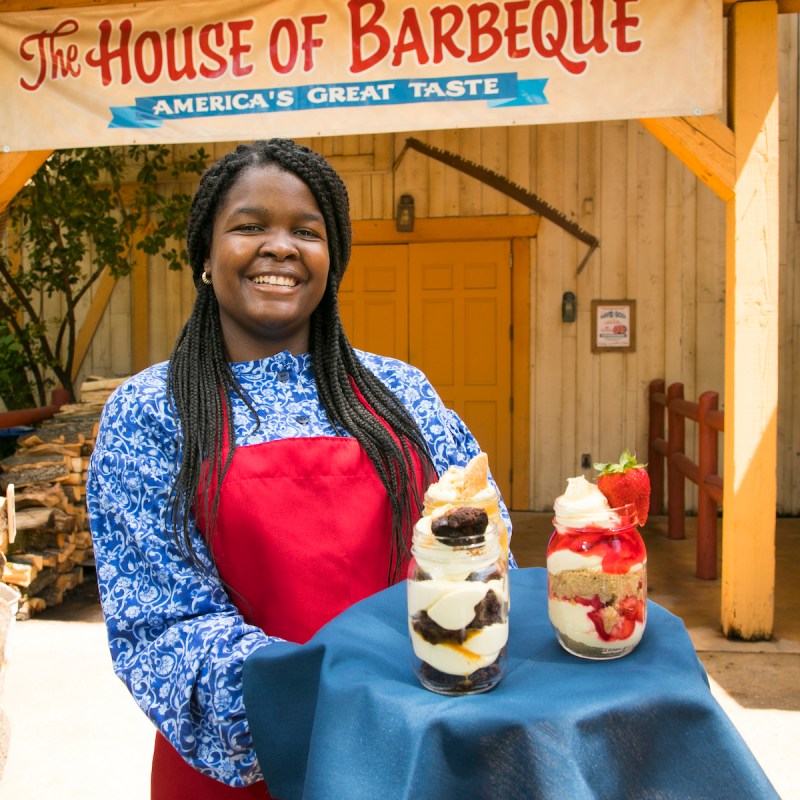 It's time to break out the flannel, grab the s'mores, gather round the fire, and breathe in the fresh air of fall! While there are a lot of beautiful places in the U.S. to enjoy crisp fall weather, there may be no better place to spend a few autumn days than Branson, Missouri. Branson has plenty to offer any traveler. Located in the heart of the beautiful Ozark Mountains in southern Missouri, near Table Rock Lake, Branson is known as both an outdoorsman's paradise and a mecca for country music and live shows.
So, whether you're looking for outdoor activities like hiking or golf, or you'd rather take in some of the many fabulous shows, you'll find something you love to do in Branson. No matter what you're doing, take plenty of time to eat all the incredible fall food favorites. The Branson food scene offers a good mix of down-home, country-inspired foods where you can find your fall favorites.
Here we've listed our favorite Branson fall foods and where to find them.
Thanks to the Branson Convention and Visitors Bureau for sponsoring a portion of this trip. All opinions are my own.
1. Traffic Jam Pie
It's harvest time and all those luscious fruits and berries are ready to eat. What better way to sample all the wonderful berries of the season than to have them all at once. Yes. You read that right. With McFarland's Traffic Jam Pie, you can have all your favorite berries mixed up together in one luscious pie. The pie includes cherries, strawberries, rhubarb, and cranberries. It's a unique, sweet, and tart taste that's quite unexpected, but in a good way. The name is a play on Branson's Main Street traffic — it can be intense at times! You'll find McFarlands located inside the Branson IMAX complex. The full-service restaurant specializes in freshly prepared iconic dishes. While you're there, try the fried green tomatoes and cornbread.
2. Caramel Apples
Who remembers bobbing for apples at Halloween parties? That used to be a "thing!" While I don't know that I would be inclined to bob for an apple in this day and age, I do still love apples, especially when they're caramel apples and as delicious as the ones served at Kilwins. Kilwins just knows how to do all sweet treats right. If you're in the mood for a delicious caramel apple or perhaps sea salt caramels or good old-fashioned ice cream, Kilwins has you covered. This popular spot is conveniently located in Branson Landing. While there has been a line every time we were there, it moves fast. Make sure you try some of their fudge. I recommend the turtle fudge — it's legendary.
3. Iron Skillet Trout With Cranberries
While a plate of fresh trout may not typically scream fall, wait until you get a look at the way Black Oak Grill does trout. Its version is a smoked almond crust served with a blend of green onion basmati rice along with the fall flavor of pinot-infused cranberries and smoked almonds. Talk about a decadent dinner dish!
4. Succotash
We truly didn't eat our way around Silver Dollar City, although we sure could have! The food is almost as much the star of the show as all the artists and rides. Honestly, the artists, shows, and food are my favorite things about Silver Dollar City. 
There is so much creativity in the park cuisine. You'll find a lot of variety at Silver Dollar City that you just won't find elsewhere. There are literally food stops on nearly every corner throughout the park. Whether you're looking for sweet treats or a savory, rib-sticking meal, Silver Dollar City will have something that will please your palate. Take your choice of relaxing in one of the indoor restaurants on site like Molly's Mill Restaurant, where you can dine at the breakfast buffet or the chicken buffet. 
If you'd rather have a quick meal, grab a bite from one of the more casual, walk-up windows. Either way, I'm guessing you will find many, many tasty foods to indulge in while at the park. 
In the mood for a savory dish that screams fall? Look no further than the scrumptious succotash you can have at Buckshot Annie's Skillet Cookery within Silver Dollar City. First created by the Indigenous people in New England way back in the 1700s, it's still a popular dish today. Known as a flavorful, healthy, and budget-friendly food, it's made from natural, wholesome ingredients — most notably corn and beans. It's one of the most savory fall dishes in the park. The version at Buckshot Annie's is made with veggies like yellow squash, okra, peppers, onion, and sauteed corn; it's definitely a winner!
5. Apple Butter
Yummy yams are even tastier with the addition of the rich and creamy apple butter that you can buy at Silver Dollar City. There's nothing that says fall quite like the sweet taste of freshly picked apples. And the apple butter recipe you can find at Silver Dollar City exquisitely pairs the two into a combination that will melt in your mouth! This apple butter tastes great on everything. Try it with your morning toast and coffee, or as your midnight snack. I picked up a couple of jars and I wish I would've bought more.
6. Pork Belly Shrimp And Grits
Dobyns Dining Room at the Keeter Center is a unique student-run restaurant on the grounds of The College Of The Ozarks. Here at this award-winning restaurant, you can sample top-notch student chef-created cuisine in an upscale atmosphere. Open for lunch, dinner, or Sunday brunch, the exquisite offerings at the Keeter Center are fresh and creative. For fall-inspired goodness, try the pork belly shrimp and grits which include a pomegranate glazed pork belly, cajun shrimp, and pepper jack grits served alongside sauteed green beans and pickled peppers. This is gourmet food fit for a king, all prepared by talented culinary students just waiting to impress you.
7. Apple Pie Moonshine
If you're into trying different flavors of cocktails, Branson is home to a unique distillery that's worth a try. Give the Smith Creek Distillery at Branson Landing a try for a tasty fall-flavored libation. You'll find flavors like apple pie moonshine as well as the decadent salted caramel moonshine. I know it sounds like I'm describing ice cream flavors, but trust me, this is smooth moonshine.
Smith Creek is a moonshine-tasting destination where you can sample all kinds of moonshine, have dinner at the restaurant, and stop into the retail store onsite to grab some moonshine to go. The apple pie and salted caramel moonshine sound like the perfect nightcap to a crisp fall evening.
8. Hardwood Smoked Apple Bacon
Billy Gail's Restaurant knows a thing or two about cooking up very large portions of scrumptious breakfast and lunch food, and it's even open for dinner on Friday and Saturday nights. This quaint and country-fied restaurant is very popular pretty much any time of day. There are so many mouth-watering options on the menu that it's quite a difficult decision on what to order.
You'll have your choice of breakfast or lunch, like the super well-known over-the-top 14-inch delicious pancakes as well as many other house specialties. Diners next to us were working on one of the huge pancakes, and by the time we left, they had barely made a dent in the gigantic saucer.
Another house favorite is the juicy garbage burger. This gargantuan burger features a full-pound burger with cheddar and Swiss cheese, an over-easy egg, bacon, jalapeños, and grilled sautéed onions and mushrooms. You'll probably have trouble fitting this gigantic burger in your mouth! For a taste of fall, why not try a side of the signature hardwood smoked apple bacon? It's baked with brown sugar and maple syrup for a touch of sweetness, plus black and cayenne pepper that delivers a hit of heat.
9. Chili
A roaring fire and a big pot of chili are mainstays of autumn. Chili is a favorite food anytime, but in the fall, it takes on even greater importance. All those bonfires and football games just wouldn't be the same without that piping hot bowl of chili. If you're in Branson, one place you'll definitely want to sample the chili is at the Sugar Leaf Bakery Cafe. The Sugar Leaf Bakery Cafe serves up breakfast, sandwiches, and soups as well as a wide selection of yummy desserts.
10. Apple Fireball
Get outside and enjoy the fall weather while in Branson. A great place to relax is the St. James Winery, Missouri's largest winery. With its popular Velvet Red and Velvet White selections, St. James Winery has become well-known in the wine world and produces more than 500,000 gallons of wine per year. And lucky for you, you can purchase its wine in 16 states.
In addition to trying its wine selections, you may want to try one of St. James's drinks featuring fall favorite flavors. The Apple Fireball includes a creative combination of apple pie wine, Fireball, ginger ale, and honey. They also have a large selection of pizza on the menu including barbecue chicken and bacon, the Philly Cheesesteak, and more.
Branson is a storied entertainment venue popular with tourists: