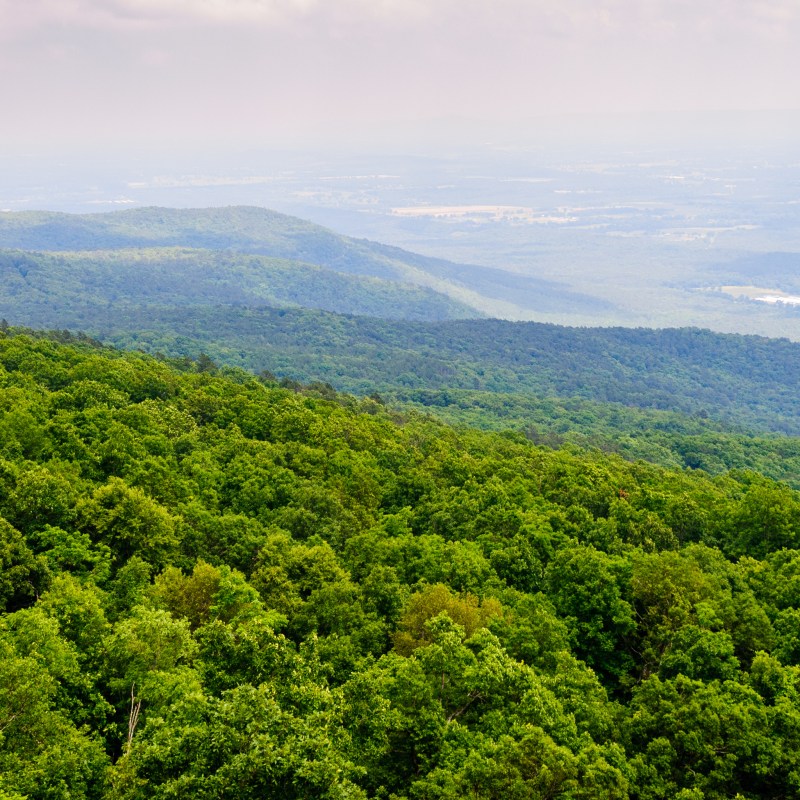 Take a meandering route through Missouri and into northern Arkansas to enjoy scenery that changes with the seasons. The Ozark Mountains span four states and consist of a plateau that covers 50,000 square miles. There's plenty of hiking, rivers, lakes, and caves interspaced amongst the wilderness areas, making for a great road trip adventure with both scenery and historical destinations.
Years ago, I traveled this route as part of an assignment that involved researching why people live in particular areas. Life in these parts is slow-paced, almost reflective. What I found during the road trip was that a good many people choose to live in this area for the lifestyle; they value the slower pace and the access to nature and its outdoor activities. It's a pleasant drive through a peaceful and scenic area when you follow the rolling hills from Osage Beach, Missouri, to Eureka Springs, Arkansas.
Osage Beach
Start your road trip in Osage Beach, located along the shores of the Lake of the Ozarks. Lake of the Ozarks, made notorious by the Netflix series Ozark, boasts more than 1,150 miles of scenic shoreline. Known for its miles of gorgeous coastline and a multitude of water activities, Osage Beach is an ideal starting point to explore the lake and nearby towns.
Spend a few days on the water with a rented pontoon boat or jet ski from The Getaway, take a camera and visit the swinging bridge, or tour the oldest legal distillery in the county, Ozark Distillery. Just two miles from Osage Beach is Lake of the Ozarks State Park, located on an undeveloped cove, hidden along the shorelines of the lake. There are boat rentals at the park so you can spend time fishing, take a historic site tour, or try one of the park's two swimming beaches. For indoor water fun, visit the Jolly Mon Indoor Water Park with its 600 feet of water slides. Then check out Lee Mace's Ozark Opry museum and learn about this once-sold-out country show, or watch a live performance at the Main Street Music Hall.
For dinner, try Michael's Steak Chalet, located on a cliff overlooking the lake at the 28-mile marker. The restaurant is known for its prime rib, but you'll also find generous cuts of filets and strip steak aged 28 days and hand trimmed. Plus, you can pair a steak with a cold-water lobster tail, grilled salmon, or blackened tuna.
Stay at one of the many resorts in the area. Or, if you want the amenities of a resort but prefer a home environment instead of a hotel room, Tan-Tar-A-Estates is just minutes from the Margaritaville Lake Resort. Utilize the amenities of the resort such as the Fin's Up indoor pool and fitness center, but stay in a standalone home with views of the Lake of the Ozarks or Hidden Lakes Golf course. Each house contains two-to-three hotel rooms with private entrances. Rent the entire house or one or two units, depending on your needs. If you prefer not to drive, a shuttle service will take you from your unit to the Margaritaville activities.
Stop In Camdenton
Just 15 minutes from Osage Beach you'll arrive in Camdenton, known as The Hub City of the Ozarks.
Spend the day discovering nature and history at Ha Ha Tonka State Park. There, you can see the ruins of Ha Ha Tonka, a stone mansion that was modeled after European castles of the 16th century, and wander a geologic wonderland that features sinkholes, caves, a huge natural bridge, sheer bluffs, and Missouri's 12th largest spring. There are a series of trails and boardwalks that make it easy to discover the historic castle, wooded areas, and open rocky glades.
You can also tour Bridal Cave before heading to Lebanon. Bridal Cave and Thunder Mountain Park is a family favorite with guided tours that take you through the cave to discover incredible mineral deposits, giant columns, and delicate soda straws. The struggle between water and rock created the cavern, which contains more onyx formations than any other known cave or cavern.
Before leaving for Lebanon, stop for dinner at The Trophy Room at Old Kinderhook (or, if you're not ready to move on, stay a night at their resort). The wild mushroom flatbread is a delicious starter of herbed cream cheese, wild mushrooms, mozzarella cheese, chopped greens, and truffle oil. For dinner, try the osso buco, a braised veal shank served with jalapeno cheddar grits, asparagus, and veal demi-glace.
Lebanon
Twenty-five miles south of Camdenton, you'll arrive in Lebanon. The historic downtown has unique shops, antique stores, and an outlet mall. Antique enthusiasts will enjoy the Heartland Antique Mall, the largest of its kind between Joplin and St. Louis, home to 250 dealers.
An important stop along Historic Route 66, Boswell Park recognizes the location with murals featuring historic images of the route. There's also an annual Route 66 Festival in June with a parade, live entertainment, family games, and more. The Route 66 Museum and Research Center is located in the Lebanon-Laclede County Library.
For me, nearby Bennett Spring State Park holds many memories of annual float trips along the Niangua River, plus time spent at the park watching the fly fishermen stand in the waters to fish. There are plenty of hiking options, too, with 12 miles of hiking trails. Stop by the interpretive center, spend the night in one of the cabins, eat at the rustic dining lodge, and take a hatchery tour while there.
Springfield
This Ozark city is known as the Pulse of the Ozarks. The city has a small-town feel and its activities are rooted in history and place. To learn more about Springfield, be sure to visit its points of interest along Historical Route 66. For more historical references, visit the site of the "Wild Bill" Hickok shootout, take the Battle of Springfield Tour, see the History Museum on the Square, or visit Wilson's Creek National Battlefield.
Local restaurants are a great way to experience the culture of a city, and Springfield has a variety of options. Sample authentic Italian cuisine at Archie's Italian Eatery, get smoky barbecue at Buckingham's BBQ, or enjoy wine pairings at Cellar + Plate, a communal wine house.
Stay for a night or more at the rustic Bass Pro Shops Angler's Lodge. Across the street you can visit the Bass Pro Shop, a Springfield draw in its own right. Also across the street is the Wonders of Wildlife National Museum and Aquarium.
Branson
A little less than an hour drive takes you to Branson. There's plenty to do, but you definitely won't want to miss the live entertainment; 76 Country Boulevard is lined with theatres putting on country music as well as diverse entertainment choices. You can also consider these 10 things to do in Branson besides seeing shows. Shop and eat at Branson Landing, brave a zipline adventure, or spend time on the water at Table Rock Lake.
Spend A Day At Silver Dollar City
Step back in time at this one-of-a-kind 1800s theme park. Attend a show and watch a gunfight, dress up in period clothing for an old-time photoshoot, explore a log cabin to learn about pioneer life, ride the rides, and, of course, enjoy live music. If you need more than a day to explore Silver Dollar City, camp or rent a cabin and a shuttle will transport you back and forth.
Eureka Springs
This road trip ends in Eureka Springs, Arkansas, a city settled in the late 1800s after stories got out that it had healing springs. The city later became renowned as an artist's colony, attracting writers, musicians, and visual artists. The scenery is spectacular. Lush trees and hills make it a top fall foliage destination. Between the Victorian architecture, a vibrant arts community, the springs, and outdoor activities, Eureka Springs is a favorite destination.
This funky town has a vibrant food scene as well. Have an affordable and immersive fine-dining experience at Le Stick Nouveau. Enjoy the lobster mac and cheese pot pie. Or try the artichoke appetizer and a bowl of pasta at Ermilio's Italian Home Cooking, winner, for four years in a row, of the Arkansas Times' Reader's Choice award for Best Restaurant in Eureka Springs and Best Italian Restaurant in Arkansas.
Lodging options are as varied as this delightful city. Stay in the majestic 1886 Crescent Hotel and Spa, a Historic Hotel of America, or rent a unique cottage through Eureka Zen.
Pro Tips
To extend your scenic drive, take the HWY 187 Loop, a 20-mile loop that crosses three bodies of water, or, for more healing waters, head south and enjoy the best things to do in Hot Springs, Arkansas.