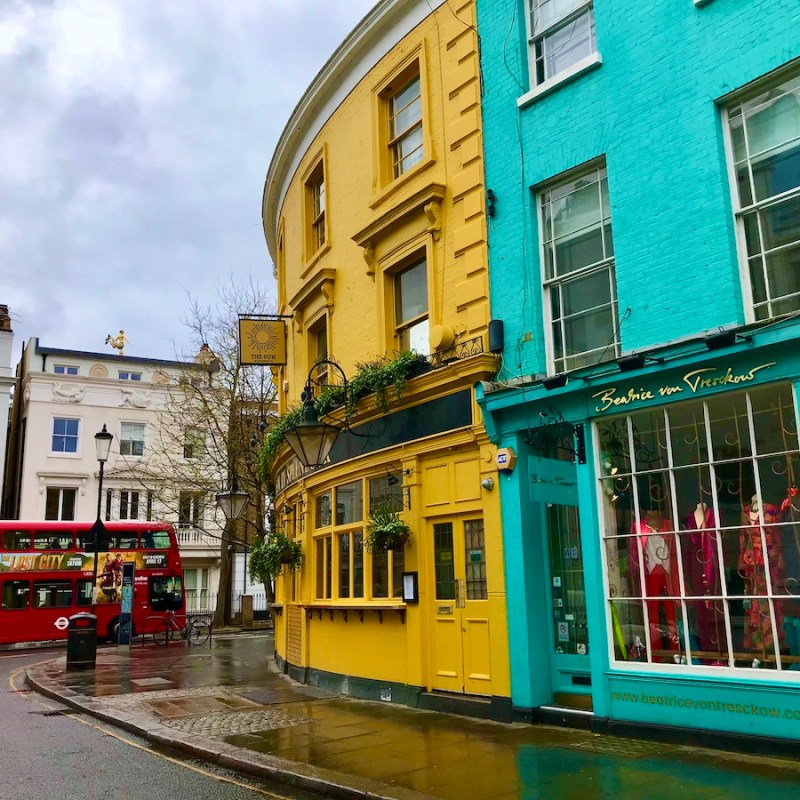 A wonderful perk of my job as a pilot is being able to visit some pretty amazing places. I really love getting familiar with a large city and exploring like a local rather than a tourist. I am spending more and more time in London this year and have become quite smitten with the Notting Hill area. You will too!
This area is one of London's most enviable, priciest neighborhoods. It boasts colorfully painted houses, quaint and eclectic cafes, endless shopping, and the largest antique mall in the world! Notting Hill is the place to visit, and here's how to spend a perfect 24 hours.
Getting To Notting Hill
This quaint and charming area is located in the West London area, specifically in the Royal Borough of Kensington and Chelsea.
Traveling around London is fast, easy, and economical. As such, it's easy to get to Notting Hill from anywhere in London. The area is accessed by a number of Tube stations including Westbourne Park and Ladbroke Grove in the north, and Notting Hill Gate in the south. Travel by train, bus, Uber, or ride a Santander Cycle.
The easiest station to begin your tour of Notting Hill is at the Notting Hill Gate stop. Exit the stop, head east, and take a short walk toward Pembridge Road. Signs lead the way! Once you begin down this road, your journey begins. Notting hill is easily navigable by foot once you're there.
Pro Tip: An Oyster card is a pay-as-you-go travel card on the bus and the Tube. All travel is now contactless — either wave your credit card or your Oyster card.
Feast For Your Eyes
As you begin your journey, let your eyes feast on the many colorful thrift shops on Pembridge Road while your appetite grows with each step. Some forethought is required to plan where and what you will eat. There are many options! Choose from street vendors, sit-down cafes, and upscale restaurants. My favorite way to eat is at a cooking class demonstration, like the ones at Books for Cooks, with food served!
I like to stop and have small portions at many places; to enjoy the food and take a rest. My favorite cafe to grab a light bite is Farm Girl Cafe. A popular, healthy, and affordable way to eat delicious food and have a spot o' tea (or coffee in my case). No worries if you don't plan on where to eat — there is a cafe on every corner.
Pro Tips: Be sure to try Farm Girl Cafe's famous London rose latte, created for a multitude of health benefits. Also, Farm Girl Cafe is a very popular spot for foodies and their Instagram shots!
Shop Portobello Road Market
If you were to close your eyes and think of the T.V. show Antiques Road Show but outdoors, this is that come to life! Open your eyes and marvel at the antiques that lay before you. Welcome to the world-famous Portobello Market. At your feet, front and center! Deemed the world's largest antique market, this charming, half-mile road has it all!
Fridays and Saturdays are the best days to visit. Be forewarned, it's extremely popular and crowded. There are over 1,500 stalls to browse and find amazing vintage goodies, fine leatherworks, cashmere and wool goods, and items you didn't know you needed! Colorful houses sit atop the shops and nearby stalls.
There is a slight grade from the Notting Hill Gate stop down Portobello Street. At the end of the street market is another station called Ladbroke Grove Key.
Pro Tips: If you have heavy bags, consider exiting at Ladbroke station, otherwise it's a slight uphill grade back up to Notting Hill Gate. While you're there, check out the vintage swap meet style stands at this end of the market.
Happy Hour, Anyone?
Enter one of the most iconic places to grab a drink in this corner of the world. Hit the Ginstitute, a big, blue, 19th-century building with more information about gin than one could drink in an afternoon! Visit London's premier institute and experience an opportunity to blend your own gin! Create gin with English-grown wheat and scrumptious botanicals from around the world during the 3-hour class. It's a smashing good time and leaves you with a gift to take!
If gin isn't quite your fancy but pubs are, another great watering hole is The Churchill Arms just on the other side of the Notting Hill Gate Stop. Built in 1750 and once frequented by former prime minister Winston Churchill's grandparents, the pub received its current name after World War II. A place to stop, sip up some history, and take a load off your feet.
Get Off The Beaten Path
Take a left or right off of Portobello Road and see more of this neighborhood's high-end shops, upscale cafes, and restaurants. Each corner has a charming and quaint cafe. One of my favorites, as I've mentioned, is Books for Cooks. A recipe is chosen from one of their many cookbooks and prepared for an audience. At the end of the demonstration, the class shares in the feast!
Notting Hill Bookshop
Directly across the street from Books for Cooks is the famous Notting Hill Bookshop! It came to fame as one of the filming locations for the 1999 film Notting Hill, starring Julia Roberts and Hugh Grant. This is the shop where Grant's character worked. It is fun to take a picture in front of the store with the blue door! It's not easy to miss — you will see loads of other people doing the same thing!
The truth is, the shop's interior wasn't used in filming — it was a set — but it's fun to pretend.
Mews, Not Meows
The most charming of the darling streets in Notting Hill are the mews. Not to be confused with a cat's meow, a mews is a horse carriage path of yesterday. Today, it's used to grant access to a charming house. Yankees call it an alley.
Notting Hill area has charming mews with colors, stone facades, foliage, and privacy. Quiet and picturesque, enchanting, and downright photogenic! After strolling through a few random streets, you will begin to realize why this area is used for so many famous backdrops in the movies. Filled with character and charm! Consider it a feast for your eyes while you soak up the colorful townhouses. Walk around and take in all the colors! See a rainbow of colorful houses just off Lancaster Road and soft pastels on Chepstow Villas. You can't help but be in a good mood slurping up the bright hues!
Pro Tip: Visit these colorful streets featured in over 1.5 million Instagram images. Plan on about 1.5 hours to walk and take pics.
Lancaster Road
St. Luke's Mews (Rom-com fans will recognize the area from the 2003 film Love Actually.)
Colville Terrace
Ledbury Road
Elgin Crescent
Uxbridge Street
Hillgate Place
Farm Place
Calcott Street
Best Place To Eat
There are so many brilliant places to grab a meal in Notting Hill, and you will need a break after touring this charming area. Head over to The Cow for a real pub feast, true English style with loads of character. A perfect destination for Guinness and oysters. Indulge yourself with their fish stew, bangers and mash, or a pint of prawns. Enjoy one of England's best-known pubs on the lower floor, or head upstairs for a fancier eatery.
Best Movie Theater In London
Finish your day and relax in one of the oldest working movie cinemas in London: Electric Cinema. Built in 1920, the theater has seen and gone through many changes but is still standing in all its historical glory. Even two world wars couldn't bring her down. Love and care, longevity, and passion have kept this landmark afloat. Book tickets online or walk up and catch a movie and rest your tired feet from all your walking.
Carnival In August?
Listen, see, and taste the colorful world of Mas, Soca, and Calypso in real life as Carnival rumbas into Notting Hill during the last weekend of August! The festival celebrates the community that migrated here from the Caribbean starting in 1948, steeped in a complex history. Also known as the Trinidad Carnival, the Notting Hill Carnival was first held here in 1966. Plan on 1 million visitors and 50,000 performers attending the parade. Loads of people, amazing Caribbean food, performing musicians, and more costumes than you can count.
Pro Tip: If you're traveling during this festival, book your room early!
Cheerio
Hopefully, you too will say cheerio after you leave this darling area of West London. A bit of old English slang to say goodbye! So many places to see, and so many options for food and drink. Whatever you choose to do, enjoy the day in this iconic, charming, and quaint British neighborhood. Small enough to wander that you too might feel like a local!