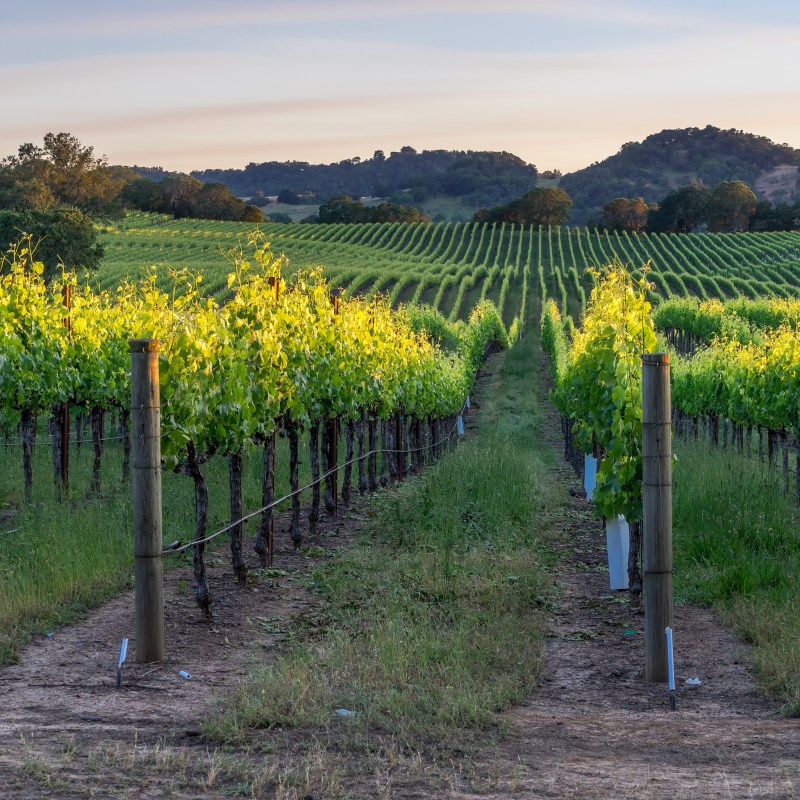 About 65 miles north of San Francisco on the northern edge of Sonoma County lies the hamlet of Healdsburg. Take the 101 North over the Golden Gate Bridge, and you are on a straight shot for a relaxing yet educational weekend in the best part of wine country.
Healdsburg sits on the Russian River and is the meeting point of three famous wine valleys: Alexander Valley known for cabernet sauvignon, Russian River Valley famed for pinot noir and chardonnay, and Dry Creek Valley with its zinfandel and sauvignon blanc. Tasting opportunities are endless if Healdsburg is your home.
As I write this, California remains under fairly strict controls for public experiences like wine tasting and restaurant dining. Everything is taking place outdoors, so it is fortunate that Healdsburg has gorgeous, temperate weather almost year-round, with huge 30-40 degree temperature swings daily. It may be 57 at night and climb to 97 in the afternoon. This cooling and heating process is one reason that grapes from these valleys are cherished for their slow-ripening qualities.
That is not to say that all is hunky-dory in this little tourist's paradise. The recent explosion of wildfires throughout California and the West have played havoc with tourism, weather, and the reliability of wine production. In 2017, a fast-moving fire ripped through Santa Rosa, the seat of Sonoma County, and destroyed almost 8,000 structures. Although most grapes had been harvested, the scars from this tragedy remain.
In 2019, smaller fires forced evacuations throughout the county, and, just recently, in August 2020, the Wallbridge fire had many evacuating and the worry about harvest remains since so much fruit was on the vine while smoke settled in some growing areas.
Do not stay away from Healdsburg and the area because of these incidents. This kind of fear means tourists may miss the greatest time of year — harvest — as well as the warm and wonderful people who will make your long weekend memorable.
Things To Do In Healdsburg
Visit The Farmers Market
The Healdsburg Farmers' Market on Saturday mornings from 8:30 to 12 or Tuesday mornings from 9 to 12:30 is the perfect way to start the day. Yes, locals frequent the market regularly, the produce is local, and the variety of prepared foods and local crafts means there is something for everyone, like the wine bottle motif masks I buy frequently from a local seamstress or the lamb from Shannon Ridge Winery, where sheep are used for sustainable agriculture. Line up early for Dry Creek Peaches or the fresh flowers that sell out quickly.
Grab Breakfast
If breakfast is not at your hotel, try a place where the locals frequent and the food is hardy. Singletree Cafe and Flaky Cream donuts are long time favorites and New Orleans-themed The Parish Cafe is a more recent addition.
Wine Tasting
Once fed and fully awake, it is time to head out for some tastings. Although there are many solid wines to be tasted around the Plaza, maybe use your first day to head out and try some special experiences. Almost all of these must be booked in advance and cost a bit more than you may be used to paying for tastings.
Even though I am a local, I make it a point to taste wines a few days a month. I write about wine and travel, so must keep up with my game. And, I have visitors and Airbnb guests who need to be entertained, so I pride myself on giving helpful suggestions. Some of my favorite experiences are the Legacy Tasting at J Vineyards and Winery that pairs local cheese with an array of sparkling or still wines — you choose. Flowers Winery is renowned for the pinot noirs and chardonnays the winery produces from high-elevation Sonoma Coast vineyards, and they have built an extraordinary facility to showcase the wines. The experience is energetically hosted by knowledgeable guides, and you'll enjoy scrumptious food pairings.
At Chalk Hill Winery, book their immersive four-course tasting menu served in a former horse arena then tour the rolling vineyards. Notre Vue also has expansive views from either their lakeside tasting area or the terrace jutting out high above the entire property, called Block 23. Ridge Vineyards has some of the oldest vineyards in California and a reputation for extraordinary wines and sustainability throughout their operations. A truly unique personal experience can be booked with vintner Rickey Trombetta to try her Trombetta Wines around a historic dining table or at the pizza oven, where she is always cooking something from their massive gardens.
In Alexander Valley, Jordan Vineyards and Winery hosts Paris on the Terrace, a five-course French-inspired meal paired with their champagne and wines. Throw in some French music and food cultivated in their gardens, and there is no need to find your passport.
Pro Tips: Tasting maps can be found at the Healdsburg Chamber of Commerce, conveniently located at the entrance of Healdsburg. Plan on calling wineries ahead for appointments and experiences.
Hiking
Throughout Sonoma County, there are numerous trails and adventures to be had among nature. Head to Guerneville, another adorable town, and hike the Armstrong Redwoods State Natural Reserve with its massive trees and hikes that vary from stumbling through the forest to a true workout.
In Healdsburg itself, several trails make for a good workout before heading out to taste wine. At the top of Fitch Mountain behind the Villa Chanticleer, there is a hardy hike up to the top of the "mountain," which is really just a big hill. Healdsburg Reserve Trails start in Parkland Farms and have varying degrees of challenges, including one to an overlook of the Russian River.
Kayaking, Tubing, And Stand Up Paddleboarding
Speaking of the Russian River, this winding river to the Pacific can make for a lot of fun and is very refreshing on a hot, summer day. Either bring a tube and put in at one of the many spots to park and float or rent equipment from long-time adventure center River's Edge, just over the Memorial Bridge and next to Wicked Slush, probably the most popular ice cream and slush destination in the county.
The Sonoma Coast
Many visitors to Healdsburg and the region are unaware that the rugged and beautiful Sonoma Coast is a quick 45-minute drive through gorgeous vineyards and pastures. This is called West County, and I highly suggest a round-trip that takes you through Sebastopol and out toward Bodega Bay with a stop in tiny Freestone for the legendary Wild Flour Bread.
Once in Bodega, head north and wind for 17 miles of breathtaking beauty toward Jenner. There are plenty of beaches and stops where dogs are welcome to run. It is really a world away and a good spiritual reset to see nature at her wildest. Once in Jenner, stop at Goat Rock or have lunch seaside at Cafe Aquatica or River's End.
Drive back through Guerneville (passing Armstrong Woods) and look for the signs to Healdsburg, which return you to the town via Westside Road, home of famed pinot noir producers Gary Farrell, Moshin, Bucher, Rochioli, Flowers, MacRostie, and Bacigalupi to name a few.
Where To Shop In Healdsburg
Retail therapy is a breeze around the Healdsburg Plaza, with shops ranging from Cupcake Children's Clothing to Outlander for men and plenty to find for women, too, from Gathered (great sale rack in front) to Oska Outlet, and Re Te boutique.
Art galleries abound around the Plaza, so check out Bradford Brenner, Stafford Gallery, Arena, and the Healdsburg Center for the Arts, where locals sell their own works … and there are many talented and known artists in the area.
Best Restaurants In Healdsburg
I honestly never get tired of dining in Healdsburg and, even living here, am continually discovering new experiences. I am also an expert at happy hour and will note some of the best.
I mentioned breakfast restaurants earlier, and lunch is one of my favorite times in town. People are out, vintners are visiting with each other talking about harvest or fermentation, and the lively country life is catching. Stop by Oakville Grocery and order a pizza or sandwich with a glass of wine. Down the street, locally owned The Wurst has the best smashburger I have ever eaten. Outside casual dining, where even dogs are welcome, is the game at Healdsburg Bar and Grill. Mexican can be found at El Farolito or El Sombrero around the Plaza or at Agave in the Safeway Plaza a block away.
As I mentioned, happy hour is one of my favorite times of day, and locals love the deals and camaraderie found at places like The Rooftop at Harmon Guest House for the view and cocktails, Hotel Healdsburg, Bravas Bar de Tapas, and Chalkboard.
Dinner can be a memorable, once-in-a-lifetime experience with the 10-course tasting menu at three-starred SingleThread Farms and Restaurant or an equally memorable chef's menu at Valette, helmed by locally grown chef Dustin Valette. Sitting at the bar here and ordering a glass of wine and the scallop appetizer is one of my favorite things if I have forgotten to make a reservation or just need a quick pick-me-up.
The earlier-mentioned happy hour destinations all have fantastic dinner menus. Add Mateo's Cocina Latina, Guiso Latin Fusion, Dry Creek Kitchen, Barndiva, Willi's Seafood Bar, Campo Fina Italian, and KINSmoke barbecue to the list. Whatever you crave, there is something for everyone, including ramen at The Taste of Tea and sushi at Sake'O and Otoro Sushi.
Best Hotels In Healdsburg
Healdsburg is built around a town plaza, and everything you could want from a getaway is found right within walking distance. There are boutique hotels and inns as well as restaurants and tasting rooms lining the Healdsburg Plaza and many notable accommodations and businesses in the streets surrounding the town center.
Holding center court on the west side of the Plaza is Hotel Healdsburg, a true luxury hotel that uniquely has facilities that the locals use as much as visitors. A first-rate spa, pool, fitness room, and star chef Charlie Palmer's Dry Creek Kitchen make up the property, which also has a lively spirit bar in the hotel lobby. Every night is happy hour here, and live music on the weekends is supported heavily by local residents. This is a popular gathering place. When I travel, I like to know where the locals go, and here, the restaurant and bar at Hotel Healdsburg are on the list.
Two sister hotels are down the street: Harmon Guest House with the first rooftop bar and restaurant in town and h2hotel, a smaller more affordable version of big sister Hotel Healdsburg. All of these properties share facilities and the staff is excellent, with concierge Tegan deserving a shout-out!
Also on the Plaza is the Four Sisters Inn Healdsburg Inn on the Plaza and Hotel Les Mars, a five-star small and romantic enclave that also houses the restaurant Chalkboard. Bed and breakfast properties like the Grape Leaf Inn, Calderwood Inn, Camellia Inn, and River Belle Inn are all within walking distance of the Plaza and offer privacy and quiet, creative breakfasts. One key thing to remember in Healdsburg is that all parking is free. I know the painful experience of the $60 daily parking tab in San Francisco or New York. Healdsburg, while sometimes crowded on the weekends, continues its free parking tradition.
A couple of other properties to note near the Plaza are the Two Thirty-Five Luxury Suites, which are spacious and can accommodate families. The low-slung Duchamp Hotel is a series of modern cottages close by but off the beaten path. Airbnbs and VRBO rentals abound (I even have one) and range from walk-to-town convenience to cottages surrounded by vineyards with memorable views.
A long weekend is not quite long enough in Healdsburg, but it will be an introduction to this sophisticated bastion of country living and, of course, you can always return. There is no end to the winery experiences and quiet beauty of Healdsburg.