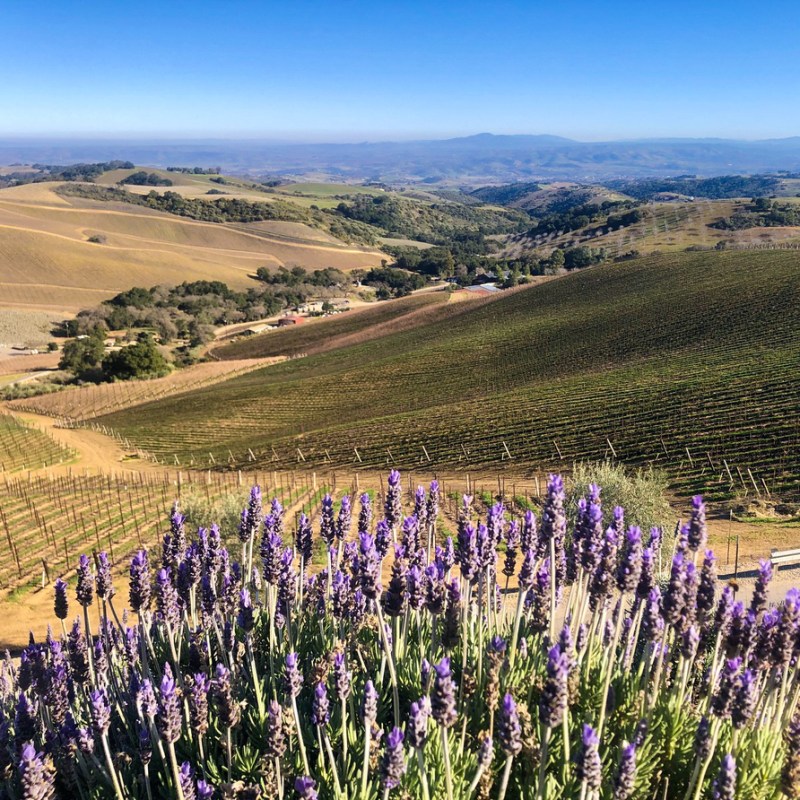 Drive the winding country roads of Paso Robles, California, and it can be difficult to decide where to look first: At the rounded amber hills? The gnarled old oak trees perched on the hilltops? Or at the vineyards that form an endless green-yellow-brown patchwork along the steep slopes?
The picturesque scenery highlights two of the Central Coast community's claims to fame. Part classic ranch town, part world-class wine country, Paso Robles offers a wonderful mix of old and new California.
But that is just one dimension of the midsize city that sits near the Pacific Coast midway between Los Angeles and San Francisco.
After passing through Paso Robles several times on my way to the more well-known coastal towns that lie just to the west and north (San Simeon, Monterey, and Pacific Grove), I was intrigued enough to return on a winter weekend road trip.
What I discovered is a welcoming community that boasts more than 200 scenic wineries, a handful of olive groves producing subtly spicy olive oils, and a quaint historic downtown — all enhanced by sunny 75-degree weather in early February.
You could easily spend a week exploring the wineries, breweries, and historic features of Paso Robles, but you can get a good taste of the town on a day trip.
Here's how to spend a day in Paso Robles.
Wander Wine Country
Even if you're not a wine aficionado, a drive through the Paso Robles wine country is warranted for the flat-out gorgeous scenery.
From the winding, tree-lined Peachy Canyon Road west of town to the huge sweeping views of Adelaida Road to the northwest, a drive from winery to winery is a splendid way to spend a morning or afternoon.
If you have time for just a few wineries, I suggest making quick trips to several of Paso Robles's regions. The regions are all within about a half-hour's drive from town and can all be visited in 3 or 4 hours.
There are many lovely wineries along Adelaida Road, but I heard again and again from Paso Robles residents that DAOU Vineyards and Winery offers the biggest wow factor of them all.
Perched high on a mountaintop, DAOU's Mediterranean-style tasting room and outdoor patio offer magnificent views of the winery's vineyards and the far-off valleys. Known for its full-bodied cabernet sauvignon, DAOU is among the priciest of the area's tasting rooms, as well as one of the most difficult to get into on a busy weekend day. Reservations are recommended.
Another region to consider is the Peachy Canyon Road area, where the family-owned Calcareous sits on a knoll overlooking the green valleys and vineyards spread below. Along with the views, it offers friendly service, an elegant tasting room, and a spacious patio area.
If a big heart, whimsical art, and a rustic vineyard setting sound like a winning combination to you, Sculpterra Winery & Sculpture Garden should definitely be on your Paso Robles winery list. Sculpterra, located in the hills of the scenic Linne Valley a few miles east of Paso Robles, helps to fund an organization that sends medical missionary teams on short-term trips all over the world to care for the needy.
The winery also nurtures artists, and its large grassy outdoor area features eye-catching creations such as an elephant carved of granite and a bronze mermaid rising from a fountain. An outdoor wine bar, live music, and food trucks add to Sculpterra's casual and fun atmosphere.
Pro Tip: For those who would rather not drive on their winery tour, there are numerous shuttle services that will handle the transportation, including Uncorked Wine Tours, 101 Wine Tours, and Grapeline Wine Tours.
Sample Olive Oil Fresh From The Grove
Growing alongside the vineyards are rows of olive trees that thrive in the temperate Central Coast weather and rich, fertile soil.
At Pasolivo, the olive trees are situated on 140 acres of rolling hills, and the ranch offers tastings that include everything from traditional extra-virgin olive oil to varieties flavored with red jalapeno and cilantro and lime.
Like Pasolivo, several of the other olive-grove ranches are positioned conveniently among the wineries, offering a handy place to stop between wine tastings.
Pro Tip: Plan your trip for November, when the olive harvest gets underway and guests can watch as the crop is gathered and processed in an on-site olive mill.
Explore Downtown
Venture into Paso Robles's city center, and you will find a hip restaurant and brewery scene thriving amidst the charmingly preserved historic neighborhoods.
Right in the middle of it all is the delightful tree-lined City Park, which is anchored by a well-preserved old Carnegie library. The historic library has been repurposed as the Paso Robles Historical Society headquarters, and it makes an interesting stop for its local historic collections and archives. Ringing the City Park square are restaurants, shops, bars, and coffee shops.
Pro Tip: Head first to the downtown Paso Robles Chamber of Commerce, where friendly associates can help you map out your wine tour and offer numerous two-for-one wine-tasting coupons.
Try A Brew, A Cider, Or A Cocktail
Wine might be the biggest game in town, but it's far from the only one. Beer lovers will find many unique spots to have a brew, including the massive Firestone Walker Brewing Company, where the popular 805 Pale Ale is produced. The brewery complex features a visitor center and tasting room, as well as brewery tours.
Along with craft breweries, Paso Robles also boasts a number of local cideries and distilleries. For a sampling of all three, head to the industrial-chic Tin City, where more than two dozen breweries and tasting rooms are clustered together in a walkable area. For a cool outdoor space, check out BarrelHouse Brewing Company, and for locally produced ciders, try Tin City Cider Co.
If unique ice cream is more your style, there's Negranti Creamery, which specializes in ice cream made from sheep's milk. The creamery distributes its ice cream products throughout the region, but unique to the Tin City site is the tasty apricot cinnamon crisp flavor.
Stroll Through The Field Of Light At Sensorio
Regardless of how you spend your day, your evening should be devoted to the glorious Field of Light at Sensorio.
Located on the outskirts of town, Field of Light is a walk-through sculptural composition that covers Sensorio's rolling hills with more than 58,000 stemmed spheres lit by fiber-optics.
As the sun sets over the wispy trees on the surrounding hilltops, the lights gradually begin illuminating the landscape in subtle shades of blues, oranges, and purples. The solar-powered blooms become more vivid as the darkness deepens, ultimately creating a brilliant sea of colors.
It's an otherworldly experience, and well worth the moderately priced ticket. The Field of Light exhibit has been so popular in Paso Robles that it was recently extended through June 2020.
Pro Tip: Time your visit so that it coincides with the sunset. In the winter, the 5:30 time slot will allow you to watch the sun go down as the lights come alive.
Where To Eat
Paso Robles offers dozens of dining options, including popular downtown spots, the breweries at Tin City and Firestone Walker, and winery restaurants.
For a quick breakfast, check out the Red Scooter Deli, located just across the street from City Park. Breakfast offerings include hearty breakfast sandwiches, scrambles, and smoothies, as well as a tasty bagel and lox. Or, for a fancy brunch, head to hometown favorite Thomas Hill Organics, where brunch offerings include roasted chestnut soup, baby beet salad, and avocado and bacon toast, as well as local wines.
For lunch, Odyssey World Cafe offers a fresh-casual take on homemade breads, soups, sandwiches, and street-taco plates. And at dinnertime, Basil Thai, located across the street from City Park, serves up traditional Thai food in a warm and cozy atmosphere.
Pro Tip: Even though I visited in the middle of the winter off-season, the downtown was bustling on Saturday night, with most of the parking spaces occupied and waiting lines in front of popular restaurants. Reservations are recommended.
Where To Shop
From rich butter cookies to ample antiques and knickknacks, downtown Paso Robles's shopping scene is quirky and fun.
If you're looking for a sweet treat, be sure to stop by the Brown Butter Cookie Company to sample delicious varieties such as brown butter sea salt and mint cocoa. Another sweet option is the playful SLO Sweets, a downtown shop featuring a riot of colorful lollipops, old-school candies, and rich gelato.
Downtown Paso Robles is also home to a number of antique shops, including Reminisce Antiques, a source of fascinating collectibles, gifts, and antiques. For unique gifts, the General Store offers beautifully curated local jams, hot sauces, nuts, and local cheeses.
Where To Stay
For a city of about 32,000 people, Paso Robles has a surprisingly long list of accommodations — everything from downtown boutique hotels to chain offerings to exclusive winery accommodations.
Just steps from the town square, the 16-room Hotel Cheval offers a luxury boutique experience complete with outdoor wood-burning fireplaces, spa treatments, and a lovely patio restaurant.
A bit farther off the square, but still within a 5-minute drive of downtown, is the comfortable and convenient Courtyard Paso Robles by Marriott. Or, for a classic in the heart of Paso Robles, the Paso Robles Inn, surrounded by a lush garden, offers many rooms that feature private spa tubs.
Other Activities
Of course, a day will just scratch the surface of what Paso Robles has to offer. With more time, consider a day trip to the coast, where beautiful seaside hikes await. The rocky coastline of the Montana de Oro State Park offers many scenic hikes, including the Bluff Trail, a level out-and-back walk of 1.2 to 3.4 miles.
Paso Robles is also known for its hot springs, and you can check out the medicinal waters of the area at Franklin Hot Springs, a complex with a swimming area and hot tub that are fed by 100.1-degree mineral-rich water.
Plentiful family-friendly activities are available at the interactive Paso Robles Children's Museum, and, in the summer, at the Ravine Waterpark.