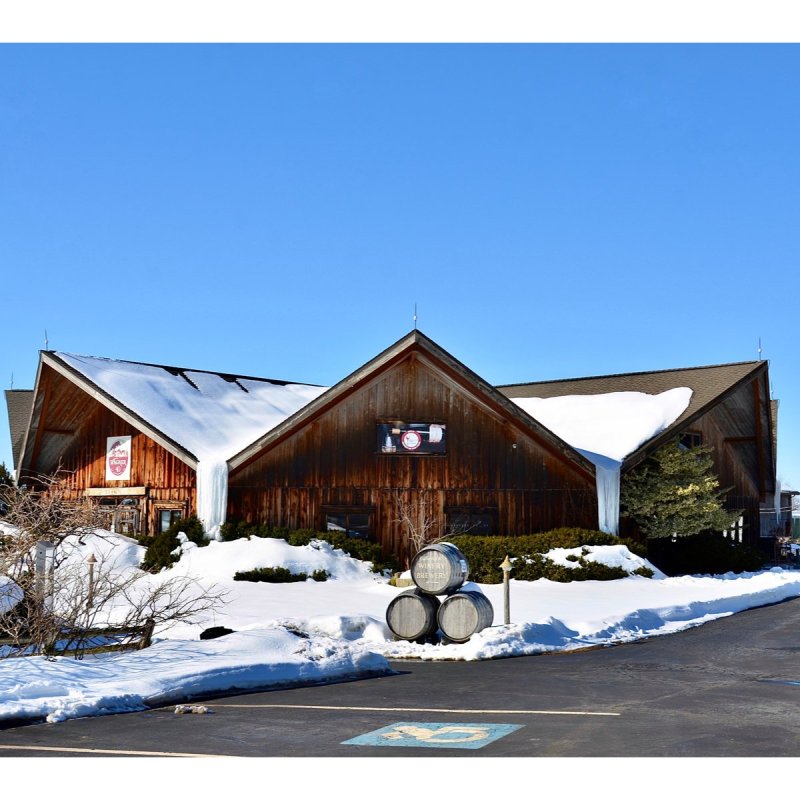 Producing roughly 85 percent of America's wine, California is clearly the leader when it comes to American wine production. In fact, the Golden State produces more than 10 percent of the world's supply. But did you know that New York is the nation's third-largest wine-producing state? Spanning seven viticultural regions, New York vineyards produce nearly 55,000 tons of grapes annually, and its wineries are a $13.8 billion industry. With an emphasis on grapes that grow well in the cooler temperatures of Upstate New York, 90 percent of the state's wine flows from Finger Lakes wineries.
Although the long, narrow lakes just south of Lake Ontario look as if a giant left scratch marks in the earth, the Finger Lakes were actually carved by glaciers during the Ice Age. As the glaciers retreated, they left fertile soil (and the 11 lakes, of course) in their wake. The rich shale and loamy soil in the region are perfect for growing the riesling grapes common in the Rhine River region of Germany.
More than 100 Finger Lakes wineries cluster around the water in Upstate New York. Whether you like red or white, bubbly or still, sweet or dry, you'll want to check out these 13 gorgeous Finger Lakes wineries when you visit.
These wineries are organized by lake, beginning with Canandaigua Lake in the west and ending with Cayuga Lake in the east, with the majority of wineries concentrated around Keuka and Seneca Lakes.
1. Heron Hill Winery, Hammondsport
Heron Hill Winery is located on the west bank of Keuka Lake. However, you can also visit their tasting room on the west bank of Canandaigua Lake if your Finger Lakes travels take you farther west. Step inside the hunter-green building with exposed wooden beams, or sit on the deck, admiring the sweeping views as you enjoy your custom tasting of any five wines. Be sure to try the fruity rieslings and Bordeaux-style Eclipse Red.
Heron Hill Winery also has several delicious nonalcoholic options, including grape apple cider and grape iced tea.
2. Keuka Spring Vineyards, Penn Yan
Keuka Lake is a Y-shaped lake whose northern tip is horizontally aligned with the southern tip of Canandaigua Lake. At the northeastern tip, you'll find Keuka Spring Vineyards overlooking the calm, blue waters of the lake. This family-owned-and-operated Finger Lakes winery produces about 8,500 cases a year, including some of the region's best semisweet rieslings. Don't miss the gewurztraminer with the aroma of melons and papayas.
3. Dr. Konstantin Frank Winery, Hammondsport
Hugging the shore of Keuka Lake while traveling counterclockwise, the next Finger Lakes winery is the Dr. Konstantin Frank Winery in Hammondsport, founded by a Ukrainian immigrant with a PhD in viticulture. Dr. Frank applied the techniques he perfected for successfully growing grapes in the colder climates of the Soviet Union to Upstate New York, elevating the status of the Finger Lakes wine region. Under the leadership of the third generation of Franks, the business is flourishing, and the white wine is superb. Be sure to try the gruner veltliner, made from a grape variety commonly grown in the Eastern European countries of Hungary and the Czech Republic.
4. McGregor Vineyard, Dundee
After rounding the southern tip of Keuka Lake, you'll discover McGregor Vineyard perched on a hill above the eastern shore of the water. While Finger Lakes wineries are predominantly known for their white wines, McGregor Vineyard's reds are the star. Be sure to taste the Black Russian (a red blend made primarily from saperavi, a deep red grape native to the country of Georgia) and Rob Roy (a dry red blend of cabernet Franc, cabernet sauvignon, and merlot grapes).
5. Ravines Wine Cellars, Hammondsport
The last Finger Lakes winery on Keuka Lake is Ravines Wine Cellars, where the Danish-born, French-educated winemaker and his chef wife have been pairing award-winning dry wines with farm-to-table cuisine and stunning lake views for nearly two decades. Be sure to taste their dry riesling, unoaked chardonnay, and silky cabernet Franc.
Pro Tip: You can also visit Ravines Wine Cellars on the northwestern shore of Seneca Lake in Geneva.
6. Lakewood Vineyards, Watkins Glen
A 20-mile strip of land separates the east bank of Keuka Lake from Seneca Lake, where you'll find the largest number of gorgeous wineries in the region. Begin exploring the Seneca Lake wineries with a stop at Lakewood Vineyards, where three generations of grape growers make everything from buttery chardonnays to Bordeaux-style cabernet Franc to plummy port.
Whether you taste a flight of wine or purchase a bottle, take a break during your day of wine tasting to enjoy a picnic at Lakewood Vineyards.
7. Fox Run Vineyards, Penn Yan
Continuing clockwise around Seneca Lake, Fox Run Vineyards offers wine tastings in a double barn-style building capped by a fox weathervane and delivering lakeside views. Learn more about Fox Run on an hour-long walking tour through the vineyards. Or take your visit to the next level by enjoying a food-and-wine pairing uniting five bites with six wines.
8. Billsboro Winery, Geneva
What's better than pairing wine with food? Pairing wine with chocolate! And that's one of the tastiest ways to enjoy the wines at Billsboro Winery. Whether you sit inside the 19th-century red barn tasting room or under an umbrella on the patio, you can enjoy a special flight of wines accompanied by a selection of CaryMo Chocolate Candies & Confections.
If you are exploring the Finger Lakes wine region with your four-legged best friend, you'll be glad to know that your pup is welcome in the patio area.
9. Wagner Vineyards Estate Winery, Lodi
If you love Caymus or Mer Soleil wines, you might wonder if there is a connection between the Wagner Vineyards Estate Winery in the Finger Lakes region and the Wagner Family of Wines founded by Chuck Wagner on the West Coast. But as far as I can tell, the two winemakers share more of a passion for making wine than they do a family tree. Now operated by the fourth and fifth generations of Wagners, Wagner Vineyards is one of the oldest wineries in the Finger Lakes region. Be sure to check out the Riesling Caywood East that recently scored 92 points and an Editor's Choice Award from Wine Enthusiast.
In addition to wines, Wagner Vineyards is also home to the Wagner Valley Brewing Co that brews nonalcoholic, old-fashioned root beer along with a variety of craft beers. You'll also find the Ginny Lee Cafe on-site, serving up lunch items ranging from fruit-and-cheese boards to substantial sandwiches.
Pro Tip: If you choose to ship some Wagner wines home, the winery offers flat-rate shipping fees.
10. Hazlitt 1852 Vineyards, Hector
As the name suggests, the Hazlitt 1852 Vineyards have been producing wine grapes since before the Civil War. It's run by the brother-and-sister team Doug Hazlitt and Leigh Hazlitt Triner and was founded by their parents, Jerry and Elaine, back in 1985. When you step into the cozy tasting room on the east shore of Seneca Lake, be sure to try the 2018 Homestead Reserve Riesling; it was recently named one of the year's best American rieslings by Wine & Spirits.
You'll also find a delicious selection of hard ciders at Hazlitt 1852 Vineyards.
11. Atwater Estate Vineyards, Burdett
Guests visiting the Atwater Estate Vineyards on the east side of Seneca Lake are treated to sweeping views of the vineyards. This lakefront winery is family owned, with Finger Lakes native Ted Marks serving as proprietor for more than two decades. Be sure to taste the citrusy dry riesling, ruby red pinot noir, and chocolate-and-toffee blaufrankisch.
12. Damiani Wine Cellars, Burdett
Just a mile south of Atwater Estate Vineyards, Damiani Wine Cellars is known for its hands-on approach. The team carefully thins grape leaves and fruit during the growing season to allow the sun's warm rays to concentrate its energy on only the best grapes. And as the winemaking process begins, each cluster of fruit is handpicked and sorted to ensure only the best berries go into each bottle.
Taste the fruit of Damiani's labor by enjoying a flight in their tasting room with a wall of windows overlooking Seneca Lake. While you're sure to enjoy everything from the semi-dry whites to the elegant Champagne-style bubbly, the dry red wines (uncommon in the Finger Lakes region) shine here.
13. Sheldrake Point Winery, Ovid
On the western shore of Cayuga Lake, Sheldrake Point Winery is named after the bat-shaped piece of land that juts into the water. Originally an orchard with dairy cows grazing beneath apple trees, it was converted into a vineyard at the end of the 20th century. When you visit the lakefront tasting room, be sure to sample the dry rose and sweet ice wine. Crafted using the skin-contact method, the rose has a pale pink color that makes ballet slippers jealous. And the ice wine is made from hand-picked frozen berries in the traditional German eiswein style.
What To Know Before You Go
While even the most casual wine drinker has likely heard of riesling, pinot noir, and cabernet Franc, you may not be as familiar with some of the other wines produced in the Finger Lakes region. Many are transplants from the cold-weather wine regions of Eastern Europe.
Blaufrankisch is a peppery Austrian red wine that pairs well with traditional Alpine cuisine like smoked sausage, filling goulash, and rich spaetzle.
Described as a grown-up version of moscato, gewurztraminer hails from the foothills of the Alps. Enjoy gewurztraminer with foods from the Alsace region of France, like ham and Gruyere flammkuchen, a dish that resembles a thin-crust pizza.
Although we tease my aunt about drinking ice wine when she drops a few ice cubes into her glass of chardonnay, ice wine is actually something different — a sweet wine produced from grapes (usually riesling) that are left to freeze on the vine.
An executive order that went into effect in July of 2020 requires that New York establishments licensed to sell alcoholic beverages must also serve food. So while it's often difficult to find nibbles beyond a few oyster crackers at wineries in California, you can be sure that sandwiches, pizzas, fruit-and-cheese platters, and other food offerings will be available for purchase when you visit these Finger Lakes wineries.
As you wind your way around the Finger Lakes wineries surrounding Canandaigua, Keuka, Seneca, and Cayuga Lakes, you're sure to find many delicious bottles of wine to bring home from Upstate New York.