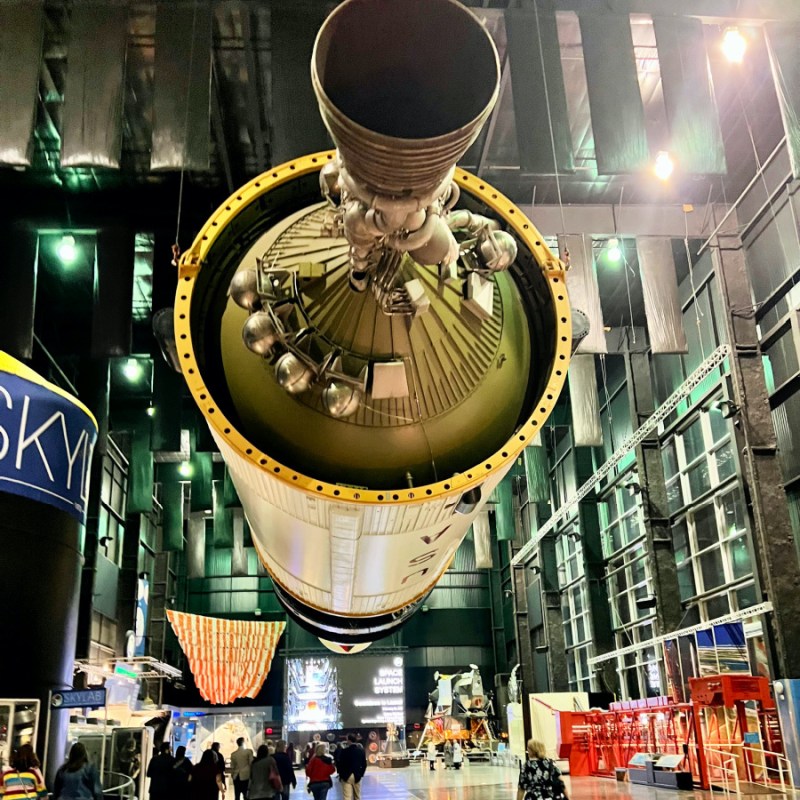 Huntsville is one of the fastest-growing cities in the South and just became Alabama's largest city. With booming industries, loads of culture, and well-paying jobs, it is no surprise why. The list of amazing things to do and see in Huntsville is impressive, and the city is sophisticated enough to lure in all ages, demographics, and income levels.
Huntsville is in North Alabama, 85 miles from Birmingham and 100 miles from Nashville. You can fly into the Huntsville International Airport, but I prefer to drive since the city is spread out.
Note: I received complimentary tickets to the art museum, Burritt on the Mountain, Weeden House, and U.S. Space & Rocket Center on my familiarization visit. All opinions are my own.
1. Visit The U.S. Space & Rocket Center
Huntsville is the birthplace of the space program, which you will learn about after visiting the U.S. Space & Rocket Center. Adult tickets are $30 to enter the treasure trove of buildings containing hands-on exhibits, state-of-the-art displays, the Saturn V Hall, plus a vast selection of astronaut suits, space memorabilia, rockets, and more. Guests can try a flight simulator experience, catch an INTUITIVE planetarium show, or even ride an old favorite — G-Force Accelerator (the ride where the bottom drops out thanks to gravity).
Fun Fact: The rocket center is a Smithsonian affiliate and houses NASA's Marshall Space Flight Center.
2. Explore Lowe Mill
I love Huntsville's clever notions to rework something old and make it relevant again. At Lowe Mill ARTS and Entertainment, an old textile mill is turned to cool-as-can-be space for shops, cafés, classes, and concerts on the dock. Over 200 working artisans share their expertise or passion in ceramics, bookbinding, woodworking, mixed media, etc. I once watched a guy repairing 1980s video games and was mesmerized. The vinyl shop is fun, too.
Pro Tip: Try the chocolates from Pizzelle's Confections; they are fantastic.
3. Drink Great Beer
It isn't hard to find great beer in Huntsville, but my favorite is at the Straight to Ale taproom inside Campus No. 805. Straight to Ale has a beer production line that can be walked through, plus killer food from Ale's Kitchen. Want to try a new beer? I vote for the Blood Brother, a Belgian-style dubbel with blood orange. It pairs perfectly with the beer cheese nachos.
4. Take In The Gardens
If I had to list the best gardens I've visited, the Huntsville Botanical Garden would always be on the list. This sprawling property begins with a stroll through the Eloise McDonald Propst Guest Center. It continues outside through masterful themed gardens, such as Holmes Trillium, Four Seasons, and Master Gardener's Demonstration Gardens.
There is nothing quite like the serene setting of the Damson Aquatic Garden, with lovely pergolas reflecting in the pool. Victoria Lillies dance around the waters. I was also a fan of the Herb Garden and the Biblical Medicinal Garden, something I'd never seen until visiting Huntsville. Admission is $15 for those over 55.
5. Eat At Melt
Tomato soup and grilled cheese were the comfort foods we grew up on. Now, Melt Huntsville has turned it into a throwback, upscale menu choice at their trendy eatery, complete with retro lunchbox decor. Melt's honey baked goat cheese with grilled sourdough is phenomenal.
6. Shop Bridge Street Town Centre
Bridge Street Town Centre is an easy place to wander around in a lovely setting. This carefully manicured outdoor mall has 70-plus upscale boutiques and a handful of restaurants. The mall's landscape is eye-catching, with a 5-acre lake, 14-screen cinemas with stadium seating, and an enormous Belk store. There is even live music and various events.
7. Stroll Burritt On The Mountain
Burritt on the Mountain is a living history experience — and a really good one. Go back in time, circa the 1800s, and explore pioneer life that closely resembles a childhood favorite, Little House on the Prairie. The property includes historic homes, beautiful log cabins, a barnyard (goats, chickens, sheep, horses), and an old schoolhouse. You'll see period-themed costumed interpreters feeding the animals, playing music, and sharing what life was like in the earlier centuries.
A second offering at Burritt on the Mountain is to tour Dr. Burritt's historic mansion. The property has many hiking trails, so come prepared if you wish to get in some extra steps. Or, come around sunset for incredible views of the vibrant city.
8. Learn At Alabama Constitution Hall Historic Park & Museum
Alabama was the 22nd state admitted to the Union, and this downtown attraction commemorates where the 1819 Constitutional Convention was held. I had no idea a village like this existed in Huntsville, so I was more than shocked when I happened upon it during a downtown walk. There are eight buildings to explore, from a printing press and library to a blacksmith shop at the Alabama Constitution Hall Historic Park & Museum.
Pro Tip: Check online to make sure it is open due to COVID-19 protocols.
9. Eat A Classic Southern Breakfast
One of Huntsville's most beloved eateries, the Blue Plate Cafe, is a diner that offers comfort food classics and regional southern specialties for breakfast, lunch, and dinner. I love a good breakfast, so that's when I went. Fill up on a full southern breakfast plate with eggs of your choice (poached, please!), a biscuit and sausage gravy, chicken sausage (thumbs up, Huntsville!), and bottomless coffee. You also get a choice of side items, of which I chose cheesy browns, a crazy good dish they are known for.
Expect excellent service, reasonable prices, and a great meal at Blue Plate Cafe.
10. See The Wildlife
It took me a while to realize that the raved-about Big Spring International Park is truly in the midst of town. I discovered it walking around mural hunting. This serene 12.5-acre public area is exceptional for admiring birds, ducks, and fish, plus taking in the scenic landscape and events. You'll find the "Welcome to Huntsville" rocket mural here and a place where many gather for socializing, strolling, and hanging out. The limestone spring is a surprise and a good one at that.
11. Enjoy Tiki Drinks
Something original in Huntsville, with a capital O, is the tiki-themed Phat Sammy's restaurant. Located in the basement near 106 Jefferson Hotel, the vibrant eatery is bright, bold, and super cool. Order from a wide array of tropical drinks served in tiki-style cups and containers, accompanied by crazy straws and ornate garnishes, or have a delicious meal. Regardless of what you choose, you will enjoy the unique ambiance and tropical flair right here in North Alabama.
Pro Tip: If you haven't bought into the Spam foodie creations yet, try the Spam bowl from Phat Sammy's and see if you suddenly jump on the "all things Spam" bandwagon.
12. Have A Luxury Stay
Indulge in a great night's sleep with overnight accommodations at the fabulous 106 Jefferson Hotel. Huntsville's newest boutique property (Curio Collection by Hilton) is ablaze with nods to the space industry and offers an excellent lodging option. It has comfortable, stylish rooms, two delicious restaurants (one with a divine rooftop patio), and the prettiest lobby in town. While you are there, read the historical info throughout the hotel to see what bits and pieces of history they preserved when recreating this lovely addition to downtown Huntsville.
Pro Tip: Tell Mary Beth that Melody sent you.
13. Admire Art
I love a good art museum, and Huntsville has one that is very easy to get around and won't take long to visit. The Huntsville Museum of Art has seven galleries of impressive works (Warhol, Whistler, Rauschenberg), temporary and permanent, and a host of art classes you can participate in. I was very impressed with the kid's area — my granddaughter would love it.
Don't miss the gift shop and tasty Italian restaurant, Pane e Vino, where I recommend the chicken carbonara.
14. Tour The Weeden House Museum
Huntsville's Twickenham District has gorgeous antebellum and architecturally wonderful historic homes. One of the best-known is the 1819 Weeden House and Garden, now a museum with guided tours. Famous poet and painter Maria Weeden, who used her middle name "Howard" to become famous, is the talented lady who grew up and lived here.
One of Howard's gifts was her ability to draw portraits of Huntsville's African Americans and write poems that captured their spirit and life. Her watercolor images are often tiny and created using a three-haired brush but obviously "drawn in love." You can see the admiration she had for her friends through her work, and the home is beautiful, too.
15. Drink Refreshing Tea
I'm from the South, so of course, I love tea. I stepped out of my comfort zone to try Huntsville's dynamic Piper and Leaf artisan tea company, and what a find. There are several locations in town — I chose Constitution Park. Let the tea professionals suggest what to order, as I did. My Lemon Berry Blush was off the hook good, and the Orchard Peach is a refreshing treat. Grab a scratch-made pastry or scone, too.
Check out more of our Alabama content: