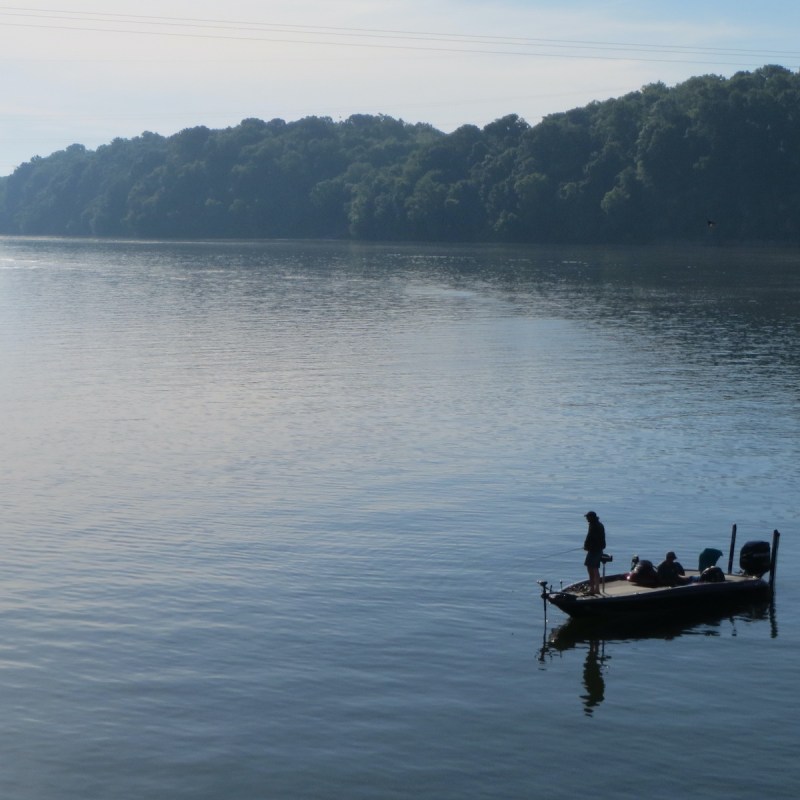 The number of rivers, streams, lakes, and reservoirs in Alabama is staggering. The non-profit organization Alabama Rivers estimates that the state has more than 132,000 miles of river and stream channels, over 3.6 million acres of wetlands, 563,000 acres of ponds, lakes, and reservoirs, and of course, an almost 60-mile wide footprint on the Gulf of Mexico.
Needless to say, Alabama is one very wet state, and with that comes a rich aquatic biodiversity that can't be matched anywhere else in the country, especially when it comes to fish. The state's waterways are home to 38% of all of North America's fish species. The state is an angler's dream come true.
Whatever your pleasure, whether you are a bank fisherman, fish from a powerboat or charter boat, or wet your line from a kayak, the fishing in Alabama is amazing. Here are six fabulous fishing experiences you can have in Alabama.
Remember, all of these destinations — with the exception of fishing in the Gulf — require a freshwater fishing license. You can purchase one online from the Alabama Department of Conservation and Natural Resources website. 
1. Wilson Lake (aka Wilson Reservoir) – Florence 
Our list of fabulous fishing destinations in Alabama begins at the very top of the state at Wilson Lake, which is also known as Wilson Reservoir.
Located along the Tennessee River in Florence, Alabama, the lake is formed by the Tennessee Valley Authority's (TVA) Wilson Dam that chokes off the river. The result is this 15,500-acre, 15-mile long fisherman's paradise. 
The main catch you will find on Wilson Lake, and in many of the destinations we'll travel to, is smallmouth, largemouth, and striped bass, but there is more than just bass here. Anglers also try their hand at catching bluegill, redear sunfish, and catfish. 
When it comes to bass, 5-pound smallmouth and 9-pound largemouth are regularly caught. It has been a while, but the state record smallmouth was caught here in 1950 coming in at 10 pounds, 8 ounces. The state record drum was also caught here, coming in at 41 pounds, 8 ounces. 
The beauty of Wilson Lake, and most of the major lakes in the state, are the many sloughs and backwaters that finger out of the lake, offering excellent fishing experiences for recreational kayak anglers. It also has the advantage of keeping you away from the powerboats that cruise the wide waters of the lake. 
Pro Tips 
There are 23 boat ramps located around the lake for you to launch your motorboat or kayak including Wheeler Lake Public Boat Ramp and Wilson Dam Reservation Fleet Harbor Public Boat Ramp. A full list of all boat ramps can be found online.
For accommodations, you can't beat spending a night, weekend, or more at Joe Wheeler State Park. This beautiful resort-style state park has nice, cozy cabins, peaceful and shaded campgrounds, nicely appointed rooms in the resort lodge, and delicious buffet dining in its restaurant. 
2. Bear Creek Reservoir – Russellville 
Besides creating fertile fishing grounds for anglers, most of the dams that were built by the TVA provide electricity to the region. That is not the case with their dam just southwest of Muscle Shoals that created the Bear Creek Reservoir. 
The Bear Creek dam was completed in 1969 as part of a series of dams that create a 12-mile-long reservoir. This series of dams is different in that they do not provide power to the region but are strictly used for flood control. 
What makes Bear Creek special is that it is considered to be "wild and scenic," meaning that there is no residential development found along its shoreline. What that means is incredible recreational opportunities including fishing. 
Once again, the main catch at Bear Creek is bass. Don't be surprised at the size of the bass you catch here. It is not uncommon to land a largemouth weighing in at over 5 pounds and measuring 22 inches long. 
The shoreline is thick with brush making it perfect for catching crappie. 
Pro Tips 
Bear Creek is part of a popular float way that offers exceptional kayaking as well as kayak fishing. Kayaks can be rented (complete with a shuttle to put-ins and take-outs) at Bear Creek Canoe Run. 
Two nice campgrounds that are operated by the Bear Creek Development Authority are located here: Horseshoe Bend and Piney Point. Both have clean improved campsites, picnic tables and pavilions, and swimming beaches. Horseshoe Bend also sports a fishing pier. 
3. Lake Guntersville – Guntersville 
Alabama's largest lake, Lake Guntersville, is one of the state's most popular fishing destinations. The 75-mile-long, 69,000-acre lake is dotted with Milfoil and Hydrilla Weed beds where locals will tell you that the bass "explode on topwater bait." 
Voted the top kayak fishing location in the country by Yakangler.com in 2013, Guntersville offers not only bass but crappie, bream, bluegill, sunfish, and catfish as well, to name only a few. 
The lake is rimmed with boat launches making it easy to access your favorite fishing spots. And check the Alabama State Park website for the schedule of fishing tournaments held almost monthly on the lake. 
Pro Tips
It would be well worth your while to spend time off the water exploring Alabama's "Lake City," Guntersville. The quaint town on the southeast end of the lake has excellent shopping, dining, and entertainment venues, fascinating museums, and meticulously preserved historic homes. 
4. Lake Lurleen – Coker 
A great little lake and state park will be found in the tiny town of Coker — Lake Lurleen. While small in size, coming in at 1.5 miles long by a half-mile wide and 250-acres, Lake Lurleen hosts many fishing tournaments throughout the year for largemouth bass, bream, catfish, and crappie. 
With its thick grassy shoreline, the lake is the perfect location for bank fishing. It also sports three fishing piers. 
Gas-powered boats, kayaks, and SUPs can be rented from Lake Lurleen State Park. Visit their website for current hourly and full-day rates. 
Pro Tips 
There is a small day-use fee to enter the park. 
After a long day of fishing, get out and stretch your legs. When you're ready to take a break from fishing, take a hike or mountain bike on one of the park's 23 miles of trails that loop around the lake then spend the night at one of Lake Lurleen's 119 improved campsites complete with water and electricity. Rates and reservations can be found on the park's website. 
Keep in mind that being so close to Tuscaloosa and the University of Alabama, the park can become very crowded and campsites non-existent when the Crimson Tide SEC football team has a home game. 
5. Lake Eufaula – Eufaula 
It's called the "bass fishing capital of the world": Lake Eufaula. 
The lake, which is also known as Walter F. George Lake, is located on the Chattahoochee River that forms the border between Alabama and Georgia. The 85-mile-long U.S. Army Corps of Engineers (USACE) reservoir is well known by fishermen for 5 to 8-pound bass, but it's not uncommon to land a 22-pounder. 
Fish along the banks where the bass thrive in the thick, matted vegetation spring and early summer then move to the deep channels late summer. Later in the fall, fish in the shallows to land a big one. 
Since the lake straddles the state lines, an Alabama or Georgia freshwater license is valid. 
Pro Tips 
If you plan on kayak fishing, it's best to stay close to the shoreline. The waterway is a busy one with motorboats and barge traffic heading to the Gulf of Mexico. 
There are 13 USACE day-use parks that have boat launches along the shoreline along with four nice, clean Corps of Engineers campgrounds and one amazing resort-style state park – Lake Point State Park, with a lodge and restaurant. 
6. William B Dannelly Reservoir – Miller's Ferry 
6 miles north of Montgomery, the Tallapoosa and Coosa Rivers converge to form the Alabama River that flows some 318 miles south to the Gulf of Mexico. Just west of Montgomery, the U.S. Army Corps of Engineers dammed the river and created an impressive lake, the William B. Dannelly Reservoir or as locals simply call it, Miller's Ferry.
The reservoir is 105 miles long with 500 miles of shoreline. Due to its location in a relatively remote area of southern Alabama, the reservoir has seen minimal development, leaving its banks virtually untouched. 
Again, the main catch at Dannelly is largemouth and spotted bass, but you can also try to land the lake's other main attraction, threadfin shad. Along the thick, brushy shoreline in spring, black and white crappie is a favorite catch.
Pro Tips 
Once again, the Corps of Engineers has established plenty of access points where you can launch your powerboat or kayak. For camping, there are two exceptional campgrounds. The first is the USACE operated Miller's Ferry Campground in Camden. This peaceful and clean campground has 42 improved sites with power and water as well as an ample number of primitive sites for tent campers. Just down the road is Roland Cooper State Park, which has five nicely appointed two-room cabins, six "tiny cabins," and 47 improved campsites.
For more on Alabama, be sure to check out these articles: