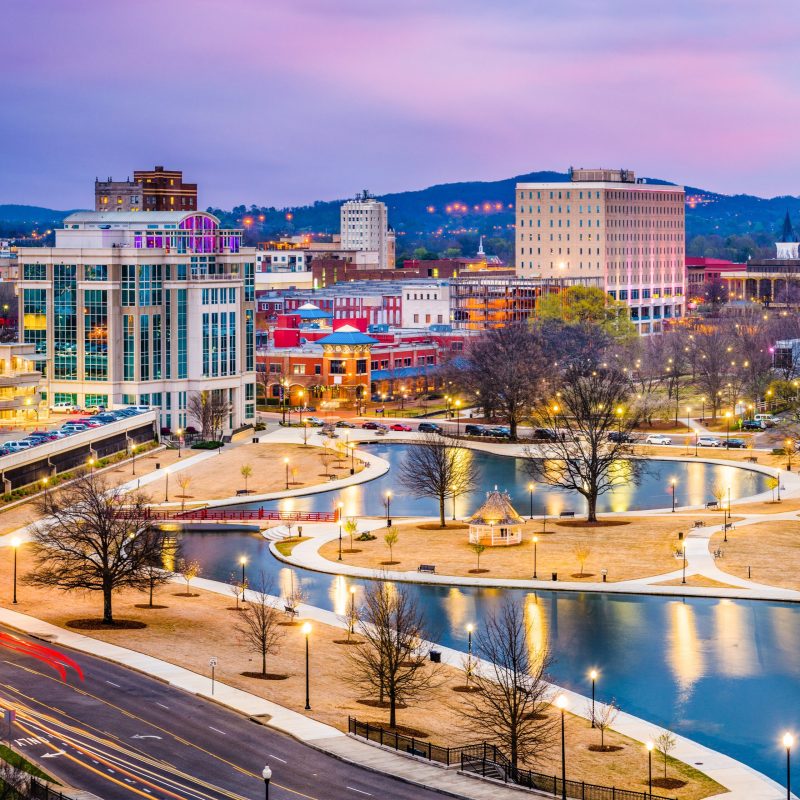 Huntsville has low-rise city buildings, historic homes, and a tidy town air. But Huntsville didn't earn the title Rocket City for being quiet, or retiring.
Instead, there are so many dynamic happenings in Huntsville that it has soared on the US News and World Report's list of best U.S. places to live, and been A-listed by the New York Times as a must-travel to destination.
So, what's so great about Rocket City?
1. Huntsville Folk Are Smart
Huntsville's original claim to fame was as the Watercress Capital of the World. That was before 1950, when the U.S Government brought Wernher von Braun and his team of German rocket scientists to Huntsville to work on aeronautical research — designing the Saturn V rocket that sent astronauts to the moon.
Today, Huntsville remains an aerospatial/technology hub, employing one of the highest concentrations of scientists and engineers in the country. Employers include Marshall Space Flight Center (NASA), Boeing, Redstone Arsenal, and the HudsonAlpha Institute.
Bright people have diverse interests and Huntsville residents ensure that there is so much more to do in Huntsville than watch watercress grow.
2. You Can Experience Space
Huntsville is home to Alabama's top tourist attraction, the U.S. Space and Rocket Center. This Smithsonian-sized and affiliated complex houses one of the world's largest collections of rockets and space memorabilia. Experience the immensity of the projects when walking under the full-stack Space Shuttle and the suspended Saturn V moon rocket (if not prone, it would be 36-storeys high). Visit a mock-up space station and learn how astronauts live in space. Try out simulators — the G-Force accelerator or the moon shot (go 140 feet up in the air in 2.5 seconds). I looked after a woman's guide dog while she shot up in the air. She was so much braver than I!
Attend Space Camp — it's not just for kids. There's a space camp for adults, plus a multi-generational option. Accommodation is in bunk beds, so some adults prefer staying at the Marriott on the Space Campus, or in the nearby RV Park.
3. Rocket Science Means Great Beer
Beer brewing isn't rocket science, but both involve exploration, experimentation, and standardising processes for consistent results. A number of Huntsville's science/engineering folk brew beer and are behind the Free the Hops campaign that lifted Alabama's beer alcohol limit from 6% to 13.9% — legitimizing the craft-brewery scene.
Downtown Huntsville, Inc. has created beer trails so tourists can experience some of the results. I had my first taste of beer aged in a bourbon barrel here. Verdict: hints of chocolate, coffee, and toffee. Yum!
Discover rocket-related beers along the trail. Some labels are obvious, such as Monkeynaut, others more obscure, such as T-Minus, Illudium, and Unobtainium. Can't fathom the NASA-speak? Ask a clever local.
Grab your trail card at the Huntsville/Madison County Visitor Center (a great place also for discounts on attractions). Walk the trail, join Bikes and Brews, or use Uber/Lyft.
4. Huntsville Repurposes Its Old Buildings
If you were way too cool for school, you'll love Campus No. 805, a series of bars and restaurants in a disused junior high. A playground for adults, it feels so naughty drinking in classrooms. I loved the speakeasy at Straight to Ale Brewing, where the secret entry is hidden behind lockers. There's also coffee, great food, and activities from axe throwing to ballroom dancing. In summer, enjoy free concerts hosted on campus.
The Stovehouse is a new leisure precinct in an old stove factory with restaurants, a cocktail bar, and boutique shops. Enjoy living room, vinyl evenings, live bands, and seating around outdoor firepits.
A.M. Booth's Lumberyard (circa 1895) retains much of the original rough-sawn lumber and is on the railway tracks. It offers meals, live entertainment, and socializing nooks that include old rail cars.
The heritage-listed 1922 Lombardo Building is a stop on Huntsville's Antiques Trail. Repurposed as Railroad Station, you'll find three storeys of curiosities to mill over.
Lowe Mill ARTS & Entertainment (open Wednesday through Saturday) is the nation's largest privately owned art studio. The old textile mill is home to 148 working studios that tourists are welcome to visit. Enjoy six galleries, restaurants, performance venues, workshops, and classes. Culinary arts are represented by Piper and Leaf's artisan tea blends and chocolates from Pizzelle's Confections. Irons ONE Distillery offers whiskey tastings and tours.
5. Arts And Science Intersect In Huntsville
The arrival of culturally-minded Germans further enhanced Huntsville's arts scene. Enjoy a concert by the Huntsville Symphony Orchestra (the longest continuously operating professional orchestra in Alabama) or attend a Broadway Theatre League or Huntsville Ballet Company performance at the Von Braun Center. Visit the Huntsville Museum of Art with its impressive collection of American art and yearly exhibitions by the Huntsville Photographic Society, whose members' interests include aerial and astro-photography.
Discover Huntsville's public artworks on a Secret Art Walk. There's a koi fish mural at the corner of Spring and Spragins streets. Stand at the point marked RB and see it in 3-D. This is the kind of smart art you'll find in Huntsville that encourages people to stop, think, and engage.
6. Huntsville's Forward Thinking Preserves Its Past
Visit Harrison Brothers Hardware — Alabama's oldest operating hardware store. With old counters and Reggie the original cash register, it's a unique shopping experience. These days, nails and spades have been replaced with top-quality American-made toys and souvenirs.
For an old English experience, book an afternoon tea at The Poppy, an English-style pub with tiered stands, scones, and cucumber sandwiches.
During the Civil War, while Union Soldiers captured Huntsville's Depot, the town's historic homes were spared, which is why Rocket City features the South's largest concentration of antebellum homes.
The Twickenham Historic District is walkable from downtown. Download a tour map or take a free walking tour in spring or fall. The pillared mansions are straight from Gone with the Wind. Homes date from 1819 and many have rambling gardens. The Weeden House Museum was home to Maria Howard Weeden (born 1846), known for her watercolors of former slaves. The dignity and realism of her portraits still move onlookers today. Note that the museum has limited opening hours.
At Alabama Constitution Hall Park, step back to 1819, when delegates gathered in the cabinetmaker's workshop to agree on Alabama's state constitution. The complex has many historic buildings. I enjoyed watching the craftsmen and hearing their explanations of how wooden toys had a purpose in improving children's dexterity in farmyard chores such as milking.
Mere steps away are the bootprints of Alan Shepard, the first man in space. You've certainly landed on a history trail when you come to Huntsville!
7. Huntsville Has A Stellar Food Scene
This is the Deep South, so open wide! At G's Kitchen, feast on Southern fried chicken, catfish, fried green tomatoes, black-eyed peas, cornbread, collard greens, and Huntsville's best meatloaf. Or head to Blue Plate Cafe for breakfasts of bacon, eggs, cheesy grits, and biscuits and gravy.
Huntsville's German legacy lives on in its cuisine, too. Ol Heidelberg, a Huntsville haunt since 1972, serves sausage platters, stroganoff, and a dozen varieties of schnitzels. Head to Hildegard's, where happy hours mean cheap drinks — and also German potato pancakes with sour cream, and pretzels with house-made beer cheese.
On Thursday evenings April through October, the U.S. Space and Rocket Center holds a Biergarten featuring German cuisine. The Nook, a much-loved local bar, runs Tuesday German food nights. At Yellowhammer Brewing, learn about German brewing traditions. Of course, Oktoberfest in Huntsville is celebrated with gusto.
For high-end dining, head to Cotton Row for American cuisine with a Southern twist (think cornmeal-crusted oyster salad). Chef Boyce's pedigree includes top restaurants in New York, California, and Las Vegas, and his cookery demonstrations are a great way to eat out and learn how a master creates delicious cuisine.
Wine merchants Stephanie and Matt Mell own Purveyor Huntsville, where you can enjoy fine wine, bourbon (over 50 selections), and handcrafted cocktails, plus an innovative menu with dishes such as duck meatballs topped with black truffle pate shavings or guacamole laced with a slug of bourbon. You can also head to Domaine South for exceptional wine and cheese pairings.
8. Nature Walks Abound In Huntsville
Wander through Big Spring International Park with its 60 cherry trees and red friendship bridge (gifts from Japan). Huntsville Museum of Art is at the park's edge. Visit the terrace for a casual meal at Pane Vino Pizzeria (another Boyce restaurant). Here you'll be treated to glorious views, and in winter you can watch — or participate in — outdoor ice skating.
Explore Huntsville Botanical Garden, with its 112 acres of lush greenery, Japanese reflection pools, America's largest seasonal open-air butterfly house, and a grandiose Southern mansion-style guest center. At Christmas time, enjoy the Galaxy of Lights — 1.8 miles of 200 animated displays to walk or drive.
Visit Burritt on the Mountain, a historic mansion, and other buildings in a park setting showing how people lived in the 19th and 20th centuries. With dramatic views back over Huntsville, mull over just how far the city has come as you walk on the wooded trails of this 167-acre park that, like the town, is filled with history.
Headed further south in Alabama? Consider these 10 fantastic things to do outdoors in Mobile, plus 10 things to do in Gulf Shores, Alabama, on a rainy day.