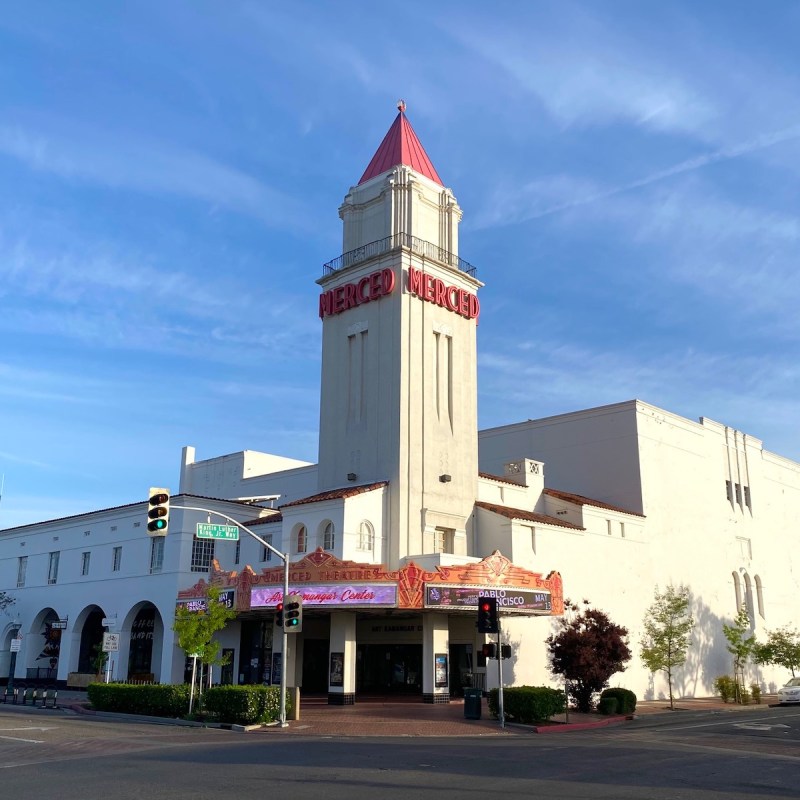 California is full of cities and towns known around the world. Places like Los Angeles, San Francisco, Santa Barbara, and Napa are frequently cited destinations. Then there are all the smaller towns that don't immediately come to mind, but should. In this latter category, California has hundreds of hidden gems, one of them being Merced.
Located 2.5 hours southeast of San Francisco, Merced is known as the gateway to Yosemite. It feels like a small town, but is sizable enough to offer all the creature comforts travelers enjoy. With a range of accommodations and dining along with a vibrant nightlife, this is definitely a place to stop and enjoy enroute to one of the nation's favorite national parks.
So whether you have a few hours or a couple of days, don't just drive past Merced on I-99. Instead, I definitely recommend getting off the freeway and exploring this town. You'll be glad you did.
This trip was hosted by El Capitan Hotel, but all opinions are my own.
1. A Revitalized Downtown
My parents live in Orange, California, a small town well known for its historic and bustling downtown filled with great restaurants, bars, antique shops, and boutiques. Many other cities in California — and the country — aspire to have such a vibrant downtown that attracts not only locals, but visitors. Merced is well on its way to having one.
Like many downtowns, the heart of Merced's is Main Street. Lined with vintage street lights, Main Street has plenty of restaurants, shops, and theaters. There are also a fair number of vacant spaces, but these are slowly being claimed by new businesses. I look forward to a future trip to explore the new offerings.
I'm always excited to find a used bookstore in my travels, so I was delighted to browse through Second Time Around and purchase a few books. And if you enjoy thrift and vintage stores like I do, don't pass up Restored Thrift Store and Cloud 9. Merced Multicultural Arts Center regularly hosts free art exhibits and community events, so be sure to pop in.
2. A Historic Hotel
A significant contributor to the revitalized downtown is the recently opened El Capitan Hotel. Part restored historic building and part new build, this hybrid hotel has fully integrated into the community. Its Native Son coffee shop is enjoyed by both guests and Merced residents. The outdoor patio restaurant, EC, has become a popular spot for local meetings and events.
The decor of the rooms hint at the nearby mountains and forests with earthy colors, cabin-like furniture, and wall paintings of pine trees. If a cabin in the woods was combined with luxury amenities, you'd have the El Capitan Hotel. I'm always appreciative of great in-room amenities and this hotel includes pour-over coffee, robes, a clothes steamer, and high-end Beekman bath products.
Throughout the hotel are eclectic pieces of art, either reflecting the local environment or created by local artists. Be sure to ask the front desk for a map of the art including descriptions of each piece and background on the artists.
3. Farm-To-Table Dining
Merced is located in the heart of California's Central Valley, a region responsible for producing one quarter of all the food in the United States. Virtually anything that a chef could desire is grown or produced locally, making it fertile ground for a farm-to-table fine dining restaurant. Fortunately, that new restaurant opened earlier this year and is called Rainbird.
Helmed by Chef Quentin Garcia, Rainbird offers a five-course tasting menu for dinner. This leisurely meal allows guests to fully appreciate the creative entrees, all thoughtfully garnished and served on unique and artistic dishes.
I was treated to a dinner that began with an amuse bouche, continued with a selection of starters, entrees, and deserts. If you're counting, that's only four courses. The fifth course is bread. And while that may sound boring, it certainly was not. A grilled, housemade sourdough bread is presented to the table along with three toppings: honeycomb, sunflower butter, and ricotta cheese. The bread, along with the entire meal, was excellent.
But I'd be remiss if I didn't mention the cocktail program. Carefully crafted cocktails also make use of local ingredients and garnishes. I ordered the Acorn, Rainbird's take on an old fashioned infused with the smoke from locally gathered acorns. And if you don't drink, don't worry, the hotel offers equally creative zero-proof cocktails.
Pro Tip: Rainbird has quickly become popular, so be sure to make advanced reservations. And if you're not able to come for dinner, consider brunch on Saturday or Sunday instead.
4. Vibrant Theater Scene
While traveling, my husband and I find that we are often at a loss for what to do at night. I carefully plan what we will do during the day and where we will eat at night, but then we're left with several hours after dinner. Fortunately, Merced has a vibrant theater scene making it easy to make some evening plans.
First and foremost, I'd recommend checking the schedule for the Mainzer Theater, located next to El Capitan Hotel. Built in 1938, the Art Deco architecture and decor alone is worth the visit. But the line-up of acts is also impressive. I had the opportunity to enjoy local singer and guitarist, Scott Patrick, and the Las Vegas cover band, Rock Roulette.
The Merced Theater, built in 1931 in the Spanish Colonial Revival style, is just a few blocks down main street and also has a great line-up of acts. While I didn't have the chance to see a show here, I did tour the interior and really appreciated the thoughtful restoration. The Merced symphony performs here regularly along with other traveling shows. If you're in the area, be sure to look up their schedule.
5. Pizza And Wine Tasting On A Farm
Farm-to-table dining continues at Vista Ranch, a family-owned, working ranch that produces 85 varieties of fruits and vegetables. The ranch is about a 15-minute drive from downtown, and while it's still in Merced, it feels like a different world. In the front is a large grassy lawn filled with wooden picnic tables and in the back is a demonstration garden producing beans, garlic, artichokes, strawberries, blueberries, and much more.
I had the chance to visit Vista Ranch to enjoy both wine tasting and a delicious lunch. We sampled each of their varietals including chardonnay, pinot grigio, zinfandel, and red blend. Lunch included salad, pizza, and pastas, much of it made from the ingredients in the garden. It was a warm, sunny day, perfect for eating and drinking outdoors.
The tasting room is open daily. Vista Nights is offered Thursday and Friday evenings when guests can purchase pizza and wine and sit under the large oak trees enjoying the beautiful garden setting.
6. World's First Sweet Potato Spirits
I've had the chance to visit several distilleries, but my trip to Merced gave me the opportunity to sample a line of spirits made from sweet potatoes. Located in Atwater, about 20 minutes outside of downtown, Corbin Cash is an award-winning craft distillery that produces a range of spirits including vodka, gin, whiskey, and bourbon.
The distiller, David Souza, is a fourth generation sweet potato farmer. He manages the family farm which produces 40 million pounds of sweet potatoes each year. In an effort to diversify the business, David decided to try his hand at distilling using a product he knows well. Fifteen years later, the distillery has expanded to include a tasting room and event space, and distribution of the Corbin Cash spirits is growing.
Guests are welcome to visit the tasting room or book a tour of the distillery and farm.
Before the arrival of interstate highways, travelers from the Bay Area on their way to Yosemite would regularly stop in Merced for at least a night. At the time, travel was arduous, and a break was needed to rest up for the rest of the journey. Merced catered to these often wealthy guests and the downtown flourished. With the arrival of larger highways, getting to the national park was much easier, and the area faltered. But today, the signs of a revitalized downtown are apparent everywhere.
So maybe it's time to bring back the tradition of enjoying the journey and stopping on the way to Yosemite to appreciate Merced. I know I was glad I did. An historic hotel, excellent food and wine, small, locally-owned shops, and a fun nightlife make this worth at least a few hours, but more likely a whole weekend.
Ready to book your trip? Check out these rentals below:
Dreaming of Atwater – your dream vacation awaits you
Top guest reviews
Bathrooms not clean looked like they have not been clean in long time everything else was ok good area loots of parking space
Beds were nice- kitchen was nice..Neighborhood was pleasant- it served our purpose.Electrical outlets in three of the bedrooms did not work- large pile of bags of garbage in the backyard-
Great host. Easy to communicate. Prompt response time. Safe/ quiet neighborhood. Close to markets, gas, big box, etc. Spacious home. Sleeps plenty. Came to town to visit family. Didn't want to invade their space. Was able to have family over and enjoy a nice bbq in the backyard. Felt like home away from home. Perfect for what we were looking for. More than what we expected. Will definitely stay again. Only about an hour away from Yosemite. Thank you again. SM
A great house in a very nice neighborhood. Great host will definitely stay again
Good price and responsive.There is a big backyard and it could have been used for some more amenities to add to the property along with plants and trees. A swing in the backyard is much attractive. The house beside this property has a swing to the front yard tree which looks good.
Read Less ∧
Read More ∨
Dreaming of Merced – your dream vacation awaits you
Top guest reviews
Rooms are small but adequate. Beautifully landscaped and in a nice neighborhood.
Our family of 5( 3 adult Children and parents) were in Merced for a family event. The house was lovely, clean and comfortable with a large back yard and nice outdoor seating for morning coffee. The neighborhood was very quiet and well kept. Very convenient location with a nice grocery, dining and a starbucks right down the street. Our host was quick to reply to any communication. We would definitely stay here again!
Read Less ∧
Read More ∨
Once you get to Yosemite, check out these articles to get the most out of your trip: