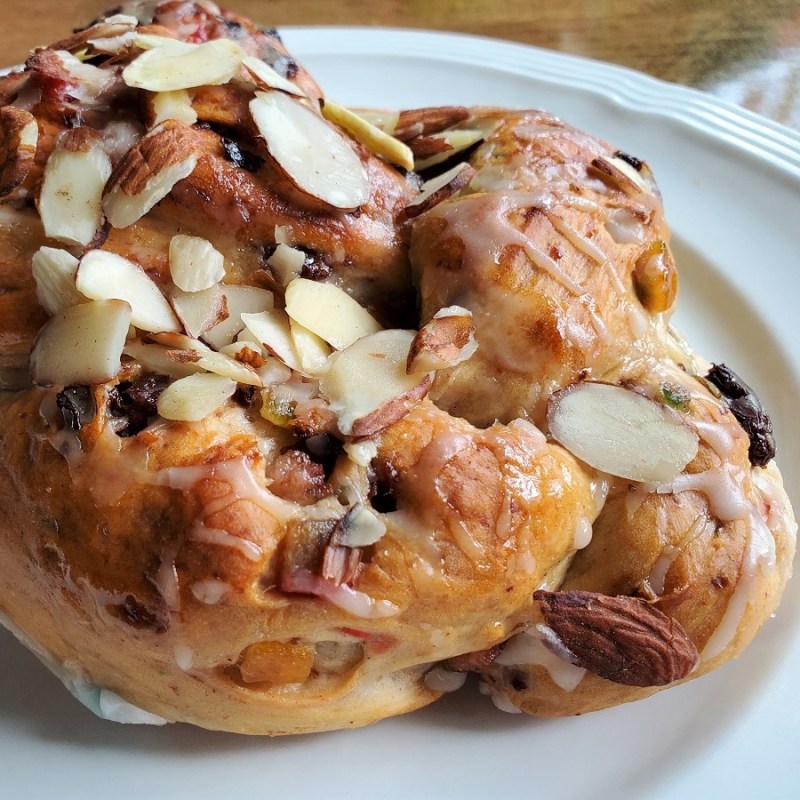 Fredericksburg, Texas, is in the heart of the scenic Texas Hill Country and a tourist destination with proximity to San Antonio and Austin. Fredericksburg is a perfect place for city dwellers to unwind, enjoy state parks, and join a wine tasting tour in which you let someone else drive you to local tasting rooms. (There are more than 50 wineries in the county.)
Since German immigrants settled in the area and established Fredericksburg in 1846, you're sure to find plenty of brats and beer here. But as you browse the historic downtown, you'll notice not only German restaurants but also a robust selection of cafés and restaurants serving everything from barbecue to oysters on the half shell.
Here are eight delicious restaurants to try in Fredericksburg, Texas, in no particular order:
1. Chase's Place Cocktails + Kitchen
The cocktails at Chase's Place are a work of art. I watched the bartender craft a drink called the Story of the Ghost, with ghost pepper tequila, liqueur, Tabasco sauce, lime, and agave. He carefully poured it into a glass with a salted rim.
The food menu appears limited and makes you think you'll have an easy dinner decision, but you won't. There are usually four added specials that tempt you to come back each night you're in town. Everything is made from scratch with the finest ingredients so you can't go wrong, no matter what you choose. Several nights a week, they serve oysters on the half shell.
The steak frites is a popular regular menu item that gets rave reviews. But I chose the Hill Country goulash, one of the chef's specials. I hadn't planned on eating the whole thing, but I couldn't help myself.
Pro Tips: They're open for dinner Tuesday through Saturday and do not take reservations. If they offer you a seat at the bar, take it so you can watch the bartender work his cocktail magic. You can also sit on the spacious patio. Visit their website for hours.
2. Eaker Barbecue
On the west end of Main Street, Lance and Boo Eaker serve beef, pork, and turkey they've smoked over mesquite and post oak. Boo, a native of South Korea, is called the "Queen of Sides." You'll see her influence in the restaurant with Gochujang pork ribs, kimchi, kimchi fried rice, and Korean cucumber salad.
You can order meat by the pound and add sides, like Boo's or the traditional coleslaw, potato salad, or beans. You can also order a brisket or pulled pork sandwich. I ordered the prime brisket and watched the juicy meat get sliced, diced, piled into a fresh roll, and topped with onions and sauce. You'll need extra napkins.
Pro Tips: Eaker Barbecue is open for lunch from 11 a.m. to 3 p.m. or whenever they sell out. And the risk of selling out is real, so plan accordingly. Check their website for directions and a complete menu. They also have patio dining.
3. Hondo's On Main
Cris Crouch Graham named Hondo's after her father, John Russell "Hondo" Crouch. If his name doesn't ring a bell, I'll fill you in. Hondo Crouch bought the town of Luckenbach, Texas, in 1970 and put it on the map (with the help of Waylon Jennings).
Hondo's serves Texas beer, including locally-brewed Altstadt beers and margaritas. Menu items range from barbecue to Tex-Mex with jalapeno-topped burgers in between. I had the Supa Chalupa Salad with black beans, grilled chicken, roasted corn, cheese, and guacamole over romaine lettuce. They have vegetarian meal options on the menu as well.
Hondo's hosts live music that you can enjoy while having a drink or full meal. For a list of upcoming shows, visit their calendar on the website.
Pro Tips: This self-serve restaurant is closed Monday and Tuesday. Order at the bar and pick up your meal at the kitchen window when your pager goes off. Also be sure to check their website for current hours.
4. Hitchin' Post Steakhouse
Open for lunch and dinner, the Hitchin' Post Steakhouse serves Texas comfort food. Starters include shareable plates of grilled shrimp, steak bites, fried green tomatoes, and fried crawfish tails. I ordered the lightly battered, cooked-to-perfection onion rings.
Comfort food entrées include chicken fried steak with country gravy, roasted mashed potatoes, and hamburger steak. Their portions are Texas-sized. Luckily, they also have downsized menu items. As the restaurant's name suggests, the menu has a wide selection of in-house hand-cut steaks, but it also has seafood, sandwiches, and hearty salads.
I opted for the steakhouse salad — a best of both worlds meal of greens topped with a generous portion of medium-cooked beef tenders, red onions, tomatoes, feta cheese, bacon crumbles, and feta cheese vinaigrette.
Pro Tip: They are closed on Wednesdays as of this writing. Please visit their website for current hours and the downtown Fredericksburg location.
5. The Old German Bakery And Restaurant
A breakfast and lunch place, the Old German Bakery and Restaurant serves American fare and German pancakes for breakfast. Both American and German homestyle food is on the menu for lunch — pot roast, pork chops, schnitzel (pork cutlets), sauerbraten (marinated roast beef), and hackbraten (beef and pork meatloaf). Some breakfast items stay on the menu for lunch, too.
If you want to eat dessert first, or skip the main course altogether, you're in luck. The owner of Old German Bakery and Restaurant was a baker in Germany for 20 years before coming to Fredericksburg. The bakery counter near the restaurant's entrance shows off fruit danishes, berliners, cinnamon and caramel rolls, and stollen. In addition to the sweet pastries, they make bread and sausage rolls (kolaches). I didn't make it out of the restaurant without a loaf of stollen — a moist braided bread with candied fruit, nuts, spices, and a perfect drizzle of icing.
Pro Tip: The restaurant is open Friday through Tuesday from 7 a.m. to 3 p.m. Check their website for current hours.
6. Fredericksburg Pie Company
Fredericksburg Pie Company is in a charming old house with an inviting front porch one block off Main Street. The goal of the family-run Fredericksburg Pie Company is to "serve pies that are as good as or better than what our mothers and grandmothers made." They make 20 pies from scratch each morning, including bourbon orange pecan pie, cherry pie, peach praline pie, German chocolate, key lime pie, and buttermilk pie. I ordered the traditional pecan pie. The flaky crust and plentiful pecans added up to a pie that was better than my grandmother made (sorry, Grandma).
The cozy dining room has several tables and a buffet with delicious self-serve, house-blend coffee. After your pie, you can browse through the house for a one-of-a-kind souvenir or a jar of local peach preserves.
Pro Tip: Fredericksburg Pie Company opens at 10 a.m. and closes when the pies are sold out (usually between 2 and 4 p.m.). This being family-run, they are not open every day. Please visit their website for a current schedule.
7. Clear River Ice Cream, Bakery, And Deli
At this old-time soda fountain on Main Street, popular with tourists and locals alike, you'll see kids enjoying an after-school treat. The deli serves a soup of the day, salads, sandwiches, and wraps you can enjoy in a retro Naugahyde booth. The stars of the restaurant, though, are the homemade desserts and ice cream.
The bakery cases are filled with decorated sugar cookies, macaroons, bars, and slices of pie and cheesecake. Or you can opt for one of their award-winning ice creams — Mexican vanilla or Amaretto peach and pecan. In all, they serve 35 different flavors of homemade ice cream every day so you're sure to find one you love.
This is off the restaurant subject, but if you're feeling nostalgic after you finish your salted caramel ice cream that I highly recommend, head across the street to Dooley's 5, 10 & 25 Cent Store. Inside, you'll find everything from toys that run on imagination rather than batteries to a retro-design oil cloth that covers your picnic table.
Pro Tip: They are currently open daily from 11 a.m. to 7 p.m. but check their website for hours before your visit.
8. Messina Hof Hill Country Winery
Ten miles east of Fredericksburg on Highway 290, Messina Hof winery pairs locally-sourced light bites with their award-winning wine. The menu changes, but when I visited, they had cheese and charcuterie boards, bruschetta, panini, and chocolates made by Fredericksburg Fudge.
Marine Corps veteran Paul Bonarrigo is CEO and lead winemaker at Messina Hof, a Texas winery his father founded in the 1970s. He uses only grapes grown in Texas, including those on the Fredericksburg property. With a wine tasting, you choose the wines you'd like to sample rather than sampling from a set menu. They are happy to help you select from the dozens of wines they make. Reservations are recommended on Saturdays.
Pro Tips: The family-friendly winery allows children in their tasting rooms. Messina Hof has both indoor and outdoor seating, and four quaint bed and breakfast cottages on their Hill Country property. Visit their website for hours and reservations.
Check out all of our Texas Hill Country coverage: