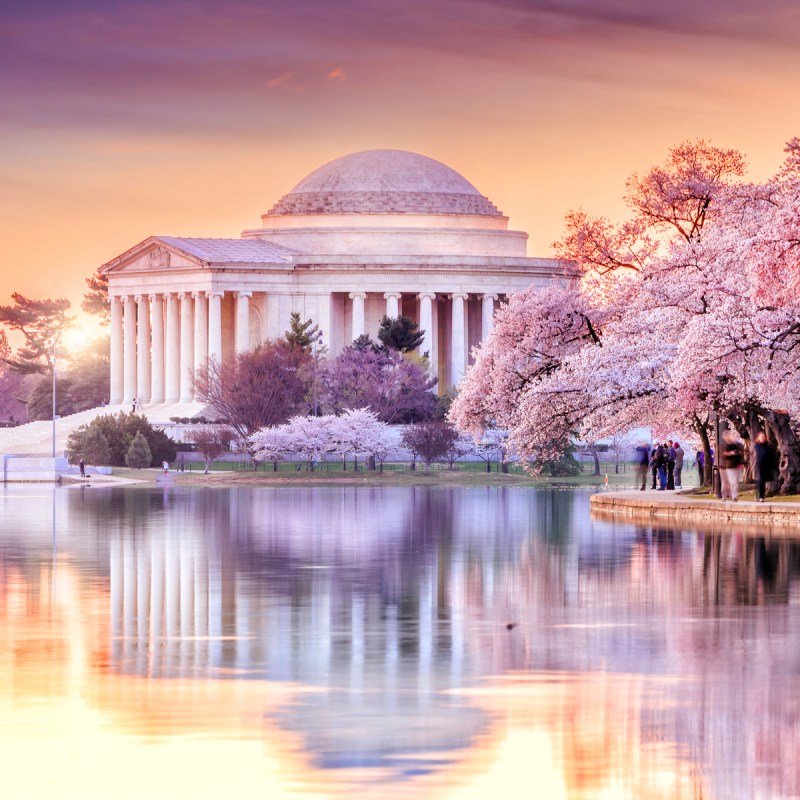 For anyone into festivals or just the good old-fashioned beauty of nature, the National Cherry Blossom Festival in the nation's capital is definitely a bucket list event.
And with the COVID-19 pandemic on the decline, organizers have big plans for this year's festival later this month.
The National Cherry Blossom Festival will run for 4 weeks from March 20 to April 17, filled with activities. And, if Mother Nature cooperates, the stars will be the trees.
According to predictions, peak bloom for the trees will be March 22–25. Peak bloom is considered when at least 70 percent of the trees are in bloom.
"The National Cherry Blossom Festival, like springtime and the cherry trees themselves, symbolizes hope, renewal, and new beginnings," said Diana Mayhew, CEO of the festival. "The trees, a gesture of goodwill from Tokyo to Washington D.C., now, more than ever, serve as a reminder of the importance of unifying communities and sharing in the celebration of peace and international friendship."
A host of activities will take place during the festival's run.
Opening Ceremony
On Sunday, March 20, performers from Japan and the United States will take the stage at the Warner Theatre to mark the start of the festival. The event will also be livestreamed.
Blossom Kite Festival
On Saturday, March 26, kites will take over the Washington Monument grounds with kite performances, kite making, and kite flying events for all ages. Area residents will be encouraged to fly kites in their own community parks that day if they can't make it to the festival.
Festival Parade
On Saturday, April 9, a parade will take place on Constitution Avenue with entertainment, floats, and other cultural performances featuring Taylor Dane, Tag Team, and Freddie Jackson.
Tidal Basin Welcome Area
During peak bloom, the National Park Service will have food trucks, a beverage tent, and information booths from 11 a.m. to 6 p.m., and entertainment and cultural events will take place throughout the day.
Petal Porches
The festival is encouraging residents from D.C., Maryland, and Virginia to join in the celebration with spring and blossom-themed decorations. Amazon and Instagram will hold contests for creativity.
Art In Bloom
The spirit of the season will be celebrated with oversized cherry blossom statues painted by local artists located around town.
City In Bloom
Businesses, organizations, and landmarks around the area will have cherry blossom-inspired lighting and decorations in windows and lobbies.
Cherry Picks
More than 200 restaurants in the area will offer special menus to celebrate the season. And on March 31, patrons are encouraged to wear pink to go out dining for a night of custom menu items at many locations.
Petalpalooza
On Saturday, April 16, the Capitol Riverfront will feature a variety of stages for live entertainment, interactive art, games, and other activities. There will also be an art walk starting on April 1 and running through Petalpalooza in the neighborhood.
In-Person Events Return
The festival was canceled in 2020 because of the pandemic and held virtually in 2021. Needless to say, officials are excited to have it back in person in 2022.
"We are pleased to finally be back in person and have the opportunity to commemorate the 110th anniversary of the gift of 3,000 cherry trees that was given to us by Tokyo Mayor Yukio Ozaki in 1912," D.C. Mayor Muriel Bowser said. "Whether you are a fifth-generation Washingtonian like me or a first-time visitor to our nation's capital, I hope you will immerse yourself in the spectacular radiance of our beautiful and blossoming cherry trees."
Those who can't make it to D.C. can view the blossoms via webcam on the festival website.
"Whether you travel to see the blooms in person or enjoy the blossom experience online with the BloomCam and other virtual resources, we hope you'll join us in Washington's grandest springtime tradition," said Jeff Reinbold, superintendent of the National Mall.
For more travel news information: