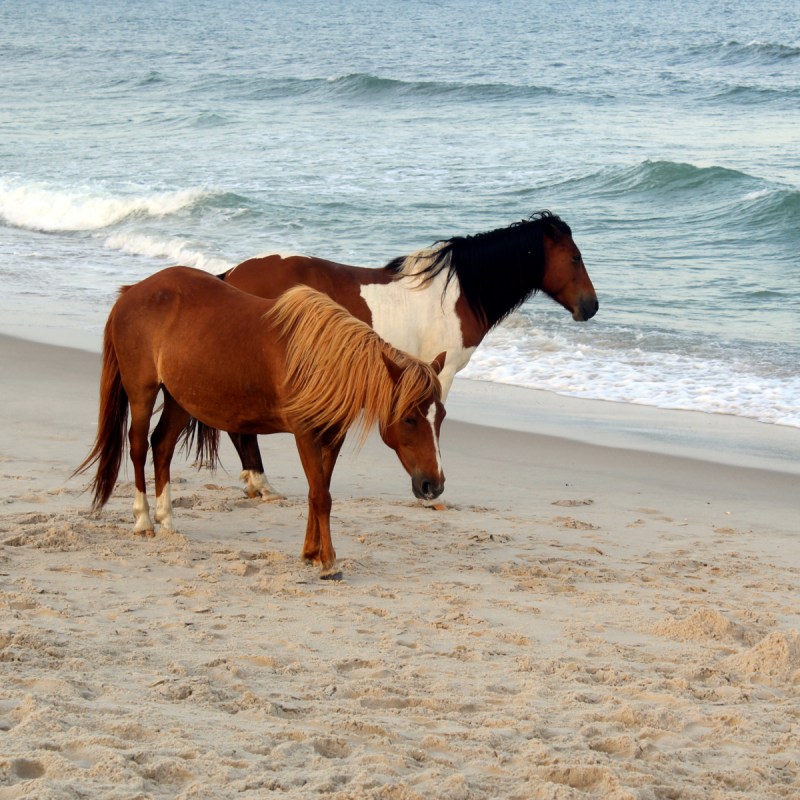 Maryland has 53 diverse state parks covering over 97,000 acres. The majority of the state parks in Maryland are easily accessible and provide a plethora of options for outdoor recreation. Some of the stunning state parks in the Old Line State are very unique. Check out this list of our favorite unique state parks to visit in Maryland, and you might just find your new favorite place to explore.
1. Assateague State Park
Probably the most famous state park in Maryland is Assateague State Park. It is unique in two ways: the location and the horses who live there. It is Maryland's only oceanfront state park located on Assateague Island, shared between Maryland (upper two-thirds) and Virginia (lower third). The barrier island off the eastern coast of the Delmarva Peninsula is a unique, preserved coastal wilderness area.
Assateague is best known for the beautiful wild horses that roam the beach. You won't find them at any other Maryland State Park. According to legend, the feral horses that roam Assateague descended from survivors of a shipwrecked Spanish galleon along the mid-Atlantic coast.
I visited Assateague and Chincoteague as a child after reading Misty of Chincoteague (1947). I wanted to see Misty. I didn't get to meet Misty, but I learned a bit about the island and the wild horses.
Please don't attempt to pet or feed the horses; they bite and kick, are wild, and rangers issue fines to visitors who get too close to them. There are no fences, and the horses sometimes wander into the parking area.
You can enjoy nature, 2 miles of spectacular beaches, surfing, fishing, and swimming in the ocean. The bayside of the park offers kayaking and canoeing.
Pro Tip: Watch where you lay your towel on the beach, and don't leave food out. The horses will forage your belongings to find food.
2. Seneca Creek State Park
This state park is the home to a 27-hole disc golf course. Two other parks have 18-hole disc golf available: Patapsco Valley State Park and Tuckahoe State Park.
Located in Gaithersburg, Seneca Creek State Park is a day-use park with various amenities to enjoy besides disc golf, including the beautiful 90-acre Clopper Lake. Boat rentals are available, as well as picnicking and over 50 miles of trails for hiking, bicycling, and horseback riding.
Pro Tip: Although there is a lake, swimming and wading are not permitted.
3. Calvert Cliffs State Park
What is so special about Calvert Cliffs? You guessed it: the impressive cliffs. This day-use public recreation park showcases 24 miles of cliffs extending from the Chesapeake Beach to Drum Point on the eastern side of the Calvert Peninsula near Lusby, Maryland.
The 20-million-year-old cliffs were thought to be formed when most of the state was covered by shallow water. As the sea receded, the cliffs became visible.
This park is also a fantastic location for fossil hunting. The remains of prehistoric species, including whales, sharks, and seabirds, can sometimes be found on the shore.
Other amenities include a sandy beach, fishing, hiking trails, and marshlands. Calvert Cliffs State Park charges an entry fee (cash only).
Pro Tip: If the grandkids are with you, they will enjoy the recycled tire playground.
4. Sandy Point State Park
Located along the scenic Chesapeake Bay in Anne Arundel County, Sandy Point State Park is a beautiful place to spend the day. It has beaches and picnic areas that provide spectacular water views overlooking the Chesapeake Bay. The gorgeous views make this 786-acre Maryland State Park unique.
Sandy Point is a day park, open from dawn to dusk for swimming and picnicking. Concession stands, bathhouses, playgrounds, a marina store, and boat rentals are available. Mid-November through January 2, the park closes at 4 in the afternoon due to the Lights on the Bay program.
Fishing, hunting, and boat launch activities are permitted outside regular park hours. Just be sure to check with the park before your visit if you plan to participate in an activity that requires you to be inside the park before or after the regular hours.
Fun Fact: The annual Polar Bear Plunge is held at Sandy Point in the winter.
5. Rocky Gap State Park
If you get a kick out of trying your luck at the slots or other games, a visit to the Rocky Gap State Park might be the perfect trip for you. Rocky Gap State Park is a 3,000-acre public recreation area near Cumberland in Allegany County. What makes this park unique is that the Rocky Gap Casino (privately owned) is located in the park.
Inside the casino, machines are beeping, and bells are ringing. A few steps, and you are outside on the beautiful, immense back deck area overlooking the serene 243-acre Lake Habeeb. You can look across the lake and see the visitor center and one of the beach areas (there are three sandy beach areas in the park).
Recreational opportunities are plentiful at Rocky Gap State Park and include boating, fishing, camping, picnicking, swimming, mountain biking, hiking, and more.
The casino offers gaming, hotel accommodations, several restaurants, golf, boat rentals, a spa, and an indoor/outdoor pool. They also provide live entertainment on select evenings. The casino was always busier than anything else in the park when I visited.
Fun Fact: Strictly Slots Magazine named Rocky Gap one of the "Best of Slots 2020: Maryland."
6. Washington Monument State Park
When someone says, "Washington Monument," you automatically think of the towering monument in Washington, D.C., but Maryland has their own Washington Monument in Middletown on South Mountain.
This historic park has a peculiar-looking rough stone monument built in honor of President George Washington in 1827. You have a spectacular sprawling view of mountains, rolling hills, and rural farmlands stretching for miles if you climb to the top.
Within the park is the South Mountain State Battlefield, where the first major Civil War battle in Maryland was fought.
Washington Monument State Park is a day-use park that includes a museum, picnic pavilion, and comfort station.
Pro Tip: Take a jacket and hang on to your camera at the top of the monument. It can be windy.
7. Harriet Tubman Underground Railroad State Park
The life of Harriet Tubman is honored at the Harriet Tubman Underground Railroad State Park. Harriet risked her life for freedom and the freedom of others. She was known as the "Moses of Her People" as she led them north and out of slavery on the Underground Railroad.
Experience her world via exhibits and a self-guided tour in the visitor's center, from her early years as a slave to her work as a leader and liberator. Learn how her selfless and dangerous efforts helped more than 70 enslaved people escape to freedom.
The visitor center also features a research library and a museum store.
The park sits on the trailhead for the Harriet Tubman Underground Railroad Byway that spans 125 miles. This is a great year to visit the 17-acre Harriet Tubman Underground Railroad State Park since it marks the 200th anniversary of her birth; 2022 is dubbed the "Year of Harriet Tubman."
The Harriet Tubman Underground Railroad Visitor Center is open to the public from 10 in the morning until 4 in the afternoon, Tuesday through Sunday.​
Pro Tip: The exhibit hall is a self-guided tour. If you call ahead and rangers are available, they will provide a ranger-led introduction to the park.
8. St. Clement's Island State Park
The St. Clement's Island State Park is unique in that it is only accessible by water taxi from Coltons Point, and it is the birthplace of the state of Maryland.
It is a tiny island in the Potomac River in St. Mary's County where English settlers first landed in 1634. The 62-acre park has trails for hiking and a picnic pavilion. Fishing and hunting are permitted. The most outstanding feature of this unique state park is the giant cross commemorating the settlers who first arrived in Maryland.
Boat tours to the historic St. Clement's Island State Park are provided daily, weather permitting from April through October.
Pro Tip: Portajohns are the only restroom facilities on the Island, and there are no accessible amenities.
9. Gunpowder Falls State Park
Located in Harford and Baltimore counties, Gunpowder Falls State Park is Maryland's largest state park with a total of 18,000 acres and some magnificent waterfalls.
Over 120 miles of trails are great for horseback riding, hiking, cross-country skiing, and biking.
Gunpowder Falls State Park also offers canoeing, picnicking, kayaking, tubing, crabbing, fishing, and hunting.
Be sure to check out the Big and Little Gunpowder Falls when you visit.
Pro Tip: Gunpowder Falls State Park is closed on weekends and holidays. So this would be a weekday spot to visit. It is open between 8 a.m. and 4 p.m.
10. Tuckahoe State Park
This public recreation area along Tuckahoe Creek on Maryland's Eastern Shore in Caroline and Queen Anne's counties includes a 60-acre lake.
Fishing, boating, hiking, biking, and horseback riding are popular in the Tuckahoe State Park. There are also cabins and campgrounds.
This Maryland State Park is unique in that it is home to the 500-acre Adkins Arboretum, a garden and a preserve showcasing more than 600 native plant species. Ecology, natural history, and horticulture classes are held in the park.
Maryland has a ton of incredible state parks. There is a State Park for everyone in Maryland from the Chesapeake Bay to mountain ranges, from the ocean to the Underground Railroad. You can check out the various amenities at each Maryland State Park on this free park map. Which one will you choose for your next adventure? And don't forget about all the other fabulous outdoor opportunities like hiking or biking that are available in Maryland.
To learn more about Maryland before you visit: