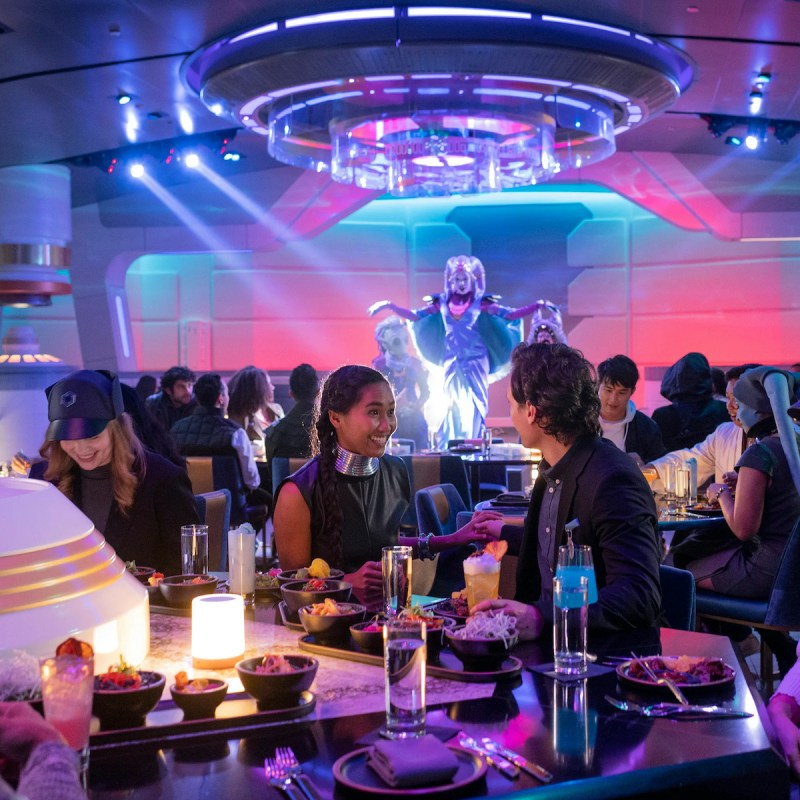 Much of the appeal for Star Wars: Galactic Starcruiser is that the Walt Disney World attraction is an immersive experience set in the Star Wars realm. What's interesting, however, is that even the food and the dining room are part of the immersive experience.
In other words, if you're going to Star Wars: Galactic Starcruiser, which opened yesterday, March 1, get ready to eat and drink things you've never seen before. After all, they come from locations across the galaxy.
How The Experience Begins
The experience starts at the Galactic Starcruiser Terminal, where guests will check in, enter a Launch Pod, and "virtually" leave Earth. They can even look through windows as their Launch Pod blasts into space before it docks at the Halcyon starcruiser, where they will stay for two nights.
When the Launch Pod docks with the Halcyon, an airlock opens so passengers can step into the Halcyon Atrium. Once aboard the Halcyon, the immersive experience adventure begins — filled with memorable activities such as lightsaber training and a trip to the remote planet Batuu for a visit to the Black Spire Outpost.
Relaxing On The Halcyon
After a day filled with interplanetary travel, lightsaber training, and interacting with Disney cast members, the next stop is the Sublight Lounge for a chance to socialize and enjoy casual light snacks as well as ales, wines, and signature cocktails from across the galaxy.
"The classic elegance of the Sublight Lounge makes it the perfect place to sip a beverage and relax — perhaps while conspiring with a charming smuggler or playing a casual game of holo-sabacc," Disney World explains.
In case you aren't fully up-to-speed on Star Wars details, holo-sabacc is basically electronic poker.
The Crown Of Corellia Dining Room
The dining experience aboard the starcruiser takes place in what's known as the Crown of Corellia Dining Room. Dinner both nights is "a lavish multi-course, table-service menu of both otherworldly and familiar origins," Walt Disney World explains.
The first night, dinner is accompanied by a performance from Gaya, the Twi'lek musical superstar who moves around the room singing her biggest hit songs. Gaya is joined by a musician named Ouannii.
The second night's dinner is what's called the "Taste Around the Galaxy" dinner experience because each course features food from different planets. For instance, smoking cheese and bread dishes are recipes from the molten planet Mustafar, blue shrimp is from the jungles of Felucia, and the beef and seafood dishes are served from the Wookiee homeworld of Kashyyyk.
By the way, breakfast and lunch aren't the normal fare from Earth either. While dishes may have familiar tastes, passengers will encounter unexpected colors and textures — as you would expect in a Star Wars setting.
At breakfast, passengers can choose from hot and cold small plates and various beverages including coffee and Bubo Wamba Family Farms blue milk. At lunch, they can choose from small bites such as sandwiches, soups, mini flatbreads, and assorted salads.
Know Before You Book
It should be noted that the otherworldly food and beverages are included in each Star Wars: Galactic Starcruiser vacation package, along with the ongoing, immersive entertainment, a two-night stay in a cabin or suite, admission to Disney's Hollywood Studios for the planetary excursion to Star Wars: Galaxy's Edge, and valet parking.
If you're planning a trip to Star Wars: Galactic Starcruiser, keep in mind this is a highly anticipated attraction and demand has been building for months. The attraction just opened, but aside from some random dates in May, it is essentially booked solid through June. You can learn more about the rates and availability here.
If you'd like to learn more about the immersive experience aboard Star Wars: Galactic Starcruiser, be sure to read: