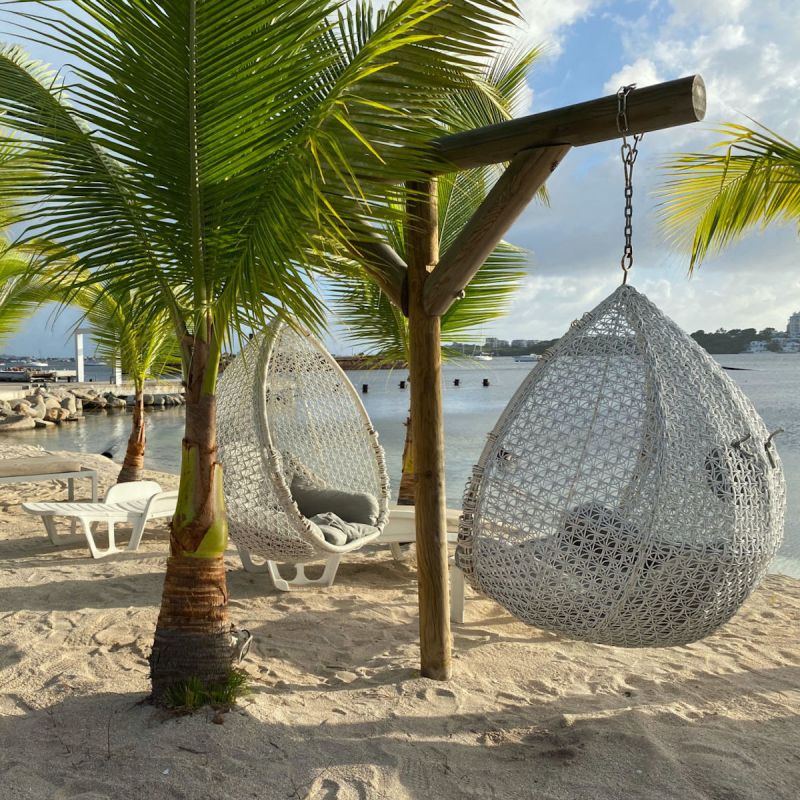 While I had visited St. Maarten many times on cruises, I had never left for a cruise from this port until I sailed with Windstar Cruises. My husband Eddie and I flew into St. Maarten and used the ship's transfer to shuttle us to a hotel; we wanted to be sure to dodge any unexpected change of travel plans before cruising the following afternoon. There was time to experience a little more of the dual-nation island than in the past, which was a nice change of pace. Here is what we found to be the best things to do in St. Maarten during a day in port.
St. Maarten, Dutch (Netherlands), and St. Martin, French, make up the two-nation, 37-square-mile island in the Lesser Antilles Archipelago.
I was hosted by Windstar Cruises on a press trip. All reviews and opinions are 100 percent unbiased and my own.
1. See The Marigot Waterfront
St. Maarten's capital, Marigot, has many boutiques and quaint outdoor French cafes, bistros, and sushi restaurants. Colonial buildings, plus some contemporary, are situated between pastel-colored shopping arcades.
Shopping and dining — named some of the best in the Caribbean — are primo at this picturesque location. You'll find Rosemary's Seafood and Creole Cuisine, a restaurant written about in major magazines and books, such as Travel + Leisure and Lonely Planet.
Pro Tip: Don't miss the sculpture of the Market Woman, done by local artist Martin Lynn and dedicated to the St. Martin Market Women. It is one of St. Martin's most recognized works of art.
2. Arrive Early
Arrive on the island of St. Maarten — often written Sint Maarten — a day before your cruise, so you have a chance to unwind and enjoy the starting point a bit. We stayed at the Homage Hotel & Residences, a modern hotel on the French side, St. Martin, with a huge bedroom and well-lit bathroom. Tropical paintings, vibrant colors, and accent pieces really made our room pop. A small patio with lounge chairs was right outside our room through sliding glass doors, which led right down to the sand. We were steps from the beach.
The Homage Hotel had a stunning infinity pool and plenty of space to wander with social distance. Be prepared to feel like you've been transported somewhere amazing during your stay here. Palm trees were plentiful, and the entire resort was covered with unique artwork and sculptures. The Homage had an onsite restaurant and bar, which was good since nothing was very close to us. Eddie and I thoroughly enjoyed the tropical vibe, cute spots to hang out along the waterfront, and the chill-out Ibiza music playing throughout.
3. Explore St. Martin
The French Side Of The Island
St. Martin has a totally different feel and vibe from its counterpart, St. Maarten. Eddie and I had a great night out here with new friends we'd made at the hotel who were also going on our cruise. We took a cab to Marigot for dinner at Be Kool. The restaurant sat on the waterfront and was in an excellent location. We each had a bowl of French onion soup, luscious and rich. My main course was a fantastic pork tenderloin with mushroom sauce.
You won't want to miss the high-end retail and fancy designer shops in the daytime and the open-market bazaar in St. Martin. There are also vendor stalls with fresh produce, locally-made jewelry, and clothing to meet your shopping needs.
Pro Tip: Please note that this area, like much of the United States, is experiencing a worker shortage, so be prepared to spend 2+ hours at dinner.
4. Take An Island Tour Of St. Martin
We had quite a bit of time to kill after disembarking our Windstar Cruises ship before heading to the airport, so we signed up for the 3-hour, post-cruise island tour. Our guide was fantastic — full of knowledge and fun, relatable facts, plus cheery and happy-go-lucky. We made a loop of the entire island and had several photo-ops and free time opportunities.
The group spent 25 minutes or so strolling around Marigot at our own pace. Use this time to grab a French pastry, baguette, or great cup of coffee. We had around 45 minutes to explore downtown Phillipsburg. This is where many large cruise ships come into port, so there are plenty of things to see and do. We found an Indian restaurant on a side street off Front and had a delicious meal. For a bonus, there was free WiFi and the owners were very gracious for our business.
Pro Tip: Yacht racing is popular in St. Martin — you will see plenty of pricey vessels worth a photo.
5. Downtown Phillipsburg
Downtown Phillipsburg has 16 blocks of nearly everything you could wish to purchase duty-free, mostly jewelry, clothing, electronics, and shoes. I found the charming little courthouse to be a nice change in scenery, looking like it was transported from New England.
Voorstraat has casinos — slots, blackjack, and roulette — and duty-free shops, plus a Hard Rock Cafe that unfortunately closed and broke my heart as I was craving a juicy cheeseburger.
On the beach side of Great Bay, you'll find the cool boardwalk, an excellent place to enjoy the salty air, people-watch, and buy souvenirs. Popular souvenirs include magnets, postcards, tote bags, rum, and tropical clothing. It was Christmas on our visit, and Heineken had a Christmas tree display for a big event that topped all holiday decorations for the whole trip.
Pro Tip: There are some fun murals to see around downtown Phillipsburg, too.
6. Phillipsburg Marketplace
Front Street, which runs along the eastern Caribbean Sea's waterfront in Phillipsburg, the Dutch side of the island, is lined with flags, street lamps, and pure white sand beaches. Market stalls, or kiosks, offer all sorts of handmade goods at the Phillipsburg Marketplace, such as license plates, jewelry, toys, and t-shirts.
If tablecloths excite you as they do us, check out Mr. Tablecloth Too, with custom-made pieces, placemats, and table runners. Lace is an artform on this island, and the delicate pieces make one-of-a-kind souvenirs.
Pro Tip: While prices are negotiable, I encourage you to not barter and support the locals who rely on tourism to put food on their tables.
7. Go Fishing
St. Maarten is a year-round fishing destination, so use your time to charter a boat and try it. Or even go deep-sea fishing, which is an option with Viator, a TripAdvisor company that I've used around the world. Sailfish and marlin are popular during the summer months, while kingfish, wahoo, and mahi-mahi are highly sought after.
8. Enjoy The Beaches
Cruise ships dock at A.C. Wathey Pier, in Dutch St. Maarten. It is referred to as the "St. Tropez of the Caribbean."
St. Martin boasts the most famous beach on the island, Orient Beach. Expect frolicking sunbathers; ladies in colorful clothing, selling over-priced goods and offering to braid your hair; and tasty, cosmopolitan restaurants on the beach with the best beef carpaccio you've ever tasted.
If you wish to enjoy a day at the beach, look no further. Bring some cash to reserve a lounge chair and umbrella, should you desire, and feast your eyes on the magical crystal blue water and often the athletic youngsters playing volleyball or chasing waves. Orient Beach is continually voted one of the world's most beautiful beaches.
I will alert you that there is a clothing-optional beach, so be prepared. It is somewhat on the edge of Orient Beach and in the Club Orient section. Don't expect big parties there or something MTV-worthy, as these are primarily people just dabbling in naturalism. Please do not use a camera, and respect their privacy.
While St. Martin has Orient Beach, St. Maarten has an exciting opportunity that is unmatched anywhere in the world. You can watch the airplanes land at Princess Juliana International Airport on Maho Beach. And by watching, I mean you can feel the force of the wind from the planes so strongly that you may need to brace yourself. Sandblasted is what they call it. The airport sits along the beach, with a mountain on the other side.
For a quieter option in St. Maarten, consider going to Mullet Bay Beach, perfect for snorkeling and enjoying water sports. Fun fact: The island has a whopping 37 beaches in total.
Pro Tip: Order a famous Sint Maarten Guavaberry Colada. This three-ingredient drink is made from Guavaberry liqueur (the island's national liqueur), cream of coconut, and pineapple juice.
9. Go Horseback Riding
It's always a thrilling opportunity to ride horses on the beautiful sandy beaches, so why not check off this bucket list activity while you are here?
For more Caribbean island getaways, check out these stories: