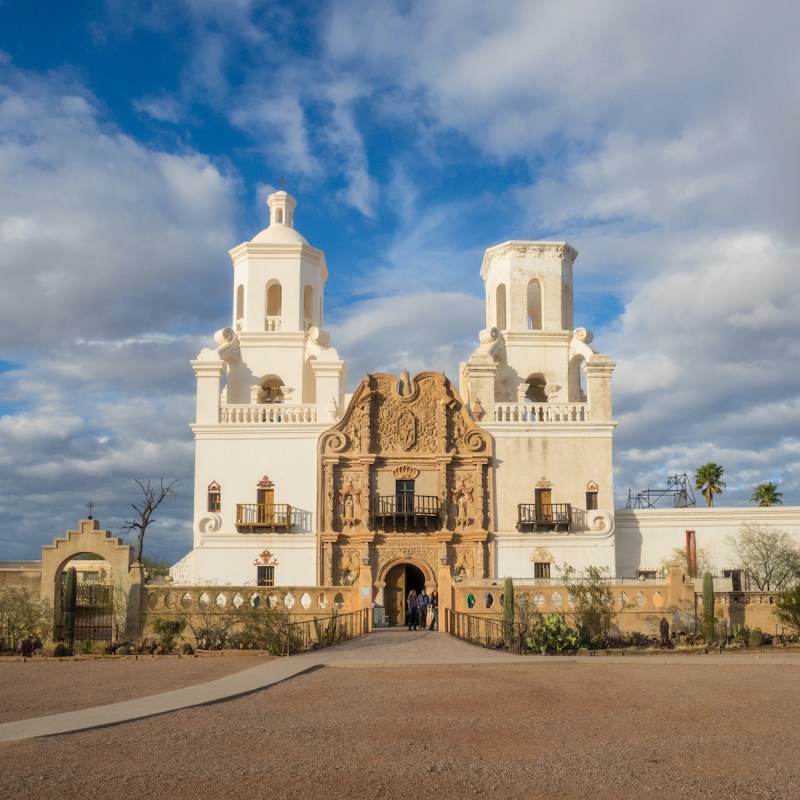 At first glance, Tucson and Scottsdale, Arizona have plenty of similarities. They are both metropolises located in the middle of the Sonoran Desert, they both have sizzling-hot summers and wonderfully warm and sunny winters, and they both offer stunning mountain-and-cactus views.
But look a little closer, and Arizona's second-largest and fifth-largest cities have some distinctions that can make a big difference for people looking for a place to spend their retirement years.
While both cities offer all of the shopping opportunities and basic services anyone could want or need, Tucson and Scottsdale differ in their range of cultural, recreational, transportation, and medical amenities, as well as in their average costs of living.
Whether your retirement dreams are of biking and hiking scenic trails, exploring art museums, or taking in a variety of professional sports events, making the right choice between Scottsdale and Tucson matters.
Here are nine of the key differences between Tucson and Scottsdale for retirees to consider.
1. Scottsdale Is Part of A Larger Metro Area
While Tucson has about twice the population of Scottsdale, those numbers do not tell the whole story of the two cities.
Scottsdale, with a population of about 244,000 people, is one of more than 20 cities that make up Phoenix's massive Valley of the Sun area, which also takes in major cities such as Mesa, Tempe, and Chandler. Altogether, the Phoenix metro area has a population of more than 5 million people.
Tucson, on the other hand, has a population of just over a half-million people and is part of a metro area of about 1 million people, including nearby communities of Oro Valley, Marana, and South Tucson.
Pro Tip: Although both of Arizona's two largest metro areas have sprawling footprints crisscrossed by busy freeway systems, Phoenix's dramatically larger size – both in population and landmass – means that it takes longer to get from community to community in the Valley of the Sun. Likewise, the freeway system in the Greater Phoenix area is more complex than Tucson's.
2. Scottsdale Has A Higher Cost Of Living
In general, Scottsdale is known as one of the Valley of Sun's more upscale communities, and there is a significant disparity in average home prices between it and Tucson. According to the Zillow website, the typical home cost in Scottsdale in early 2022 was $768,804, while the typical home price in Tucson was $296,046.
Comparing the overall cost of living in the two communities to the national average, Tucson is 8 percent below the average, while Scottsdale is about 33 percent above the average.
3. Tucson Is In Southern Arizona; Scottsdale Is More Central
Scottsdale and Tucson are only about 120 miles apart, but they occupy different regions of Arizona, and they reflect the cultures of their respective regions.
Tucson is located in the southern reaches of Arizona, an hour or so north of the U.S./Mexico border. With that proximity comes a strong Mexican influence in the cuisine and the culture. For instance, Tucson bills itself as having the Best 23 Miles of Mexican Food in the U.S. And for history buffs, Tucson is located within a quick drive of spectacular 1600-and-1700s-era missions like Mission San Xavier del Bac and Tumacácori National Historic Park.
Scottsdale has a more central location and fosters a culture steeped in western traditions and Southwestern art. Long known as "The West's Most Western Town," Old Town Scottsdale features many public sculptures with cowboy-and-horse themes, as well as buildings with western façades. It also is home to the Western Spirt Scottsdale Museum of the West.
4. Scottsdale Is Near A Major International Airport
If having easy access to a variety of U.S. and international destinations by air is a high priority, then Scottsdale is the more convenient retirement choice. Phoenix Sky Harbor International Airport, one of the top-10 busiest airports in the U.S., is within a 20-to-30-minute drive from most locations in Scottsdale.
Sky Harbor serves as a hub for American Airlines and is a base for Southwest Airlines, and virtually every other major U.S. airline, as well as several international airlines, fly out of Phoenix. The airport's website lists 117 domestic destinations and 23 international destinations.
Tucson also has an international airport, but it is smaller, featuring seven airlines that fly nonstop to 18 destination airports.
5. Tucson Has A Slightly Cooler Climate
There's no getting around it: Both Scottsdale and Tucson get hot in the summer. Temperatures in both communities approach or exceed the 100-degree-Fahrenheit mark through much of June, July, and August, and often reach the 110-degrees range.
Still, Tucson sits at a slightly higher elevation than Scottdale – at 2,400 feet, compared to Scottsdale's 1,260 feet – and posts somewhat cooler summer temps.
Average high temperatures in Tucson reach the 100-degree mark in June and July and hover in the 90s in May, August, and September. Compare that to Scottsdale, where average highs range from 103 to 106 in June, July, and August, with September averaging 99 degrees and May averaging 94.
The two communities post fairly similar climates in the winter, early spring, and late fall with average highs in the 60-and-70-degree range from November to March, and with April and October in the warm-and-sunny 80-degree range.
6. Scottsdale Is Closer To Professional Sports
For proximity to professional sports, Scottsdale is hard to beat. The Greater Phoenix area is home to a full roster of professional teams, including the NFL's Arizona Cardinals, the NBA's Phoenix Suns, MLB's Arizona Diamondbacks, the NHL's Arizona Coyotes, the WNBA's Phoenix Mercury, the United Soccer League's Phoenix Rising FC, and the Indoor Football League's Arizona Rattlers.
The Valley of the Sun also hosts major sporting events like the Professional Golf Association's Waste Management Phoenix Open and college football's Fiesta Bowl. And in the springtime, Cactus League Spring Training brings a host of Major League Baseball teams to the Valley.
While Tucson is also known as a sports town, it is focused mostly on the University of Arizona's Arizona Wildcats teams, as well as the American Hockey League's Tucson Roadrunners, and the professional indoor football team, the Tucson Sugar Skulls.
7. Tucson Has A Stunning Array Of Recreational Opportunities
When it comes to outdoor activities, Tucson shines with its huge variety of opportunities that include the ruggedly beautiful Saguaro National Park, the mountain/desert Catalina State Park, the cactus-covered hills of the Tucson Mountain Park, and the waterfalls of Sabino Canyon area – all of which have extensive hiking opportunities.
Tucson is also recognized as one of the most bike-friendly cities in the U.S., and it is just a little over an hour's drive from snow skiing at the Mount Lemmon Ski Valley in the beautiful mountain town of Summerhaven.
Although the terrain is less varied in Scottsdale, the Valley of the Sun area also features a number of mountain ranges that offer access to many hiking trails, including the gorgeous Pinnacle Peak Trail, the Camelback Mountain Trails, and the east-Valley Lost Dutchman State Park and the spectacular Superstition Mountains. Scottsdale is also well-known for its numerous golfing opportunities and luxurious golf resorts.
8. Scottsdale Is Steeped In Art
Scottsdale sits amidst a vibrant art scene, which takes in dozens of art galleries and public art installations in the city's Historic Art District, as well as nearby museums such as the Heard Museum (known for its collection of Native American art), the outstanding architecture at Frank Lloyd Wright's Taliesin West, the unique exhibitions at the Desert Botanical Garden, and the variety of art showings at the Phoenix Art Museum. Scottsdale is also within a short drive from the Arizona State University's Gammage Auditorium, which hosts a wide range of world-class musical and theatrical productions.
Art flourishes on a somewhat smaller scale in Tucson's many galleries and studios, the University of Arizona Museum of Art, numerous colorful Southwestern-themed public murals, and the Museum of Contemporary Art Tucson.
9. Tucson Is A UNESCO City Of Gastronomy
There's no question that both Scottsdale and Tucson have thriving dining scenes with virtually endless choices of Mexican, Southwestern, and upscale American restaurants. That said, Tucson has a culinary distinction that is unique not just in Arizona, but in the entire United States.
In 2015, Tucson became the first city in the U.S. to earn the United Nations Educational, Scientific, and Cultural Organization designation as a UNESCO City of Gastronomy. The title sets Tucson apart both for its stellar Mexican cuisine and its Native American influences. Restaurants such as Charro Steak & del Rey and The Cup Café have made the list of certified Tucson City of Gastronomy Restaurants.
Scottsdale also has a wide range of Mexican and Southwestern choices, such as Los Olivos Mexican Patio and Barrio Queen, but the city is perhaps more well-known for its trendy, upscale spots like Olive & Ivy and Nobu Scottsdale.
How To Choose
Overall, both Scottsdale and Tucson are wonderful locations for sun-loving, active retirees, and both communities have about 14 percent of residents in the retirement age of 65 and older.
Scottsdale would be a great fit for retirees who have interests in art, golf, hiking, and professional sports. Tucson is a great choice for retirees who like to hike, bike, explore historic sites, and travel often to Mexico. Tucson also tends to be more affordable – especially for retirees looking to buy a house.
Pro Tip: A few other distinctions for retirees to keep in mind are in the healthcare and education arenas. While both communities offer plenty of hospital and clinic options, Scottsdale stands out for its campus of the world-renowned Mayo Clinic. And on the education front, Tucson embraces its university-town vibe as the home of the excellent University of Arizona.