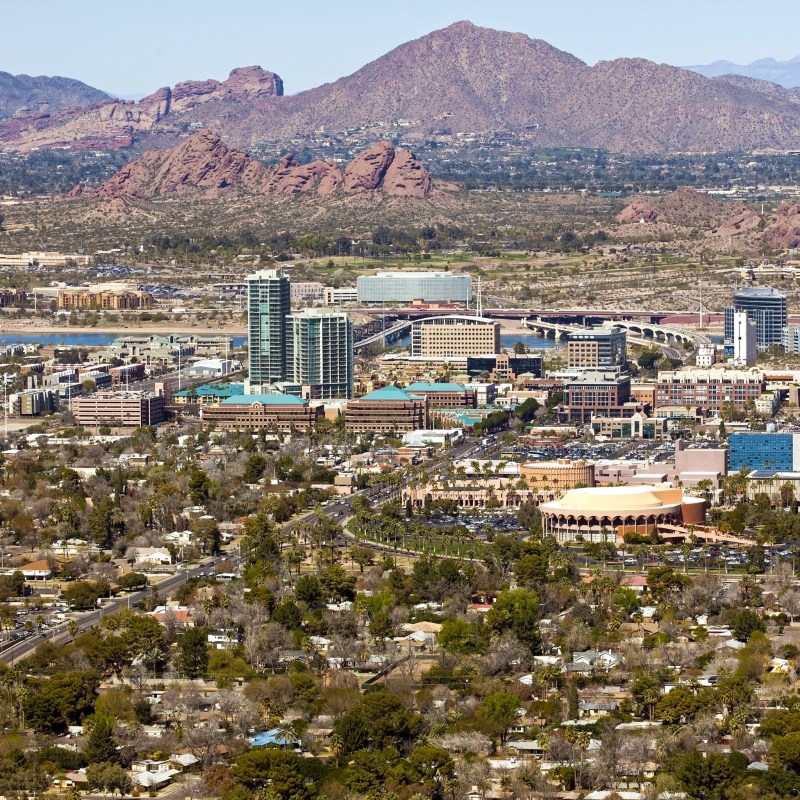 With 330 days of sunshine each year and an average daily temperature of 85 degrees, Tempe always feels like summer. Home to Arizona State University (ASU) — one of the country's largest public universities — Tempe offers everyone the fun of college life along with plenty of outdoor activities and a wide range of cuisine options. Whether you have just one day to explore or an entire weekend, you'll have a great time.
What To Do In Tempe
This college town is always bustling, so you'll never be bored in Tempe. And if you're an outdoor lover, you are in for a treat. Here's what to do when you're in town.
Hike In Papago Park
Papago Park is a 1,200-acre expanse of Sonoran Desert dotted with large, red buttes. Winding among the buttes are miles of paved and dirt trails, perfect for an easy hike. The trails range in length from .5 to 3 miles.
For a great overview of the park, try the 2.3-mile Double Butte Loop. If you can visit the park at sunset, climb up the short Hole-in-the-Rock Trail and enjoy a view of Phoenix in the distance.
Learn About Desert Flora And Fauna
The Desert Botanical Garden, located in Papago Park, is a 120-acre space dedicated to the conservation of desert plants. There are more than 50,000 plant displays exhibited.
Within the garden are several nature trails that highlight the plants of the Sonoran Desert. The Plants and People of the Sonoran Desert Loop Trail demonstrates how native people used plants for food, medicine, and building material. Along the way, you'll meet docents who are happy to answer questions.
If you're able to visit the gardens in the spring, you'll be rewarded with blooming cacti and wildflowers.
See The Murals
If you love street art, you'll definitely want to take the self-guided tour of murals in Tempe. By car, it will take about an hour to see all seven murals.
Along the way, you'll see Jake Early's 400-foot mural Meet Me at Daley Park, which captures the city's history. There's also the two-story mural Woman in a Dream by Clyde Thompson. This was painted without the owner's permission, but, fortunately, the owner liked it and agreed to let it stay. At the end, you'll enjoy artist Jayarr's vibrant mural, You Are Amazing. These three words have become his moniker and bring a much-needed message to anyone driving by.
If you have more time, explore the public art installations around the city, including Contours and Crossings — three bridges spanning the Crosscut Canal in Papago Park. There are currently 80 pieces throughout Tempe.
Admire The Art At ASU
The ASU Art Museum offers a collection of 12,000 objects for art lovers to experience. It boasts one of the largest collections of 20th-century American ceramics in the United States.
The museum can be found in the Nelson Fine Arts Center on ASU's Tempe campus. You'll find five galleries and three sculpture courts. Before entering the museum, be sure to appreciate Leo Villareal's Point Cloud, an oversized, four-sided column of mesmerizing LED lights.
If it's a hot day in Tempe, this indoor activity can be a great way to get a break from the heat.
Roll Through Town
Cycling is a great way to get an overview of Tempe — there are 215 miles of bike trails in the area. In fact, in 2015, the city was named a Gold-Tier Bicycle Friendly Community by the League of American Bicyclists.
To enjoy the desert, head to Papago Park's Crosscut Canal Path. Or try riding along the Kyrene Canal Path. If you need to rent a bike, Northshore Watersport Rentals can help. Their electric bikes make riding easy and fun. Grid Bike Share is also a nice option if you want to pick up and drop off your rental bike in different locations.
If you prefer mountain biking, the South Mountain Park & Preserve offers 50 miles of multi-use trails. The Desert Classic Trail has great views and is beginner friendly. If you really want a challenge, try the National Trail.
Combine a guided tour with a ride with Tempe E-Bike Tours. Over the course of 2 hours, you'll see many of the city's highlights, including Papago Park, Tempe Town Lake, and ASU.
Get A View Of The City
To get a great view of downtown Tempe, especially at sunset, head to the top of A Mountain, named for the giant A painted on it each year by ASU students. Along the way, you can see petroglyphs left by the ancestral Sonoran Desert people. The last section of hike is steep, but the views are worth it. This trail also allows dogs as long as they are leashed.
Head To The Lake
Right in the heart of the city is Tempe Town Lake, a great spot for water sports. While swimming is not allowed, you can get out on the water by boat. Boat Rentals of America offers a variety of boats, including pedal boats and kayaks. If you've always wanted to try stand-up paddleboarding, this is a good spot to do so, and all the equipment can be rented at the lake.
If you prefer to explore the lake on land, try taking a walk or jog or renting a bicycle.
Where To Eat In Tempe
There's a wealth of great restaurants in Tempe, so be sure to leave plenty of time to eat during your visit.
Four Peaks Brewing Co. should be the first stop for everyone. Located in a former creamery, Four Peaks has great beer and delicious food. Typically there are 16 beers on draft, including the bestselling beer in Arizona, Kilt Lifter. They've recently released their first hazy IPA, and it's really tasty.
Ghost Ranch gets rave reviews from visitors and locals alike for its Southwestern cuisine. One of their most popular entrees is the Cowboy Steak, but definitely get an order of the queso fundido as a starter. Wash it all down with a Ghost Ranch Margarita, or if you like it spicy, the Pina Picante.
If you're celebrating a special occasion or want great views while dining, head to Top of the Rock at the Marriott Tempe. For decades, this restaurant has received rave reviews for their food, service, and ambience. The menu features a variety of fish and meat dishes, including seared duck, Arctic char, and wagyu short rib. To make the most of the view, request a window table and arrive before sunset. If the weather permits, sit outside on the patio.
Where To Shop In Tempe
Be sure to save time for shopping while you're in town, because Tempe has plenty of unique boutiques to explore.
Changing Hands Bookstore has been in Tempe since 1974 and sells both new and used books. Bibliophiles could easily spend hours here browsing the shelves stuffed with books. If you have grandkids in your life, there's a terrific children's section. And if you enjoy hearing directly from authors, make time for one of the 300 author events offered each year.
Those with a sweet tooth should head to Candy Addict, with 1,500 varieties of candy. If you have a craving for a favorite sweet from childhood, you'll likely find it here. Splurge on gifts for the grandkids — or just save it all for yourself!
Lotions & Potions sells a wide range of biodegradable body care products, essential oils, and fragrances. In fact, their fragrance collection includes 500 choices! This is a great place to pick up a gift for a special friend.
Sports lovers and Sun Devil fans will definitely enjoy Cactus Sports, a part of the Tempe community for 25 years. As an official vendor for ASU, this shop helps support the school and its students. Sportswear is available for everyone, from infants to adults.
Where To Stay In Tempe
There've been several new hotel openings in Tempe in the past few years. Whether you're looking for budget or luxury accommodations, there's something for everyone.
Opened in 2020, Canopy by Hilton combines the style and personal attention of a boutique hotel with the experienced operations of a major chain. Every part of the decor has been chosen to reflect the local scene, from the Tempe mural in the hotel restaurant, Alter Ego, to the cactus sculptures in the lobby. At check-in, guests are given caramels hand-crafted by a local bakery. The rooms are large and stylish and include thoughtful touches, like robes and Nespresso machines. Located across the street from ASU, the Canopy is within a short walking distance of many local attractions and restaurants.
Hyatt Place/Hyatt House also opened in 2020. The dual-branded, LEED-certified hotel is conveniently located adjacent to Desert Financial Arena and within walking distance of Sun Devil Stadium and a number of other popular spots in Tempe. This mid-ranged hotel brand offers guests affordable accommodations along with a rooftop pool, onsite restaurant, and an included breakfast.
In 2021, the Westin Tempe brought luxury accommodations to town. The brand that prides itself on wellness offers a fitness center with Peloton bikes and pilates balls. Both the rooms and the lobby feature minimalist decor with neutral colors. But the highlight of the new Westin is the rooftop bar, Skysill, boasting expansive views of Tempe from the 18th floor.
What To Know Before You Go
Deciding when to visit Tempe is a matter of personal preference. It will definitely be busy during the school year, especially football season — but that can also be a great time to experience this college town at its best.
The summer can get pretty hot, with temperatures in the low 100s, so if you prefer something cooler, try visiting in the winter, spring, or fall. Always keep in mind that you're in the desert, so stay hydrated and don't forget the sunscreen.
If you're in Arizona and just want to explore Tempe for a day, you'll have a great time. But if you have more time, consider making it a weekend getaway to fully appreciate all that this town has to offer.
Related Reading: