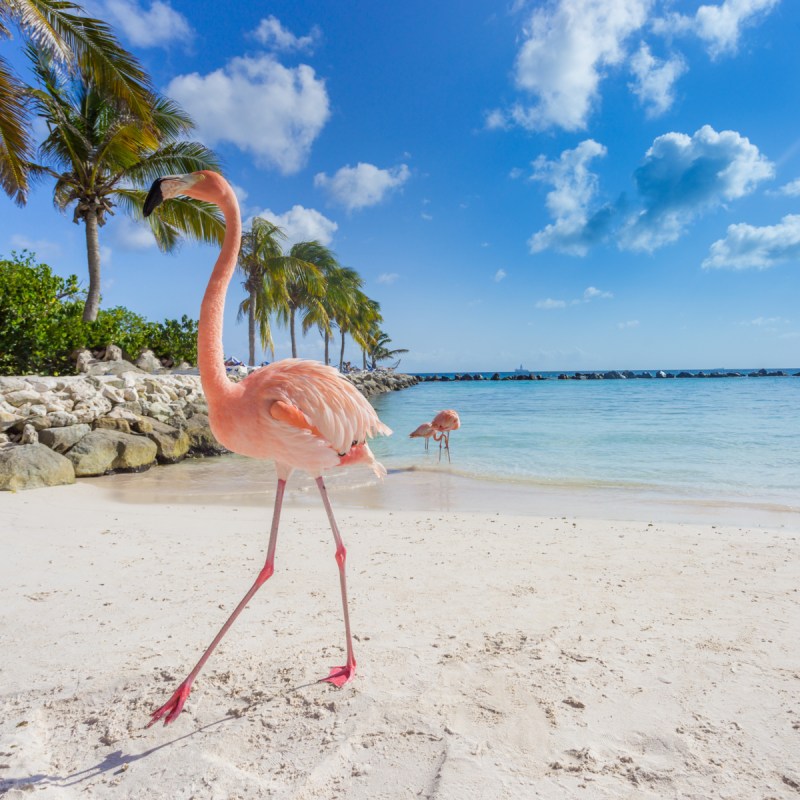 "One Happy Island" for visitors as well as retirees: Snowbirding in Aruba for a quick 2-week get-out-of-the-freezing north is the perfect excuse to sample Aruba's wonderful all-inclusive resorts. Snowbirds can stay up to 90 days for a longer thaw and miss winter entirely. This tropical Caribbean island is the answer to all your snowbirding flights.
Aruba's easy access, daily sunshine, breezy trade winds, English-speaking citizens, and U.S. dollar-friendly economy are everything you could want in a winter getaway. So many retirees love Aruba so much they have moved to this charming tropical island full time, permanently nesting in beautiful toes-in-the-sand bungalows.
Some information in this piece was obtained during a sponsored press trip, but all recommendations are my own.
1. The Climate Is Perfect For Snowbirds
By the very definition of living the snowbird life, you take flight to a warmer destination. Aruba is perfectly situated 12 degrees north of the equator and is part of the West Indies and the beautiful Caribbean islands. Sitting outside the hurricane belt, Aruba is known for having a comfortable average temperature of 82 degrees. With only an average of 15.7 inches of rain each year, you can almost guarantee a daily dose of sunshine provides vitamin D.
If the gorgeous weather isn't enough to convince you to snowbird on this perfect Caribbean island, there are a host of other reasons why Aruba is extremely popular for visitors, long term guests, and expats.
2. English Is The Language
English is widely spoken in Aruba. Since Aruba is a member country of the Kingdom of the Netherlands, Dutch is also prevalent across the island. The traditional island language, which locals still use today, is Papiamento.
Almost every restaurant, shop, and activity has one or more English-speaking hosts or guides. You will get along very nicely around the island speaking English.
3. Feel Safe Out And About
Whether you stay at an all-inclusive resort, a highrise hotel, or a private rental, you will feel very comfortable traversing the island. Aruba is considered one of the safest islands in the Caribbean. It is politically stable, has a high standard of living, and is dedicated to its tourism focus economy. The Aruban government takes the safety of its citizens and guests very seriously.
You will feel very comfortable leaving your resort or rental and exploring the island by bike, car, or on foot. Of course, like any destination, you should not venture out after dark or secluded areas alone, but in general, you will be very comfortable traveling throughout the island.
4. Enjoy A Nice Long Visit
According to Aruba's Department of Integration, a migration officer can determine the length of your stay. If you are nesting in a hotel or resort, you must have a minimum of $75/day to cover your expenses. In general, you can stay up to 30 days as a visitor, which is plenty of time to shake off the northern icy wind and snow.
If you want to stay longer, up to 180 days, you need to own real estate. This could take the form of a house, timeshare, or a yacht (14+ meters long); so the requirements are not excessively restrictive.
Aruba's new One Happy Workation program allows U.S. nationals to stay up to 90 days without requiring governmental paperwork. You must stay at an approved location like the Divi Village Golf and Beach Resort. This program allows you to enjoy a full 90 days on this gorgeous island. The One Happy Workation program makes Aruba the best Caribbean island for a long winter getaway.
5. Healthcare Insurance
When your desired location offers endless white sand beaches, gorgeous turquoise ocean water, sunshine every day, and cool tropical breezes you find yourself thinking about and acting on staying healthy. Hop on a bike, take a walk, or explore Arikok National Park; there are outdoor activities to keep you moving while having fun in the sun.
Aruba's healthcare system is as good as you would expect on a tiny island. However, most expats and digital nomads opt for a cost-effective international health insurance policy. When traveling internationally, even for a short time, it is important to make sure you have insurance coverage in the event you need to be treated or evacuated. For a small investment, you are covered in case you experience a health emergency.
6. Property Ownership For Permanent Snowbirds
To buy or not to buy property in Aruba. A question that must be seriously considered before signing on the dotted line.
Aruba offers potential residents who are 55 or over a special retirement residency program. To qualify, retirees need to own property in Aruba and have a minimum annual income of $56,200 U.S. dollars. You will find the year-round cost of living is slightly higher than the U.S. and many European countries.
You do not need to be a resident of Aruba to purchase a home, and the process is the same for would-be expats as it is for Aruban residents. With a level purchasing field, you can compete for your desired property without added non-resident restrictions.
7. Toes In The Sand Living
With direct flights from many major U.S. cities, you can be living island life before the first fluffy flakes fall. When you stay at a resort or rental along one of Aruba's beautiful beaches, you immediately experience a kick-back lifestyle that shakes away the chilly winter blues.
Of course, the gorgeous weather is a big piece of snowbirding in Aruba, but there are many other reasons for making it your toes in the sand vacation destination. The family-friendly island atmosphere is perfect for spending time with your children and grandchildren when they come for a short visit during your stay. Whether you are staying in the capital of Oranjestad or on a remote stretch of coastline, your family will love the island's charm. There are also plenty of outdoor activities to keep the entire gang happily busy.
8. Activities To Enjoy
Finding the perfect snowbirds' destination is not simply about the weather. There needs to be lots of great activities to enjoy. If you love outdoor adventures, be sure to check out our Aruba outdoor adventure guide.
Miles of beautiful beaches, clear blue water to play in, activities to get your heart pumping or bring on a total Zen-like vibe. Whatever you choose, you will love the options of getting busy or simply doing nothing.
Eagle Beach
A favorite spot for nesting sea turtles, which you can often find swimming near shore, Eagle Beach is a gorgeous stretch of white sand that begs you to walk barefoot along the water's edge. Eagle Beach was voted one of the best beaches in the world by Tripadvisor in 2021. Why wouldn't you want to experience one of the world's best beaches?
Arikok National Park
The rugged terrain and shoreline of Arikok National Park is a beautiful place to explore the undeveloped side of Aruba. With a 4×4 vehicle and an adventurous spirit, you can swim in the Natural Pool, explore the coastal sea life, and experience a desert safari adventure. Take a tour or explore on your own, Arikok National Park is a remote and beautiful spot in Aruba.
Shopping
Aruba is one of the best places to shop for expensive jewelry. You will find a wide variety of high-end jewelry stores lining the streets of Oranjestad. Perfect for the discerning shopper, there are fabulous deals waiting just for you. With many fun and kitschy shops offering souvenirs and island-inspired items, shopping takes on a pastime activity in its own right.
Dining
There are a variety of restaurants, from sandwich shops and kiosks to fine dining. Visit Anna Maria's, a fine dining restaurant serving exquisite Italian cuisine. You must have reservations to dine, and you should make your dining reservations when you book your flights. It's that busy, and that good.
9. All Inclusive Resorts As A Home Base
There are lots of great ways to snowbird on the island of Aruba, my favorite is at the Divi All-Inclusive Resort. Whether you are investigating your future snowbird hideaway or planning an extended stay, the key is enjoying the easy, laid back island vibe. No worry about meals, cleaning or punching a time clock. All you need is to slip into your swimsuit, find a perfectly placed chaise lounge, and enjoy a tropical frosty libation. Let someone else worry about shoveling snow, finding wayward gloves, and warming up the car; you have the most perfect spot on earth for snowbirding.
Caribbean Islands Snowbirds
Who wouldn't love spending the cold winter months basking in the glorious Caribbean sunshine? There are a plethora of islands to choose from, and Aruba should be at the top of your consideration list. Aruba is the perfect destination for snowbirds. Whether you are escaping the cold for a week, a month, or the entire winter season you will love this perfect Caribbean island.
Aruba and other Caribbean islands are a popular destination for travelers: