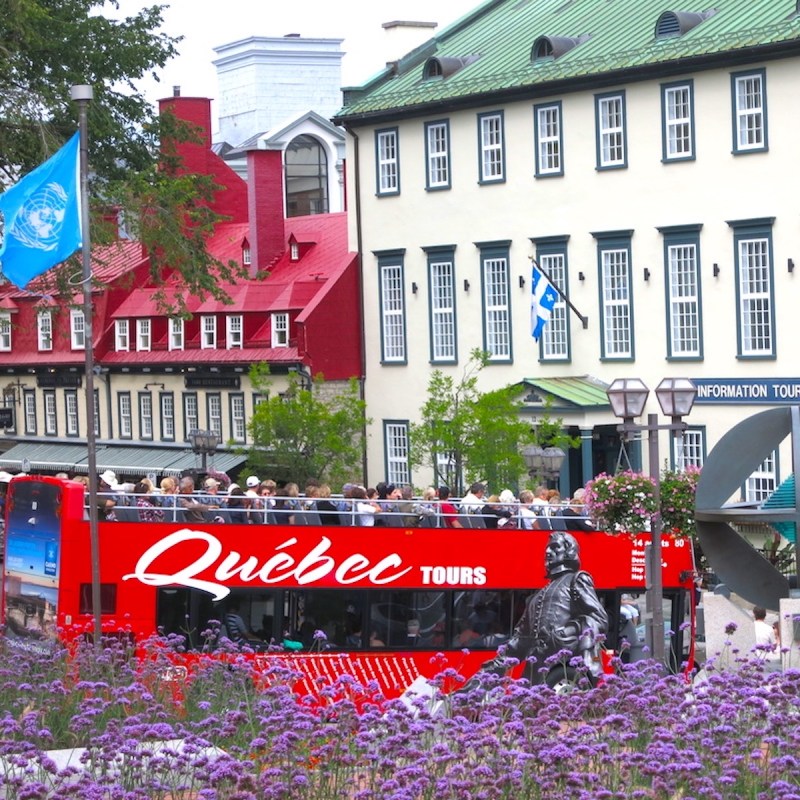 Quebec City is a feast for the senses. It boasts a beautiful landscape, exquisite architecture, interesting museums, historic landmarks, and some of the most delicious food in North America. The city's French culinary influence seamlessly blends with distinctly Canadian ingredients and culture. As a result, Quebec City has evolved a unique and fascinating food scene and sensibility all its own. There's nothing like wandering through this charming city seeking out sweet and savory delights from the abundance of diverse local establishments.
Not only are fabulous bites around just about every corner, but many of them come with interesting stories and cheerful storytellers eager to share them. To highlight a small taste of this culturally rich, epicurean environment, here are some of the best sweet and savory eats we've discovered in Quebec City.
1. Poutine
It's hard to think of any dish that is more emblematic of Quebec than poutine. This admittedly decadent medley of crispy French fries, creamy cheese curds, and rich gravy can easily become a meal unto itself. Quebec City is so wild about poutine that it holds an annual Poutine Week festival, which actually lasts two weeks. It's an unabashed celebration of the beloved Quebecois dish that has become popular all over Canada and beyond.
Many Quebec City restaurants serve a variety of renditions, and just like the snowflakes that fall during a cold Canadian winter, no two poutines are exactly alike. As with many signature foods, "the best poutine" is a hotly debated topic. (Check out the city's list of their choices for the best poutines in Quebec City.) Because of the wide variety available, we encourage multiple taste tests just to be sure.
2. Boreal Cuisine
Boreal cuisine has its roots in the northern territory, which experiences extreme weather and harsh conditions. As a result, the area generates unique products that are capable of adapting to this environment. Bold chefs have been inspired by the seasonal ingredients that come from the north, such as game meats, fish, wild fruit, fungi, and more. The earthy elements offer a different flavor profile, something unlike other culinary traditions readily available in Quebec City.
Chez Boulay Boreal Bistro is one place that serves the distinctive flavors of the north blended with French culinary technique. The Boreal menu features surprising flavors, such as sweet clover, honeysuckle, milkweed, nettle, conifer, and forest mushroom, which vary by the season. We were hooked after our first bite of Boreal tangy-tart golden cloudberries, a fruit unlike any other we've tasted. For ingredients that feel like they were just pulled from the earth (because they most likely were), Boreal cuisine offers a fresh approach to dining that provides a surprising and memorable experience.
3. Tourtière (AKA Meat Pies)
A savory French-Canadian dish that is worth trying in Quebec City is the tourtière, or meat pie. The minced meat rests between layers of thick, buttery crust. There's no definitive requirement for the meat in the filling; it may be made with pork, beef, poultry, game, a combination of meats, or even fish. However it's made, the tourtière is a real tummy warmer. The meat is mixed with savory spices and often incorporates potatoes and vegetables into the filling. The name tourtière comes from the sort of pie dish used to cook and serve it.
One spot recognized as a superior place to try this most traditional dish is Aux Anciens Canadiens, a restaurant located in a building that dates back to 1675. Although a bit kitschy with its traditionally clad servers and historic-looking decor, the meat pies are some of the best in town.
4. Maple Syrup And Maple Treats
Even if you don't have much of a sweet tooth, maple syrup is hard to pass up. We love thick, fluffy pancakes topped with a dab of butter that melts into a swirl of pure warm maple syrup tapped from a local farm. They make it hard not to crack a smile at breakfast, or any time if for us "breakfast all day" people. The rich sweet delight of maple finds its way into many other products, such as hard candies; barbecue sauce; soft, buttery candies; and even poured onto snow, where it becomes an irresistible maple taffy.
It's great fun to visit a "sugar shack" complete with a maple-laced meal directly from where the maple goodness begins. Visiting these shacks is a favorite tradition among locals and visitors alike.
Fun Fact: Maple also finds its way into other products, such as skin lotion, soaps, beer, and candles, all of which line the shelves of local shops in Quebec City.
5. Burgers, Boozy Shakes, And Fries, Oh My!
For the ultimate sweet and savory eating experience in Quebec City, there's a triple-threat combination that blows the roof off indulgent meals. At Le Chic Shack, locals have learned to get there before the crowd grows. And no wonder there are crowds. The co-owners of the amazing L'auberge St. Antoine, a gorgeous Relais & Chateaux property, created this fun, modern spot to highlight quality products from local purveyors. They specialize in a variety of burgers, made from beef, game, poultry, or vegetables. Housemade fries come from white or sweet potatoes, with the addition of parmesan, truffle oil, and fresh herbs or sauces like black garlic mayonnaise, barbecue, or horseradish aioli.
For even more fun, Le Chic Shack serves poutines that are some of the best in the city. They use deep-fried, smashed, buttery gold potatoes instead of french fries. That's a completely different approach we found necessary to research by trying for the sake of comparison. While there are plenty of healthier options to drink, we finished our over-the-top trifecta with one of their boozy milkshakes. Maple salted caramel with maple whiskey, dark chocolate with Bailey's, French vanilla with amaretto… who are we kidding? We waddled home and took a nap afterward. Totally worth it!
6. Cookies And Bakery Sweets
French culinary influences are abundant in Quebec City. So it's hard to imagine not trying to find a wonderful croissant or flaky pastry somewhere. Fortunately, it's not hard to find either of those (and a whole lot of other treats) at the many fabulous bakeries all over the city. Quebec City is loaded with charming boulangeries, bistros, and cafés. Be sure to plan a little time out to relax with a bakery treat and take in the local scene.
One of the busiest spots we discovered was Café La Maison Smith. It has several locations and is a great place to sit and sip a maple latte, munch on a chocolate croissant, and watch people on their way to work grab a cuppa something and a sweet treat to go. Or pick up some goodies and take them to a park bench, where it's fun to sit and people watch for hours. One thing we particularly liked was that some of their sweets are actually not overly sweet. The brownie was chewy and moist but not cloying. And the massive matcha cookie was a beautiful green color, earthy flavored, and mildly addictive. We have to admit to going back again to enjoy one on another day.
7. Tea, Glorious Tea
It's true that Quebec City abounds in excellent boutique artisanal coffee shops as well as coffee institutions like Tim Hortons that satisfy the daily caffeine needs of Canadians. But for those seeking a milder lift, or even a way to relax, tea is one of the world's most popular beverages for good reason. Whether cooling off in the sultry summer with a refreshing glass of iced raspberry tea or warming up from the inside with a steaming mug of spicy masala chai, tea lovers have lots of wonderful options provided by Quebec City's many tea purveyors.
Anyone who knows Sue knows that she is absolutely wild about tea, so Quebec City's tea shops provided hours of fun for us to go exploring. One place that impressed us, and we think would please even the most serious tea connoisseurs, is Camellia Sinensis. The shop has massive shelves along its walls full of tea canisters. It wowed us from the beginning. These folks are extremely knowledgeable and very friendly. And for real tea nerds, they also offer ritual teas, recipes, and accessories. For a fun experience, plan ahead and check out their workshops. They offer unique tastings, such as "Tea & Scotch," as well as educational courses about types of teas and the places they are grown.
La Maison Des 100 Thés is a colorful tea salon that helps guests discover and taste a world of excellent teas. For a break during the day, sit for a bit and relax with a nice warm cup of one of their many teas and infusions along with some chocolate or a snack.
Pro Tip
Épicerie J.A. Moisan is a one-of-a-kind grocery store, delicatessen, bakery, and gift shop all rolled into one. Originally created to serve locals and immigrants at a cultural crossroads in the 1800s, it's the oldest grocery store in North America. A visit offers a charming glimpse of history and quality tastes of local products and flavors from around the world.
Quebec City has a lot of great tastes to offer. Our visits never fail to provide us with something new to try. While any list of what's great to eat in the city is necessarily incomplete, we've tried to highlight some of the best sweet and savory eats we've enjoyed there.
Related Reading: