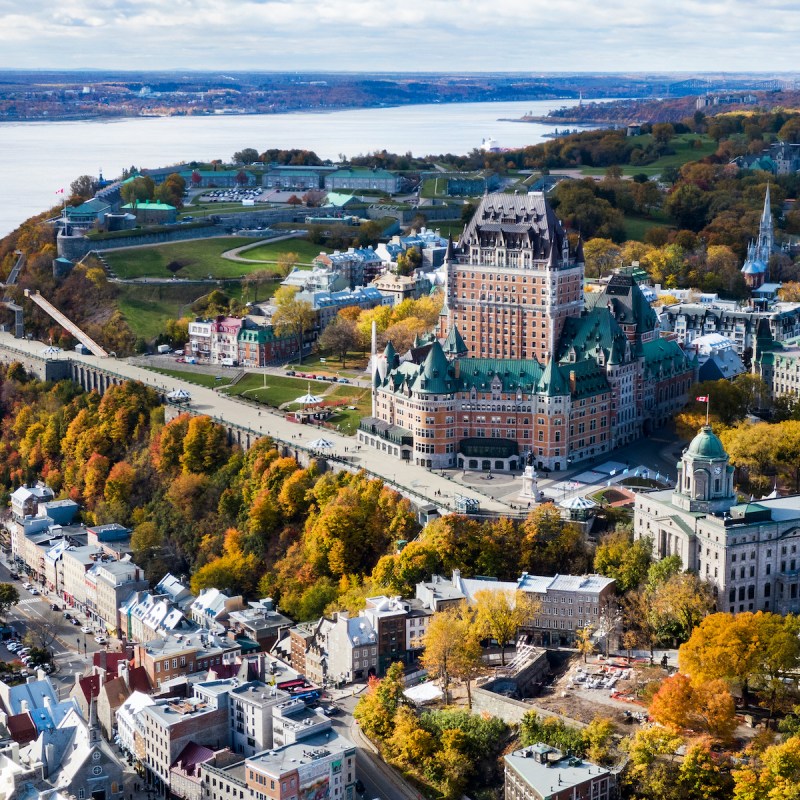 Québec City, Canada, is located 296 kilometers (184 miles) from Montreal and is known for the world-famous Fairmont Château Le Frontenac Europe-style resort with spectacular views of the St. Lawrence River. Besides being the most photographed hotel in the world, it is also known for its rich history. Locals refer to Quebec City as "little Europe" and are proud of that.
Mid-September is autumn in Québec City, and the fall colors show their warm, vibrant colors. It's what I call sweater weather. However, I missed it by a week! The best times to visit Québec City are June through October and December through March. I've only heard about the wintertime and seen pictures, but it's a gorgeous time to visit, and there are many attractions to see. Locals tell me there are no bad weather, just bad clothes. But I might confess, I prefer summer months.
Québec City and its narrow cobblestone streets are very walkable, but if you plan to head to Montmorency Falls and a few places I've mentioned below, you'll want to rent a vehicle. The city has many public parking lots and garages, and the average cost is between $18-25 per day. Hotels in the city have valet.
Destination Québec cité hosted me. All opinions are my own.
1. Old Town Québec
Walk the city's narrow streets while taking in the beauty of every fortification (building), landmark, shop, and restaurant. You may stumble on something that takes your breath away. I say that because I was in awe every time I walked out of my hotel room.
As you stroll through Old Town, look for Le Monastere des Augustines. It's a monastery that has been restored and refurbished as a heritage haven of culture and wellness. It offers its guests a unique overall health experience and a living contact with the heritage of the Augustines. You can stay overnight, dine in their restaurant, and take a tour of the museum to learn about the heritage left by the congregation.
Dinner Suggestions In Old Town Quebec:
As you make your way around the city tossing around ideas for dinner, may I suggest these experiences?
Le Clan is a six-course dining experience with wine pairing serving a unique gastronomy experience by Chef Stéphane Modat.
Chez Muffy is a luxury restaurant located inside the luxury Auberge Saint-Antoine hotel serving the best local seasonal ingredients and requires prior reservations.
Laurie Raphael is a 3-hour dinner experience with an eight-course meal and wine pairing. It's an experience that serves a clean fork with every course! They have an appreciation for culinary simplicity and the most tremendous respect for food.
2. Guided Walking Tour Of Old Québec
If you would like to get to know the history of Quebec City, the best way to experience Old Quebec is with a local tour guide company such as Cicerone Tours.
It's a 2-hour walking tour with a guide who knows everything about the area. You will learn a bit of history and may learn something you did not know. Much of what he told me was taught in high school, yet I was still amazed by it. There is so much history that started here that shaped the United States.
3. Old Quebec Funicular
For $4 one way, ride the Funicular to pass through the upper and lower town and see magnificent city views. Opt to walk back or pay to ride back. Either way, it's a must-do at least once while you're in the city.
4. Strom Nordique Spa
For an outdoor thermotherapy indulgence, consider booking a visit at Strom Nordique Spa, a luxury spa experience with views of the Saint-Lawrence River. It's an experience of complete relaxation and absolute rejuvenation, to create your best self and reconnect with what is important. Expect at least a 2-hour visit or more.
Pro Tip: Bring a bathing suit and sandals.
5. Parc De La Chute-Montmorency
Immerse yourself in nature by strolling through Parc de la Chute-Montmorency and marvel at the sights and the spectacular 83-feet waterfall. You can walk up to the waterfall and back down. But to do that, there are 487 stairs involved. I recommend paying the price to ride the cable car up and down. It offers the best view of the falls and its surroundings.
If you are adventurous, book a zip line over the waterfall or Via Ferrata. It's on my must-do list for the next time I visit. The park is a 15 minutes drive from Quebec City. If you get the munchies, there is an on-site restaurant, plus a food truck serving unique specialties.
Pro Tip: Don't get in a hurry here. Give yourself at least 2 hours or more to experience it all.
6. Parc National De La Jacques-Cartier
This national park is a 30-minute drive from Quebec City and is one of Quebec's most beautiful glacial valleys. I spent time with a naturalist guide as she took me on a journey through the valleys of the Jacques-Cartier River via canoe. Parc National de la Jacques-Cartier offers hiking, white water canoeing, calm water rentals, kayaking, fishing, camping, and many more outdoor activities. The park is open all year round. This is one of the best places to experience winter outdoor activities.
I highly recommend having a naturalist guide on your journey through the park.
Pro Tip: Plan for at least half a day to get the most from your visit.
7. Drive To Île D'Orléans
Just minutes from downtown Québec City, Île d'Orléans is the perfect place to unwind, take in the beautiful scenery, and sample the local delicacies. You can discover it with a bike tour or kayaking in the summer. There is also a golf course on the island. There are lovely places to stop if you're going to see the sights and perhaps grab a bit to eat.
Cassis Monna & Filles
Cassis Monna & Filles offers several things at one location. Enjoy La Monnaguette restaurant for lunch, shop in the boutique, and indulge at the dairy bar. Indoor and outdoor seating are available. While you're there, opt to sample their delicious artisanal blackcurrant-vanilla soft gelatos and sorbets.
La Goeliche Restaurant
Dine outside at La Goeliche for exceptional views of the St. Lawrence River. Order the poutine if you want to experience a favorite local dish of cheese curds, french fries, and brown gravy. Being a Texan, I like my french fries crisp, so I wasn't a fan of poutine. But you must try this favorite local dish just because you're there. Don't take my word for it — try it yourself!
A few more places worth visiting are Chocolaterie de Île d'Orléans for ice cream and delicious chocolate, Cidrerie Verger Bilodeau for apple or ice cider, and Vignoble-Isle De Bacchus for wine and Quebec cheese-tasting.
8. Overnight In Wendake, Canada
Wendake, Canada, is 25-30 minutes from Old Quebec and is one of the 11 communities in Quebec that identifies as indigenous tourism. I had the pleasure of staying the night in Wendake to experience the life of indigenous people and their community. Suppose time permits your travels in Quebec City. In that case, I highly recommend taking a short drive (maybe spend the night) to Wendake to explore the world of its indigenous people and the unique culture, heritage, arts, and traditions of First Nations.
Hotel-Musee Premieres Nations
Hotel-Musee Premieres Nations is a 4-star boutique hotel and museum owned by the indigenous community. Its styled hotel and guest rooms are beautifully inspired by the First Nations culture, including leather, deerskin, and rich decor. It was to my taste, and I enjoyed my stay. The Huron-Wendat Museum is the only one of its kind in Canada. La Traite restaurant inside the hotel offers First Nation-inspired cuisine and seating on the outdoor terrace during warm months.
The Longhouse
Continue your self-guided museum tour outside to walk the grounds of a replica longhouse depicting how the early Europeans lived. It's a very neat story and one that I'll never forget. Those eager and who book a hotel room can opt to spend the night in the longhouse.
Onhwa' Lumina
A favorable part of visiting Wendake is seeing Onhwa Lumina at night. It's a fantastic nightfall journey of magical lights, sound, and video of the Huron-Wendat People. As I wandered through the almost mile of thousands of lights, sounds, and stories in a language I was unfamiliar with, I couldn't help but people-watch and listened to them whispering in French — I'm sure they felt more than I did. It was a sight to behold, something remarkable. The attraction is open year-round.
Because Onhwa Lumina starts at dark, you may want to plan to stay the night in Wendake.
Pro Tip: Quebec City is very proud of its city, and there is so much history there that I highly recommend booking local tours whenever possible. I would have missed so much history of Quebec City if I hadn't taken the tours.