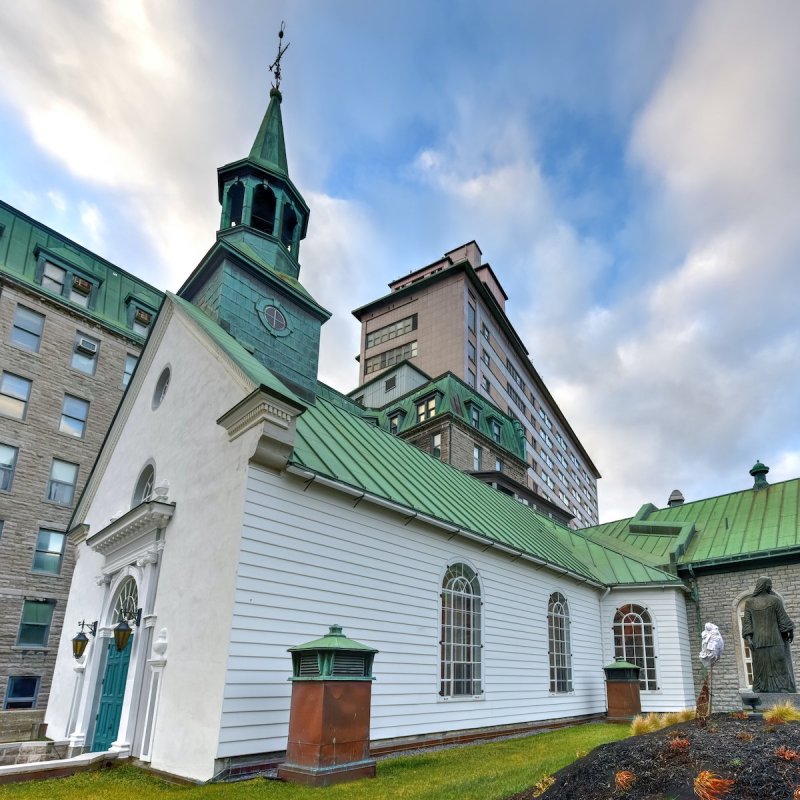 In the spring of 1639, three young nuns set sail from France, each carrying a hidden key amongst the folds of their habits. Upon landing in the new settlement of Quebec City, they would unseal three sturdy locks on a large wooden trunk that safeguarded all their worldly goods. It also contained something invaluable — a contract to found a monastery hospital, the first in North America outside Mexico.
Fast forward nearly 400 years, and their hospital remains a center for health and wellness in Quebec City — albeit with a modern twist. Now called Le Monastere des Augustine, the radical step was recently taken to transform the buildings and develop a non-profit organization devoted to culture, wellness, and self-care. Guests are streaming in for silent retreats, yoga workshops, and holistic health consultations, all while enjoying old Quebec City's most affordable accommodations. Plus, few can pass on the chance to see the Monastery's 40,000-plus artifacts, including a certain wooden trunk with its enigmatic three locks.
Normally, the thought of visiting a monastery evokes images of climbing to mountaintops or hiking to a remote region. But visiting Le Monastere des Augustine, be it for an afternoon or a week, is easy, affordable, and requires little exertion (unless, of course, you explore old Quebec City's cobblestoned streets).
How To Get There
While a trip to Quebec City would have been a foreboding experience in 1639, now you couldn't ask for a more pleasant experience. There's an international airport next to the city. However, most travelers usually make their way to Montreal (as a regional hub, flights here are usually much more affordable) and then take the train 3.5 hours northeast to Quebec City. The train also extends to Ottawa and Toronto. Note that it usually pays to book your train ticket well in advance if possible. There are some seriously good early bird deals with Via Rail. Alternatively, if you're looking at the last minute, compare the price of economy seats with those in business class. Often, once the super-saver fares are gone, there isn't a huge price difference between the two. And traveling in business class means free meals and wine! Once you arrive in Quebec City, Le Monastere des Augustine is about a 10-minute walk from the train station.
Stay In A "Cell"
If you were a young nun working in the 1600s, life had few luxuries. To say that your accommodations were spartan would be an understatement. Curious guests can stay overnight in the original "cells" that the nuns would have slept in. Thankfully, quite a few concessions have been made for comfort and style. Known as the "authentic rooms," these former nuns' quarters have one or two single beds, a sink and mirror, antique furniture, large windows, and modern heating and air conditioning. Washrooms are shared. Overnight accommodations start at $85 per person (or $98 with included breakfast and access to the museum). At less than $100, this is easily the best deal for accommodations in old Quebec City and possibly one of the most unique places you'll ever sleep.
If you want a touch more modernity, the "contemporary rooms" include ensuite bathrooms and king or queen-sized beds and start at $124.
While these rooms are all designed for travelers, several nuns still live in residence at the monastery. You're unlikely to see them during your visit but they're still active in the community. For instance, at the start of the COVID-19 pandemic, they participated in a walking program to raise awareness and funds in support of healthcare workers.
Sip In Silence
At the Le Monastere des Augustine's restaurant, breakfast is usually served and enjoyed in silence. Non-guests can come for breakfast at a rate of about $18, but if you prefer a bit more chit-chat with your meal, lunch or dinner might be a better idea. The three-course meals include a choice of three entrees (one is always vegetarian) and costs just $22.50, including two hours' parking for non-guests. Considering just how expensive parking can be in old Quebec City, this is an exceptional deal. The healthy, organic cuisine includes sprouts grown on-site, biodynamic wines, and herbal teas inspired by the Augustinian nuns' apothecary.
Discover The Sisters Of Science
Hundreds of years before the acceptance of germ theory or the discovery of penicillin, the young nuns who served as the Monastery's nursing sisters were on the cutting edge of science. They grew their own herbs, made their own medicinal concoctions, and nursed people back to health in a clean, comforting environment. Visitors exploring the building's 40,000-plus historic artifacts can see one of the original mortar and pestle sets brought over by the three foundresses in their wooden trunk. Even more incredible is the displayed 21-layer (yes, 21!) habit, which the nuns used to wear while they worked. Admission to the museum is $11.50 or $16 for those on a guided tour.
Stretch And Soothe
Whether you're a guest at Le Monastere des Augustine or not, you'd be remiss not to take part in their health and wellness programming while in Quebec City. Yoga classes are offered on a daily basis in an underground studio. Several different kinds of therapeutic massage treatments are available. The Monastic Signature Massage, a 90-minute treatment, starts with a foot purification ritual followed by a massage with hot, herbal infused oil while monastic music plays in the background.
Experiencing The Monastery At Home
If there is a slight silver lining to the COVID-19 pandemic, it's that so many remarkable museums have expanded their online programming, making global travel experiences more accessible. The Monastery is no exception. Much of their museum has been digitized and you can learn more about the artifacts from home. As well, they've expanded into online wellness offerings, from yoga classes to presentations on holistic health to individual wellness consultations.
Pro Tip
Old Quebec City is a year-round destination but there are some dates in particular that would-be travelers should keep an eye on. All of Quebec celebrates Saint-Jean-Baptiste day on June 24th. As such, anyone wanting to book a visit between that day and Canada Day (July 1st) should do so well in advance as these are popular days for local residents to enjoy summer vacation. As well, Quebec City's enormously popular winter Carnaval takes place each year around the second week of February. With international guests streaming in for the festivities, book your accommodations well in advance.
Related Reading: