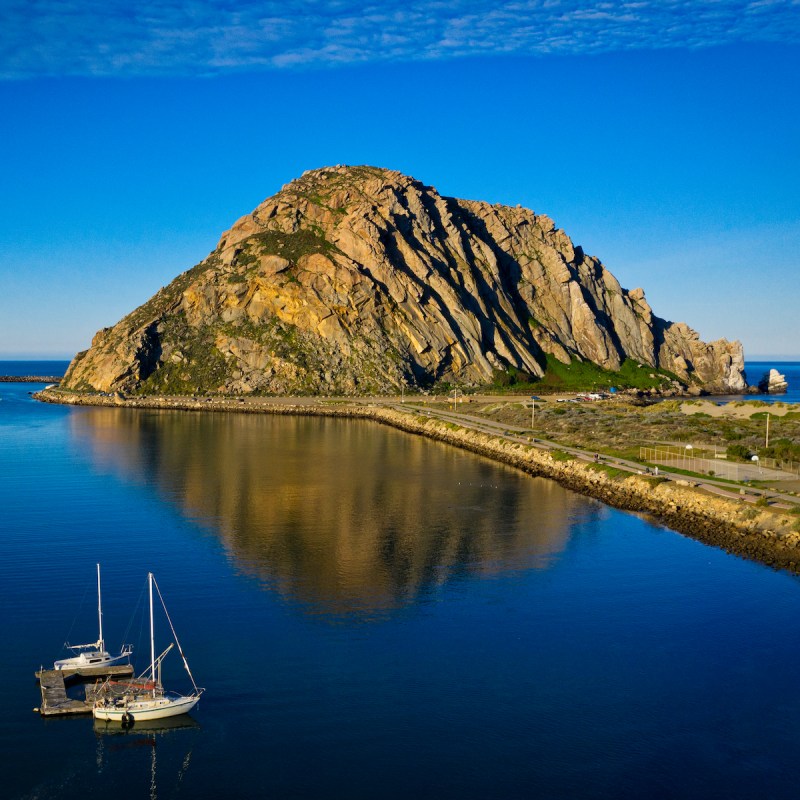 Not only does Morro Bay feature one of the California Central Coast's most iconic rock formations, but the small town in San Luis Obispo County also boasts a fun oceanside atmosphere, proximity to two state parks and a state beach, and stellar viewings of sea life.
Add to that Morro Bay's lively restaurant scene and plentiful ocean-themed shops, and you have the ideal spot for an active, yet relaxing, beachside stay.
After I had admired Morro Bay's namesake rock from afar on several previous trips along the Pacific Coast Highway, I decided to return on a December road trip for a weekend stay. Along with virtually endless opportunities for viewing "the rock," I was delighted to find winter temperatures in the 60-degree-Fahrenheit range, abundant sunshine, and activities ranging from seaside hiking and shell shopping to ocean kayaking.
Located about halfway between Los Angeles and San Francisco, Morro Bay is also within a quick drive of the university city of San Luis Obispo and the outstanding wine country in Paso Robles – making it a convenient stop on a visit to the California Central Coast.
Here are nine of the best experiences to have in beautiful Morro Bay.
1. Take In Views Of Morro Rock
This one is a given: If you are in Morro Bay, the 576-foot-high Morro Rock is virtually guaranteed to be front and center. Whether you are eating lunch on an oceanside patio, strolling the charming Morro Bay Embarcadero, or paddle boarding on the bay's blue waters, you can expect to have a stellar view of the enormous volcanic plug that is synonymous with Morro Bay.
Still, there are a few places where the view seems to be especially great. I loved the pretty scene at Tidelands Park, a 2-acre city park at the south end of the Embarcadero. There, you can sit on benches surrounded by beautifully landscaped flowers and trees and gaze out at Morro Rock in the distance – often with an image of the rock reflected on the calm surface of the water.
Another favorite area for views of the rock is on the northern end of the Embarcadero, where you will find the lovely Anchor Memorial Park as well as otter viewing areas and plenty of restaurants with seaside patios.
Morro Rock is a State Historic Landmark and Morro Bay's most distinguishing feature. It certainly serves to set the community of about 10,000 people apart from other beach towns along the coast.
Pro Tip: In addition to the great views, Tidelands Park has a number of amenities that are great for residents and visitors alike. There is a pirate ship and sand-play area for kids, picnic areas with barbecues for families, and a fish-cleaning station for fishermen. The park also has public restrooms that are conveniently located within walking distance of the shops and restaurants.
2. Explore Morro Strand State Beach
Windswept sand and sea await at the Morro Strand State Beach, a lovely 3-mile stretch of oceanfront located on the northern end of Morro Bay. The spot is a delight, from the wide sandy beach to the flowering ice-plant succulents growing on the dunes to the long-billed curlew birds scampering in and out of the tide.
Overlooking Estero Bay and the distant Morro Rock, the state beach offers endless views of the ocean and surrounding area and is a great spot for long walks and beachside picnics.
Pro Tip: If you plan to go in the water, be sure to check for notifications of shark warnings. Though rare, shark attacks on surfers have been known to occur in the Morro Strand area.
3. Experience A Morro Bay Sunset
Although a sunny day is wonderful in Morro Bay, a cool evening as the sun goes down is perhaps even more magical. As I wandered the Embarcadero on my first evening in town, I couldn't keep my eyes off the horizon, where the setting sun was casting brilliant oranges and pinks onto the sea and providing a vivid backdrop for the hulking Morro Rock.
There are many outdoor places along the Embarcadero to take in the sunset, but I loved watching it at the boat dock near Anchor Memorial Park, where a large commemorative anchor framed the rock against the multi-colored sky.
You can also choose to take in the sunset over dinner, at great dining spots like the House of JuJu or the patio at Dorn's Original Breakers Café. Or, if you'd like to have an even closer encounter with the sunset, consider an evening cruise at Morro Bay Landing.
4. Kayak Or Paddle Board The Bay
With its bay waters protected from the open ocean by a 4-mile-long sandspit, Morro Bay offers a great place for water sports like kayaking and paddle boarding. The calm waters are said to be good for beginners, as well as expert kayakers and paddle boarders.
You will notice countless businesses along the Embarcadero offering kayaks for rent. Among the choices are A Kayak Shack and Rock Kayak Co. Both places also offer rentals of paddle boards.
5. Try Clam Chowder On The Boardwalk
If you're looking for a casual lunch or dinner, be sure to check out the clam chowder at Giovanni's Fish Market & Galley, located on the northern end of the Embarcadero.
Giovanni's caters to tourists and locals with its outdoor window for ordering and large outdoor patio overlooking the water, and the bustling spot more than delivers with delicious chowder with a flavorful, creamy broth and tender pieces of clam. For me, a bowl of chowder served in a Styrofoam cup with oyster crackers was the perfect pick-me-up on a cool night.
A bonus: Giovanni's patio not only offers shelter from the brisk sea breeze but also has stellar views of Morro Rock at sunset.
6. Hike Montaña De Oro State Park
Located 10 miles southwest of Morro Bay is the gorgeous oceanside California State Park, Montaña de Oro. The park, which is situated right along the Pacific Coast, is famous for its gorgeously varied terrain – from rugged cliffs and sandy beaches to tidepools and coastal plains.
Visitors can choose from a number of hikes, including the 3.4-mile out-and-back Bluff Trail for a scenic and easy walk along the park's coastline; the moderate 4.5-mile round-trip Valencia Peak Trail, which offers sweeping views of the region; and the 6-mile round-trip Islay Creek trail for an easy canyon walk.
Pro Tip: Morro Bay is also home to another oceanside state park, the Morro Bay State Park, located between town and the Montaña de Oro State Park. The Morro Bay State Park features lagoon and natural bay habitat and offers opportunities for sailing, fishing, hiking, and bird watching. It also has a colorful marina and an 18-hole public golf course that overlooks the bay.
7. Shop The Quaint Stores
Walk into virtually any of the shops in Morro Bay, and you will immediately sense the ocean vibe. From fine art galleries offering beautiful ocean scenes to souvenir shops selling totes and flip-flops to surf shops offering boards and wetsuits, Morro Bay's business areas have the ocean-town scene covered.
For quintessential beach shops, check out the Shell Shop with its dizzying array of seashells or Carousel Taffy with its myriad saltwater taffy flavors. Morro Bay also offers numerous fine art galleries. Check out a range of local artists at the Art Center Morro Bay.
8. Enjoy The Sea Life
Throughout the year, visitors are entertained by Morro Bay's population of sea otters that congregate on rocks within easy view of the town's shops and restaurants. Known to be among the most fascinating of the animals of the Pacific Ocean, the otters can be heard chirping and cooing as they paddle through the water near the numerous otter-viewing spots along the Embarcadero.
The area is also home to a large variety of migratory birds that favor the Morro Bay Estuary for its abundance of food available. The birds of the estuary include various groups, such as shorebirds like curlews, godwits, willets, and sandpipers; wading birds such as snowy egrets, great egrets, and great blue herons; plunging birds like brown pelicans, terns, and kingfishers; diving birds like mergansers, loons, and cormorants; and surface feeders such as brant geese, white pelicans, and ducks.
9. Day Trip To Wine Country
In just over 30 minutes, visitors to Morro Bay can leave the seashore behind and head into the rolling hills of one of California's premier wine regions. Located about 32 miles northeast of Morro Bay, Paso Robles makes for a delightful day trip.
Boasting more than 200 wineries, Paso Robles is known for its world-class wines that include varietal Zinfandel, Cabernet Sauvignon, and Rhone-style selections. It also has a quaint downtown with dozens of tasty dining choices, a dynamic craft beer scene, stylish shops, and a number of olive groves producing subtly spicy olive oils.
Whereas Morro Bay is all about taking in big sea views and soaking up the sun, Paso Robles offers a classic California wine experience in a laid-back atmosphere.
For more ideas about what to do in Paso Robles, see How To Spend A Day in Paso Robles and 8 Must-Visit Wineries In Paso Robles, California.
Pro Tip: With average high temperatures hovering in the 60s and low 70-degree range all year long, Morro Bay is a true year-round destination. January through May post temperatures in the low 60s, while June through August has average highs in the high 60s. The warmest months in Morro Bay are September and October when the average highs reach the 69-to-70-degree range.