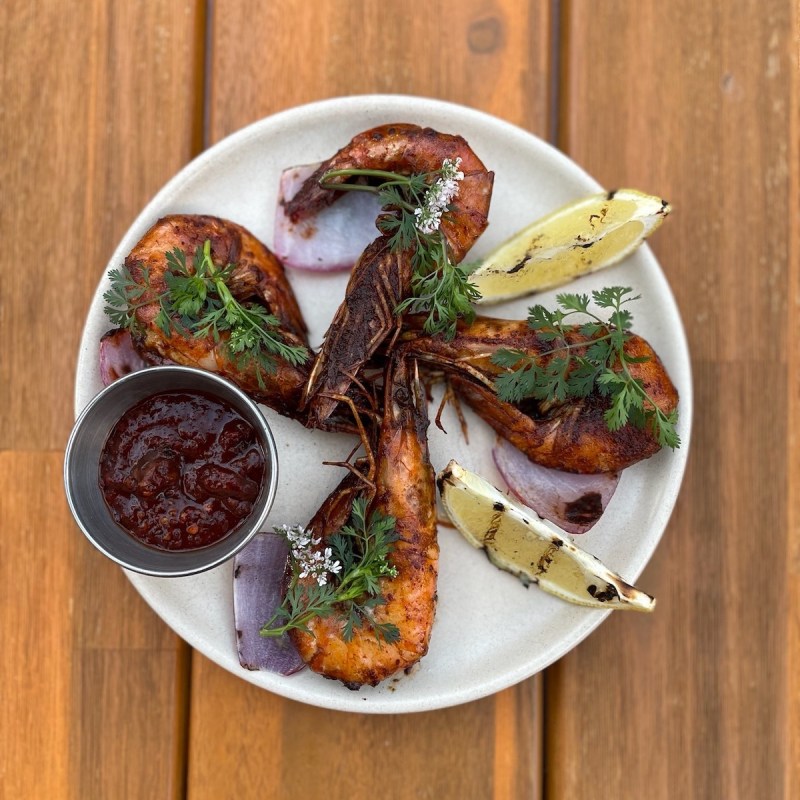 Tucked away on the coast of the finest beach in Southern California's South Bay, enjoy the quintessential California beach experience of Torrance, conveniently located ten miles south of LAX and 17 miles north of Long Beach Airport. Poised to become the next Los Angeles County hot spot, Torrance is ripe with an exploding craft beer scene and fantastic restaurants. Here is my pick of the top 12 restaurants in no particular order.
Discover Torrance hosted me, including Yorkshire Square Brewery, King's Hawaiian Bakery & Restaurant, Red Car Brewery & Restaurant, Torrance Bakery, Madre Oaxacan Restaurant, and Mayabi Uni. All opinions are my own.
1. Yorkshire Square Brewery
Visit the taproom and find an unparalleled British beer experience at Yorkshire Square Brewery, headed by Gary Croft, born and raised in Yorkshire, England. Yorkshire Square Brewery is all about brewing proper British beers and real cask ale accompanied by authentic pub grub by chef Josey Rodriguez. Start with the New Scotch Eggs, wrapped in seasoned pork sausage, breaded and deep-fried, and served atop a nest of Peely Blinders, fried potato peelings. The classic bangers and mash pairs nicely with a Tweedy, English IPA. The signature fish and chips are the best sellers, served with the house slaw. Order a Dirty Leeds brown ale with the Pub Sliders, two beef patties, onion marmalade, and all the trimmings.
2. Local Kitchen, The American Tavern
At the family-owned and operated Local Kitchen, you can't miss Dave's BBQ Meatloaf Tower piled mountain high on rustic cheddar ciabatta with mashed potatoes, BBQ jus, and crispy onions, paired with a bourbon or whiskey from the bar. Find classic dishes ranging from appetizers like calamari, hot spinach & cheese dip, or cobb salad. All sandwiches, burgers, and dogs come with fries, tater tots, or fresh kettle chips. Try the tavern mac & cheese or skillet lasagna, indulge in shrimp tacos, chicken and waffles, or grilled prime flat iron steak for special local plates. The bar features craft beer with 16 tap handles and 24 craft-brewed bottle selections. Try the jalapeno cucumber margarita or a mojito for creative cocktails.
3. King's Hawaiian Bakery & Restaurant
King's Hawaiian, famous for the sweet King's Hawaiian Bread since 1950, moved to Torrance in 1977 from Hilo, Hawaii. The full-service bakery and restaurant serve excellent local Hawaiian food, traditional American dishes, and fresh baked goods. Getting past the bakery to the restaurant is sheer torture. You'll see all kinds of cakes, fresh fruit tarts, pies, cream puffs, croissants, cookies, pound cakes, donuts, muffins, bread, and King's Hawaiian sweet rolls. Breakfast is served all day, including the Big Island Breakfast with two eggs, King's Hawaiian French Toast, and your choice of bacon, Portuguese sausage, fried spam, or turkey sausage. Order macadamia nut battered onion rings, spam musubi, or ahi poke for lunch, or try the Korean-style beef ribs, teriyaki beef, or chicken curry for the mains.
4. Red Car Brewery & Restaurant
In August 2000, husband-and-wife team Bob and Laurie Brandt opened Torrance's first brewery, Red Car, named after California's famous Red Car line. The brewery offers five classic homemade brews and seasonal beers like pumpkin head ale. Fill your growlers and ask about glasses and apparel for perfect gifts. For food, Chef Ryan Crawford offers appetizers like beer-battered onion rings, baked brie, or spinach artichoke dip with a warm French baguette. The half-pound Australian Wagyu Chophouse burger is tops on the menu. For wood-fired pizzas, choose the Margherita Classico with plenty of mozzarella and Parmigiano Reggiano cheese. Indulge in the beer-battered white Icelandic cod and chips or linguine Pomodoro with options to add shrimp, salmon, or grilled chicken.
5. Torrance Bakery
Since 1984, family-owned Torrance Bakery has created sweet treats and bakery goodies, wedding cakes, custom cakes, plus sandwiches and salads galore. I could eat lunch here every day and enjoy the variety of soups like potato, bacon, and cheese or cream of zucchini, different each day of the week. And daily sandwich specials include a turkey wrap, holiday ham sandwich, or grilled roast beef sandwich. Save room for pastries like cupcakes, eclairs, petit fours, brownies, muffins, donuts, or scones. You can order a cake or pie by the slice, or whole pies, cheesecakes, or chocolate chip or M&M cookies by the dozen. Need a cake spur of the moment? Pick up a lemon mousse torte, chocolate whip cream torte, fudge torte, Boston cream pie, or chocolate or yellow layer cake.
6. Madre! Oaxacan Restaurant & Mezcaleria
Owner Ivan Vasquez emphasizes the power of mole and artisanal mezcal and tequila, growing his empire of Madre! Oaxacan restaurants with recipes passed down several generations from the heart of Oaxaca, Mexico. Order a custom flight of mezcals or a cocktail from an impressive collection. For starters, enjoy the Camarones Con Chintextle, shrimp, cilantro, onions, and garlic, served with the heads on and very spicy! Try the banana leaf-wrapped tamal for small plates, made of chicken and mole negro, or the chile Relleno with queso fresco and homemade tomato sauce. Indulge in the family-style Parrillada including Cecina (thin slices of beef), tasajo (dried beef), chicharron (fried pork rinds), chorizo (spicy pork sausage), quesillo (Oaxaca cheese), Chile Rellenos, pico de gallo, avocado salsa, grilled vegetables, and Mexican rice.
7. Mayabi Uni
Miyabi Uni's professionally trained French and Japanese chef has honed skills for sea urchin specialties and other Japanese fare for over 90 years. You are guided through traditional flavors and modern creations as you explore sea urchin cuisine. The top priority is focusing on the quality of the ingredients, artistically and masterfully created. After having it on toast, I discovered that I like sea urchin and a Miyabi Uni Shooter with fresh sea urchin, quail egg yolk, and tosazu sauce. The Miyabi Oyster was a delicious appetizer. The Sashimi Platter and Rainbow Sushi Roll were the freshest. Savor exclusive daily menu items and traditional Japanese and non-traditional selections paired with the finest wines, sakes, or beers worldwide.
8. Eat At Rudy's
Eat at Rudy's and have breakfast where the locals do, from the three-egg omelet that hangs off the plate to hot-off-the-griddle pancakes and classic breakfast specials served with a never empty cup of hot coffee in the heart of old historic Torrance. My Taco Omelet came with ground beef, avocado, cheese, olive, tortilla with Spanish sauce, green onions, tomato, and sour cream on top. I had a side order of fruit and the best hot coffee. For lunch, enjoy burgers, patty melts, sandwiches or hot plates of chicken breast, country fried steak, or grilled pork chops served with potatoes, vegetables, and garlic toast or a homemade biscuit.
Pro Tip: This is a cash-only Breakfast and Lunch restaurant with senior and kids specials.
9. San Franciscan
The San Franciscan was founded by Salvatore "Sam" Failla in 1963, moving west from Buffalo, New York, and opening a large table-service restaurant. Sam's youngest son Merrill has taken over the restaurant with his family, continuing to contribute to the San Franciscan's legacy as a classic steakhouse. You'll find overstuffed red leather booths, stiff drinks, and the best prime rib you've ever tasted. The San Franciscan boasts the Best Steak House title 10 years in a row. Enjoy charbroiled top sirloin, filet mignon, or bone-in rib-eye steaks, and the best aged slow-roasted prime rib of beef hand-carved to order and served with creamed horseradish sauce. Have fun with Karaoke and live music on the weekends.
10. Gaetano's Restaurant
If you're looking for the best Italian food in the South Bay, visit Gaetano's Restaurant in Torrance, family-owned since 1999, for a classic Italian meal with wine inside or on the patio. The family has taken over and continues to "serve people quality food with extraordinary service." Enjoy parmesan herb-stuffed artichoke hearts or the Italian chopped salad for starters, and savor shrimp Mediterranean or chicken parmigiana for the main meal. Or, for pizza, choose the Margherita or sausage and porcini mushroom.
Pro Tip: Save room for tiramisu or flourless chocolate cake that melts in your mouth.
11. Aliotta's Via Firenze
Relax, have a glass of wine, and savor Aliotta's Via Firenze Ristorante Italiano, creating fine dining experiences since 1999. Chef Michele Aliotta passionately provides authentic Italian hospitality as you enjoy appetizers like calamari or scampi Don Mike, shrimp wrapped in prosciutto and finished in a sambuca Romana cream sauce. For entrées, savor pollo piccata in lemon wine sauce or shrimp and scallops Don Mike wrapped in prosciutto and served over spinach. Select from pasta dishes such as capellini Pomodoro to ravioli or antipasti cuisine. Prefer an outstanding steak? Enjoy a grilled prime filet mignon with peppercorn brandy cream sauce or garlic and herb-roasted rack of lamb. The cioppino livornese with fresh fish, shrimp, mussels, clams, scallops, and calamari in a Tuscan-style wine sauce is a must!
12. Absolution Brewing Company
Absolution Brewing Company (ABC) brews handcrafted artisan beers and ales incorporating the best of Old-World recipes and the finest new world ingredients: water, grain, yeast, and hops — that's it. Place your order, and the brewery will ship. The Howler Variety Pack includes four howlers, two pints each of Imperial Stout, Fruited Sour Ale, Blonde Ale, and Hazy IPA. Or order the Variety Pack, six brews, twelve cans, and get a taste of what's happening at the brewing company. Visit the Tap Room and Beer Garden Wednesday through Sunday and partake in food from local food trucks. Get Abuelito Rico's Tacos, classic burgers at the Bombbachi Truck, or the Tacos Bar serving tacos, barbacoa, and hamburgers.
For a variety of California food and wine experiences, check out these articles: