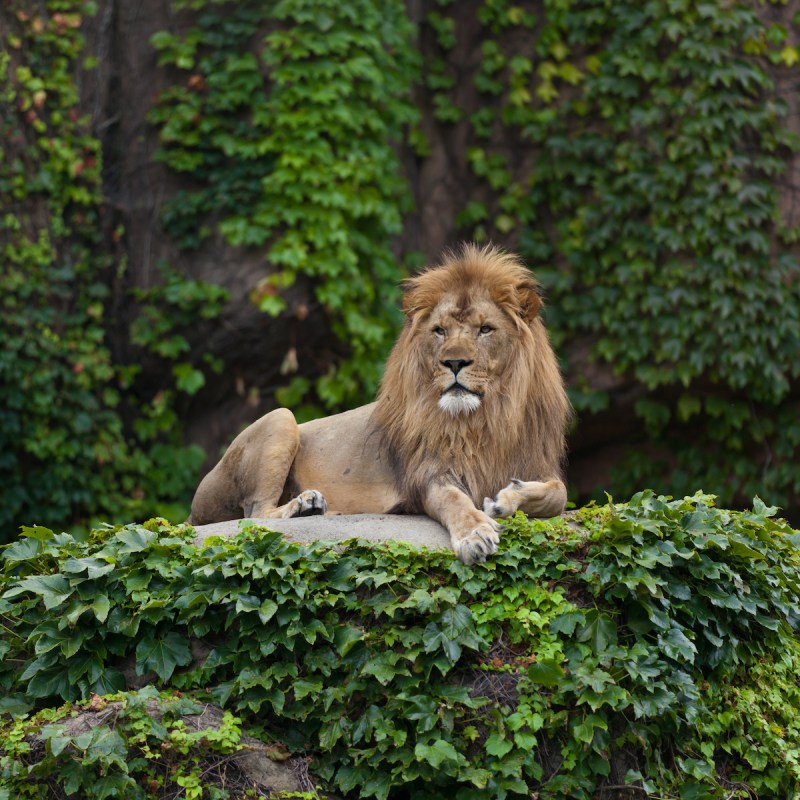 The first zoos in America were established to care for abandoned pets, tend to orphaned wildlife, and prevent native species from going extinct. And whether they fit neatly into a small parcel of land or spread across hundreds of acres, modern zoos remain focused on rehabilitating injured animals and protecting endangered species.
But zoos also play an important role in educating humans about the fascinating creatures that share our planet and the steps we can take to reduce or eliminate the threats they face in the wild.
Whether you want to watch a turtle sun himself on a log or observe a giant panda devour a bushel of bamboo, these fantastic U.S. zoos let you visit for free.
Note: So as not to suggest any favorites, this list of U.S. zoos with free admission is presented in a follow-the-sun order from the east to the west.
1. Cape May County Park & Zoo, Cape May Court House, New Jersey
Located on a finger of New Jersey that points across the bay at Delaware, the Cape May County Zoo spreads across 200 acres within the Cape May County Park. When this zoo opened in 1978, it primarily housed barnyard animals and native wildlife. But over the past four decades, the Cape May County Zoo has expanded to include alpacas, giraffes, red pandas, zebras, and many other animals from outside the Garden State — including a flock of flamingos relocated from Michael Jackson's Neverland Ranch.
The Cape May County Zoo is open every day but Christmas from 7:00 am to dusk, and admission to and parking at the zoo are completely free (although donations are encouraged). For a fee, guests can enjoy unique experiences like guided tours and animal encounters with capybaras, giraffes, or camels.
Pro Tip: Regardless of the zoo you visit, you'll enjoy the best views of the animals at the beginning and end of the day.
2. Salisbury Zoo, Salisbury, Maryland
The Salisbury Zoo was created in the 1950s when unwanted wild animals were released into a 168-acre marshy area owned by the City of Salisbury. Located on the Delmarva peninsula, a strip of land along the Atlantic Ocean named for the three states that occupy it (Delaware, Maryland, and Virginia), the little zoo quickly grew from a bottle-fed white-tailed deer fawn to its current state thanks to the support of the local community.
Today, the 12-acre zoo is home to a variety of birds, mammals, and reptiles, including swans, owls, beavers, tamarins, alligators, and tortoises. It is open daily from 9 a.m.–4:30 p.m., with the exception of Thanksgiving and Christmas Day. Both admission and parking are free, but the Salisbury Zoo is grateful for your tax-deductible cash donations, zoo membership, animal adoptions, and items purchased from their Amazon wish list.
3. Smithsonian's National Zoo, Washington, D.C.
Established in the late 1800s in an attempt to save several native North American species — like deer, foxes, beavers, and bison — from extinction, the National Zoo is now home to approximately 1,800 animals. Remaining true to its original mission, about 20 percent of the animals living at the 163-acre zoo are on the endangered or threatened species lists.
Attracting nearly 2 million visitors from around the world each year, the Smithsonian Zoo is a popular sight in the nation's capital. One of its biggest draws are the giant pandas, and the National Zoo is just one of four in the U.S. featuring these adorable creatures.
While admission to the National Zoo is free, parking is limited (and pricey). Fortunately, there are Metrobus and Metrorail stops within walking distance of the zoo's main pedestrian entrance. I recommend arriving via the Cleveland Park Metrorail station and leaving through Woodley Park. This makes the walk to and from the zoo entirely downhill!
Pro Tip: The Smithsonian is the largest museum complex in the world, with 19 world-class museums, galleries, gardens, and a zoo. These helpful tips will allow you to navigate it with ease!
4. Lincoln Park Zoo, Chicago, Illinois
With a pair of swans gifted from New York's Central Park, Chicago's Lincoln Park Zoo was established more than 150 years ago. When you visit today, you can observe more than 200 species of mammals, reptiles, and birds at the only privately managed free zoo in the U.S.
While many U.S. zoos with free admission are closed on major holidays, like Thanksgiving and Christmas, the Lincoln Park Zoo is open 365 days a year. There is no charge to observe the animals or participate in daily activities like seal training or ape care, but there is a fee to board the Lionel train, ride the endangered species carousel, or participate in the penguin encounter.
Pro Tip: In addition to being a zoo with free admission, the Lincoln Park Zoo also offers an amazing ZooLights experience during the holidays.
5. Henry Vilas Zoo, Madison, Wisconsin
Named for Col. William and Anna Vilas's son who died at a young age, the Henry Vilas Zoo is part of a larger public park that must remain free to the public per the terms of the Vilas family's generous donation. Now home to 650 animals from five continents, the 28-acre zoo includes a tropical rainforest aviary, primate house, North American prairie exhibit, and more, including a polar bear.
The Henry Vilas Zoo is open daily from 9:30 a.m.–5 p.m., and there is no fee to visit or park at the Henry Vilas Zoo, but donations are greatly appreciated. Visitors can get up close and personal to some of the animals through one of the zoo's behind-the-scenes experiences, including special tours and animal feeding opportunities that begin at $25 per person. A portion of the proceeds from the behind-the-scenes tours benefits the Henry Vilas Zoo's conservation partners like Polar Bears International and the Association of Aquariums and Zoos (AZA), which sponsors the Orangutan SAFE (Saving Animals From Extinction) project.
6. Saint Louis Zoo, Saint Louis, Missouri
Tucked into the southwest corner of Forest Park, the Saint Louis Zoo began with the World's Fair Flight Cage when, in 1904, the city hosted both the Louisiana Purchase Exposition and the first Olympics held in the US. The 90-acre zoo is now home to a wide variety of amphibians, fish, birds, mammals, and other animals that make it one of the best zoos in the Midwest.
Although there is no admission fee to visit the Saint Louis Zoo, parking is currently $10 per vehicle (unless you're lucky enough to score a spot along the curb). You'll also need to pay to ride the carousel and to attend special events like the annual Wild Lights exhibit during the holidays.
7. Como Park Zoo & Conservatory, Saint Paul, Minnesota
In the Twin Cities, the Como Park Zoo & Conservatory was the first zoo established in Minnesota. For more than 100 years, it has been an outdoor haven, featuring a variety of animals and gardens.
There is no fee to park at or visit either the zoo or conservatory, but visitors are encouraged to make a voluntary donation of $4 per adult and $2 per child to help care for the animals and plants on display.
8. David Traylor Zoo, Emporia, Kansas
At just eight acres, the David Traylor Zoo is one of the smallest AZA-accredited zoos in the nation. It primarily features native animals like mule deer, red foxes, and prairie dogs, in addition to a variety of reptiles, amphibians, and birds. 
The zoo is open to the public 7 days a week except for Thanksgiving, Christmas, and New Year's Day. 
Pro Tip: Although most AZA-accredited zoos don't offer free admission, you can stretch your travel budget with the AZA's reciprocal admissions program that grants free or discounted admission to zoo members.
9. Lee Richardson Zoo, Garden City, Kansas
Four hours west of Emporia, the Lee Richardson Zoo is another free admission zoo in the Sunflower State. In addition to spacious habitats housing more than 300 animals, this 50-acre zoo also offers walking paths, playgrounds, and picnic areas.
The Lee Richardson Zoo is open daily from 8 a.m.–5 p.m. with the exception of Thanksgiving, Christmas, and New Year's Day. It offers additional hours seasonally, closing at 7 p.m. from April 1 through Labor Day. While the Lee Richardson Zoo is free to pedestrians, there is a $10 per vehicle fee to drive through. All guests can drive through the park for free on Wild Wednesdays, and vehicle access is always free to zoo members.
10. Pana'ewa Rainforest Zoo And Gardens, Hilo, Hawaii
Located on 12 lush acres on the Big Island of Hawaii, the Pana'ewa Rainforest Zoo is the only free U.S. zoo in a natural tropical setting. When you visit, you can observe a giant anteater, tigers, alligators, many tropical birds, and several other creatures. But the most exotic resident might be the boa constrictor. Because snakes are not native to the Aloha State (and they could easily destroy the bird population) it's illegal to possess a snake in Hawaii, this resident is an especially rare sight for locals.
The Pana'ewa Zoo is open daily from 10 a.m.–3 p.m. unless otherwise posted. While there is no charge to visit the zoo, visitor donations help the zoo care for the animals, plants, and grounds.
Pro Tip: While it's an aquarium, rather than a zoo, the Cabrillo Marine Aquarium in San Pedro, California, operates as a free attraction with a suggested donation of $7 for adults and $3 for children.
For more information on zoos in the U.S. and around the world, visit these links: