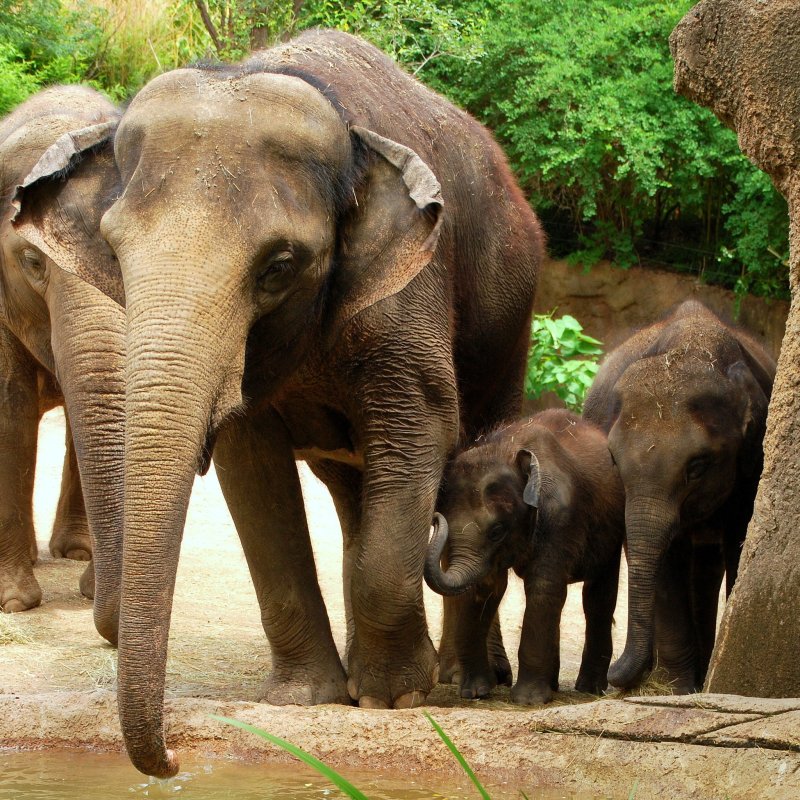 Home to several zoos considered among the best in the world, the Midwest offers plenty of memorable animal experiences.
But Midwestern zoos do more than just provide animal exhibits for visitors to enjoy. Several zoos participate in conservation programs aimed at saving endangered animals and protecting their natural habitats. Omaha's Henry Doorly Zoo and Aquarium, for example, has one of the best lemur exhibits in the world, and it continues to plant trees in the lemurs' native Madagascar in order to save the animals.
As you visit these Midwestern must-see zoos, remember that they serve a purpose well and above that of providing entertainment.
Pro Tip: Most zoos offer senior rates for those older than 60. If you have a membership at your local zoo, check its website to see if it offers reciprocal admission at other zoos. This can save you up to 50 percent off regular admission.
1. Brookfield Zoo, Brookfield, Illinois
You can find an animal from each continent of the world at Chicago's Brookfield Zoo. From North American wolves to cute penguins that call the southern tip of South America home, the zoo in the suburb of Brookfield is home to more than 2,000 animals. The animals are housed in 20 attractive exhibits located throughout the 216-acre zoo.
Popular attractions include the polar and grizzly bears at the Great Bear Wilderness; you can also see American bison, gray wolves, and bald eagles. The exhibits dedicated to African animals feature forest and savannah areas, where you will find okapi as well as giraffes and painted dogs.
Buy some feed, and you'll have an opportunity to hand-feed a giraffe. Other fun encounters for people of all ages include the seasonal butterfly garden, motor safari, and penguin encounter. Each attraction is an extra charge.
Pro Tip: Following your visit to the Brookfield Zoo, make the short drive to the Irish Times Pub, where you can enjoy traditional Celtic fare like corned beef and cabbage and Guinness beef stew. American dishes like cheeseburgers and chicken pot pie are also available.
2. Columbus Zoo And Aquarium, Powell, Ohio
Consistently named one of the top zoos in the United States, the Columbus Zoo and Aquarium is best known for being the home of the world traveler Jack Hanna. Now director emeritus, Hanna served as the zoo's director from 1978 until 1992.
The zoo attracts millions of visitors each year with its exhibits highlighting animals from around the world. More than 7,000 animals call the zoo home, and they're showcased in eight areas, with each area covering a different region of the world.
From the Congo Expedition exhibit — where you will find animals such as gorillas and leopards – to the Polar Frontier exhibit — home to polar bears and the arctic fox — you'll find plenty to interest the entire family. Other exhibits cover Asia, North America, Australia, and the world's oceans.
You may also want to check out the zoo's special encounters, where you can spend time with cute lorikeets, walk with wallabies, or take a behind-the-scenes tour. Each encounter is an extra charge.
Pro Tip: With a menu featuring unique salads and sandwiches (a roasted baby beet salad, a braised short rib sandwich, etc.), Prohibition Gastro Lounge is a great place to relax after a day at the zoo.
3. Saint Louis Zoo, Saint Louis, Missouri
The minute you see the impressive life-size animal sculptures at the entrance of the Saint Louis Zoo, you'll know you're in for a fun experience. Located in the city's famous Forest Park, the zoo features six sections to explore, from the Lakeside Crossing area with sea lions and other sea creatures to the Red Rocks area with all kinds of cats, including mountain lions and tigers.
The Wild may be the most interesting section at the zoo. In the section's penguin exhibit, you can stand just feet away from penguins of all kinds — Humboldt, rockhopper, gentoo, and king. You might be tempted to reach out your hand to pet them, but please don't. Just enjoy the up-close view. The Wild also houses other interesting animals, such as a red panda and a variety of bears.
You could spend an entire day exploring this zoo. While admission is free, visitors must pay for parking in on-site lots, or find free street parking throughout Forest Park. Additional attractions like the sea lion show, stingrays at Caribbean Cove, and seasonal safari tours also require an extra fee.
Pro Tip: Following your visit to the Saint Louis Zoo, head over to Crown Candy Kitchen for a unique dining experience. Don't be alarmed by the line out front — it's all part of the fun. The diner is popular and wait times can last up to 40 minutes, but once you're inside and seated at one of the booths, you'll appreciate the decor and atmosphere. The menu is simple, featuring sandwiches and chips. But don't leave without ordering an old-fashioned milkshake for dessert.
4. Milwaukee County Zoo, Milwaukee, Wisconsin
The Milwaukee County Zoo offers a pleasant, peaceful experience. You can see more than 1,800 animals on the zoo's almost 200 acres, and you'll love feeding the giraffes and watching the brown bears relax in a hammock. The neat raptor exhibit is free, but the sea lion show and other special attractions require an extra fee.
Pro Tip: Just minutes from the zoo, La Fuente offers fantastic Mexican food. From chips and dip to combos featuring enchiladas, tamales, burritos, and tacos, there's something for everyone in your party. You can also enjoy tasty margaritas and other adult beverages.
5. Sedgwick County Zoo, Wichita, Kansas
If you love elephants, you'll enjoy visiting Wichita's Sedgwick County Zoo — seven pachyderms call the zoo home. The elephants are fairly new to the zoo; six of them arrived in 2016 as part of an effort to save almost 20 elephants from being euthanized in Africa to protect an endangered species of rhino. Ajani joined the family in 2018, and now the zoo houses one of the larger elephant herds in the Midwest.
Besides the elephants, the zoo is home to the Downing Gorilla Forest, which replicates the primates' Central African Forest habitat. On the forest's 8 acres, the lowland gorillas can be seen primping, playing, and lounging in ways that only gorillas can.
The Sedgwick County Zoo features another nine animal exhibits and showcases more than 3,000 animals total.
Pro Tip: After your visit to the zoo, head downtown for an impressive Mediterranean meal. Meddys serves up outstanding shawarma with either chicken or beef. Add a side of garlic potatoes, and you've got yourself a great meal. The menu features other items as well, including gluten-free and vegan options.
6. Minnesota Zoo, Apple Valley, Minnesota
Rather than grouping animals based on native regions, the Minnesota Zoo in the suburb of Apple Valley, Minnesota, groups animals based on environment.
Animals that live above the 45th parallel can be found on the Northern Trail — that's why you'll leave the Siberian tiger exhibit and find yourself staring down an American bison. You'll also see prairie dogs, dholes (Asian wild dogs), and a musk ox.
Along the Tropics Trail, which is located inside the rainforest, you'll encounter animals such as red pandas, sloths, and flamingos.
Two sections focus on animals found in Minnesota. The Medtronic Minnesota Trail showcases animals native to the state, including black bears, wolverines, gray wolves, and lynx. The Family Farm features animals you'll see when visiting a Minnesota farm, such as goats, sheep, pigs, cattle, and horses.
Don't forget to stop by Russia's Grizzly Coast and check out the brown bears roaming about.
Pro Tip: For dinner, head to Doolittles Woodfire Grill. The restaurant, which was founded in 1987, features a top sirloin steak cooked to perfection, along with grilled chicken, fish, and other great entree choices.
7. Great Plains Zoo, Sioux Falls, South Dakota
Home to critically endangered animals such as the black rhinoceros and the red wolf, the Great Plains Zoo offers animal encounters you won't find in many other places.
There are fewer than 5,500 black rhinos in the world, but attempts to save them are starting to pay off. Conservationists have been able to double the world population over the past 20 years, bringing the animal back from near extinction. While the numbers continue to improve, more work is required to save the black rhino. Being able to see one up close helps people understand the need for continued conservation efforts.
The red wolf was also near extinction less than 50 years ago. Today, there are less than 200 red wolves in the U.S., their native land. The work this zoo does to save and raise awareness of endangered animals is impressive.
The Great Plains Zoo is home to nearly 1,000 animals from around the world, including snow leopards, zebras, Humboldt penguins, gibbons, squirrel monkeys, and brown and black bears. The zoo also houses the Delbridge Museum of Natural History, which features taxidermied animals in their natural settings.
Pro Tip: After visiting the Great Plains Zoo, head to Taphouse 41 and try one of the unique burgers. The PBR features duck-fat fries, jalapenos, and roasted garlic mayo, while the Egg Burger features a sunny-side-up egg, hatch chile aioli, and salsa verde. Taphouse 41 also offers excellent bourbons and beers.
8. Oklahoma City Zoo, Oklahoma City, Oklahoma
The Oklahoma City Zoo's 10-acre elephant exhibit is one of the largest in the country and features play areas that are designed to help the pachyderms behave the same way they would in their native environment. Visitors can watch them from a boardwalk located several feet above the exhibit.
The zoo features more than 1,900 animals and offers some truly great views. The Oklahoma Trail highlights animals native to the area, including the black bear, alligator, bison, and several snakes. The primate-focused Great EscAPE exhibit is also a winner.
Pro Tip: Head to Tucker's Onion Burgers for a local treat. Onion burgers, featuring onions cooked inside the burger, come with a single or double patty. You can add cheese if you want. They also offer turkey burgers prepared the same way. Order a side of fresh-cut fries, and you've got yourself a true Oklahoma meal.
9. Kansas City Zoo, Kansas City, Missouri
The 200-acre Kansas City Zoo is one of the largest in the country, with more than 1,300 animals. From its massive African exhibit — with hippos, cheetahs, lowland gorillas, crocodiles, and more — to its Australia exhibit — featuring kangaroos, dingoes, and an aviary — the Kansas City Zoo has it all.
A standout section is the otter display. It's great fun to watch the North American river otters swim and scurry about.
The zoo also offers trains and a skyfari (a ski-lift-like ride) for an extra charge. Be sure to purchase a ticket for the Kenyan cruise boat that offers a great view of the African animals.
Pro Tip: For a unique Kansas City barbecue experience, visit Q39. The Triple Threat sandwich — which features chipotle sausage, pulled pork, and pork belly, plus a zesty barbecue sauce — comes with the most delicious apple slaw you'll ever taste. The burnt-end burger features spicy pickle slaw and is topped with tangy barbecue sauce.
10. Henry Doorly Zoo And Aquarium, Omaha, Nebraska
Considered one of the world's top five zoos, Omaha's Henry Doorly Zoo and Aquarium is home to more than 20 major attractions highlighting about 17,000 animals from around the world. Some of its standout exhibits include the Desert Dome and the Lied Jungle.
The Henry Doorly Zoo is also home to one of the country's largest exhibits featuring African animals. The African Grasslands exhibit occupies about a third of the zoo's 160 acres and houses cheetahs, lions, and giraffes. It also includes 5 acres of open space where six elephants roam, play, and work. The elephants were among others rescued from an African reserve where they were going to be euthanized to protect a critically endangered animal that wouldn't survive sharing the same food source as the elephants.
The Asian Highlands exhibit includes animals such as the red panda, sloth bear, and takin. Other fan-favorite exhibits include the Gorilla Valley, Meadowlark Theater, and Butterfly and Insect Pavilion, as well as the Scott Aquarium, home to a popular penguin attraction and a tunnel that allows visitors to walk amidst sea life.
Pro Tip: Following a fun-filled day at the Henry Doorly Zoo, head to Malara's Italian Restaurant. The dishes are still made with the pasta maker that owner Caterina Malara used to make ravioli in her basement more than 30 years ago. When you taste the unique pasta and special sauce (a recipe known only to Caterina), you'll feel like you're in Italy. Try the old-fashioned spaghetti and meatballs or pasta carbonara, and start with an order of the famous fried ravioli.
At any of these Midwestern zoos, you can take a trip around the globe without leaving the country. But these zoos do more than just display animals — they contribute to the support of the animals' native habitats and work to help endangered species.