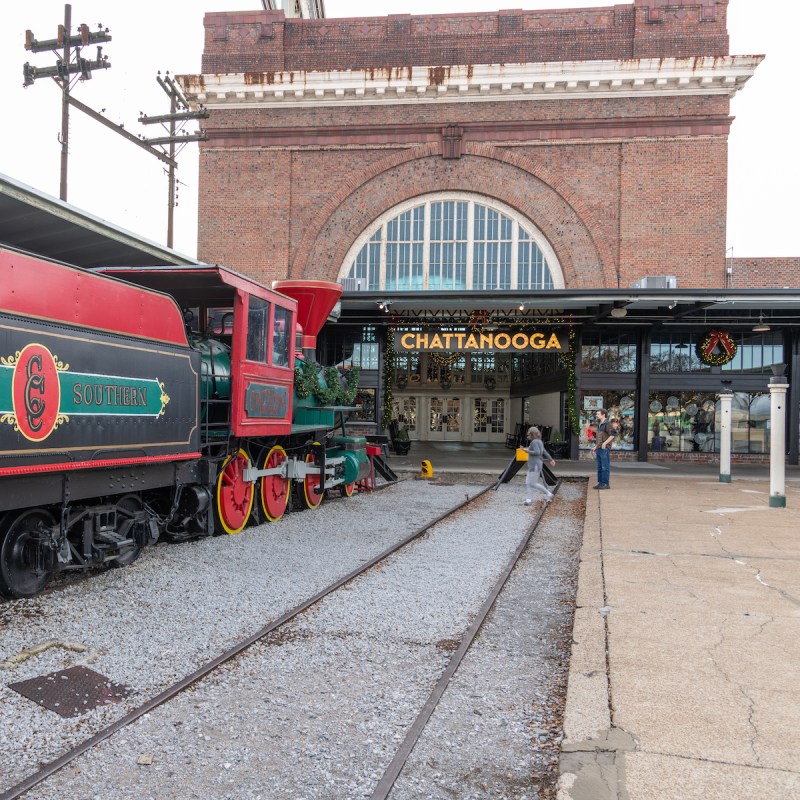 Tennessee's relationship with railways began in the mid-1800s with the extension of an east coast railroad into Chattanooga. During the height of its existence, Tennessee was a major transportation hub, moving raw materials, goods, and people. Even though the need for railways waned about 100 years later, rich history still exists today. And what better way to learn about it than to experience it yourself with a unique train ride.
1. Tennessee Valley Railroad
In a town known for trains, it's no wonder Chattanooga is Tennessee's mecca for unique train rides, and it all starts at the Tennessee Valley Railroad Museum. Founded in 1961 by locals, the museum aims to restore and preserve old steam engines and rail cars. A stroll through the museum is a great introduction to the history of railroads in Tennessee and is the launching point to several enjoyable rides.
Travel along a historic route during the Missionary Ridge Local ride — offered several times per week, depending on the season. The 3-mile ride is named for the historic Missionary Ridge Tunnel, which you will go through along your 6-mile journey. The 55-minute train ride follows the former Southern Railway tracks, over 4 bridges, while guides give a historical overview of the railway. At the halfway point, guests disembark the train to witness the turntable-style turnaround of the train's engine before heading back to the Grand Junction Station. Guests can also tour a train restoration shop.
Throughout the year, the Tennessee Valley Railroad offers specialty train rides, including Valentine's Day, Thomas The Train tours, Holiday Lights, Dinner With Santa, and The North Pole Limited. The North Pole excursion is an excellent ride to do with your extended family — especially grandkids — because it's interactive and fun! Throw on your best holiday pajamas for this colorful adventure to the North Pole. Along the way, marvel at the bright holiday lights outside, while enjoying hot chocolate and tasty gingerbread and chocolate chip cookies. Once you reach the North Pole, head to the window to wave to Santa and Mrs. Claus.
2. Tennessee Wine Train
Wine and dine on board this traveling museum with the Tennessee Wine Train. A relative newcomer to the train scene, owner John L McCune used his advanced Sommelier expertise to bring an upscale wine event to Chattanooga.
During the 2.5-hour trip, you'll feast on a 3-course meal with selections like steak, salmon, tomato bisque, and decadent desserts (there is a vegetarian option, upon request). And all of the food is prepared fresh on the train. Each course is paired masterfully with specifically hand-picked wines that are both distinctive and attainable. McCune himself is on hand to tell you about the wine and answer questions, sometimes even sitting down at your table to chat.
If intimacy is what you're looking for, book a table in the private Pullman car, which is famous in its own right having been featured in the 1959 Marilyn Monroe movie Some Like It Hot. For a livelier night, sit in the main dining area — a restored 1924 dining car. Each table can seat up to four guests. After dinner, grab another glass of your favorite wine, turn off your table-top light, and marvel at the sights of downtown Chattanooga before returning to Grand Junction Station.
This unique wine train experience starts at $95 per person and advance reservations are required. Trust me, this excursion does not disappoint. (Note: the wine train is only available for 21+ adults, so this is a romantic date night, not a family event.)
3. Lookout Mountain Incline Railway
The Lookout Mountain Incline Railway is a one-mile funicular-type track that takes you to the top of Lookout Mountain. Operating since 1895, the incline railway goes just under 10 miles per hour and is mainly single track except in the middle where it switches to two tracks, allowing two cars to run at once. With a grade of nearly 73 percent in parts, the Lookout Mountain Incline Railway is one of the steepest passenger railways in the world.
The incline boards at the bottom of the mountain at the St. Elmo Station. The ride is about 15 minutes each way, but plan to spend more time there for the full experience. At the top, take in the views of Tennessee before grabbing a snack and browsing the gift shop. If you're up for a short walk, head to historical Point Park, where you'll learn about the Civil War battles for Chattanooga. There's a paved path around the 10-acre park, but note that not all of it is wheelchair accessible. Entrance to the park is $10 per adult, but there are exhibits inside the visitors center at the entrance.
Be sure to have your camera ready for the ride down as the views are amazing. Note that the railcar is heated, but not air-conditioned. Price is $15 roundtrip for adults. The railway is wheelchair accessible.
Pro Tip: Chattanooga is in the Eastern Time Zone! So, if you are visiting any nearby areas, they may be in the Central Time Zone (an hour behind Chattanooga). Double check all of your trains' departure times to ensure you have the correct time zone!
4. Chattanooga Choo Choo
This isn't a train that you can ride, but it's still worth checking out. The Chattanooga Choo Choo is an old train depot turned hotel. Inspired by a song made popular by Glen Miller during World War II, the hotel was listed on the National Register of Historic Places in 1974. Today, you can stay overnight in one of its historic Pullman cars, or opt for a traditional hotel room. There are also restaurants, shops, bars, a comedy club, and a distillery — making it a lively and unique place to visit or stay.
5. Tennessee Central Railway Museum
The Tennessee Central Railway Museum in Nashville offers a variety of unique train excursions, including a murder mystery, Oktoberfest, and a staged train robbery. Stay tuned for my article on those, coming in Spring 2022!
Train travel is still a popular way to vacation, and here are some other options: