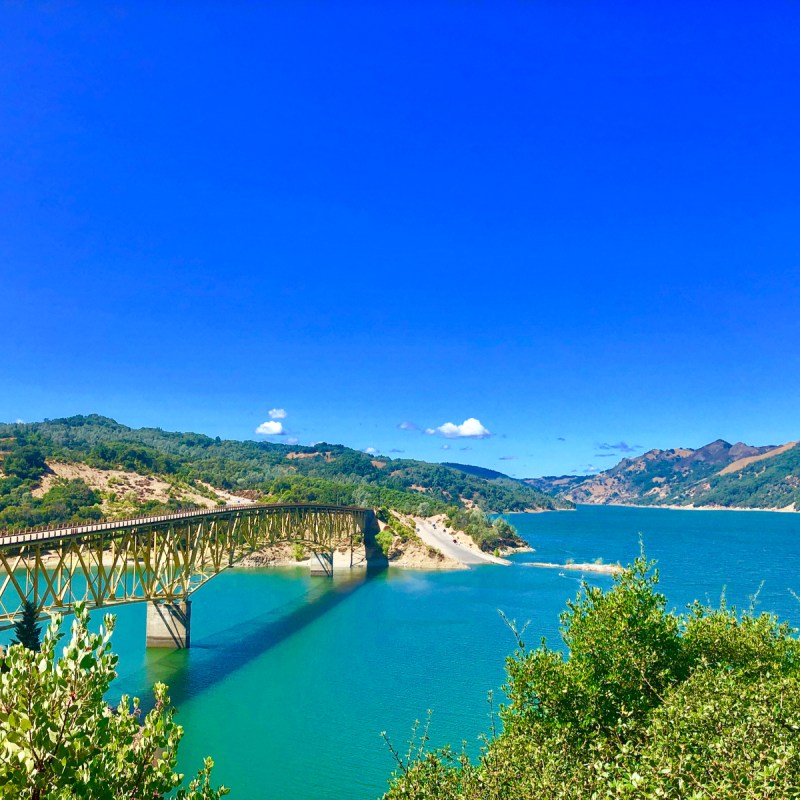 People from all over the world flock to Healdsburg during summer vacations and for the fall harvest. But once the harvest is over, and temperatures drop, the number of visitors declines, making winter a great time of year to visit this charming and historic town in Sonoma County, California. Fortunately, winter in this town means daytime temperatures that rarely dip below 60 degrees.
Located along the Russian River, the wine-centric town of Healdsburg sits at the juncture of three appellations: Alexander Valley, Dry Creek Valley, and the Russian River Valley. As a result, it's loaded with tasting rooms serving world-class wines. And when you're done wine tasting — or in the event you don't drink wine — there are plenty of other things to do in the area.
1. Relax At Bacchus Landing
Sonoma County is home to many of California's largest wineries producing wines sold worldwide. But it's also the epicenter of small, family-owned wineries eager to share both their wines and their stories. Bacchus Landing was created as a communal space to bring together wine lovers and boutique wineries. Six wine tasting rooms, each with its own stylish indoor/outdoor space, surround a spacious piazza dotted with seating areas. Rounding out the experience is a bocce ball court and a market selling food and non-alcoholic beverages.
The Lopez family is behind this unique endeavor. As the owners of a small winery, they understood the challenge of operating a tasting room in a location convenient to visitors. So they developed Bacchus Landing at the edge of Healdsburg to make access to small producers easy and fun. The wineries include Aldina Vineyards, AldenAlli, 13th & Third Wines, Montagne Russe, Dot Wines, and Smith Story Wine Cellars. Each winery offers its own tasting menu and visitors can opt to try any or all that interest them. If you need a break between tastings, grab a chair and enjoy some California sunshine. The entire facility is also pet-friendly.
2. Drink More Wine
With 425 wineries in Sonoma County — many with tasting rooms in Healdsburg — you'll never run out of wines to sample while visiting. Surrounding the historic town square are two dozen tasting rooms representing Sonoma's best-known wineries. Taste, stroll, repeat. When you get hungry, pop into one of the many restaurants, bakeries, and cafes.
Or, get out into the countryside and take in the views of rolling vineyards and massive oak trees. First, head to the historic Medlock Ames Tasting Room. Highly regarded for its organic farming practices, Medlock Ames produces rosé, chardonnay, sauvignon blanc, and cabernet sauvignon. Then, visit Landmark Vineyards at Hop Kiln Estate producing excellent pinot noir and chardonnay.
Pro Tip: Hopefully, wine tasting results in the purchase of bottles, or even cases, of wine. If you've flown into the area, check with your airline about shipping options. Alaska Airlines will fly your wine home for free if you're traveling to one of 32 West Coast airports.
3. Eat The Food
Where there is great wine there is also excellent food. And in Healdsburg, there is a ridiculous number of good restaurants offering cuisines from all over the world.
For authentic tastes of Spain, try Bravas Bar De Tapas, named by Travel + Leisure as one of the top 20 tapas restaurants in the United States. Nibble on a variety of small plates including Spanish meats and cheeses, or order a pan of paella. Accompany your meal with a selection of wines, cocktails, and sangrias.
Seafood lovers will definitely want to make reservations at Willi's Seafood & Raw Bar. Choose from a wide array of fish and seafood dishes including oysters on the half shell, calamari, octopus tacos, and caramelized butterfish. Accompany your meal with local wine or beer.
For some south of the border flavors, head to Guiso Latin Fusion, named one of the top 100 restaurants in 2019 by OpenTable. Helmed by chef Carlos Mojica, the menu features dishes inspired by Mexico, Spain, Cuba, and even Thailand. The wine list includes selections from local, boutique wineries.
To grab a quick meal or build a picnic, try Oakville Grocers selling gourmet sandwiches, wood-fired pizzas, fresh baked goods, as well as local wines and cheese.
Pro Tip: If you're visiting in the winter, temperatures can dip in the evenings. Fortunately, most restaurants in Healdsburg offer the option for indoor dining or heated outdoor patios. In addition, due to the popularity of restaurants in Healdsburg, be sure to make advanced reservations.
4. Shop 'Til You Drop
In addition to plenty of wine tasting rooms, dozens of upscale shops surround Healdsburg town square. If you're here before the holidays, this is a great place to do a bit of gift shopping. Otherwise, just enjoy browsing these lovely boutiques.
Try starting at Copperfield's Books, an independent bookseller featuring a large selection of books, magazines, greeting cards, and gifts. It also offers a full line-up of author events, so be sure to check its website.
Nearby is Forager selling one-of-a-kind home decor items like steak knives with rosewood handles, vintage paintings and sketches, and hand-turned wooden bowls. This is an excellent stop if you're looking for a truly unique gift.
If vintage shopping is more your speed, head over to the Antique Harvest, Healdsburg's oldest merchant. Inside you'll find a great collection of vintage cameras, typewriters, and records along with exquisite glassware.
5. Learn About The Region's History
It's easy to just focus on food and wine in Healdsburg, but this is a region rich in history starting with Native Americans and continuing to the present day. Fortunately, the Healdsburg Museum & Historical Society — housed in the town's former public library, — is dedicated to sharing the region's history and art with visitors of all ages.
Exhibitions include artifacts from the Pomo and Wappo Native American tribes, antique armaments and tools, and paintings and photography from local artists. Admission to the museum is always free. The museum hosts monthly events that complement current exhibits.
6. Roll Through The Vineyards
While Healdsburg is definitely a place that lends itself to relaxation, it can also be an active destination. Instead of driving through the vineyards to your favorite tasting room, why not experience it from a bike.
Bring your own bike or rent one from Wine Country Bikes and head out on the open roads. Options range from moderate to challenging and can last a few hours or several days. Detailed maps are available on its website. Make it really easy and opt for an electric bike. Or if you prefer the help of a professional, book a guided tour that includes a gourmet picnic.
7. Admire The Art
Despite its small size, Healdsburg is a powerhouse when it comes to art. In a town of just 11,000 people, there are two dozen galleries featuring paintings, photography, and sculptures.
The largest gallery is Paul Mahder's, housed in a 1940s-era Quonset hut. With more than 8,500 square feet of space, this gallery presents works by national and international artists in a museum-like setting. And since this is wine country, you can sample your favorite varietals from Grapeseed while browsing.
Located in the historic Bank of Italy building, Stafford Gallery features international artists working in a wide range of materials including bronze and wood burl sculptures along with oil paintings, large format photography, and handmade jewelry.
Healdsburg Center for the Arts is a community nonprofit presenting several shows a year featuring local artists. Among its most popular shows is the Young Artists Exhibition featuring more than 400 local youth.
Where To Stay In Healdsburg
Lovers of luxury accommodations are in for a treat in Healdsburg. There's a wealth of boutique hotels ready to pamper their guests with wine tasting, in-room fireplaces, high count sheets, curated experiences, and much more.
Farmhouse Inn, located in neighboring Forestville, offers large rooms with four-poster beds, indoor and outdoor seating areas, large soaking tubs, heated bathroom floors, and nightly wine tastings. There's also a Michelin-starred restaurant onsite. This is the type of accommodation where you'll want to hang out and savor every amenity.
Located on the plaza in Healdsburg is Hotel Healdsburg, featuring oversized bathrooms and original artwork in each room along with an included breakfast and complimentary snack bar. From the hotel, it's easy to walk to most of the town's shops, restaurants, and tasting rooms.
For something a bit more budget friendly, the Hotel Trio — a Marriott property — is located a mile from the plaza and offers spacious rooms, a welcome bottle of wine, and a full breakfast each day. It also offers a shuttle into town throughout the day.
There's never a bad time to visit Healdsburg. This small town is loaded with great food, wine, and shopping year-round. But a visit during the winter will bring slightly lower prices and smaller crowds. It's a great season to do some holiday shopping, enjoy the festive decorations, and appreciate the serenity of scenery.
There is a variety of wine experiences and activities around Sonoma County: