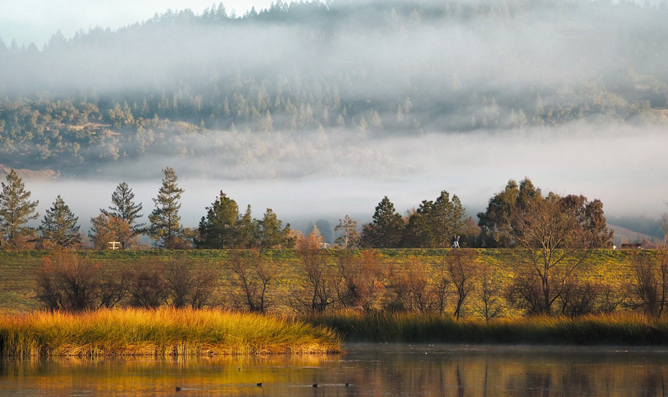 Sonoma County serves as great way to escape the sometimes overwhelming excitement of a big city while still getting to appreciate some of the best things California has to offer. This includes various annual festivals and events, plenty of places to try delicious food and the perfect scenery for enjoying outdoor activities. This list should give you a good place to start because after you read it you'll probably decide that Sonoma County is the perfect destination for your next trip.
1. Visit Africa at Safari West
Safari West is the perfect way to spend a day in Sonoma County for any curious family full of animal lovers. It was first created in the 1980s and is owned by animal lovers Peter and Nancy Lange. This 400-acre wildlife sanctuary transports visitors into an African adventure and allows them to get up close and personal with animals that come from places all across the continent. You'll ride around in an open-air vehicle while your guide shares stories about the 800 animals that call Safari West their home. This includes giraffes, zebras, rhinos, cheetahs and different primates! You might even forget you're in California.
2. Ride Around on a Sonoma Valley Bike Tour
One of the best ways to see all that Sonoma County has to offer is by bike! The Sonoma Valley Bike Tour location gives riders direct access to local paths that connect you with all the best quiet country roads. You can rent a bike and jet out on your own or join in on one of the guided private tours. You can even go off-road to get a closer look at some of the famous vineyards. Some bike tours even include stops at the different wineries you'll encounter along the way. The routes and stops change daily so you can come back a second time to experience even more.
3. Take the Kids to the Children's Museum of Sonoma County
The Children's Museum of Sonoma County aims to inspire children's creativity and stimulate their curiosity for the world. The museum houses four different exhibits that are perfect for kids ten and under. This includes the Science and Imagination Gallery, for your little Einsteins, and Ella's Art Studio, for your aspiring artists. Toddlers can also explore around TOTopia and everyone can enjoy themselves outside in Mary's Garden. It's a fun destination for the whole family that really gives kids the opportunity to learn.
4. Learn to Cook with Relish Culinary Adventures
Sign up for a one-of-a-kind cooking class and learn how to make a delicious meal using some of Sonoma County's best ingredients. Relish Culinary Adventures offers a wide range of events including wine-focused meals, cheese making, and even children's cooking classes. Many of the classes will also have their own themes to give the class more personality. You can also have your own private cooking party. Relish Culinary Adventures works hand in hand with several local chefs, farmers and wine experts to ensure you are getting the best out of your time spent with them in the kitchen.
5. Go Up & Away in a Hot Air Balloon!
Up & Away Ballooning gives Sonoma County visitors the chance to get a view of the place that you just won't be able to find anywhere else. Their daily hot air balloon ride departs at sunrise. If you embark on this adventure you'll see great views of the Russian River, various vineyards, and the Redwood Forests. And on a super clear day, you might be lucky enough to see the San Francisco skyline off in the distance. No matter what view you get, you are guaranteed to remember an experience like this for your whole life. When you finally land, you'll also be able to enjoy delicious farm-to-table dishes and maybe even a glass of wine. It's the perfect way to follow up seeing such perfect views.
6. Build Sand Castles and Fly Kites!
The Castles and Kites Festival at Doran Beach is pretty self-explanatory. Come out to spend the day on the beach building sandcastles and flying kites! Everyone from amateurs to experts are welcome to join in on the fun. Free tools and molds can be found on site to help you with your sandcastle creations. This year's festival takes place on May 5th and is just one of the many annual festivals that Sonoma County has to offer. You can check out a list of other festivals for different times of the year here.
This list is just the start for Sonoma County, California! It's a place with plenty to offer all throughout the year. That trait makes it the perfect location for your next family excursion or weekend getaway. Wine may be the star here, but that doesn't mean there isn't so much more to experience.