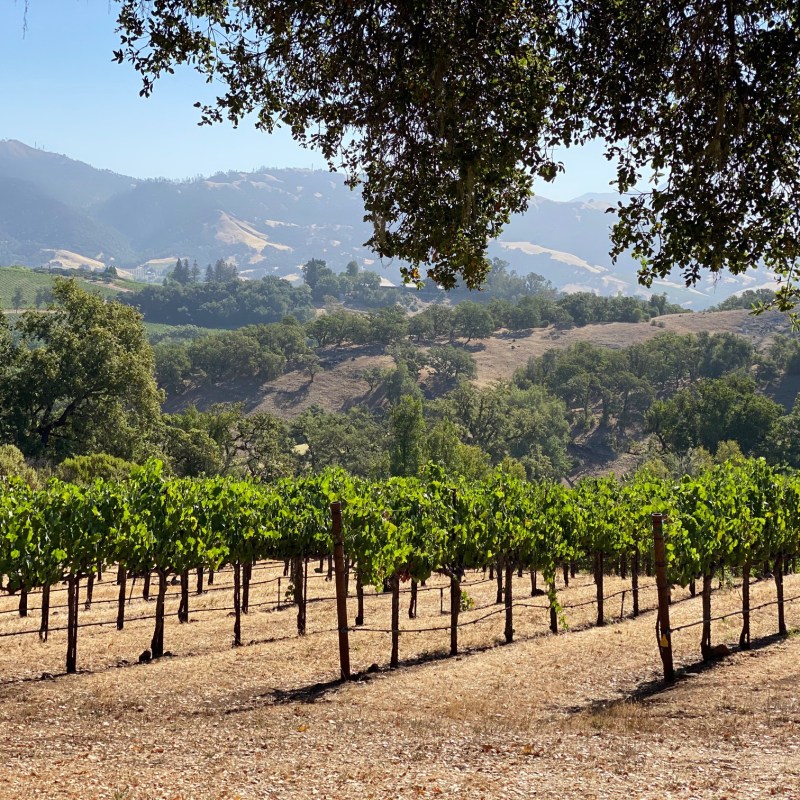 In the midmorning sun above Healdsburg, California, deep in Sonoma County wine country, I was working up a sweat walking the steep hills at Jordan Vineyard & Winery. Though I was surrounded by plump purple grapes and hearty vines, I had yet to have a drop of wine pass my lips.
Instead, I was hiking. An avid hiker, I found a distinct pleasure in the idea of a vineyard hike, which gave me the unparalleled opportunity to explore a working vineyard estate, inspect the grapes, watch the wildlife that calls the Alexander Valley home, and "earn my lunch" later at the Paris on the Terrace lunch offered by Jordan.
In fact, more than three-quarters of the scenic estate has been kept wild as an open space for flora and fauna, and Jordan's executive chef is known to forage the land for wild lettuces, clover, and other wild plants.
I was in Healdsburg on a hosted press trip just weeks before the fires in California threatened the area. On top of the continuing dangers of the COVID-19 pandemic, the fires presented a challenge to an area that was already shifting to new practices in light of the virus.
Not all the changes were bad, however. In fact, many of the changes that Sonoma County's wineries and local attractions put in place may become permanent. Visitors liked the outdoor wine tastings and brunches. Instead of indoor tastings, many of the county's individual wineries began offering outdoor experiences, picnic-style lunches and wine samples, and even hikes and adventures on the winery grounds.
If you're in Sonoma County, drinking and eating are probably top of mind. Healdsburg is a quaint, charming small town with a square that has been shut off to vehicle traffic so that people can easily enjoy the restaurants, shops, and tasting rooms outside.
When Healdsburg wineries and restaurants finally reopened in the early summer, they still had to follow the health order restrictions. Luckily, sunshine and friendly weather are in no short supply in this corner of California. After months of enjoying wine out on the patios or exploring the natural wonders of the Russian River and the surrounding valleys, many people were asking why the area didn't offer as many outdoor choices before. Other experiences, like bike tours to tastings or paddles on the lazy, cold Russian River, saw an uptick in interest this year as well.
If you are headed to Sonoma County and Healdsburg for a visit, here are four amazing outdoor wine adventures to try.
1. Hike And Dine At Jordan Vineyard & Winery
We couldn't have asked for better weather for the 4-mile hike through the sprawling 1,200-acre estate at the Jordan Vineyard & Winery. The sun was just warm enough to keep a slight chill away, and the sky was clear enough to show off the spine of the Mayacamas Mountains.
"The hike has been very popular, as has the outdoor dining," said Lisa Matteson, marketing director for Jordan Vineyard & Winery. "We have been underutilizing so much, so there is a silver lining to all this. It used to be that only members could eat a meal at Jordan, but now we are open to the public."
The guided 4-mile hike begins at the Winery Chateau Bacchus courtyard. Little individual protein snacks are passed out to keep your energy up as you traverse the hills and valleys of the Jordan estate.
We spent plenty of time gazing at the numerous vineyards and at the Jordan Vista Point, the highest spot on the ranch. The hike, which takes about 2 hours and includes an elevation change of about 300 feet, also weaves through Jordan's olive orchard, around a private lake, and to the chef's garden.
After our hike, we relaxed on the Jordan Vineyard & Winery terrace for a charcuterie picnic with a wine pairing at our own table.
Jordan also introduced its Paris on the Terrace experience in response to COVID. The terrace has been transformed into a bistro-like setting, reminiscent of the eateries of Paris. The meal includes freshly baked bread, a taste of the 2019 Jordan Estate Extra-Virgin Olive Oil, Jordan Garden crudite, a salad of Jordan Garden greens, a charcuterie platter with house-marinated olives and spiced nuts, and dessert.
Pro Tip: The trails at Jordan are unpaved and rocky in places. Be prepared to tackle a few steep hills, and bring your camera for the view at the Jordan Vista Point. If you're lucky, you'll be invited to pick some of the fruits and vegetables in the Jordan Garden as well.
2. Kayak And Bike To Wine
I'll be the first to admit that I'm not a big biking enthusiast, but when you know that a wine tasting is at the end of a 4-mile pedal, the trip becomes more enjoyable. Getaway Adventures in Healdsburg offers a variety of active tours that end at or include wine, and the one I took was the Russian River bike and kayak tour starting in the Dry Creek Valley. Our tour guides provided the bikes, the helmets, and the accessories we would need for a "leisurely" pedal through the wine country.
The bike ride, which weaves along the country roads in Dry Creek Valley, passes the rolling hills of vineyards, impressive old homes, and vast vistas featuring scenes of rural life in California.
While you don't have to be a pro bike rider, you do have to pedal up and down some of those same rolling hills, and you'll work up a sweat. The initial ride to the Landmark Vineyards' Russian River Valley Tasting Room took roughly 40 minutes, and we only had one accident, when one of the ladies fell off of her bike. Don't worry — she was okay!
After an outdoor tasting of both red and white wines, which took about 45 minutes, we biked to our next destination, the Gracianna Winery, which specializes in pinot noir, zinfandel, chardonnay, and more from the Russian River in Healdsburg.
Owned by the Amador family and located on the Russian River Valley's "Miracle Mile," Gracianna is named for Trini Amador's maternal grandmother, Gracianna Lasaga, who was born on French side of the Basque Pyrenees before immigrating to America.
As we sampled the award-winning 2018 Westside Reserve Pinot Noir, Trini shared the story of his grandparents with us before granting us a tour of his incredible home, filled with art gathered from around the globe. He also gave us signed copies of his book, Gracianna, which chronicles the life of his great-grandmother.
After a picnic prepared on-site at Gracianna by Getaway Adventures, we pedaled — a bit wobbly (too much wine!) — back to where we started, loaded up our gear, and took a short drive to the Russian River for a calm kayaking excursion.
Kayaking along this slow-moving but beautiful river allowed us to take in the sights and even stop for a swim break or two. Don't forget to pack a dry bag with some wine and snacks if you'd like to enjoy another glass or two while taking in the scenery.
All in all, the trip takes several hours, so you should plan most of your day around this biking and paddling tour.
"We are still doing all of our tours, and luckily we haven't had any fires directly in the valley. Healdsburg was safe, and we hope to be up to full capacity next year, depending on fires and the pandemic," said Randy Johnson, the founder, owner, and CEO of Getaway Adventures.
Pro Tip: You should be prepared for some steep hills during the bike ride, but you can also hop off the bike and walk it up the challenging slopes. The road includes vehicle traffic as well. Bring a bottle of water.
3. Take A Farm Tour
Healdsburg isn't just a place of vines. It's also home to numerous farms, including the last remaining fruit orchard in the area.
In response to COVID restrictions, DaVero Farms & Winery created a new and more in-depth private tasting experience called Discover the Farm. This walking and wine-tasting experience begins with a tour of the estate vineyards and gardens and a detailed look at how DaVero instituted its biodynamic farming practices. You might even get a peek at the baby pigs that were born this year.
After a tour of the vineyards and the on-site olive orchard, you are treated to a private tasting of six of DaVero's wines, two estate olive oils, and the amazingly rich imported 15-year aged balsamic vinegar. This experience is open to groups of up to six people, and it takes roughly 90 minutes for the tour and tasting.
Nestled in the Dry Creek Valley, Dry Creek Peach & Produce is the last remaining fruit orchard in the Healdsburg area.
In 2000, Brian Sullivan and Gayle Okumura Sullivan purchased the more-than-100-year-old farm and began offering additional products like organic peach jam, a peach bellini mix, fresh Dry Creek peaches, and more. During the summer, the Sullivans also open a fresh fruit stand that has customers lined up down the road for "a juicy taste of summer."
All the fruit at Dry Creek Peach & Produce is organically grown, tree ripened, hand picked, and hand packed, but the farm stand is only open from July through the end of September.
Pro Tip: The DaVero olive orchard was planted in the 1990s from imported olive trees from Tuscany, the first olive trees brought to the United States since the 1800s. Trust me, you'll want to buy a few bottles of this quality, small-batch olive oil.
4. Experience An Outdoor Wine Tasting
Almost every winery around Healdsburg shifted this year to outdoor wine experiences and tastings, and they may never go back to the old way of doing things.
"There are so many things we could have been doing before that we didn't even realize — so many things that were underutilized," said Matteson of Jordan. "It used to be that the only people who could eat a meal at Jordan were members, and now we are a restaurant. It's not hurting the member experience, because members can come and have their lunch for half the price."
In addition to Jordan's outdoor dining experiences, other wineries are taking advantage of the balmy California coastal weather and the sunshine to make outdoor distancing enjoyable.
Lambert Bridge Winery reopened in May and then in September with an outdoor tasting experience on the patio that comes with a local cheese plate. Reservations for up to six can be made at 11 a.m. and 2 p.m. daily.
Lambert Bridge also introduced a new picnic experience in the garden area. Guests are offered a curated picnic basket that includes charcuterie, local cheese, sauces and jams, and crackers, which all pairs perfectly with a bottle of Lambert Bridge wine.
"I feel like with the number of days of sunshine we have here, this is a really great setup in the garden," said Bill Smart, vice president and manager. "The winery is appointment only, but the garden is open to members and non-members alike. We're also a dog-friendly winery."
Bella Vineyards and Wine Caves is offering private tastings on its grounds by reservation only. The seated tasting in the olive grove includes five wines to try for $30 per person, and each weekend, the winery hosts local musicians, special dinners with local chefs, and private, guided tours.
Located in the Russian River Valley, Bricoleur Vineyards introduced its Essentials Picnic experience for $45 a person. Guests check in with the host at Bricoleur to receive a premade picnic to enjoy on the landscaped grounds of Bricoleur Vineyards. The picnics include sandwiches, salads, dips, dessert, a complimentary tossware glass, and a glass of the 2019 Rose of Grenache.
This is only a small sampling of the outdoor wine tastings available in the Healdsburg area of Sonoma County, but nearly every vineyard is offering something.
Pro Tip: Be sure to call and make reservations. The majority of the private, outdoor tastings require a reservation, and the calendars of events change almost daily at some vineyards.